With over 2.4 billion digital buyers expected worldwide in 2023, according to Statista, it has become indispensable for businesses, including those in the cleaning industry, to have a powerful online presence. A professionally designed, easy-to-navigate, and informative website has become a necessity, rather than an option, in this ever-increasing digital era.
In this article, we explore the best website builders that cater specifically to cleaning businesses. These platforms come equipped with a host of features and tools designed to showcase your services, facilitate customer bookings, and offer online support, ensuring you stay competitive in this fast-paced market. Whether you're a small start-up or a large enterprise, join us as we delve into the world of website builders and discover the platform that perfectly aligns with your business goals and needs.

Squarespace
---

Shopify
---

Strikingly
---

Wix
---

Weebly
---

HostGator
---

Site123
---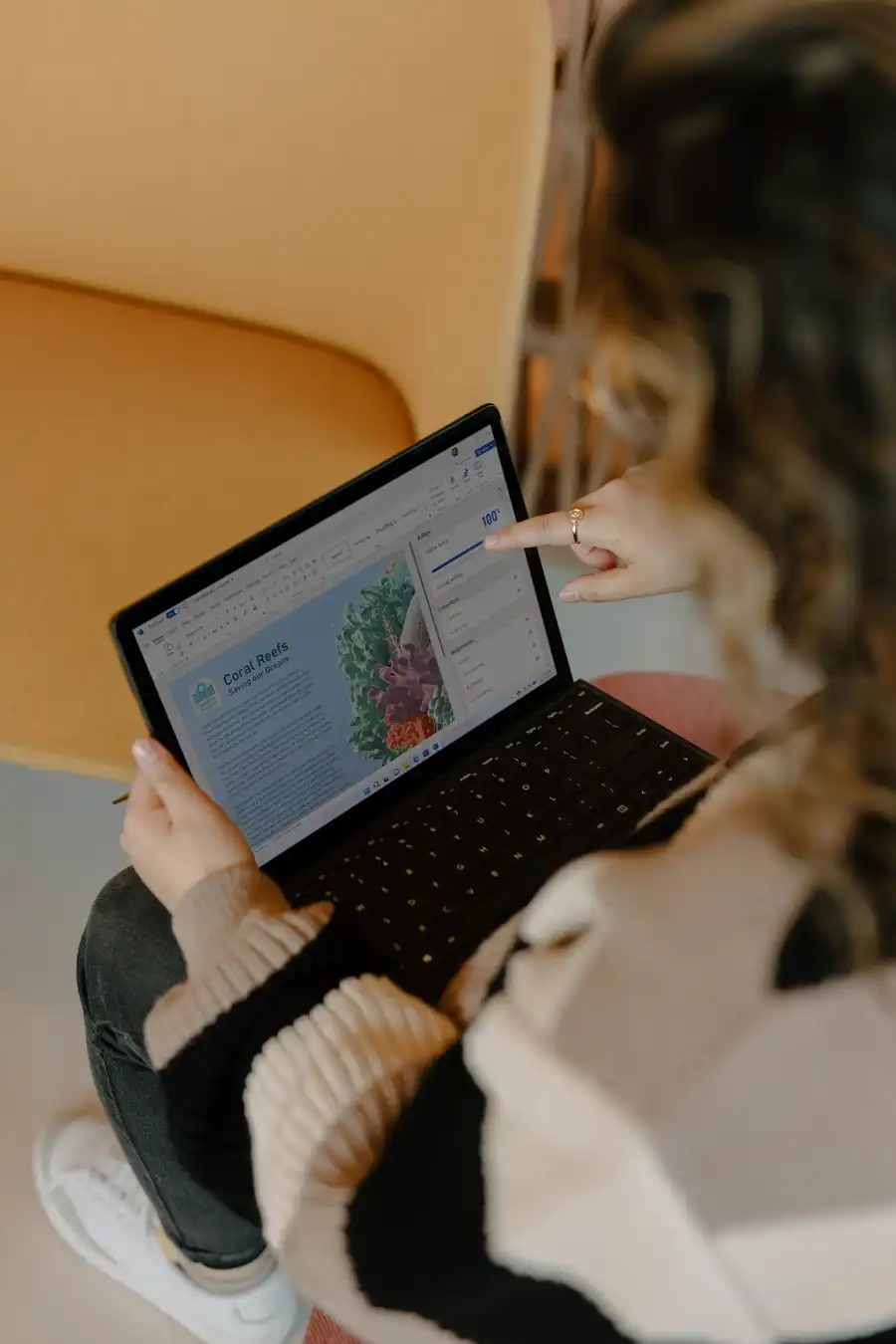 Strikingly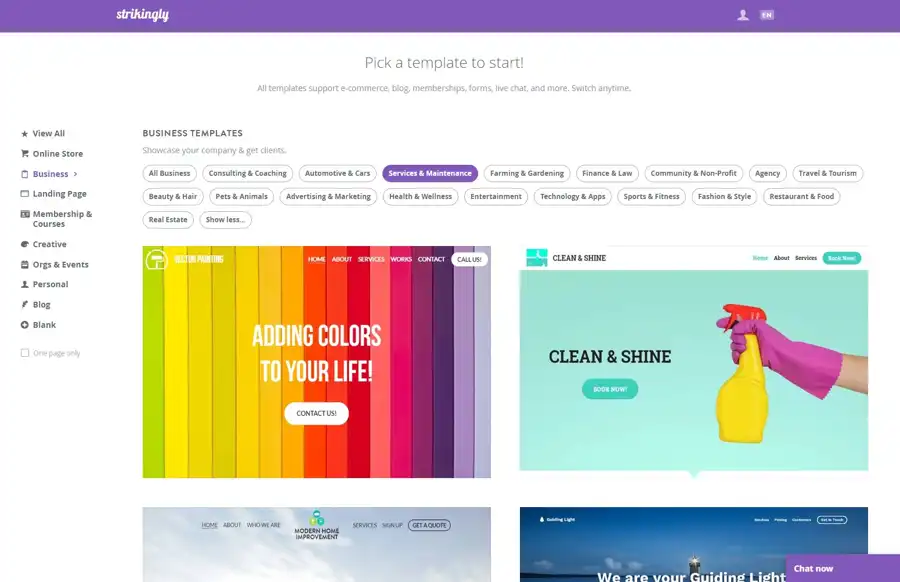 As we looked for the best website builder for cleaning businesses, one name stood out from the rest: Strikingly. Strikingly is a website builder that prides itself in being simple, fast and elegant, making it an ideal choice for small businesses that want a professional-looking website without the complexity of traditional website builders.
We tested Strikingly on multiple criteria that we believe are essential for a cleaning business website: design, ease of use, features, and price. In terms of design, Strikingly has a wide range of templates to choose from, and all of them are modern and attractive. The cleaning business templates are especially eye-catching, with an emphasis on bold shades of blue, green and yellow.
Also read: Best website builders for AirBnB
We found Strikingly's platform to be incredibly easy to use, even for those with no web design experience. The platform is intuitive, with a drag-and-drop interface that lets you customize your site effortlessly. Strikingly also offers excellent customer support, with a 24/7 live chat feature that is both accessible and helpful.
Strikingly also has an impressive range of features for a website builder that is known for its simplicity. The platform allows you to add e-commerce functionality, integrate social media, add custom forms, utilize SEO tools and create stunning image galleries. The platform can even help you create a mobile-friendly website that looks great on all devices.
In terms of price, Strikingly is a highly affordable option, which is great for small businesses that want to save money. The platform has a free plan, which is suitable for testing the waters, while its premium plans start at just $8 per month.
To summarize, Strikingly is an excellent option for small cleaning businesses that need a professional-looking website but don't want the hassle of traditional website builders. Its design templates are delicate, and its platform is easy to use, making it a standout in this crowded market. With its array of features and affordable pricing, Strikingly is an impressive website builder that delivers on its promises.
Wix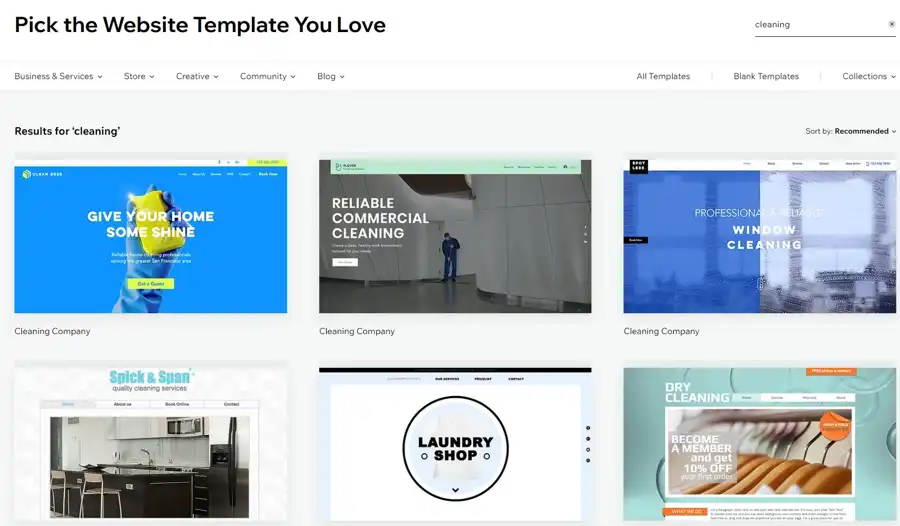 Creating a website for your cleaning business can be challenging, but Wix is paving the way with its powerful website builder. This top-of-the-line website builder offers fully customizable cleaning service templates with built-in booking tools that allow you to create a website that perfectly matches your brand's image.
One of the most impressive features of Wix is their selection of several templates specifically designed for cleaning companies. With a few clicks and customizations, you can create a website that showcases your services, pricing and availability.
Wix's free plan gives access to most features, but with Wix branding. The Combo plan offers a free domain for one year and access to 3GB of storage. Moving onto Business plans, online payment options, greater storage space, and video support become available.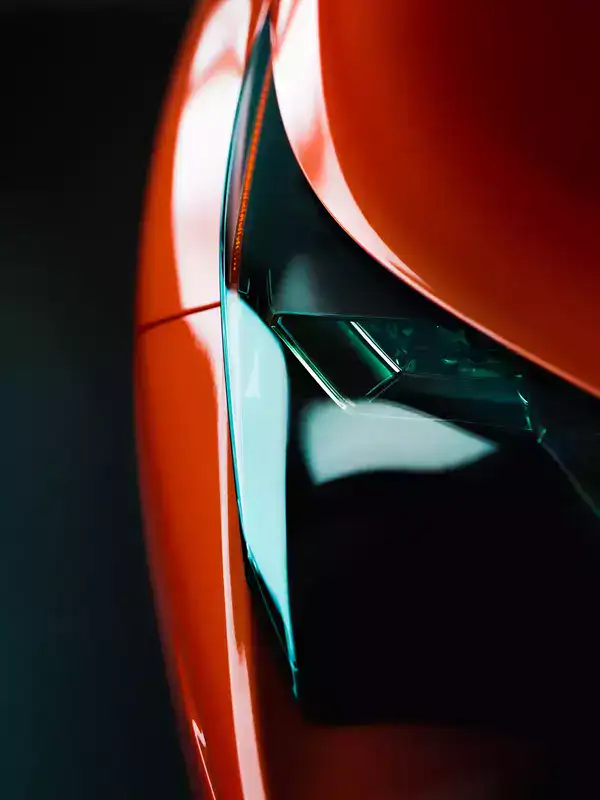 Wix SEO Wiz is an essential tool that helps improve your site's SEO. With its comprehensive prompts and real-time tips, Wix SEO Wiz makes it easier for cleaning businesses to optimize their website and increase their website traffic.
Wix's extensive app marketplace contains useful apps, such as Wix Forms, Wix Chat, and Wix Pro Gallery. With this marketplace, you can easily integrate your website with other applications or plugins to ensure that your website is equipped with the latest tools and features.
When it comes to building your website, Wix is a top choice for several reasons. Firstly, their website builder offers responsive templates that are easy to use and customize. Additionally, they offer a range of website building platforms including drag-and-drop editors, HTML and Wix Code that help you create your website with ease.
In conclusion, Wix is the ideal website builder for cleaning businesses of all sizes. Its fully customizable templates, booking tools, extensive app market place and user-friendly tools make it a reliable choice for any small business owner. Whether you're new to website building or are searching for a new website builder, Wix is the perfect tool to elevate your business presence online.
Weebly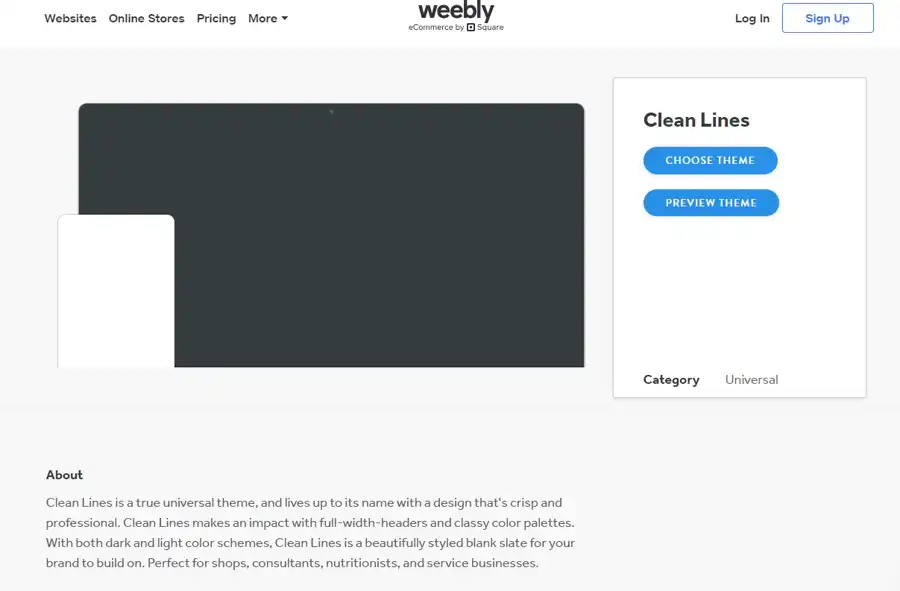 Right off the bat, Weebly impressed me with its responsive templates which adjust to different screen sizes, making it easy to create a professional-looking website. This feature is essential considering that most customers access websites using mobile devices.
Additionally, Weebly has a simple and intuitive drag-and-drop editor which makes it easy for a beginner to create a website without any prior experience. This aspect was particularly noteworthy since a majority of cleaning business owners may not have technical training in web design.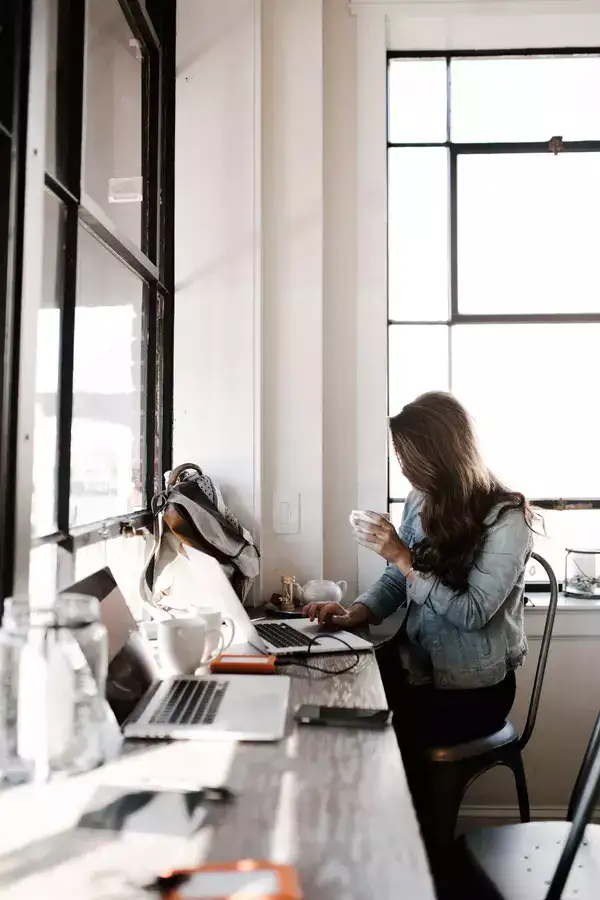 However, as I continued testing the platform, I realized that it had limited customization options, which could be a disadvantage for businesses looking for a unique website design. While Weebly has a wide range of templates, there is a likelihood that another user will use the same, making it difficult to stand out in a crowded market.
Despite the downside, Weebly is suitable for small businesses and startups, considering that it has affordable pricing. The starter package only costs $5 per month, which includes a free domain name, unlimited storage, and an SSL certificate. This pricing structure is attractive to business owners with limited budgets.
Looking at a list of platforms that offer effective website building options, Weebly stands out as it offers excellent customer support, various third-party applications, and integrations with social media platforms.
In conclusion, Weebly is not perfect, but it is a good option for cleaning businesses looking to establish an online presence. Its easy-to-use features, mobile responsiveness, and affordable pricing make it a popular choice. As I compiled my review, I realized that its pros outweigh the cons, making it one of the best website builders for cleaning businesses.
Squarespace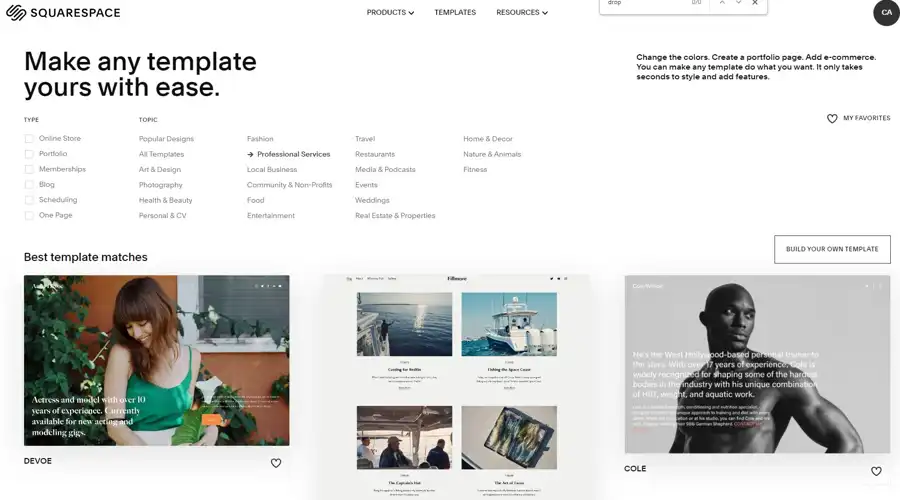 If you are looking for a website builder that offers exceptional ease of use and professional designs, Squarespace could be the right choice for your cleaning business. Squarespace has carved a niche for itself in the website builder's market by providing exceptional design features and marketing tools to promote your business.
One of the striking advantages of Squarespace is that it offers customizable templates that are responsive and sleek in design. Squarespace gives the user the freedom to tweak the templates to fit their needs, ensuring that their website is both unique and consistent with their brand identity. This feature makes Squarespace a popular choice among small business owners who don't have the budget to hire a developer for their website.
Squarespace offers two plans; the Personal plan and the Business plan. The Personal plan includes SSL security and unlimited bandwidth and storage for images. On the other hand, the Business plan offers a lot more, including accepting online payments, professional email from Google, and more.
Squarespace is beginner-friendly, even to those with little to no website-building experience. The platform offers a free trial for 14 days to test the platform, which is worth trying if you are still undecided about using Squarespace.
Squarespace Extensions offer useful integrations, such as a paid scheduling tool and Weglot Translate Extension, which could be helpful to small business owners looking to expand their services. The platform also offers a free logo maker that can help boost brand recognition.
If you are looking to sell cleaning products, Squarespace's eCommerce feature lets you do that through their online store. This feature is essential, especially for small business owners looking to expand their business by offering additional services and products.
Overall, Squarespace is an excellent platform for your cleaning business if you are looking for a website builder that offers professional designs and great marketing tools. It's also user-friendly and lets you build a website with ease, making it a popular choice for small business owners.
---
Questions you might be asking about
What should I put on my cleaning business website?
Your cleaning business website should include the following:
Company Overview and Services offered
Service Area and Contact Information
Pricing Information
Testimonials from satisfied customers
Gallery of completed jobs
FAQs about your services
Blog with helpful cleaning tips
Online booking and payment options
Contact form
Make sure your website is responsive and mobile-friendly for maximum visibility.
What business structure is best for a cleaning company?
Sole proprietorship, LLC, or Corporation are the most common business structures for a cleaning company. Each structure has its own advantages and disadvantages.
A sole proprietorship is the simplest and least expensive option, but leaves the owner vulnerable to unlimited personal liability. LLC offers personal liability protection with fewer formalities than a corporation. A Corporation provides the most liability protection but has the most formalities and may be more expensive.
Consult with a business attorney or accountant to choose the best structure for your cleaning business depending on your specific needs.
How do I organize my cleaning business?
Here are some tips on how to organize your cleaning business efficiently:
Set up a professional email address and create a website.
Invest in professional cleaning equipment and supplies.
Create a business plan.
Develop a marketing and advertising strategy.
Hire reliable employees and conduct background checks.
Use cleaning checklists to ensure thorough cleaning.
Set policies for scheduling, invoicing, and payments.
Establish good communication with your clients.
Develop an inventory tracking system for supplies.
Regularly review and adjust your business plan and policies.