Advancements in AI are no surprise as we enter 2023. Fortunately, photo editing software get their share from new technology that help get things done using smarter methods.

Adobe Photoshop
---

Adobe Lightroom
---

Corel PaintShop Pro
---

CyberLink PhotoDirector
---

Skylum Luminar Neo
In this tutorial, we'll look at some of the best photo editing software for photographers.
Adobe Lightroom
Adobe Lightroom is a highly effective and powerful photo editor for photographers. With its intuitive user-friendly interface, it can help make any image stand out from the rest. As a professional photographer, you can easily edit photos with just a few clicks of your mouse to bring out their best qualities. Adobe Lightroom's non-destructive editing capabilities let you experiment without worrying about irreversibly destroying your original images. You can also save edits across multiple files or batches in an organized manner so that all of your images get the same treatments when necessary.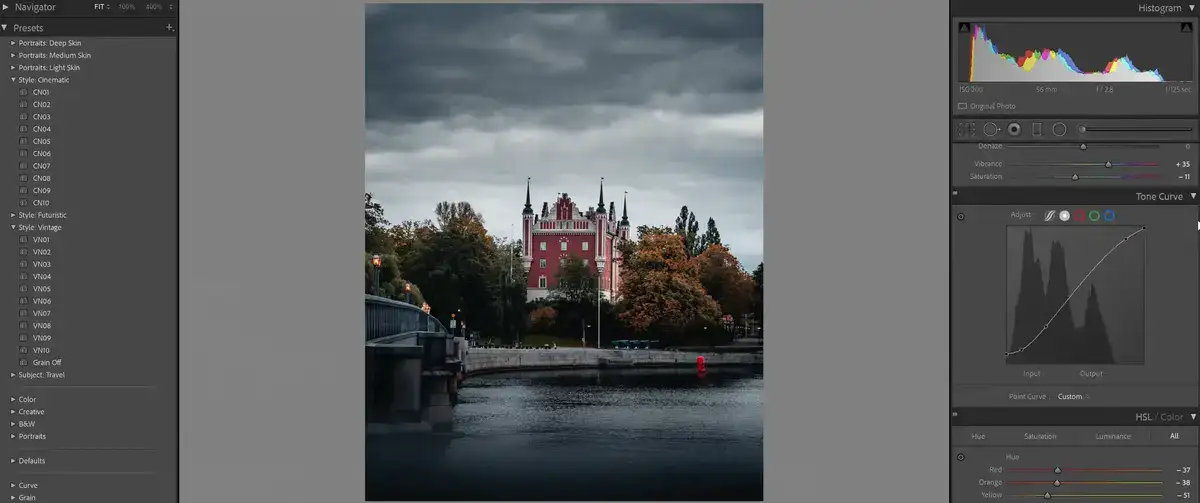 One of the greatest advantages of using Adobe Lightroom is its extensive library of tools and presets that allow you to quickly touch up images with ease. Whether you're looking to adjust colors and contrasts, remove blemishes or enhance details, Adobe Lightroom offers incredible features that make it easy to perfect every photograph. Additionally, it includes excellent noise reduction capabilities which are essential for capturing sharpened images in low-lighting conditions.

The organizational feature in Adobe Lightroom makes sorting through large image collections effortless as well by tagging them according to keywords and categories making finding relevant photographs extra convenient and fast! And the program's built-in printing options ensure that prints will look exactly how they do onscreen saving time spent tweaking settings on other programs outside of Adobe lightroom before printing photos professionally or at home.
All in all, Adobe Lightroom is an amazing photo editor for photographers who are searching for robust editing capabilities blended with an intuitive user interface design and superior organizational tools which let users fine-tune their photographs into stunning works of art effortlessly!
Adobe Photoshop

Adobe Photoshop is undoubtedly the top photo editor for photographers, as it offers a wide range of tools that can help photographers enhance their images. With Photoshop, photographers are able to alter almost every aspect of a photograph, from color correction and adjustment to retouching and reshaping. Its easy-to-use interface makes it ideal for producers who may not have extensive experience in editing software.
The power of Adobe Photoshop lies in its countless features and options: users are able to adjust curves, levels, sharpness, contrast, and brightness individually or simultaneously; apply filters such as blurs or vignettes; add text overlays; remove unwanted objects from the background; clone areas with precision; add layers of masks for selective editing; select specific colors with the Color Range tool for targeted adjustments; and so much more!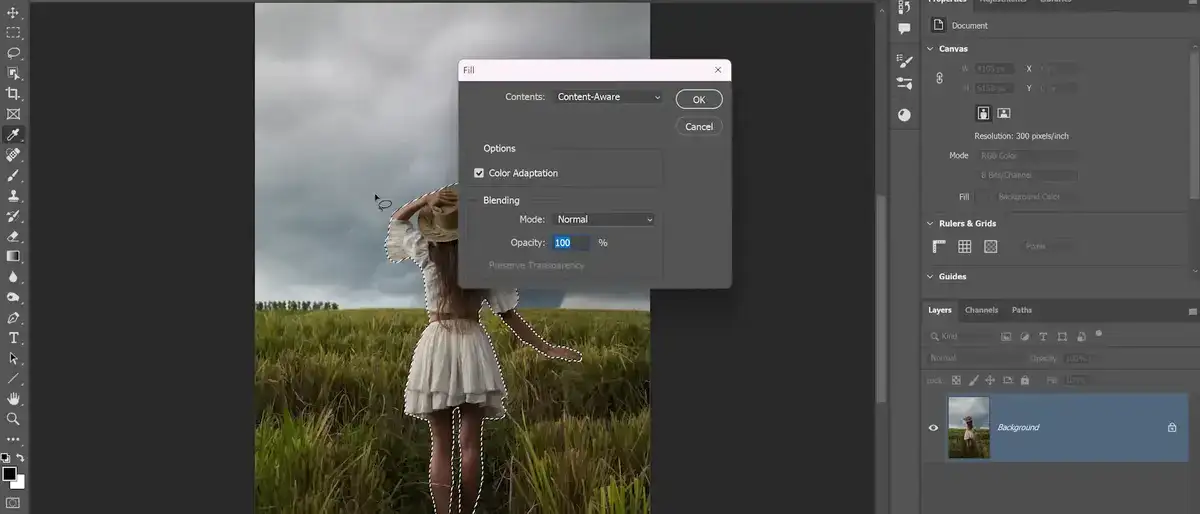 Photoshop also has plenty of helpful tutorials available online which allow photographers to learn about the program quickly without having to take professional classes. Plus, since this widely used software is updated frequently with new features, there's always something new to learn. From amateur enthusiasts just starting out in photography all the way up through professionals in the industry who want to get better at their craft—Adobe Photoshop is an invaluable resource no matter what level you're at.
Overall, Adobe Photoshop is an extremely powerful photo editor that should definitely be part of any photographer's arsenal whether they're just starting out or experienced professionals looking for advanced techniques. With its endless possibilities and user-friendly interface, anyone can create stunning images worthy of recognition—all thanks to Adobe Photoshop!
Apple Photos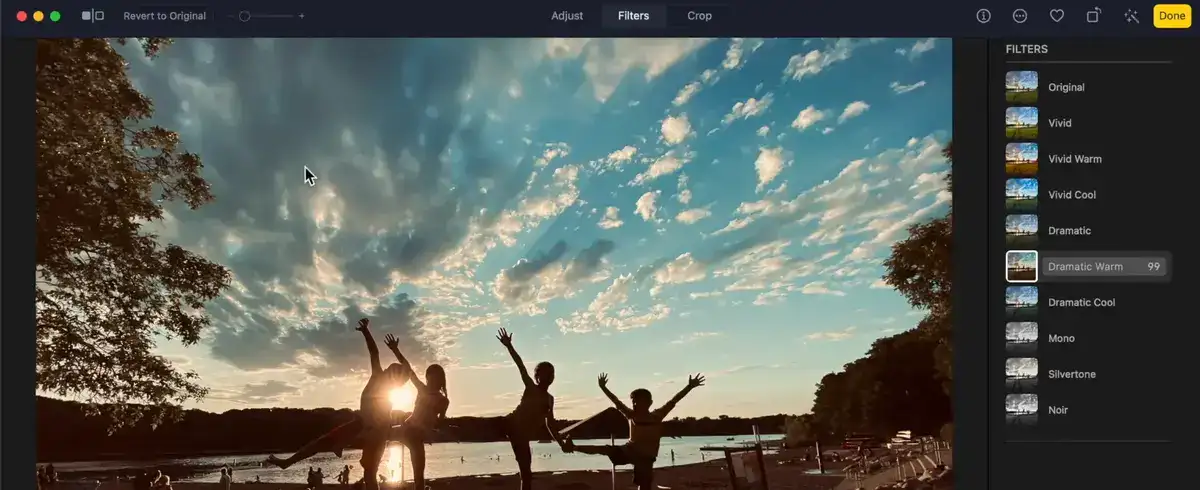 It isn't comparable to Photoshop or Lightroom in terms of capabilities. But Apple Photos is a great photo editor for photographers regardless. It's program is user-friendly and intuitive, offering a wide range of powerful editing tools from basic adjustments to advanced retouching capabilities.
Its image library allows photographers to organize their images quickly and easily, while its editing features provide them with the freedom to refine and customize each shot effortlessly.
With an array of special effects and picture-perfect filters, photographers can turn ordinary photos into stunning works of art in no time at all using premade templates and filters. Apple Photos is an excellent choice for amateur and professional photographers alike – allowing them to create striking imagery with ease. The best part is, it doesn't cost a dime.
Skylum Luminar AI

Skylum Luminar AI is an impressive photo editor that provides a range of powerful tools for photographers. It offers the ability to quickly and easily enhance photos and images with a wide range of features, including AI-powered auto adjustments, layers, masks and filters. The user interface is easy to navigate and understand, making it intuitive even for novices.
The sky replacement feature lets you quickly swap out dull skies for more vivid ones. Quite a cool feature when you are shooting photographs outdoors but the sky isn't exactly to your liking.
With its comprehensive library of presets, overlays, textures, and effects, Skylum Luminar AI can help take your photography to the next level effortlessly and effectively. I 110% recommend giving Skylum Luminar AI a try if you want to get into AI powered editing and take things a step further.
DxO PhotoLab 4

DxO PhotoLab 4 is a powerful photo editor for photographers. It offers amazing tools for creating stunning images, like DxO DeepPRIME AI-powered noise reduction and automatic optical corrections. Its smart workspaces make editing easier than ever before and its exclusive U Point technology allows you to add selective adjustments quickly and accurately. Moreover, it's also compatible with other Adobe programs such as Photoshop and Lightroom.
On the whole, DxO PhotoLab 4 definitely offers something special to photographers looking to take their work up a notch. Not only does it provide improved image quality thanks to its innovative features but also ensures convenience with its easy-to-use interface.
PROS:
AI-powered noise reduction
Selective adjustments with U Point technology
Compatible with Adobe products
Convenient user interface
CONS:
Costly subscription plans
Limited file format support
ON1 Photo RAW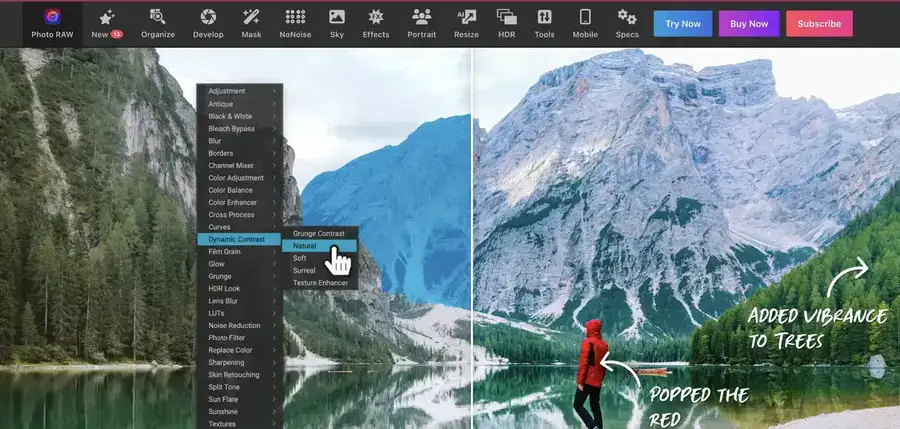 After testing and exploring ON1 Photo RAW, I can say that it is a great photo editor for photographers. It has an intuitive interface with powerful tools and features. For example, the layers system makes it easy to work on multiple images simultaneously while also providing non-destructive editing capabilities. Another advantage is that it includes a comprehensive library of presets and effects which can be applied quickly to give your photos a professional finish. In addition, the auto masking technology allows you to make selections quickly and accurately without having to manually erase or brush over an area.
PROs:
Intuitive interface
Powerful tools & features
Comprehensive library of preset & effects
Non-destructive editing capabilities
Auto masking technology for quick selection
CONs:
Pricey compared to some other editors
Limited open RAW file support
Corel PaintShop Pro

Corel PaintShop Pro is an excellent photo editor for photographers, offering a broad range of features and functions to help you perfect your photos. It has an intuitive user interface with powerful tools such as an advanced selection tool, a cloning brush and the ability to add text and effects. Additionally, it offers support for RAW images in addition to typical JPEGs and TIFFs, allowing for greater control when editing photos. Its vast library of filters (stopped counting after 300), textures and brushes make it easy to create stunning visuals. Plus, its automated batch processing can save users time with repetitive tasks.
PROs:
Intuitive user interface
Advanced selection tool
Cloning brush
Ability to add text and effects
Supports RAW images
Vast library of filters, textures & brushes
Automated batch processing
CONs:
Can be slow on older machines
Occasional glitches occur while using certain features                       
Difficult to find some of the advanced features
Affinity Photo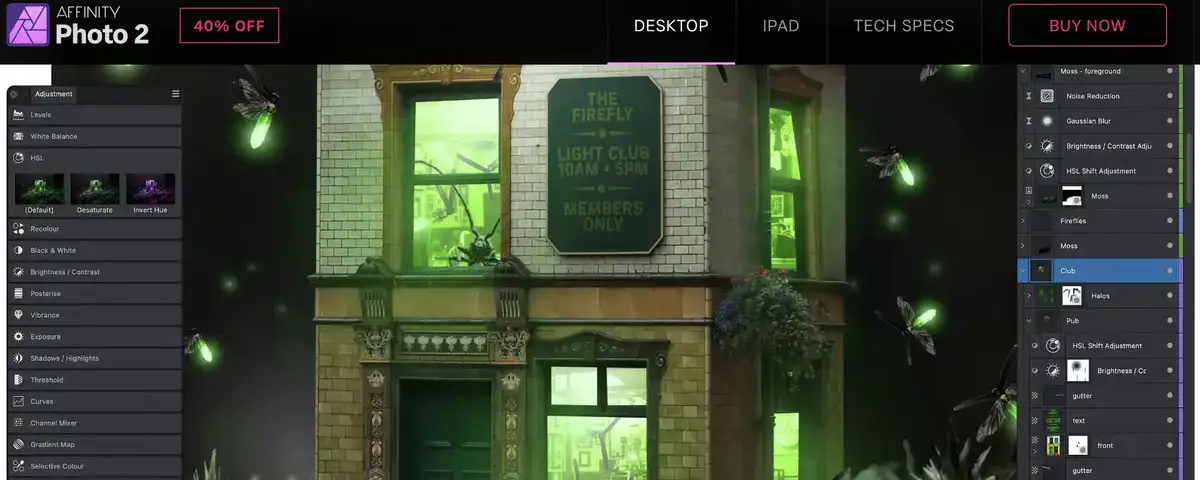 Affinity Photo is a great photo editor for photographers. It offers powerful editing tools and a user-friendly interface which makes it easier to adjust exposure, highlights, shadows, white balance and more. Additionally, Affinity Photo offers layers, masks and effects to help you create stunning images with ease. It also supports RAW files with adjustable exposure range and bit depth up to 32 bits per channel. Not to mention, it's been selected as the app of the year in Apple App Store last year.
The PRO's of this software include its intuitive workflow, a vast library of professional tools and plugins as well as an impressive list of features such as multi-layered HDR merging and tone mapping capabilities. Its non-destructive editing features make it easy to experiment without having to worry about losing original content too.
On the flip side, however, there have been reports of some stability issues on larger projects such as panoramas or high-resolution photos along with slower performance when compared to Photoshop or Lightroom due to its more complex design.
What is Photo Editing Software?
Photo editing apps are used to enhance and manipulate digital images whether you're doing it on your computer or phone. This type of program typically includes tools for adjusting brightness and contrast, color correction, removing blemishes or other distractions, cropping, and adding special effects such as shapes, text, frames or borders. We've mentioned some of the most commonly used photo editing software including Adobe Photoshop and Lightroom. These come as top choices for photographers as industry-leading programs that offer a wide range of editing features for users of all levels. With this digital artistry toolbox at your disposal you can easily transform your photos into beautiful works of art with impressive results!
What Should You Look for in Photo Editing Software?
When looking for photo editing software, you should consider what you'll be using it for. If you are a beginner, you should look for a photo editor with easy to use interface and a big user base behind it so all your questions can be answered. If you edit lots of photos regularly, your editor must support presets you can reuse as templates everytime you edit a picture.