Are you a healthcare professional or doctor in need of an efficient, user-friendly website to connect with patients and share vital information about your practice? Look no further than our comprehensive review of the best website builders specifically tailored to the healthcare industry.
After conducting extensive research and testing, we can confidently recommend the top platform that offers customizable templates, HIPAA-compliant security, appointment scheduling, and patient portal integration. With the average adult spending nearly 6 hours per day online and 74% using online resources to find doctors and healthcare information, having a professional website is crucial for success in the ever-evolving world of healthcare. Discover the best website builder to elevate your practice and enhance patient satisfaction.
Also read: Best website builders

Squarespace
---

Shopify
---

Strikingly
---

Wix
---

Weebly
---

HostGator
---

Site123
---
Strikingly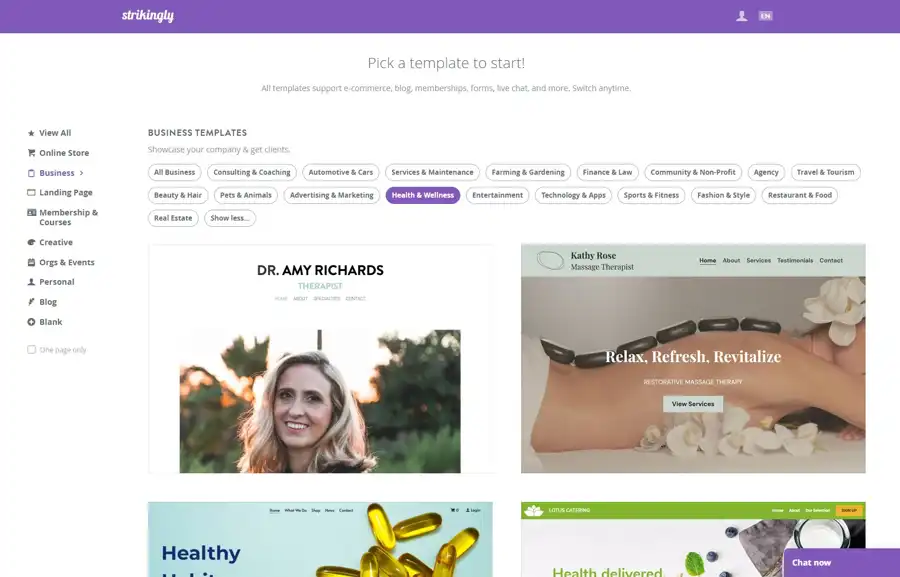 After extensive testing and research, we have found Strikingly to be a top contender for the best website builder for healthcare and doctors. This easy-to-use platform allows medical professionals to create a professional and polished website in a matter of minutes.
One of the standout features of Strikingly is its intuitive drag-and-drop editor. This allows even the most technologically challenged healthcare provider to easily create a website with a clean and modern design. Strikingly also offers a wide range of templates specifically tailored for healthcare professionals, making it easy to showcase your services and create a personalized brand identity.
For doctors and healthcare providers, a website not only serves as a way to showcase their work, but also as a means of reaching patients. With Strikingly's built-in SEO tools and mobile optimization, your website can easily be found by patients searching for healthcare services in your area. Additionally, Strikingly allows you to create appointment booking forms and integrate your social media accounts, further expanding your reach and improving patient engagement.
Also read: Best website builders for booking appointments
But what sets Strikingly apart from other website builders is its affordability. Starting at just $8 per month, Strikingly offers a wide range of features without breaking the bank. This makes it a great option for small practices and independent healthcare professionals who may not have a large budget for website development.
Overall, Strikingly is an excellent choice for healthcare professionals looking to establish a strong online presence. Its intuitive editor, tailored templates, built-in SEO and mobile optimization, and affordable pricing make it a top contender in the website builder market.
Squarespace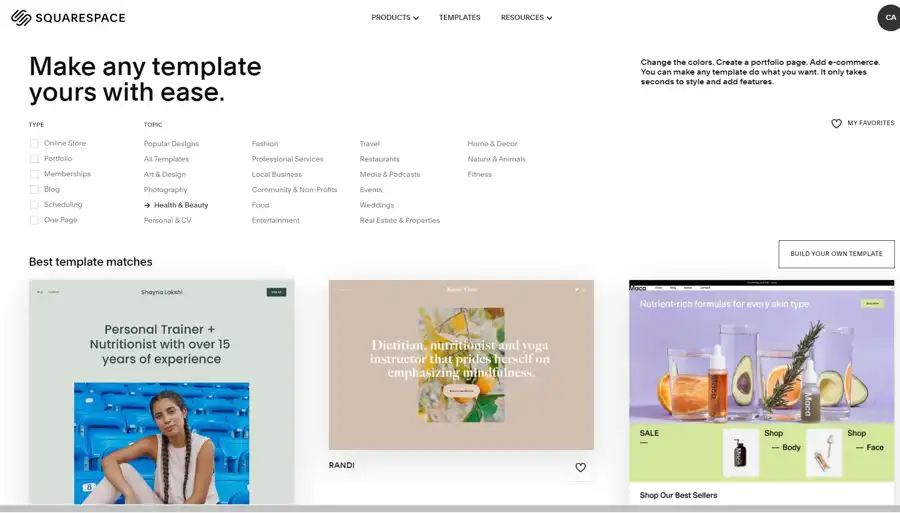 Another standout feature of Squarespace is the robust blogging platform. It's incorporated into the system, which gives you the flexibility to connect a blog to your project and update it easily as needed. This feature is particularly useful for healthcare professionals who want to share their knowledge and updates with the public.
Squarespace isn't just about stunning design and user experience. We found that it's a website builder that evolves with you. This means that as your practice grows and expands, Squarespace has the flexibility to grow with it.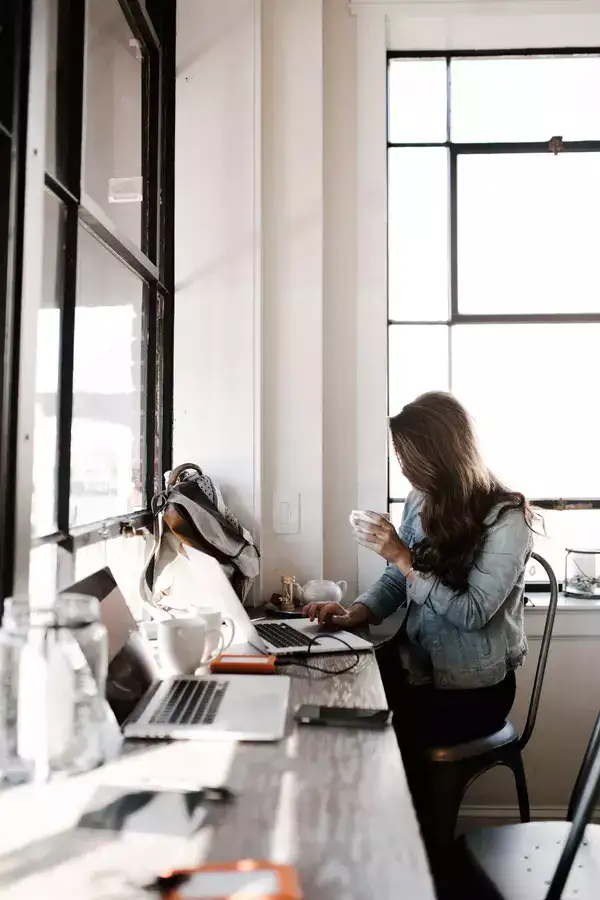 For healthcare professionals who are looking for an eCommerce solution, Squarespace also has an offering that's worth considering. The platform comes complete with eCommerce, SEO, and blogging tools. These tools are the perfect combination to help your project grow and succeed online.
Overall, Squarespace is a highly recommended website builder for healthcare and doctors. Its revolutionary themes and assets, coupled with its flexibility and mobile-readiness, make it a top choice. It's a system that adapts itself to your needs and grows beyond your expectations. The best part? You don't need to be a technical expert to use it.
Wix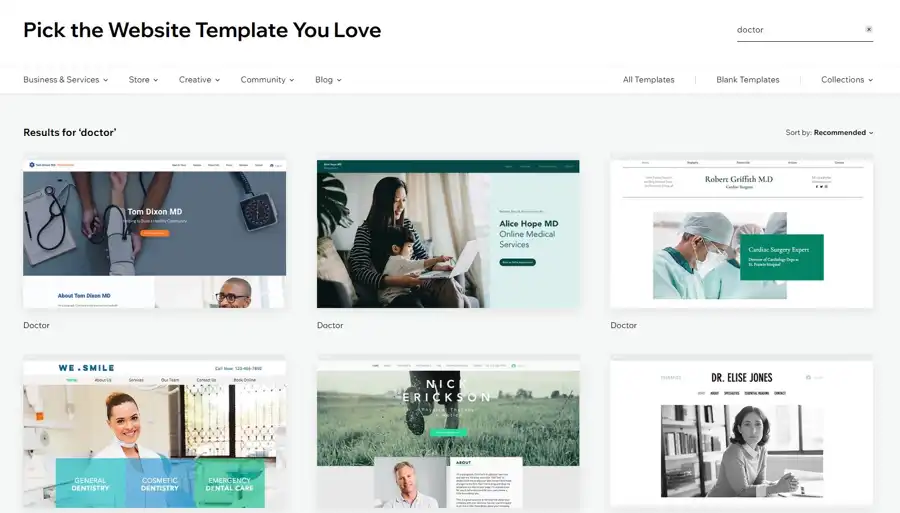 Enter Wix, the website builder that offers versatility, flexibility, and HIPAA compliance, making it a top choice for healthcare professionals worldwide. But what sets Wix apart from the rest? Let's dive into its features and see why it's the best choice for healthcare professionals.
HIPAA Compliance for Data Security
When dealing with patient data, maintaining the highest level of security is paramount. Wix understands this and has ensured that its platform complies with the Health Insurance Portability and Accountability Act (HIPAA), a set of regulations that sets the standard for the dependable protection of patient data.
With Wix, you can rest assured that all patient information is safe, and the HIPAA compliance standards are met. Plus, you don't need any special technical skills to set up your site, thanks to Wix's easy-to-use layout.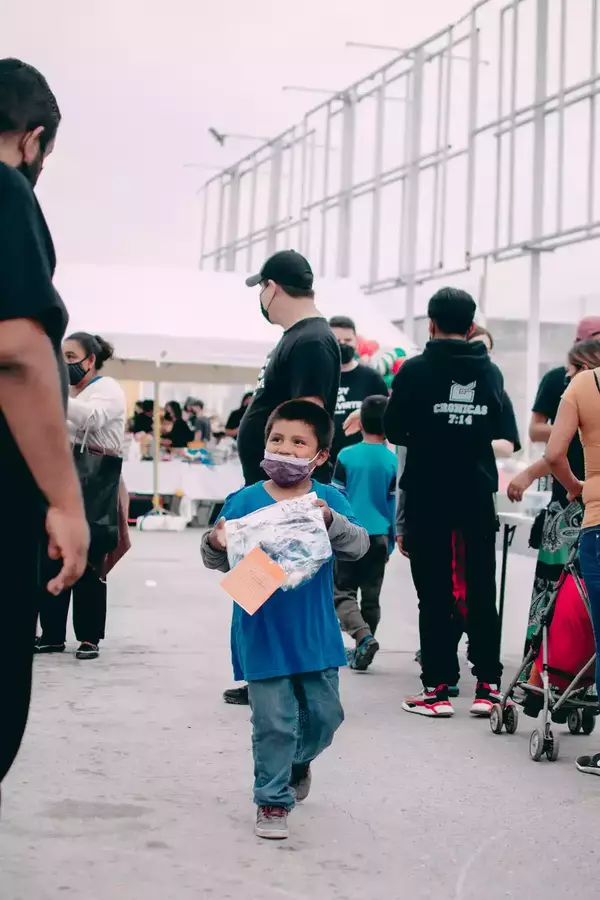 Unmatched Customization with Themes and Templates
With Wix's extensive library of templates, you can create a website that's both functional and attractive. You'll find a comprehensive collection of medical themes and templates, tailored to suit the needs of private medical practices, clinics, doctors, and other healthcare professionals.
What's even better is that these templates are fully customizable, so you can adjust them to your liking.
Boost Patient Engagement with a Simple Forum
Wix's forum capabilities make it easy for healthcare professionals to engage with their patients. With this feature, patients can ask questions and leave feedback, creating a stronger connection between them and their healthcare providers. Plus, the forum can be easily integrated into your website, so it's easily accessible to your patients.
Final Thoughts
With over 200 million users worldwide, including 5.5 million with paid subscriptions, it's clear that Wix is the website builder of choice for many healthcare professionals worldwide. Its HIPAA compliance and simple-to-use platform, coupled with the unmatched customization and forum capabilities, make Wix the perfect choice for healthcare professionals looking to increase their online visibility.
Zyro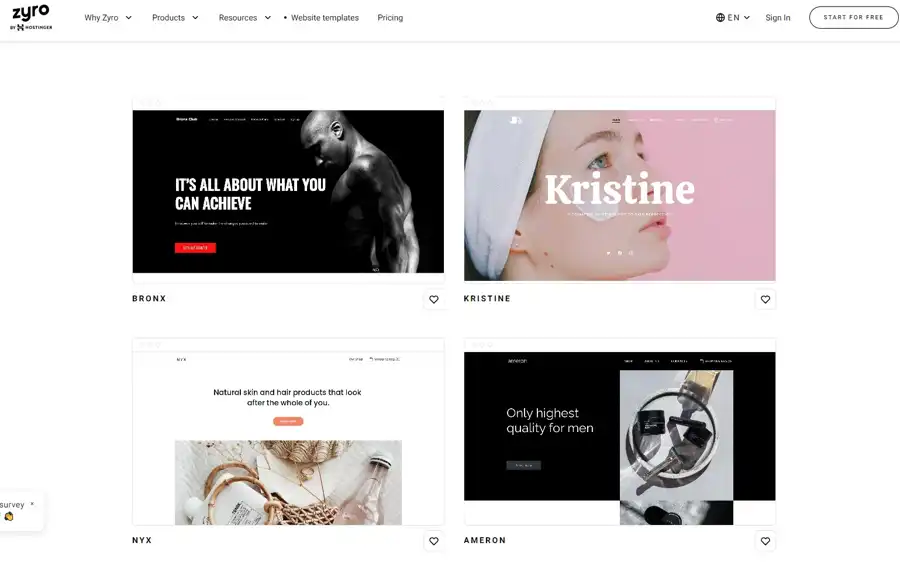 As the world continues to evolve, healthcare and medical practices are no longer exempted from the trend of digitization. Building a website has become a necessity for healthcare and medical practices to communicate with their patients effectively. However, with so many website builders available, it can be challenging to choose the one that suits your needs as a healthcare professional.
Zyro's website builder is designed to meet healthcare companies and doctors' specific needs, providing a range of features that make it more convenient to use for different aspects. With Zyro, you can create an online booking system, include contact forms for patients, and integrate payment gateways for hassle-free payments. These features help develop trust between healthcare providers and their patients, making it easier to deliver quality healthcare services.
Based on our tests, Zyro websites are optimized explicitly for search engines, which means your site has the potential to rank well in search engine results pages. For healthcare and medical practices, this is particularly critical since ranking well in search engines can help attract new patients, boost your online presence, and increase brand visibility.
What's more impressive about Zyro is its affordability. Unlike other website builders, Zyro offers cost-effective pricing options, allowing healthcare professionals to create professional-looking websites without breaking the bank. As healthcare providers, you can choose from various packages that include robust eCommerce integrations, custom domain names, and marketing tools to help you grow your business online.
In conclusion, Zyro is an excellent website builder for healthcare and doctors. Its advanced features, user-friendly interface, search engine optimization, and affordability make it an ideal choice for healthcare and medical practices looking to build their online presence. If you are a healthcare professional, you can't go wrong with Zyro.
---
Frequently Asked Questions
What is the best website for healthcare related information?
There are various websites where you can find trustworthy and up-to-date medical information, but some of the top ones include WebMD, Mayo Clinic, Healthline, and MedlinePlus. These websites offer quality information on various health conditions, treatments, and prevention resources.
How do I create a medical clinic website?
To create a medical clinic website, you must follow some essential steps. First, you need to identify the target audience and determine the primary goal of the site. Next, choose a domain name and a reliable hosting provider to host your website. You also need to consider the design layout, colors, and fonts that suit the website's theme. The site should be easy to navigate, load quickly, and be optimized for mobile devices. Additionally, you need to create original and informative content for the website to engage and inform visitors. Lastly, ensure that your site complies with healthcare industry standards and regulations, including HIPAA guidelines, to protect patient privacy and security.