Discover the best photo editors that you can edit green screen and do chroma keying. Learn how to use these powerful tools to create stunning visuals with ease.

Adobe Photoshop
---

Adobe Lightroom
---

Corel PaintShop Pro
---

CyberLink PhotoDirector
---

Skylum Luminar Neo
Whether it's fashion photography, product photography, or even landscape shots, our guide will show you how to achieve amazing results with the best chroma key editors on the market today. So let's start creating extraordinary images that stand out from all others!
Also read: Best one time photo editing software
How we tested?
First, we began our research by scouring the internet for the best green screen photo editors. We looked at dozens of programs to see which ones had the most comprehensive features and user-friendly interfaces such as Photoshop and a few other video editors that also has chroma keying capabilities and can handle green screening of images. After selecting a few promising contenders, we tested them out side-by-side to get an accurate idea of their individual capabilities.
Each program was rated based on its ease-of-use, quality of output, range of customization options, and price. We particularly noted how quickly we were able to transition from image selection to photo editing using each app's tools. We also evaluated how well each program handled color correction and masking tasks when working with green screens.
Also read: DSLR Photo Editors
Adobe After Effects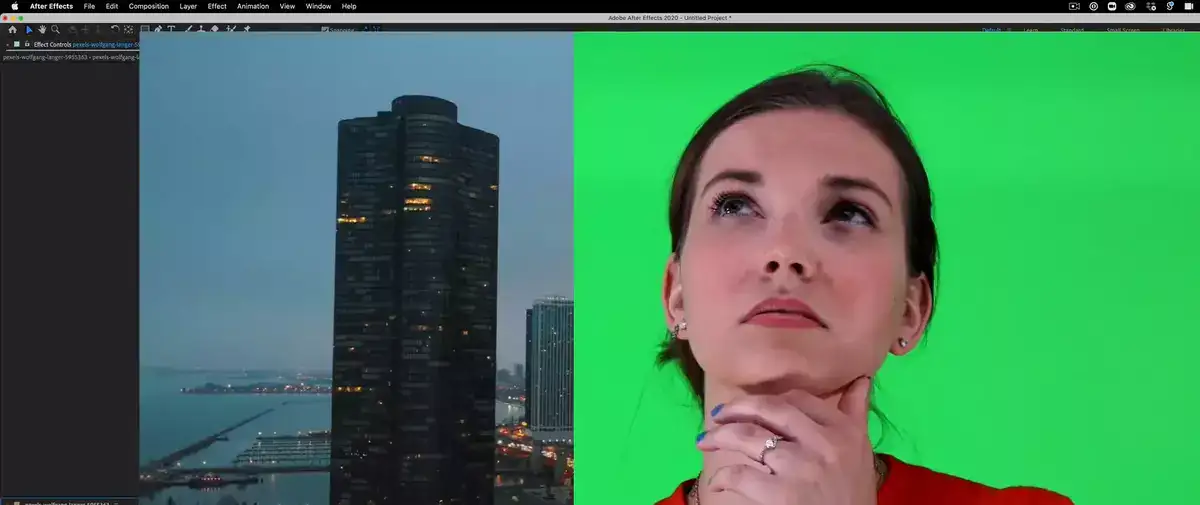 Adobe Photoshop is an excellent choice for green screen and chroma keying edits. While many other software programs exist, Photoshop has been a long-time industry favorite for its reliable tools and comprehensive features.
When used with a quality green screen setup - including proper lighting, backdrop selection, and camera settings - Photoshop's highly precise editing capabilities make it easy to produce professional results. The software offers several powerful tools specifically designed to help users key out elements of their scene, leaving only the desired foreground objects in the frame. With its intuitive layer system and wide array of image adjustment options, creating complex composite images is both straightforward and rewarding.
Photoshop also provides users with access to thousands of plugins that can be used to extend its already extensive suite of functions even further; these add-ons are often tailored specifically towards post-production workflows involving green screens, making them invaluable assets when undertaking more complex projects. Additionally, finding resources online to help learners grasp concepts such as color correction and masking layers is relatively simple thanks to the ubiquity of Adobe's flagship product within the creative world.
Premiere Pro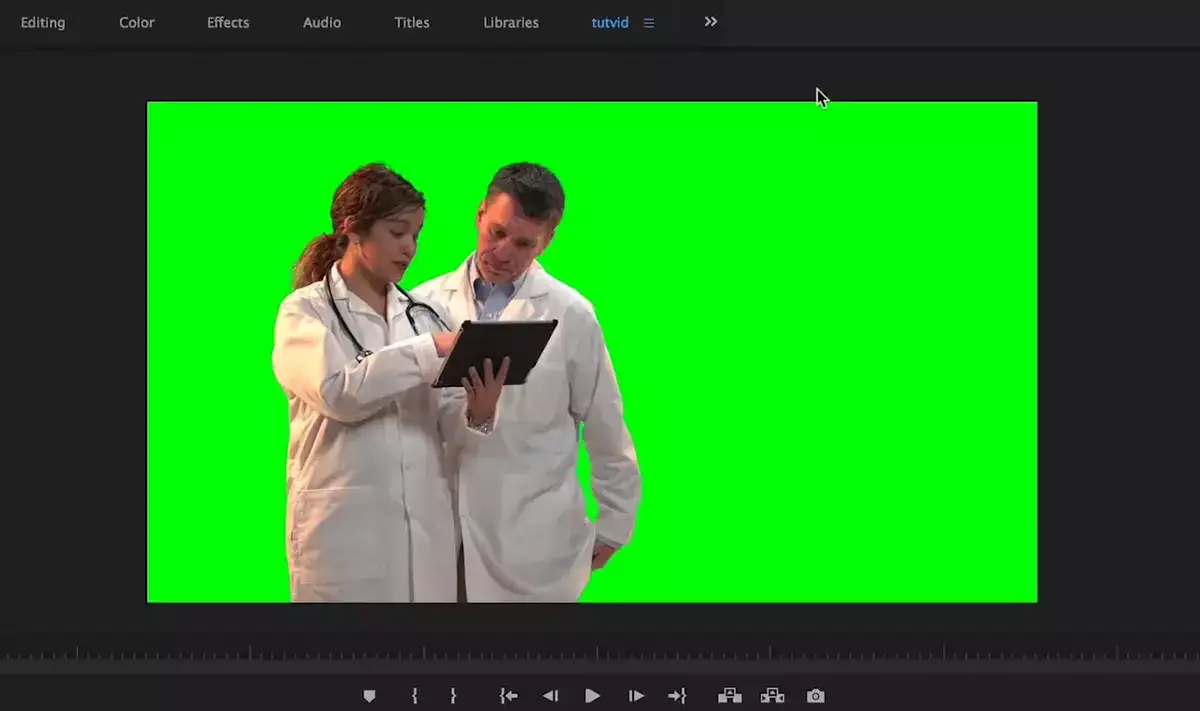 Yes, it is a video editor rather than a photo editor. But if you prefer not to use Photoshop for chroma keying for some reason, you should definitely take a look at video editors since they are specialized in green screen editing. Adobe Premiere Pro is the first one that comes to mind when it comes to chroma keying. It has many features that allow for quick and efficient video editing, as well as options that provide support for green screen and chroma keying.
Simply import a green background picture instead of a video clip and get to work! The keyer effects within the program are simple to use and provide great results in most cases automatically. There are pre-made presets, like spill suppression and matte clean up, which can speed up the process of creating the perfect background for your shots. All you need to do is select the key mode, choose your color range, adjust spill suppression if necessary, then click "Generate Matte" or "Apply Key" to finish it off.
Adding a custom background from a library of free stock images is also simple with Adobe Premiere Pro. All you have to do is go into the effects panel, type in "New Background" and select one from their library or upload your own image file. You can then adjust parameters such as opacity levels or zoom level of the image if needed.
When you are done, simply take a screenshot or render the image as a PNG.
Camtasia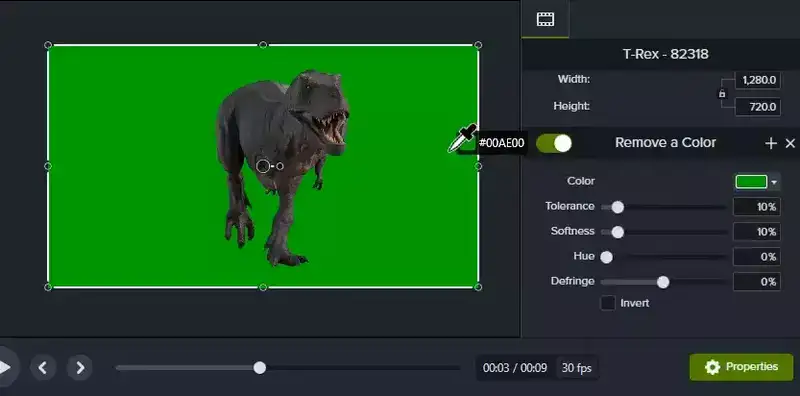 Camtasia is a popular screen recording and video editing suite that provides the tools for creating videos with green screen and chroma key effects.
It is popular among YouTubers and small video editors. Probably due to because you pay for the app once and own it forever. It's also because it has one of the easiest to understand and use interfaces we've seen.
When it comes to photo editing applications such as green screen and chroma keying, Camtasia is up there with the best of them. Its intuitive user interface makes it simple to edit videos and photos quickly yet accurately. Additionally, Camtasia's library of royalty-free assets allows users to overlay objects on top of their photos in order to create unique looks while avoiding copyright issues.
PROs:
• Easiest user interface among other apps we have looked at so far
• Comprehensive range of features
• Pre-made templates for quick results
• Advanced tools including custom transitions & backgrounds
• Royalty free assets for copyright compliance
• Powerful color correction & detailed masking capabilities for chroma key effects
CONs:
• Expensive one time payment.
• No option for batch processing
FAQ
What is the best green screen software for photography?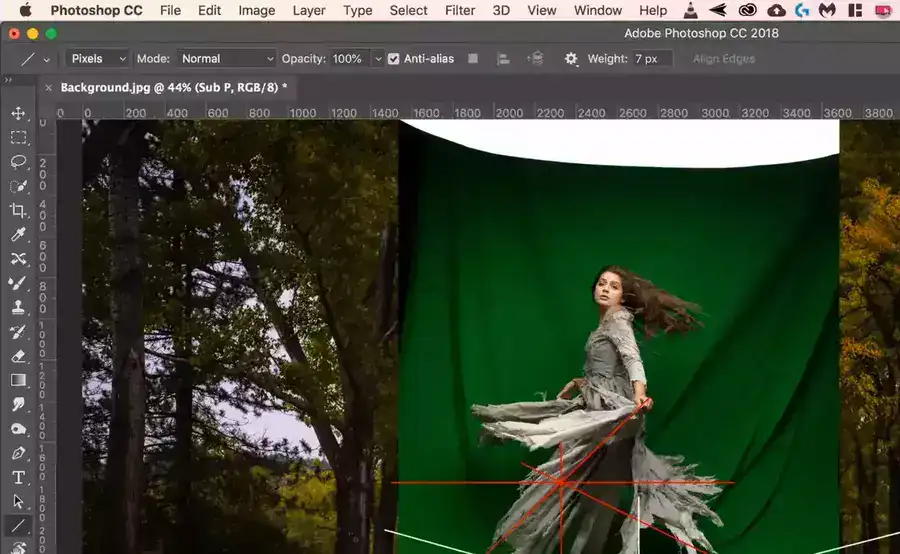 Undoubtedly the best green screen software for photographers would be Adobe Photoshop. With its comprehensive set of tools and advanced editing capabilities, it offers endless possibilities to create stunning images chroma keying.
Does Canva have chroma key?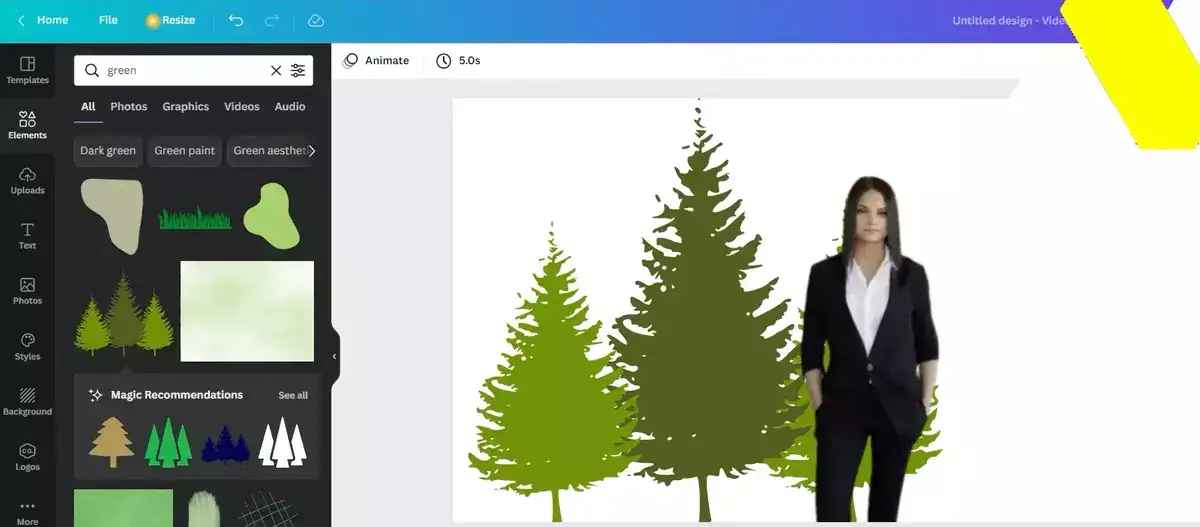 No, Canva does not have a chroma key feature. However, it does offer plenty of editing tools to help you tweak and refine photos with the same precision as any other image editor. You can achieve the same chroma keying effect by removing the background and replacing it with something else but it is not gonna be as smooth as Photoshop. With its intuitive layout and powerful editing capabilities, Canva can be an invaluable resource for creating stunning visuals quickly and effectively.
Can you Photoshop a green screen?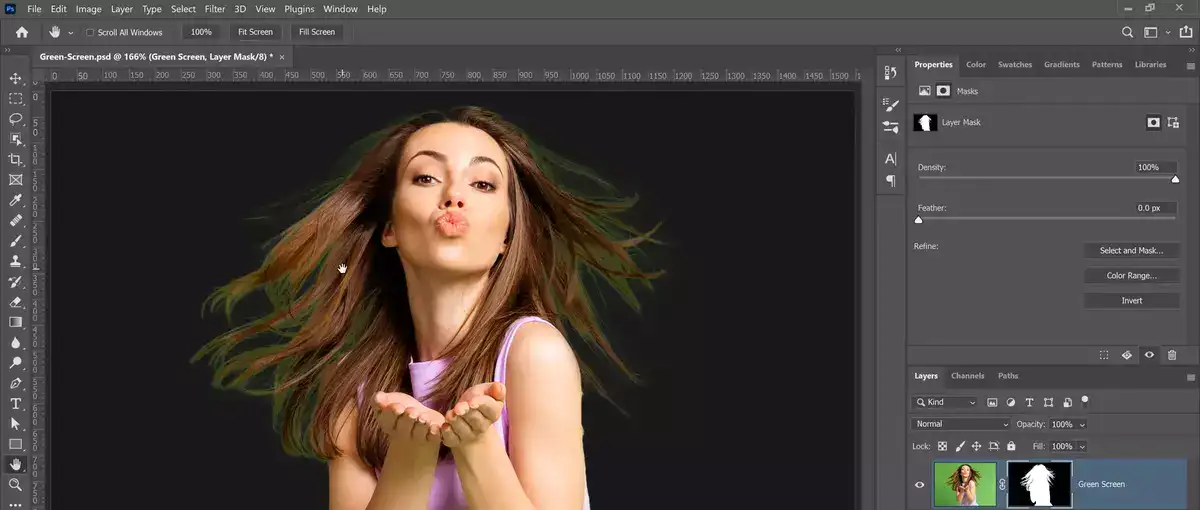 Absolutely! In fact, professionally speaking, Photoshop is the best app out there to get the job done.