Are you tired of searching for the perfect website builder to start your dropshipping business? Look no further than our top pick for the best website builder for dropshipping! According to recent data, 67% of consumers prefer to shop online rather than in-store.
With this in mind, it's important to have a solid online presence that can showcase your products and attract potential customers. After extensive research and testing, we can confidently recommend our top pick as not only user-friendly, but also customizable and cost-effective. Say goodbye to the headaches of trying to build a website from scratch and hello to a streamlined and efficient process with our top website builder pick.
Also read: Best website builders for eCommerce

Squarespace
---

Shopify
---

Strikingly
---

Wix
---

Weebly
---

HostGator
---

Site123
---
Strikingly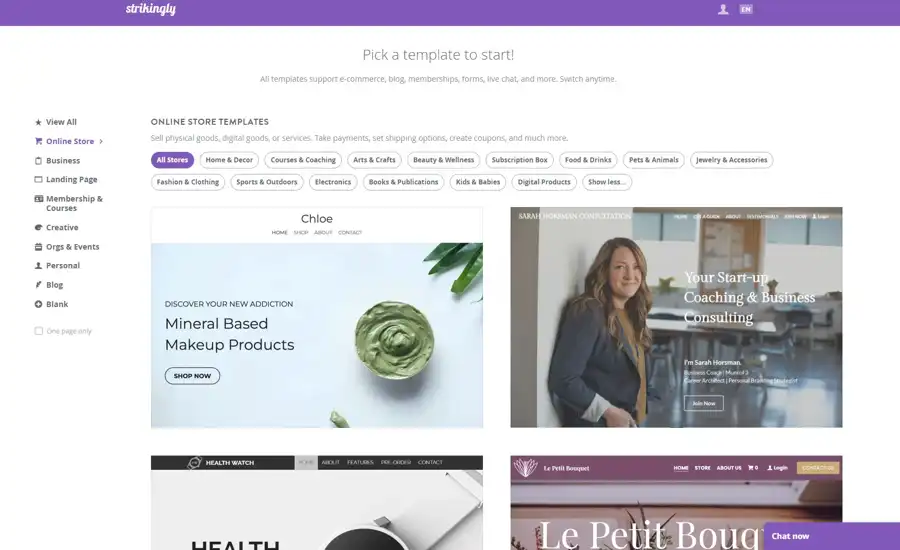 As dropshipping continues to gain popularity, entrepreneurs are looking for the best website builder to help them get their businesses off the ground. While there are plenty of options out there, Strikingly has emerged as a top contender.
After conducting thorough testing, we've found that Strikingly is a solid choice for anyone looking to build a dropshipping website. Not only does it offer a user-friendly interface, but it also provides a range of helpful features to assist with your website's growth.
One area where Strikingly really shines is in its customization options. The platform offers a variety of templates to choose from, allowing you to create a website that's tailored to your specific brand and niche. Additionally, Strikingly's drag-and-drop editor makes it easy to customize your pages and add new elements as needed.
Also read: Best website builders for selling subscription
Another feature that sets Strikingly apart is its built-in e-commerce capabilities. With the platform, you can set up a fully functional online store for your dropshipping business, complete with payment processing and inventory management tools. This level of integration can be a real time-saver for entrepreneurs who don't want to fuss with different software solutions.
In terms of pricing, Strikingly offers a range of plans to fit different budgets and needs. While there is a free plan available, we recommend upgrading to one of the paid options to access more advanced features such as custom domain names and email addresses.
It's worth noting that Strikingly does have a few limitations, particularly when it comes to SEO and customization options for more advanced users. That being said, for most dropshipping entrepreneurs, Strikingly is a more than capable website builder that can help you get your business up and running quickly and easily.
Overall, if you're looking for a solid website builder for your dropshipping business, Strikingly is a great option to consider. With its wide range of customization options, built-in e-commerce capabilities, and flexible pricing plans, it's easy to see why so many entrepreneurs are turning to this platform.
Shopify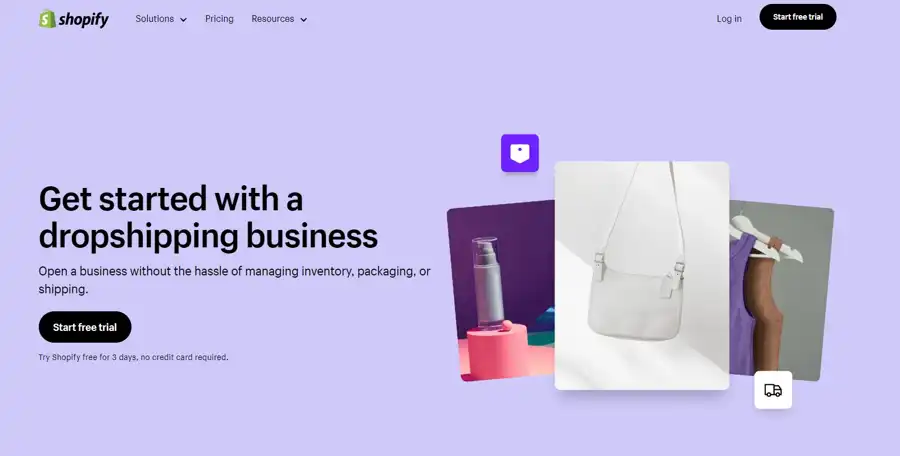 Shopify is a popular web-based website builder that provides multiple tools for online sellers to create their businesses online. It offers over 70 professional templates, about 100 payment gateways, and allows multi-platform selling.
Shopify provides a fully customizable website builder with thousands of themes, apps, and integrations for building stunning, secure, and feature-rich websites. Users can create an ecommerce store to sell their products online with various sales channels, apps, and POS.
One of the best features of Shopify is that it offers a free 3-day trial with no credit card required, providing free stock photos, subdomain, and a template for taking a test drive. Plus, users can build a website without any coding skills, using Shopify's easy drag-and-drop WYSIWYG functionality. But for those who can edit HTML and CSS files, Shopify allows for that too.
Shopify's website builder accommodates businesses of all sizes, from budget-conscious entrepreneurs to large enterprises, and helps them customize their website with unique content that stands out. Users can purchase custom domain names through Shopify using various free tools like the Business Name Generator or Domain Name Generator.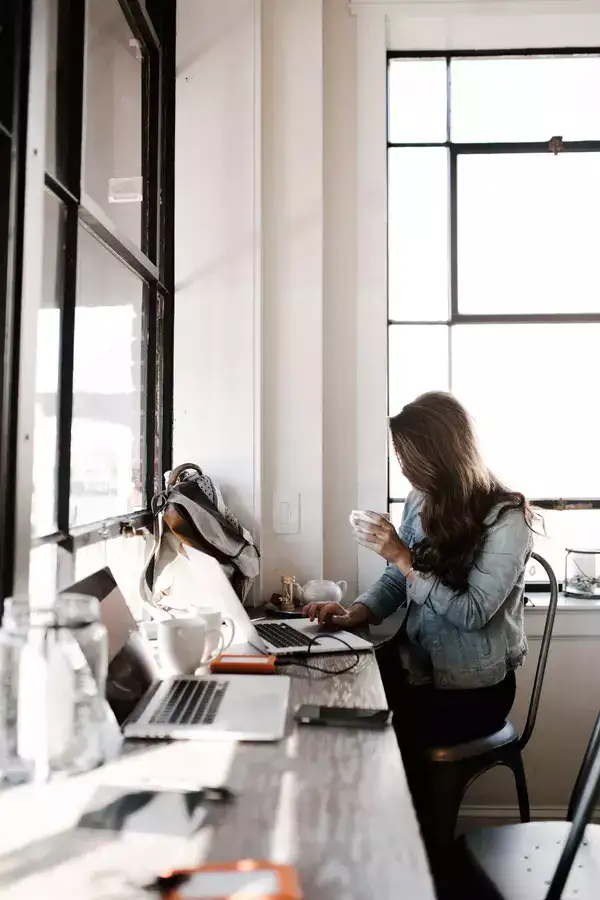 Shopify's website builder is PCI DSS compliant for all financial transactions, and users can manage their domain and business in the same place. Plus, Shopify's support team is available 24/7 to help its users, and it offers many educational resources, including online courses, webinars and blog posts.
Although Shopify is considered one of the best options for building a dropshipping website, it does have its downsides. For instance, it has a difficult learning curve and is reliant on apps. Plus, costs for a monthly subscription, selling fees, and apps can add up. And with no organic traffic, a budget for marketing is required.
Despite these challenges, Shopify remains a popular choice for creating a dropshipping website. It offers a complete blogging platform, multi-platform selling, and over 3,000 apps, including ones for dropshipping suppliers like DSers, Spocket, Zendrop, Dropshipman, and Printful.
Shopify helps you to secure your domain name, provides detailed analytics and reports to help optimize your online business, and allows the complete control of customization. With a monthly fee to use Shopify, it offers no selling limits, making it a great option for entrepreneurs who want to scale their dropshipping venture.
Shopify offers multiple pricing plans to fit the needs of different businesses. The starter plan costs $5/month, with the basic Shopify plan priced at $39/month, Shopify at $105/month, advanced Shopify at $399/month, and Shopify Plus offering custom plans.
In conclusion, choosing a website builder that suits business needs is crucial when building a dropshipping website. It is recommended to utilize dropshipping tools like AutoDS, and articles to guide in scaling a dropshipping venture. With more than 4 million online stores, Shopify's App Store has apps to find dropshipping suppliers. And with Shopify's easy-to-use website builder, dropshipping has never been so easy!
Mozello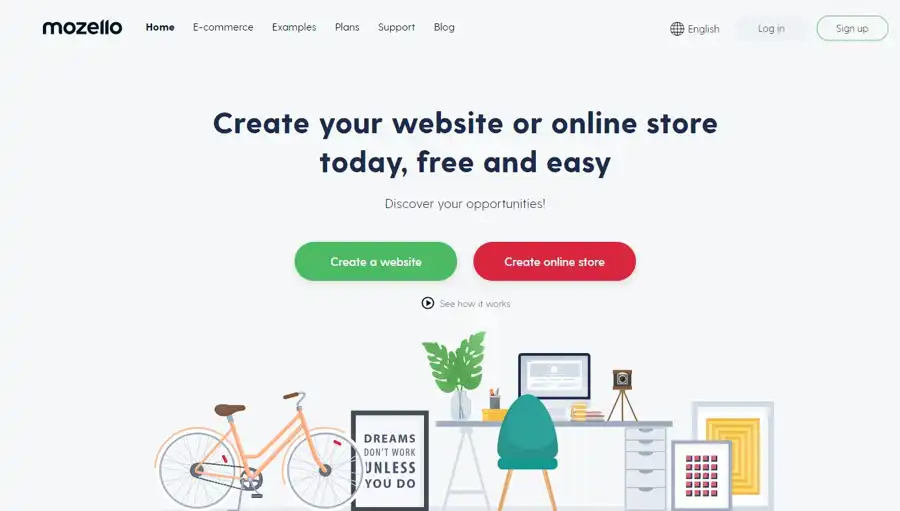 For any business that is selling products online, having a website is non-negotiable. However, creating a website can be a daunting task, especially if you're not tech-savvy. This is where website builders come in handy. Among the top website builders on the market is Mozello.
Mozello is a comprehensive website builder that offers both website building and hosting services, eliminating the need to pay for separate hosting. Mozello is user-friendly and requires no coding experience or technical know-how. It is targeted towards small businesses and individuals who are starting their eCommerce business or looking to build an online presence.
One of the standout features of Mozello is its affordability. For a monthly fee of just $7 per month, users get access to all of Mozello's website building features, including a domain name, unlimited pages, and online store integration. When compared to some of its competitors, Mozello is incredibly affordable, making it an excellent option for budget-conscious dropshippers.
Using Mozello to create your dropshipping website is fairly straightforward. The platform offers templates that are customizable to fit your brand's needs. The drag-and-drop editor makes it easy to create a visually pleasing website without any coding experience. The website can also be optimized for SEO, allowing your target audience to find your store with ease.
Mozello's eCommerce functionalities are also noteworthy. It integrates with PayPal and Stripe, allowing users to securely accept payments online. Additionally, Mozello's shipping manager simplifies the process of shipping products to customers.
In summary, Mozello is an excellent option for anyone looking for an affordable and user-friendly website builder for their dropshipping business. With a monthly fee of just $7, Mozello offers all the features you'll need to get your eCommerce business up and running. Its intuitive interface and eCommerce functionalities make it easy for anyone to create a professional-looking website.
Squarespace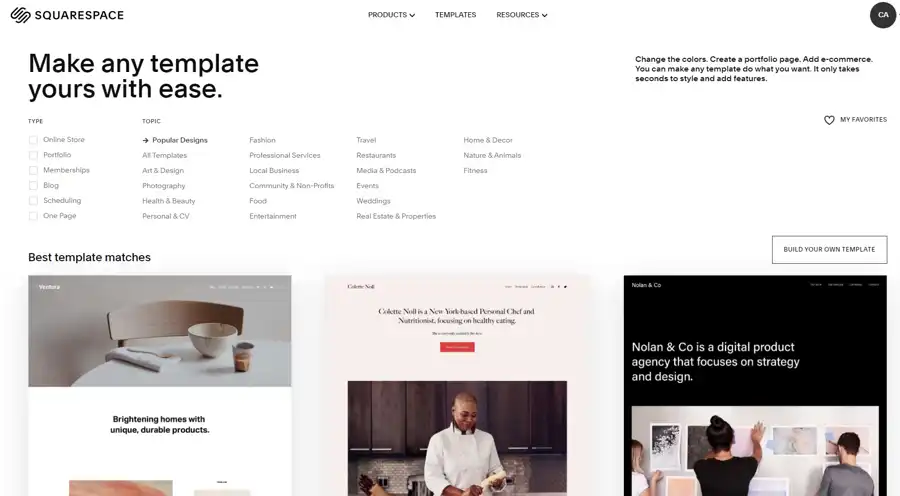 Squarespace is a top website builder for dropshipping, offering over 100 designer-made templates optimized for varying devices. Our team tested this builder and found that it is highly intuitive with an easy-to-navigate back end and stunning design templates that can make any store look professional and unique.
With Squarespace, users can easily build a website, showcase their products, and manage everything with their highly customizable designs and their 24/7 support team. Additionally, Squarespace provides extensions to enhance site functionality, including Printful and Printique to help boost sales, although there are fewer dropshipping apps available than with other builders.
Even though Squarespace offers a free trial, it doesn't provide free plan options, making it a better option for users who have already established a profitable online business. While the builder does have a higher monthly fee than some competitors, our research shows that the value provided by Squarespace justifies the higher price point.
If you're looking for a website builder that's ideal for showcasing a creative portfolio and mobile-optimized storefront for eCommerce, Squarespace could be the perfect solution. With four plans to choose from, including Personal, Business, Basic Commerce, and Advanced Commerce, users can select the best option to fit their needs. Squarespace also offers free domain name registration, which is a nice bonus.
In summary, Squarespace is one of the best options available for building a dropshipping website. Its highly intuitive visual editor, stunning design templates, and advanced blog section make it easy to set up and manage your online store. While it may have limited apps and higher monthly fees, Squarespace provides value that justifies the investment.
---
Frequently Asked Questions
What websites do I use to dropship?
There are many different websites that you can use for dropshipping, including AliExpress, eBay, Amazon, and Shopify. Each platform has its own unique advantages and disadvantages, so it's important to do your research to find the one that works best for you.
Is Wix good for dropshipping?
Wix can be a great platform for dropshipping. They offer a variety of ecommerce features that make it easy to create a professional-looking online store, and they integrate with a number of popular dropshipping providers. However, it's important to note that Wix does have some limitations when it comes to customization and scalability.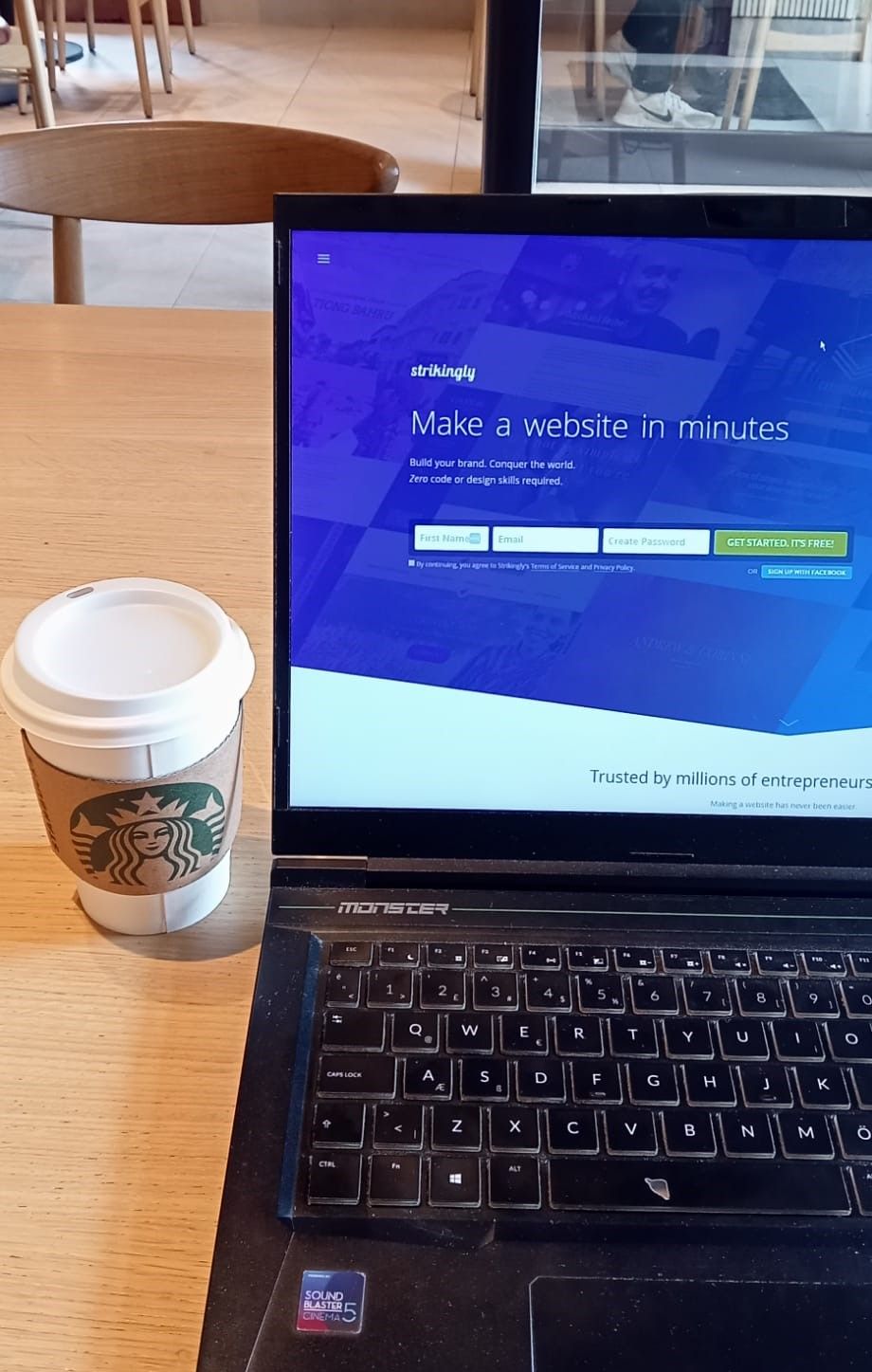 How do I create a dropshipping website?
To create a dropshipping website, you will first need to choose an ecommerce platform that supports dropshipping, such as Shopify or WooCommerce. Once you have chosen your platform, you can set up your online store, choose products to sell, and integrate with a dropshipping provider.
Do I need to create a website for dropshipping?
While it is possible to dropship without creating a website, having your own online store can be a great way to establish your brand and control your customer experience. Plus, having your own website gives you more control over your website's design, layout, and features.
Can I use AliExpress with Wix?
Yes, it is possible to use AliExpress with Wix. There are a number of Shopify apps and Wix plugins that make it easy to import products from AliExpress and sync your inventory with your online store.
Is Aliexpress good for Drop Shipping?
AliExpress can be a great platform for dropshipping. They offer a wide range of products at competitive prices, and they integrate with a number of popular ecommerce platforms. However, it's important to be aware of the potential risks of using AliExpress, such as longer shipping times and quality control issues.
What is the easiest platform to dropship on?
The easiest platform to dropship on will vary depending on your level of experience and the specific features and functionality you're looking for. Some popular options include Shopify, WooCommerce, and BigCommerce.
What is the biggest dropshipping website?
The biggest dropshipping website is difficult to determine as there are many different platforms and marketplaces that offer dropshipping services. Some popular options include Amazon, AliExpress, and eBay.