iPads are great for doing on-the-go editing for basic changes and effects. It certainly beats carrying your bulky laptop everywhere you go.

Adobe Photoshop
---

Adobe Lightroom
---

Corel PaintShop Pro
---

CyberLink PhotoDirector
---

Skylum Luminar Neo
In this tutorial, we'll mention some of the best photo editing software for iPad devices.
Also read: Best laser photo engraving software
How we tested
After carefully researching, testing and comparing over 15 photo editing apps for iPad devices, I concluded that Adobe Photoshop Fix was the best option. This app offers a wide range of tools and features to help you achieve professional-looking results quickly and easily. It has an intuitive user interface, great performance and powerful editing capabilities. Additionally, I found that its advanced retouching options such as Liquify, Clone Stamp and Healing Brush made it especially suitable for fine-tuning facial features or making complex image adjustments. Moreover, it also offers excellent support for layering effects which can be used to create impressive compositions.
Adobe Lightroom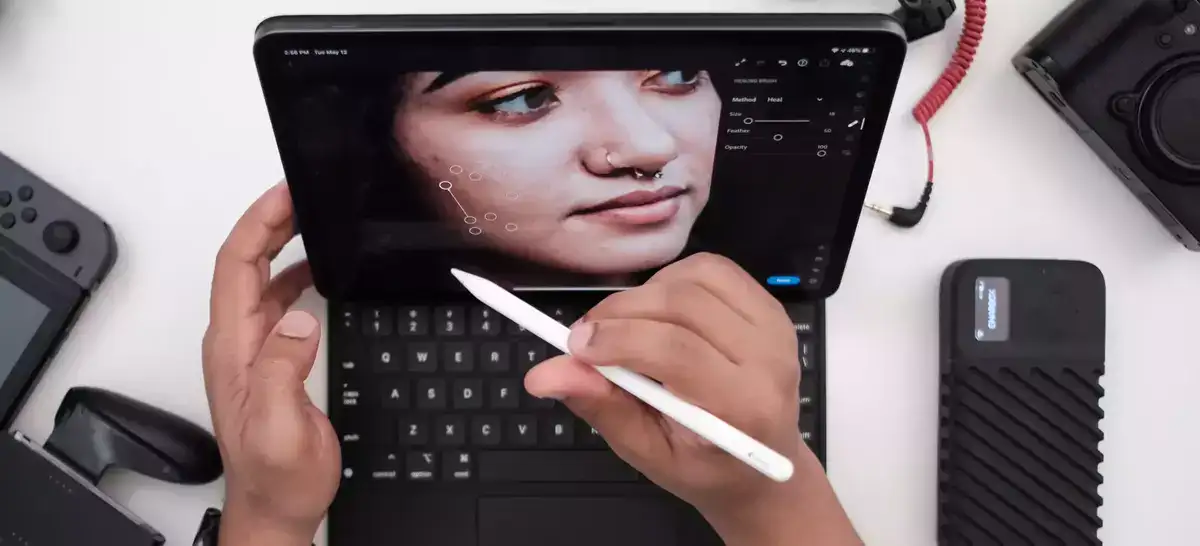 Adobe Lightroom for iPad has revolutionized the way photographers and creatives can process their images, bringing full blown features and capabilities of regular Lightroom on your Mac to your tablet. This powerful photo editor offers a wide range of features to give you complete control over your digital photos.
From basic image adjustments such as white balance, exposure, and contrast, to advanced tools like curves, split toning, and HSL Color Tuning - Adobe Lightroom is packed with all the features photographers need to create stunning visuals. The intuitive user interface makes it easy to navigate menus and take advantage of powerful tools. With its uncluttered layout and straightforward design, users can quickly get up-to-speed with the software no matter what their level of experience may be.
Also read: Best photo editing software for Chromebook
PROS:
• Intuitive user interface
• Seamless integration with Apple's iCloud system
• Robust library management system
• Support for a variety of cloud services
• Detailed post-processing adjustments in "Develop Module"
CON: • May require some time/training before achieving optimal use
A Color Story

A Color Story is a popular photo editing software for iPad devices, and many professional photographers and hobbyists alike use it regularly. If you haven't done any photo editing on mobile devices, chances are, you haven't heard of it before. After all, App Store is riddled with apps looking similar to ACS.
However, It offers unique tools for users to customize their images to make them stand out from the rest. With a range of filters, effects, curves, light adjustments, and other features, A Color Story makes it easy to bring your photos to life with just a few simple taps and it is one of the major apps used in pictures you see on Instagram everyday. The app itself is free to download and use on both İPad and Android devices. However, there are a few in-app purchases with prices ranging from $0.99 to $29.99 a year for the ACS+ annual subscription.
Snapseed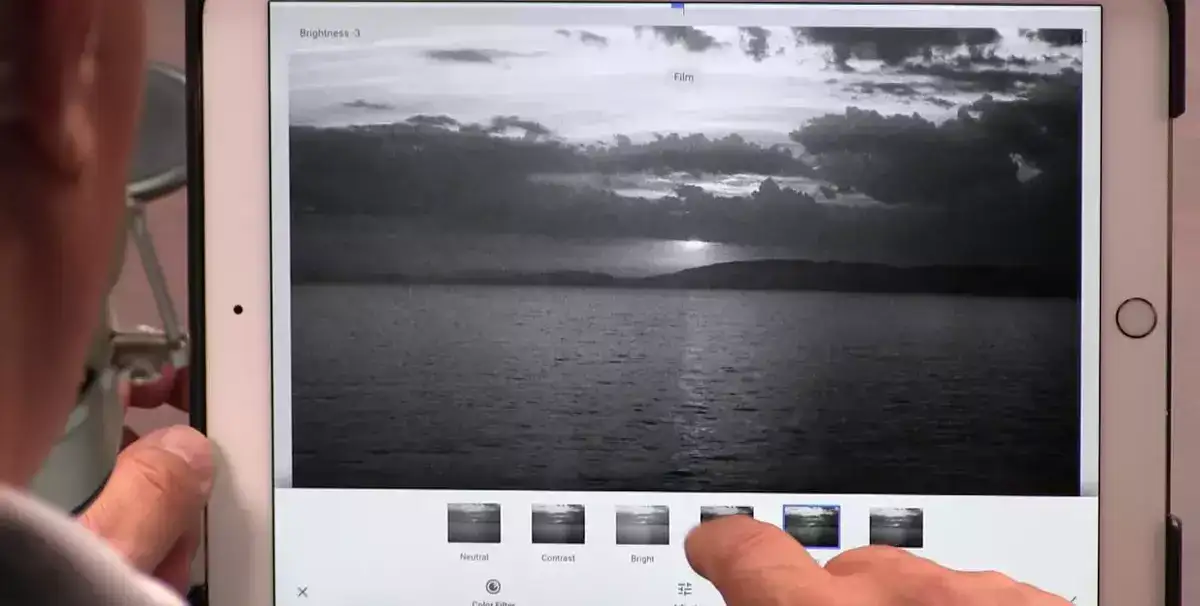 Snapseed is an amazing photo editor designed specifically for iPad users, although it's later been adapted to Google Play Store and for web use as well. Its user-friendly interface and wide array of powerful editing tools make it a great choice for anyone who wants to quickly and efficiently edit their photos on the go. Snapseed offers a range of features including cropping, rotating, adjusting exposure and color balance, adding filters, dodging and burning shadows, healing blemishes, spot removal and more.
Also read: Best photo editing software for green screen
Snapseed is incredibly simple to use with its intuitive navigation bar that provides access to all the necessary tools right at your fingertips. There's even a step by step tutorial which walks you through each tool so you can get up to speed quickly if needed. This app also supports RAW file formats from DSLR cameras, allowing you to achieve professional quality results in no time at all.
The best thing about Snapseed is that it allows you to fine tune every aspect of your image with precision control over highlights, shadows, colors, and curves. You can also apply quick adjustments like brightness or contrast with just one tap or look into detailed settings such as hue or saturation for further refinement. The app also includes a host of creative filters including vintage styles which are perfect for giving photos an authentic retro vibe.
VSCO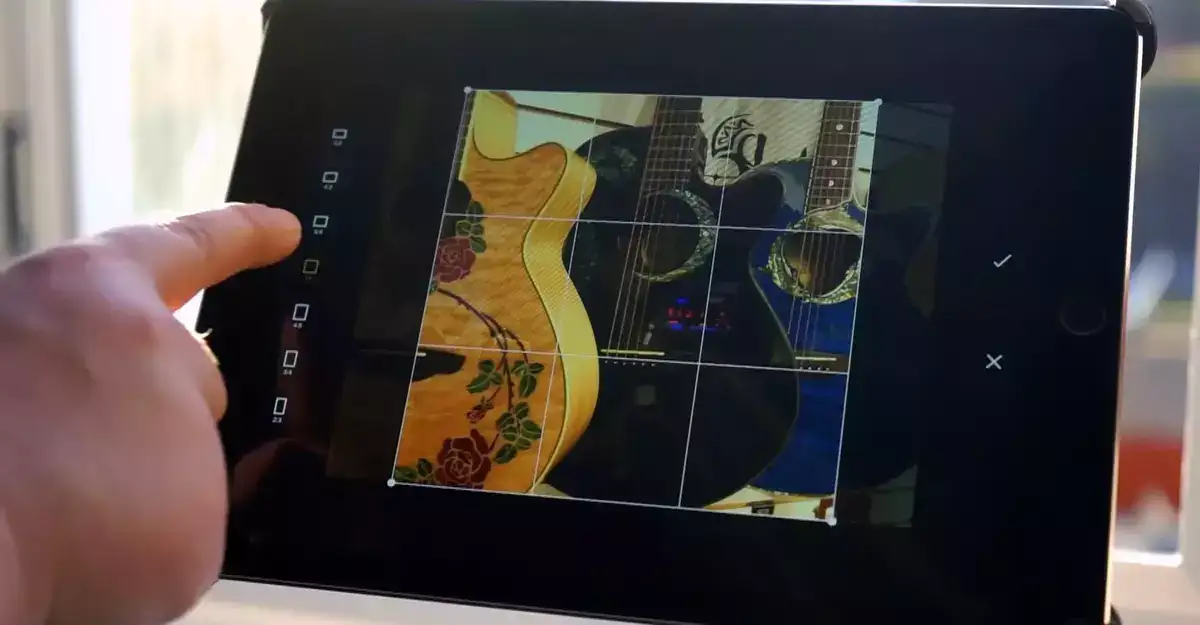 VSCO, an editing app for photographers of all levels, is an excellent choice when it comes to photo editing on iPad devices. It provides users with a comprehensive set of tools and features that will help you take your photographs to the next level. With its intuitive user interface and easy-to-use controls, the app makes getting creative quick and simple.
We've taken an extensive look on its user reviews on the App Store. It seems one of VSCO's greatest strengths is its expansive library of presets which allows users to quickly apply custom looks to their photos without having to manually adjust each setting, based on hundreds of user reviews we've seen. It is indeed quite easy to give a photo any look you want using it's filters. For instance, if you wanted to add a vintage look with muted colors, simply select one of the many options from the app's Vintage Collection preset section. This feature alone can save hours in post-processing time for those who are not as familiar with manual adjustments or have limited time available.
In addition to the preset library, VSCO has a range of other useful features such as curves and tone mapping tools which give users greater control over color correction and tonal adjustments. Furthermore, there is also a HSL panel which allows you to fine tune individual hues as well as white balance sliders so that you can achieve perfect accuracy in your edits.
Adobe Photoshop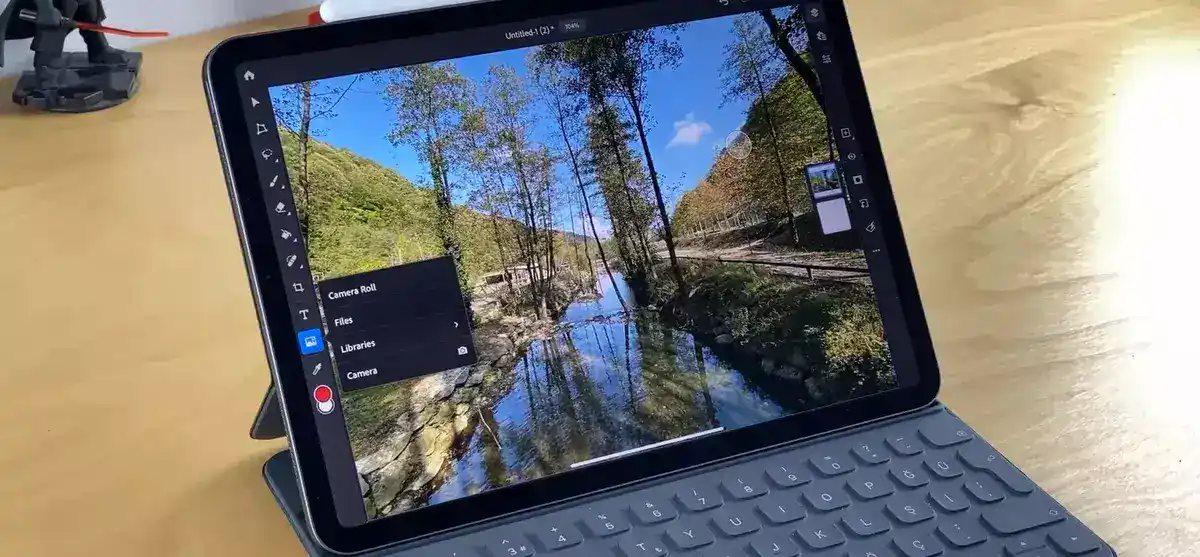 It was a piece of big news when Adobe announced that Photoshop in it's full glory would be available on the App Store back in 2019. Indeed, there weren't a lot of apps that could take on Photoshop or compete with it in any level.
You get all the regular & basic tools / features of the app's desktop version. However, the interface has been optimized for to be used better on the tablet, making navigation easier than ever before with pinch to zoom capabilities and finger gestures to select tools quickly. Additionally, users can access their Adobe Cloud account so they can sync their documents across multiple devices and collaborate with others in real time from anywhere in the world.
However, it's important to keep in mind that Adobe Photoshop is not without its drawbacks when used on iPad devices. First of all, the app does come at a steep price tag when compared to other apps available for photo editing on iPad devices. In addition, some users report difficulties when operating layers or brushes which may be due to processor limitations found in certain models of iPads or because of laggy performance due to high resolution images being processed by the device's hardware. Finally, although cloud synchronization is great for sharing work between computers, working directly from iCloud storage can often lead to slow file loading times which could hamper productivity if you're trying to work quickly or with large images files stored online.
PROS:
• Has all features from desktop version and extra tools exclusively designed for touch screens
• Pinch and zoom capabilities & finger gestures make navigation easy
• Synchronization across multiple devices & ability collaborate with others remotely
CONS:
• Costlier compared other iPad photo editors
• Potential difficulties processing layers/brushes depending on device
• Slow file loading times if working off iCloud storage
Honorable mentions
These are some of the other applications we looked at but haven't had much opportunity to play with. Based on our brief analysis and user reviews, they seem to be great contenders.
Prisma

Prisma by Prisma labs, inc. is a great photo editor for iPad devices, boasting an impressive range of tools to help refine and enhance your photos. It boasts tens of millions of downloads and has been reviewed 209.3K times, rocking a solid 4.7 rating out of 5.
It is easy to use, allowing even novices to quickly create stunning images with just a few taps. It has plenty of filters and effects available, as well as the ability to adjust brightness and contrast. The only downside is that it can be quite slow when working on large images, but it's still worth checking out if you're looking for an excellent all-in-one photo editor for your iPad.
PROs:
• Easy to use
• Range of filters & effects available
• Ability to adjust brightness & contrast

CONs:
• Can be slow on larger images
SKRWT

SKRWT is a powerful photo editor for iPad devices that offers a wide range of creative solutions to enhance images. It offers great versatility, allowing users to quickly and easily adjust exposure, contrast, color balance, and more. Although the interface can take some time to get used to, it's packed with features that make editing photos on mobile devices easier than ever.
PROs:
Versatility in adjustments;
detailed editing suite;
user friendly interface.
CONs:
Can be overwhelming for beginners
Occasional bugs/glitches.
Pixelmator Photo
Darkroom
Affinity Photo
Facetune
Glitch Art Studio
FAQ
What is the best photo editing for iPad?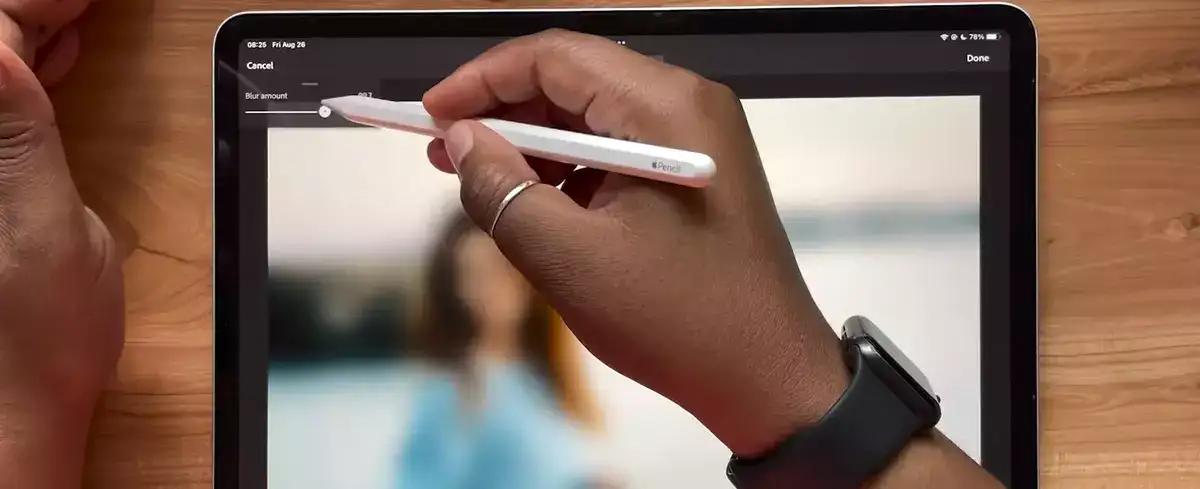 The best photo editing for iPad is Adobe Photoshop Fix & Lightroom. It offers an intuitive and user-friendly interface with powerful tools and features to edit your photos with ease. Its tools are quick and accurate, giving you professional-looking photos that stand out from the crowd. Way above what you would expect from a photo that you'll be posting on Instagram. With a range of presets and customizable options, Adobe Photoshop Fix allows you to make beautiful changes to your photos quickly and easily.
Can you professionally edit photos on an iPad?

Absolutely! With a few years of experience in photo editing, I can professionally edit photos on an iPad with ease. Using advanced tools and techniques in Adobe Lightroom and Photoshop, I can take any image to the next level - adding detail and clarity while enhancing colors and making subtle adjustments for a truly stunning final result. In some areas, it's even better than a desktop PC because of touch pen support.

Is there an app like Photoshop for iPad?
Yes, there is! There's an app for just about everything these days and if you want a Photoshop-like experience on your iPad, there are a handful of excellent options to consider. From Adobe Photoshop Mix to Procreate, Pixlr, and more - all boasting powerful tools and intuitive interfaces - you'll be able to find the perfect app for editing photos like a pro right on your device.

Best iPad photo editing app with layers
The best iPad photo editing app with layers is Adobe Photoshop Express. This powerful and intuitive app offers a range of features, including the ability to add multiple layers for complex edits giving you unlimited options to achieve the desired effect you want. Same layered design technology is also available on Photoshop Fix on the App Store.
Which iPad can run Photoshop?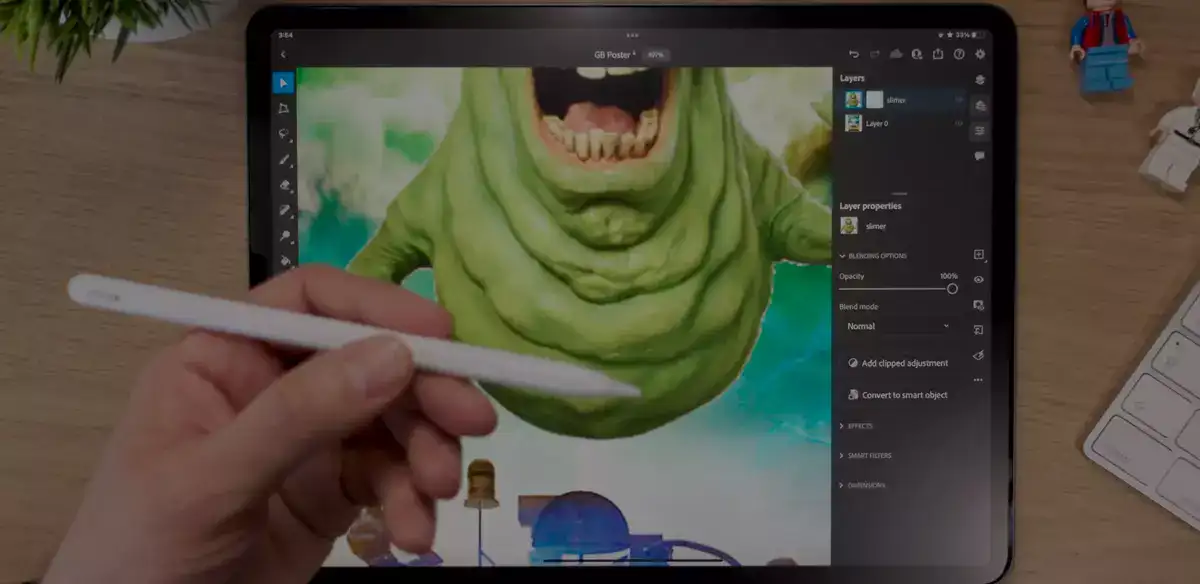 The iPad Pro, with its powerful A12X Bionic chip and Liquid Retina display, is the perfect device for running Adobe Photoshop. With up to 1TB of storage and Apple Pencil compatibility, it's ideal for creating digital artwork or photo-editing. Its superior performance will allow you to edit photos quickly and efficiently, especially when you are dealing with images that are huge in since. Such as RAWs you shot with your DSLR. Making it an unbeatable choice for any creative professional looking to maximize their productivity.

Is a laptop or iPad better for photo editing?
When it comes to photo editing, the laptop is still king. With more processing power and larger screen sizes, the laptop offers a much smoother experience that can't be matched by an iPad. With options like layer support, blending modes and brush sets, the laptop offers a far more comprehensive set of tools for professional editing workflows. For ultimate control over your images and projects, opt for the laptop every time!
Is Adobe Illustrator on iPad?
Yes, Adobe Illustrator is available on iPad! However, we haven't included Iu in this tutorial since it's a vector graphics editor rather than a photo editor. With all its complex features, from vector editing to precision drawing, it's an incredibly powerful tool for creative professionals.