If you're tired of playing Minecraft modpacks that were released years ago and feel like just copies of each other, or at best, heavily influenced, you should definitely give FTB Inferno a try. Released for the first time exclusively on FTB launcher just a few months ago, this modpack traps you inside the nether. Surrounded by nothing but flames and death. And your only goal is to survive!

GameTeam
Use "9to5software" coupon for 25% off
---

Apex Hosting
---

ScalaCube
---

HostHavoc
---
How to play FTB Inferno?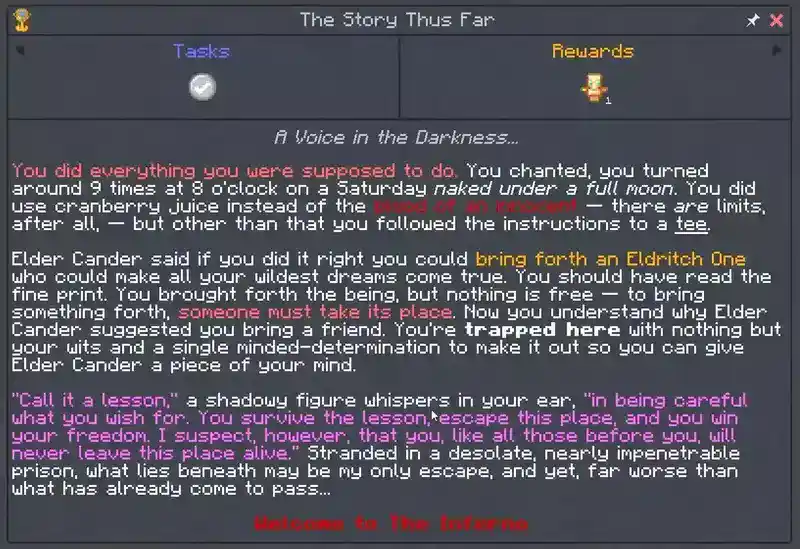 If you've played SkyBlock or StoneBlock, you'd know that SkyBlock is played in the air and StoneBlock is underground. Similar to those, this is a nether-only modpack.
When you start the game, you are limited in items and resources, and you need to get creative with what you have to be able to eventually get out of the Nether and reach the end game. You can't use any blocks except Netherite (which is used to craft tools) and fire. There are no torches, so you'll have to find them in the Nether. The Nether has its own mobs, which will attack you if they see you. They also drop Netherite, which is needed to craft more powerful tools.
Also read: Shattered Ring Modpack Review
As soon as you start the game, there won't be much of anything around you, except maybe one or two trees and some bushes. But if you open up your inventory, you'll see an item called Shroom of Illumination. Keep that one in your hand to have a bit of illumination around you, because you'll need it as you go down to explore the nether in search of a way out. (PS: If it gets too dark, you can always increase brightness from the settings.)
Another item in your inventory will be Inferno's Mercy x 5. It looks like a golden apple you eat to heal yourself, but if you look closer at the description, you'll see a clue saying "Not yet eaten! What does it taste like?" The reason is that it's a part of a crucial recipe you'll be crafting soon as you progress.
And finally, the last item in your inventory is a utility tool called Soul Fire. You can use it to set spawn points and heal yourself. Make sure you don't lose it!
Also read: Crackpack 3 Modpack Review
Now take a look at the top left of your screen, and you'll see your questbook.  This little booklet will be your biggest help throughout the game. You can also collect your rewards as you unlock new areas and craft more items. Once you collect your very first reward, you'll see a menu on the left with two sections in it. The Sanctuary and Dark Forest. These are your starting areas in Limbo. We recommend starting with the Sanctuary because it's much simpler and you'll learn the basics of the modpack much more quicker. Once you selected, the game will start a new quest called "A light in the darkness". Accept the challenge to start your first journey in the sanctuary.
FTB Inferno Server Hosting: How to Setup FTB Inferno Server?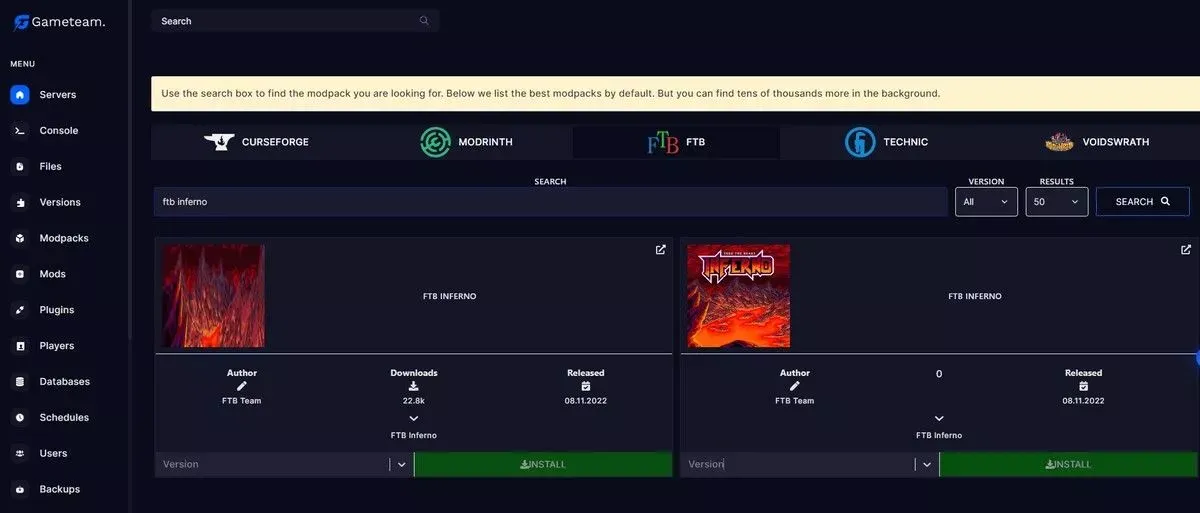 Inferno is a dark place full of scary mobs. So it might not be a good idea to face the challenging tasks of this Nether world by yourself. If you wish to progress through the game and find a way out together with your friends, you're going to need server hosting.
Related: Pixelmon Server Hosting
There are many different ways to host a Minecraft server. Some people prefer using their computers while others choose to rent a dedicated server. Either way, we highly suggest you use a reliable service provider who offers 24/7 support. You have plenty of options such as GameTeam.io, Apex Hosting, and Bisect. Just make sure they have a one-click installation support for FTB Inferno. Since it's fairly new, not all might support the modpack just yet. Luckily, GameTeam does, so let's set up an FTB Inferno server on GameTeam:
1. Visit GameTeam.io and start yourself a Minecraft server. You're going to need at least 6GB of RAM for this modpack for up to 3-4 people without any lag issues.
2. Once your server is ready, head over to your control panel and make sure it's running smoothly.
3. Navigate to the Modpacks section and look select FTB launcher instead of Curse.
4. Type Inferno in the search bar.
5. There might be a few different versions of FTB Inferno, make sure you install the one with the most downloads.
6. Select your Minecraft version and click on Install.
That's all it takes to set up an FTB Inferno server on GameTeam. io. Now you can play with your friends or even make a public server where anyone in the world can come and play FTB Inferno with you on your very own server.
How much RAM do I need for FTB Inferno server?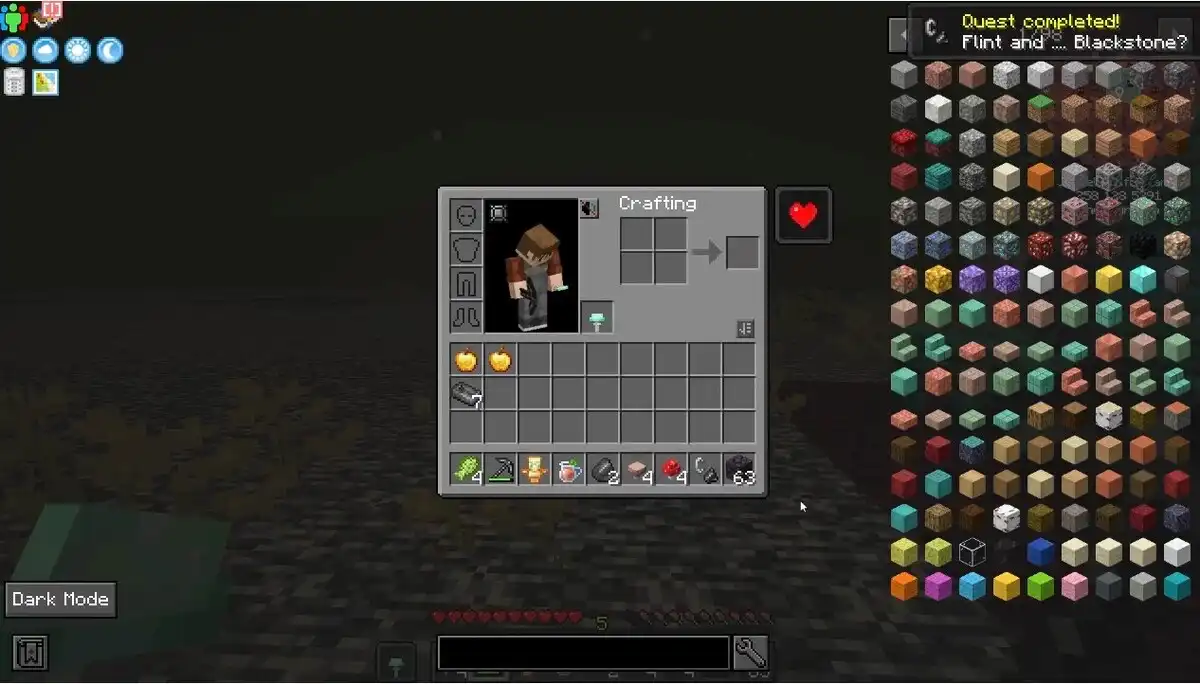 Feed The Beast requires a minimum of 4GB of RAM. However, 6GB is their recommendation. When we set up a 6GB server, it ran smoothly for a single person. If you're going to play with up to 4 people, we recommend at least 8GB of RAM to avoid crashing and other issues you'll run along the way.
Also read: Project Ozone 3 Server Hosting
FTB Inferno Modlist: How many mods does FTB Inferno have?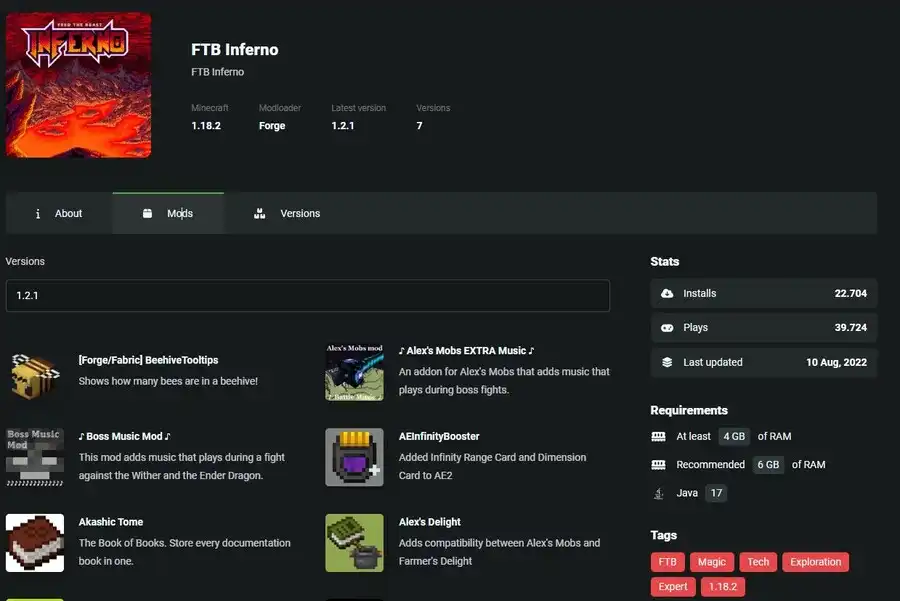 As of making this tutorial, FTB Inferno has 260 mods. However, the modpack came out less than a month ago, and you can expect there to be a few changes soon.
Some of the mods include:
BeehiveTooltips: Total number of bees you have.
♪ Alex's Mobs EXTRA Music ♪: Enhances boss fights with epic music
AppleSkin: Brings more HUD information about your food/hunger levels.
Artifacts: Brings treasures to your world, making it much more fun to explore.
Biomes O Plenty: A mod that almost every modpack has... It brings over 50 new biomes to your Minecraft as well as new structures, trees, mobs, and animals.
Block Runner: It makes you run faster on certain types of blocks.
Brutal Bosses: Dozens of new challenging bosses you haven't seen before. What's great is that it lets you create your own boss.
Canes Wonderful Spiders: As if one type of spider wasn't enough, this mod adds 10 new species of spider with unique abilities, characteristics, and spawn points.
These were just some of the most interesting ones. However, here's the full mod list:
Click here to view Project Ozone 3 modlist
BeehiveTooltips
Alex's Mobs Extra Music
Boss Music Mod
AEInfinityBooster
Akashic Tome
Alex's Delight
Alex's Mobs
All Arrows Infinity Fix
Apotheosis
AppleSkin
Applied Energistics 2
Architectury API
Armor Set Bonuses
ArnicaLib
Ars Creo
Ars Instrumentum
Ars Nouveau
Artifacts
AttributeFix
Autio Extension for FancyMenu
AutoReglib
Auudio
Avaritia
Balm
Better Advancements
Better Compatibility Checker
Better Mods Button
Biomes O' Plenty
Block Runner
BlockUI
Blood Magic
Blood Smeltery
Bonsai Trees 3
Bookshelf
Brutal Trees 3
Bookshelf
Brutal Bosses
BucketLib
Building Gadgets
Bygone Nether
Caelus API
Campfire Spawn and Tweaks
Canes Wonderful Spiders
Capsule
Carry On
Carry the Nametag
Ceramic Bucket
Ceramic Shears
Champions
Charging Gadgets
Chpiised
Chisels & Bits
Citadel
Click Machine
Cloth Config API
Clumps
CodeChicken Lib
CoFH Core
Collective
Configured
Connected Textures Mod
Connectivity
Construction Wand
Controlling
Cooking for Blockheads
Cosmetic Armor Reworked
Cracker'S Wither Storm Mod
Crafting Tweaks
CraftTeaker
Create
Create Crafts & Additions
CreativeCore
CreeperHost Presents Soul Shards
Curios API
Curious Elytra
Custom Villagers Trades
Cyclops Core
Dark Mode Everywhere
Dark Utilities
Default Options
Delightful
Ding
Domum Ormamentum
Emojiful
Enchantment Descriptions
Enchantment Requirements
Ender Storage
Engineer's Decor
Enhanced AI
Entangled
Entangled Fix
EvilCraft
ExpandAbility
Experience Obelisk
ExtraChampions
Extreme sound muffler
FancyMenu
Farmer's Delight
FastSuite
FE Transformer
Feature NBT Deadlock Be Gone
FerriteCore
FindMe
Fluid Drawers Legacy
Flux Networks
Flywheel
Food Effects
Framed Compacting Drawers
FramedBlocks
FriendlyFire
FTB Backups 2
FTB Chunks
FTB Essentials
FTB Industrial Contraptions
FTB Library
FTB Quests
FTB Teams
FTB Ultimine
Game Stages
Gateways to Eternity
Gauges and Switches
GeckoLib
GIRC-Wireless-Redstone
GottschCore
Grappling Hook Mode
Guns Without Roses
Harder Natural Healing 
Healing Campfire
Hexerei
Immersive Engineering
In Control!
Infernal Expansion
Infernou
InsaneLib
Inventory ESsentials
Inventory Sorter
Iron Chests
It Shall Not Tick
Item Collectors
Item Filters
JEITweaker
Jump Over Fences
Just Enough Immersive Multiblocks
Just Enough Items
Just Enough Professions
Just Enough Resources
Konkrete
KubeJS
KubeJS Create
KubeJS Immersive Engineering
L_Ender's Cataclysm
LaserIO
Lava Cleare View
Lazy DataFixerUpper
Libnonymous
Libx
Light Overlay
Log Begone
LootJS: KubeJS Addon
Lootr
Lucent
Magnum Torch
Mantle
MCJtyLib
Meet Your Fight
Milk of Magnesium
MineColonies
MineTogether
Mod Name Tooltip
Moonlight Lib
Mouse Tweaks
Multi-Piston
Myrtrees
Nameless Trinkets
Nature's Aura
Nature's Compass
Nether's Delight
No more Infinite Water
No More Torch Spam
No Night Vision Flashing
NoMoWanderer
Nuclear Contrapctions
Occultism
Oculus
OpenBlocks Elevator
Ore Tweaker
Overloaded Armore Bar
Patchouli
Pet Slow
Phantom Config
Pig Pen Cipher
Placebo
Plonk
PolyLib
Ponder for KubeJS
Pretty Pipes
Pretty Pipes: Fluids
Productive Bees
Puzzles Lib
Quark
Radiant Gear
Re-chiseled
ReAuth
Recipe Stages
Reliquart Reincarnations
RFTools Base
RFTools Builder
Rhino
Rings of Ascension
Rubidium
Runelic
Savage Ender Dragon
Server Performance
ServerConfig Updater
ShetiPhianCore
Shutup Experimental Setting!
Simple Cobblestone Generator
Simple Discord Rich Presence
Simple Tomb
Simply Light
spark
Spice of Life: Carrot Edition
Squat Grow
Storage Drawers
Structurize
Summoning Rituals
SuperMartijn642's Config Lib
SuperMartijn642's Core Lib
SwingThroughGrass
TamedRespawn
TerraBlender
Tesseract
The One Probe
Thermal Foundation
Thermal Innovation
Time in a bottle standalone
Tinkers Construct
Tips
TipTheScales
ToastControl
Tool Kit
ToroHealth Damage Indicators
Trample Stopper
Trash Cans
Travel Anchors
Travelers Titles
Traveller's Boots
Universal Bone Meal
Warrior Rage
Waterlogged Redstone
Wither Skeleton Totem
Witherbold
Wooden Hopper
WYML
XP From Harvest
YUNG's API
ftb-team-islands
ftbauxilium-forge
Glowing Ender Dragon
Infernal Resources
Quark Programmer Art
Copper Legacy Pack
Create building gadgets
Complementary Reimagined