With all the different payment plans, bundles, and team, student and business discounts, understanding how much Premiere Pro costs can be overwhelming. In this guide, we'll answer some of your most asked questions and hopefully help you find the best plan for you.
How much is Premiere Pro per year?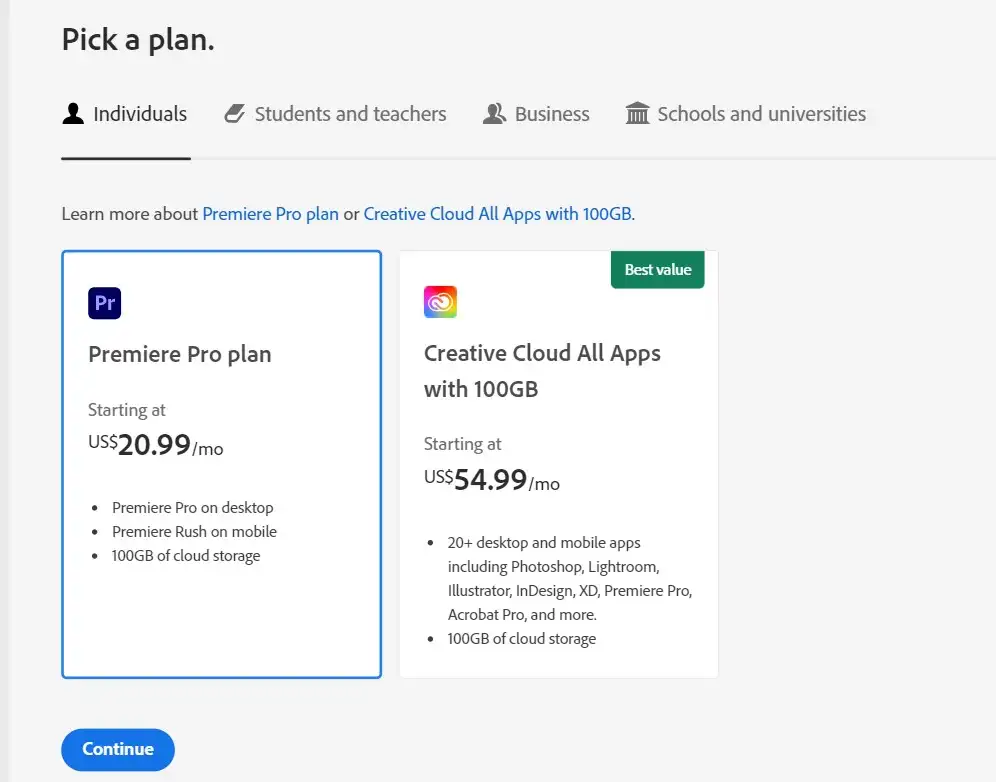 Premiere Pro is $20.99 per month, multiplied by 12, it would be $251.88. Of course, that's if you want only Premiere Pro alone.
Individuals may choose between paying $20.99 per month for access to Premiere Pro and no other Adobe applications or paying $52.99 per month for access to all of Adobe's programs. If you choose the Creative Cloud subscription, you also get unlimited access to Adobe Photoshop, Spark, Animate, Adobe Illustrator, and After Effects as well as 100GB of cloud storage included in your subscription. Cloud storage comes in very handy for backing up your work and accessing them on other devices.
Is Premiere Pro worth the money?
Absolutely! It is the most used video editing software in the world with an unlimited amount of effects, transitions, sound, and music libraries. We have covered its full features in our Adobe Premiere Pro Review,
Is the Adobe Premiere Pro free?
In 2023, Adobe Premiere Pro isn't free. In 2020 it was free for students and teachers for a brief period of time to support them during these unprecedented times. However, the campaign didn't last long and that's no longer the case.
Why is Premiere Pro Expensive?
In the past Premiere Pro was sold with a license. Meaning that you'd pay once for it and own the software and its future updates forever. However, in 2013 Adobe changed its pricing model altogether and went subscription-only.
Depending on your profession, most would consider Premiere Pro still very affordable compared to its alternatives. For the advanced features, you get with it, it most definitely pays for itself in no time.
Can Premiere Pro be pirated?
We strongly advise against trying to pirate Premiere Pro or any other software. You are risking getting your computer infected. Apart from that, some of the most important features won't be working if you pirate it, such as exporting in mp4. So you might as well save yourself the hassle.
How much does Final Cut Pro cost?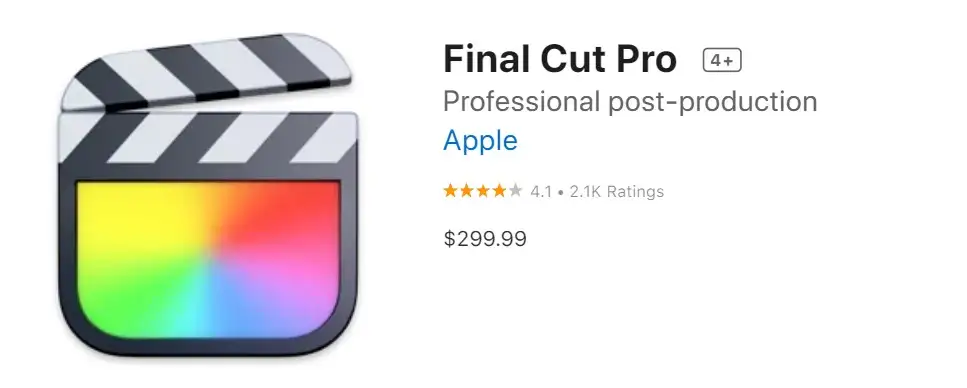 Unlike Adobe, Apple will charge you a one-time fee for its video editor Final Cut Pro. You need to pay $299.99 to get the software and all its future updates.

Is Premiere Pro better than iMovie?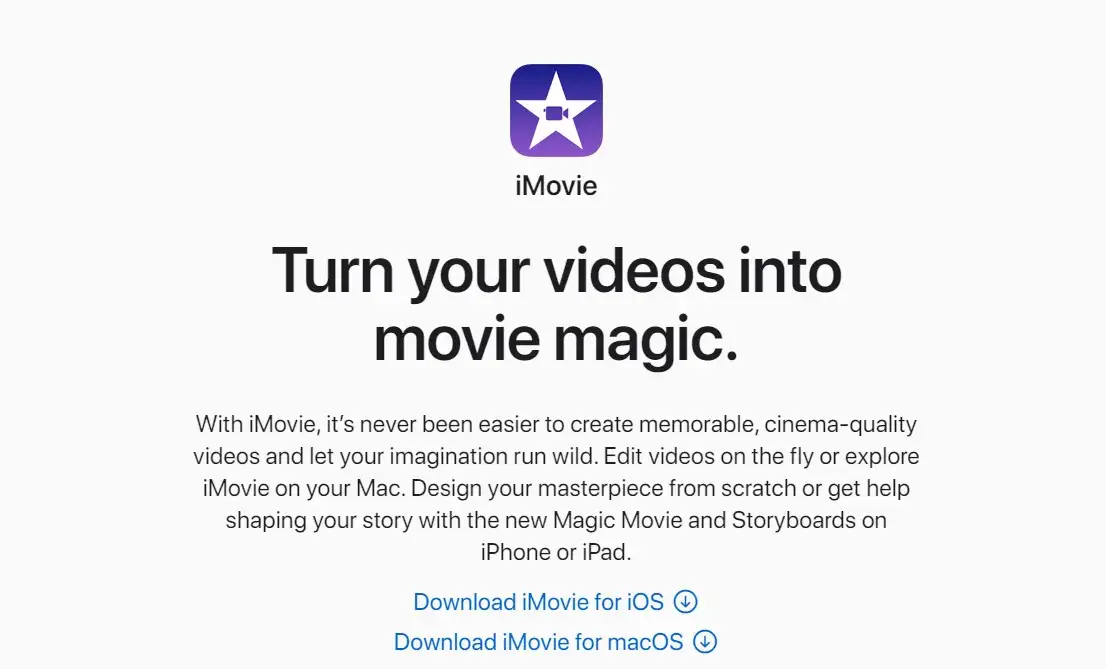 "Better" is a subjective word. But we can safely say that Premiere Pro is more professional than iMovie. If Premiere Pro can be compared to Final Cut Pro, iMovie would be Windows Movie Maker. Great for its purpose, basic editing, cutting and other simple stuff. But definitely can not be compared to Premiere Pro.
Is Premiere Pro a monthly subscription?
Premiere Pro is monthly subscription software. You could get an extra discount if you are a student, teacher as well as institutions such as schools or universities. Business discount is also available for teams.
Can I buy Adobe for life?
No, none of the Adobe applications are available to purchase for life. Adobe is no longer offering lifetime licensing as an option. Your only choices are monthly or yearly subscriptions.
Is Adobe Premiere Pro free for students?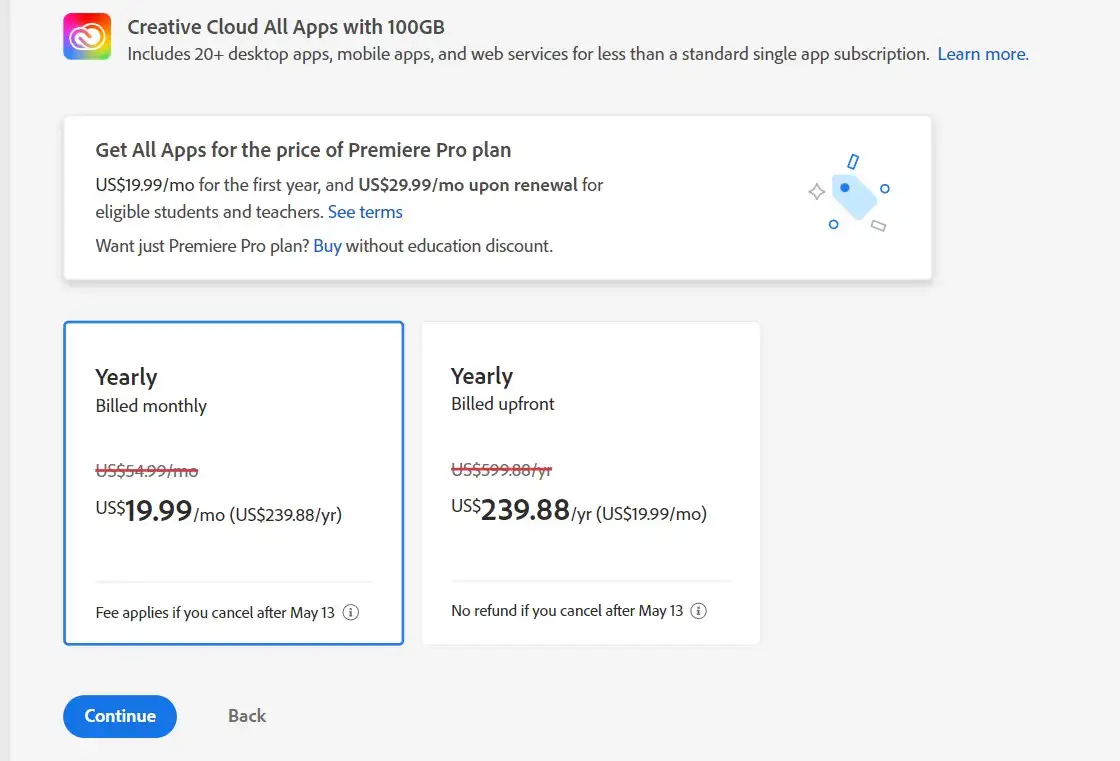 Adobe Premiere Pro isn't free for anyone, including students. However, you can take advantage of 50%+ discounts if you can prove that you are a student.
How does Adobe know you are a student?
Adobe uses an email verification system to verify its subscribers are students. To enroll in their student program, you're going to need an edu extension email provided by your university or school. Create an Adobe account using that email and follow the instruction they'll send to your inbox.
How much is Premiere Pro alone?
Not everyone needs 20+ design and editing applications provided with the Adobe Creative Cloud. If all you want is the Premiere Pro, you can get it for $20.99 per month instead of $54.99 (paid yearly).
That's all folks. In this guide, we tried to answer all your questions on Adobe Premiere Pro pricing. Until next time.