It's important to work with a video editor that can handle audio well if you are dealing with voiceovers constantly. That way you can avoid paying subscription fees to multiple software and have the same app record, edit and render voiceovers.
In this research, we are going to look at the best video editors for voice-over and audio support.

Premiere Pro
---

Filmora
---

PowerDirector
---
How we tested?
We tried more than 20 video editors and audio editing tools to see which one gives you the most features, including being able to record voiceover right inside the software. Premiere Pro and Filmora let you do just that. It's a huge time saver being able to talk over your videos while you watch them. Other important features that impressed us were audio editing capabilities such as cutting, mixing, multi-track capabilities, ability to manipulate audio levels.
Which video editor is best for voice-over?
Premiere Pro is the best video editor for voice-over because, on top of the extensive list of actions it lets you perform on audio, it lets you edit the track on Adobe Audition when Premiere Pro falls short. It's a full-suite voice recording and audio workstation used by professional studios, audio engineers, voiceover actors, and podcast makers. Adobe has an application called Bridge that lets you transfer the audio clips over to Audition with just one click, when you are finished editing it in Audition, simply save the file and the new version will appear inside your Premiere Project. No other video editor has such capabilities.
Can you do voiceovers on video editor?
Yes, you can do voiceovers on the video editors we have listed above. Some allow you to directly record on the video clip using your microphone while others only allow importing clips.

What is the best way to voice over a video?
It depends on the nature of the videos you are producing. For example for educational tutorials and demo types of videos, you can record the footage. Open it in your video editor and perform your voiceover while the video editor is recording. Some other videos such as gameplays work better with simultaneous recording. Meaning that microphone should be connected and receive inputs while the software is recording your screen. We have published separate tutorials for different scenarios. Please check some of them below;
Best video editors for online education
How do you add voice-over to video editor?
We can give you 2 different ways to add your voiceover to a video editor.
Record your voice-over in a separate audio recording program and import the clip to your video editor. This is the most common way.
Use a video editor such as Premiere Pro or Filmora that lets you record voiceovers inside the editor while it plays you the video. It's a great time saver when you need things done quickly.

How do I voice over a video for free?
Both Filmora and Premiere Pro we have mentioned are paid software. However, you could use Audacity to easily record and edit your voiceovers. It's an advanced and totally free application for Windows. After you are done recording and editing, export your audio clip as mp3 and import it to your video editor. But you'll need to sync the audio to your video if you choose that method. Read our how to fix out of sync audio tutorial if you are using Premiere Pro. Fortunately, they have automated the solution.

So, let's get to the reviews.
Wondershare Filmora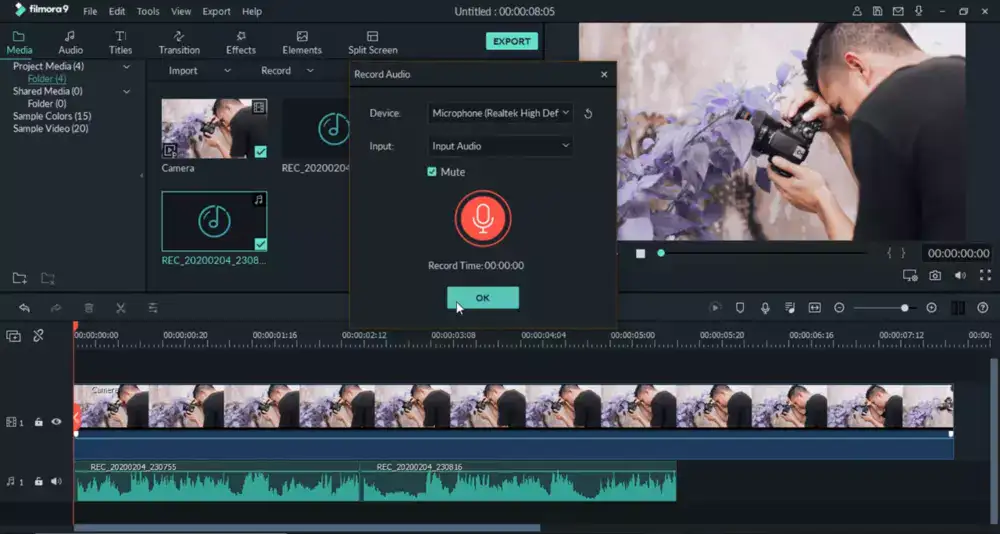 Filmora is one of the best tools that video editors can use to make editing look easy and professional. The tool offers everything you will ever need to edit your videos.
Apart from doing voiceovers, you can speed up your videos, convert horizontal videos to vertical videos, trim your videos, add motion graphics and transitions and choose music from one of the largest royalty-free tool galleries in the world.
The best thing I like about Filmora is the ease of adding voiceovers to your clips. There are two ways to edit voiceovers. You can edit your video first and then record your voice-over. The second way is to record the voice-over first and then edit the video. I recommend using the second way as it sounds more natural, and you won't be chasing the clips in your video.
Once you are ready to record, you can find the voiceover button on the right-hand side of the timeline toolbar. It looks like a microphone. Clicking it will pop open the record audio window. You can select the input device from here. You can click the mute project button to avoid picking up the sounds present in your video. Hit the microphone button once you are ready to record the audio. Filmora provides a 3-second countdown to begin. Hit the red button again to stop recording. The recorded file will be in your timeline and media panel, and you can save it easily.
So you see how easy it is to record voiceovers in Filmora. Filmora is a paid tool that comes with a 7-day free subscription. Overall, it is a great tool, but pro video editors may feel a bit limited while working on it.
Adobe Premiere Pro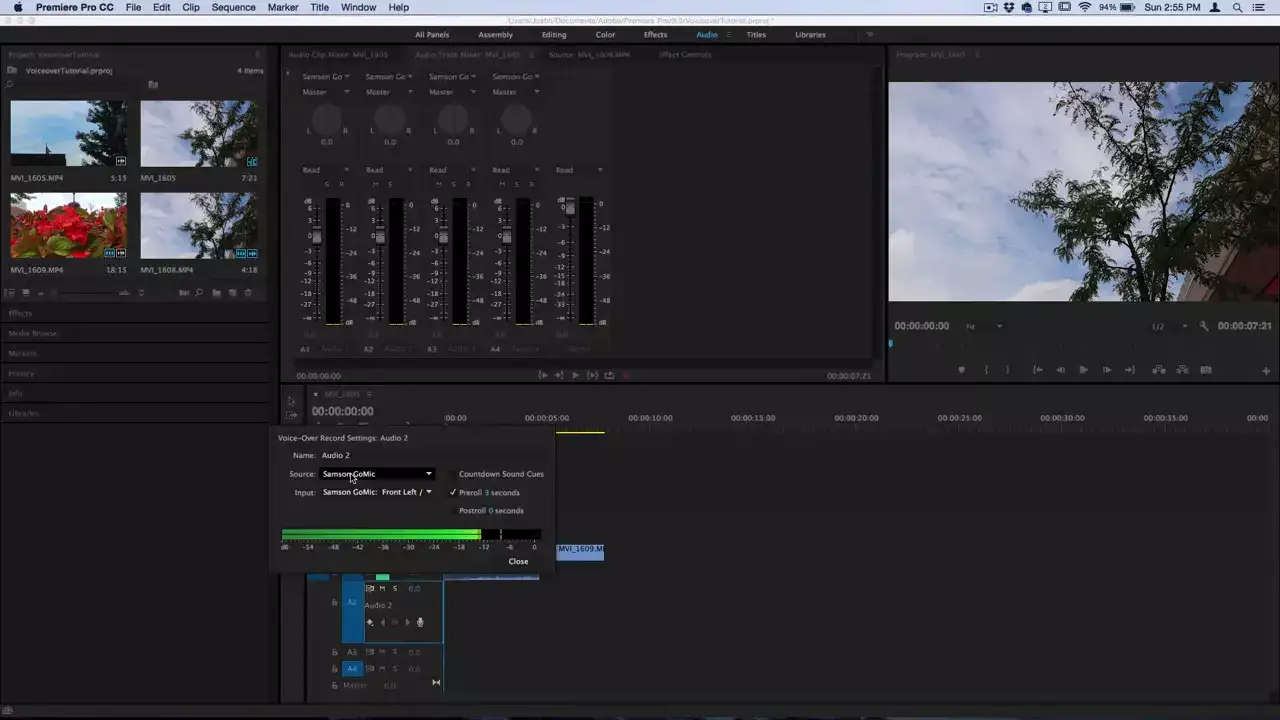 Adobe is a high-power video editor that you can use to do voice-overs, trim videos, add transitions, and remove noise and grain from your videos. The best thing about this tool is that every option is available at a single click, and the feature is neatly organized to increase usability.
Adding voice-over in Adobe is an easy task. It allows you to mute your current project so that you don't record over the current audio in your video. You can add a new audio track by right-clicking on the timeline and selecting add an audio track. Select the recently added audio track before recording your voice-over in the video.
Right-click on your audio track and click customize; you will get a window with some editing options. Pick the voice over the button; it will look like a microphone. Drag this button and place it on the project.
Selecting the microphone on Adobe is a bit different from other tools. You can do this by clicking the Premiere Pro button at the top panel, selecting Preferences, and selecting audio hardware. Select the default input as per the mic you are using. Come back to the timeline once you are done selecting the right audio input.
Click the voice-over record button, get ready and record whatever you want to. The best thing about Adobe is that it offers a lot of voice correction features. It has an entire audio tab that you can utilize to change audio as per your liking. You can fade-in/fade-out audio clips as per the scenes and shifts in your video.
Adobe is a subscription-based tool, but it comes with a 30-days trial period that you can use to test the tool. It is an excellent tool for intermediate and pro video editors. Beginners may find this tool a bit intimidating as many options in this tool are complex and require some skill to work with them.
As far as the tool's professionalism is concerned, nothing beats Adobe Premiere Pro. If you have Adobe and Filmora with you, you can soon become a skilled video editor.
Audacity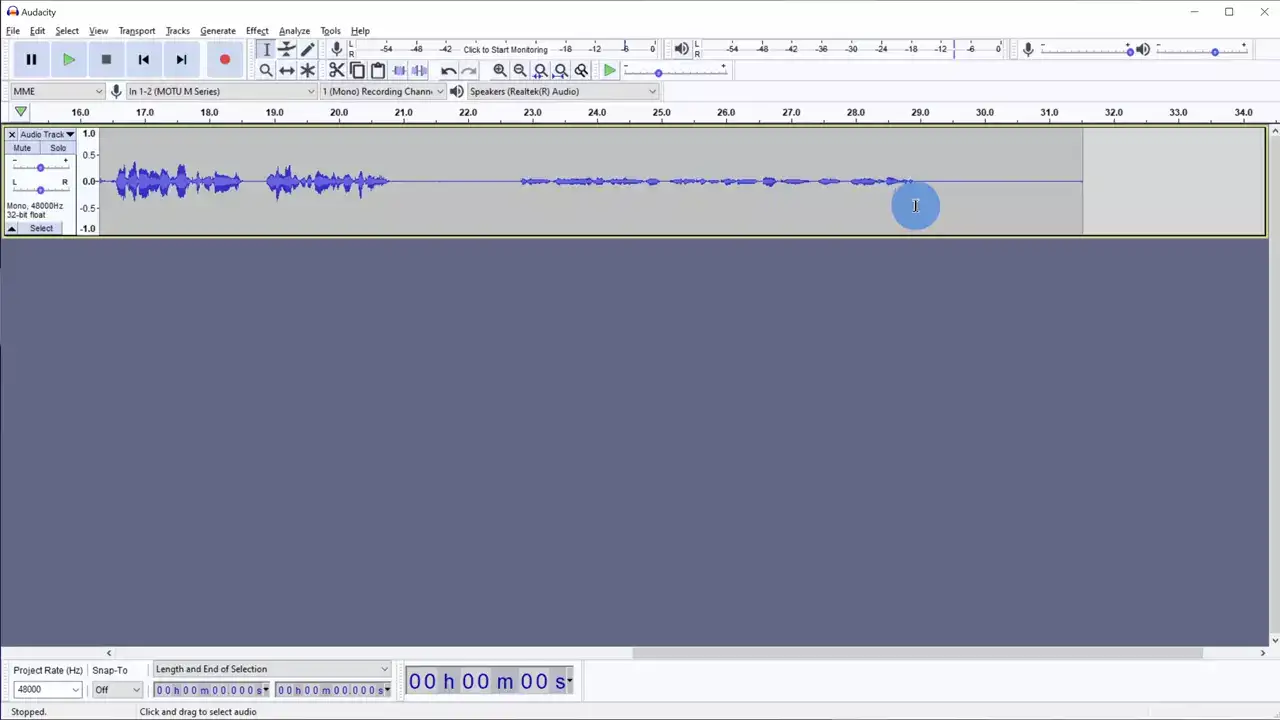 Audacity is an amazing voice-over tool that allows you to edit your recorded voice-over with various tools and impart effects in your audio clips. Since Audacity is open-source audio editing software, you can use it on Windows, MAC, and Linux-based operating systems.
It allows users to mix their audio clips professionally with great results. The best thing I like about this tool is that it offers free-of-cost voice functionalities so you can record your voiceovers without paying anything. The interphase of this tool is a bit complicated and maybe overwhelming for beginners and novice editors.
I tested Audacity's mixer when I used the software. It is probably the best mixer you will find in audio editing tools as you can mix several tracks and add various effects to it. Audacity consumes a lot of space on your hard drive, so please note that this software may not be the best for you if you run on tight hard disk space.
Windows Voice Recorder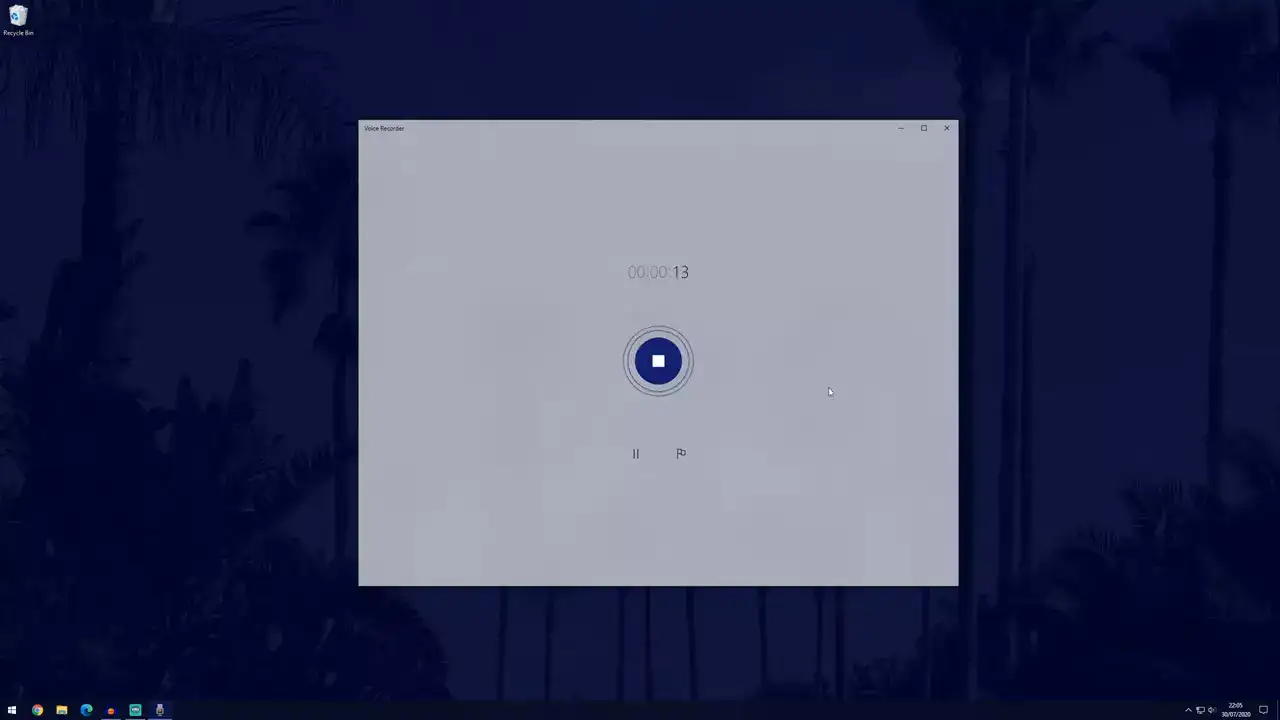 It can get any simple than this. Windows voice recorder is the simplest and easiest voice tool that you can use to record your voice. However, it won't let you edit the recording or mix it.
Everyone has used a Windows voice recorder at one point in their lives. The tool allows you to mark key moments in your audio to remind you of the critical points in your audio.
One thing I like about this free tool is that it allows you to start and pause your recording multiple times to minimize the no-sound effect. You can also share your recordings with other apps easily.
The biggest drawback of using a Windows voice recorder is that you will still need to export the voice-over clip to other tools to edit it and mix it with your video. Users don't have so much time, and they like to keep things simple. Isn't it better to use Filmora or Adobe that allows you to record voice-over and edit it at the same time without any hiccups?