If you're going to be recording and streaming Minecraft gameplays or tutorials, you're going to need a kind of video editing software that will not only provide the best value for your money but also won't lag your computer during recording and render your potentially hours long gameplay videos without crashing.

Premiere Pro
---

Filmora
---

PowerDirector
---
In this roundup, we're going to cover some of your best options and illustrate why you should choose them. This tutorial covers people playing Minecraft Java or Bedrock edition on PC, Linux, and MAC devices. You're going to need to follow a separate OS-specific video editor round-up if you wish to record and edit your videos on a different platform, such as a smartphone or tablet.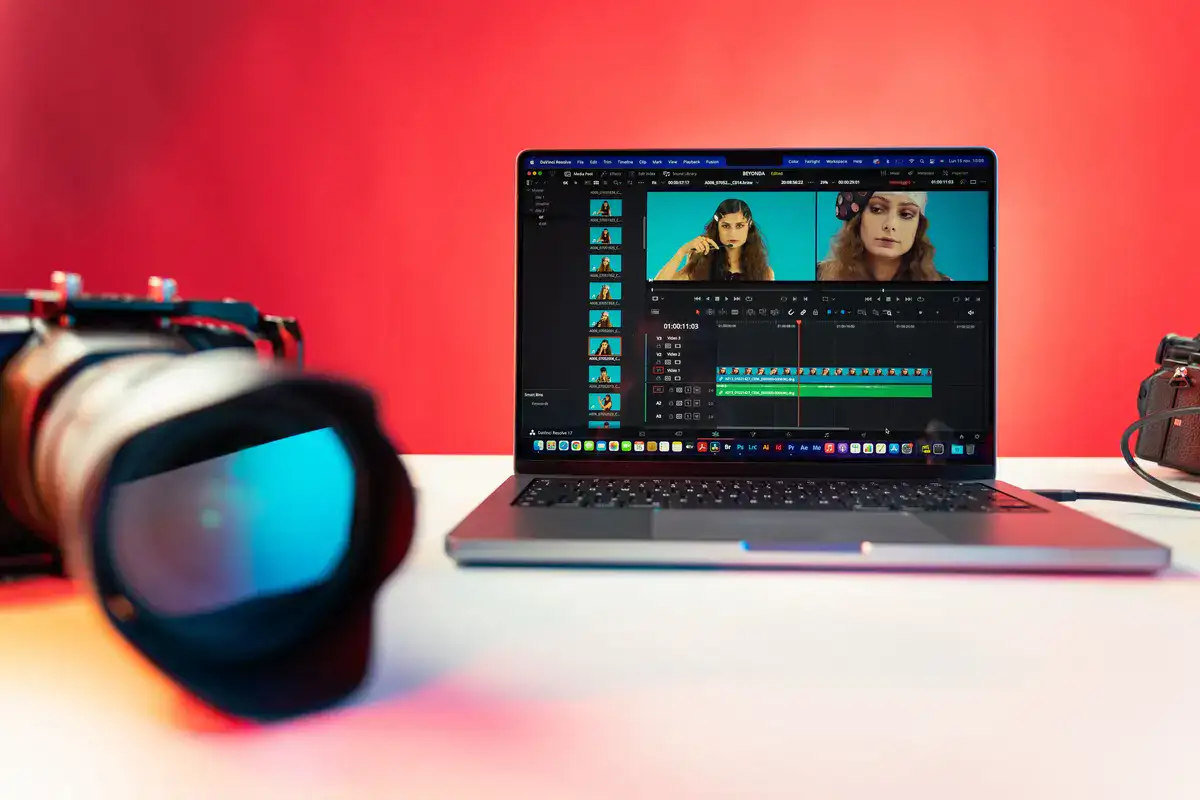 Please read our best video editors for gaming breakdown if you're searching for more general options.
Best overall: Filmora by Wondershare
The best Minecraft video editor is Filmora for Windows, Mac and mobile devices. It comes with every recording and editing tool you'll need to record and edit your Minecraft gameplay. It takes our #1 spot thanks to its intuitive design and user-friendly features. We were able to render a 30 minutes gameplay recording in just 6 minutes, about 50 seconds slower than Adobe Premiere Pro. But we ignored the speed difference and still awarded Filmora because of the integrated screen recording software. You also pay for it just once and own the software forever, including future updates.
Fastest render: Adobe Premiere Pro
If only Adobe had a built-in screen recording, Premiere Pro would have taken the top place in this review. Although they managed to provide the best render speed in our desktop machine rocking a GTX 3060, downsides like ongoing subscription costs and a lack of integrated screen recorder caused Premiere Pro to to take #2.
Built-in screen recorder: Camtasia
Yes, it's old, costs $265.49, but it has its own advantages over others. Let's find out what.
Above we listed our winners, and now let's get to the actual analysis and our reasoning behind including them in our list.
How we tested?
Being a gamer and a video editor myself, I'm aware of some of the challenges game streamers face. When I first started out I used various screen recorders such as Nvidia's own ShadowPlay, Windows GameCapture, OSB, etc. The biggest problem I had was Window's built-in screen recorded slowed down my gameplay, causing lags and terrible FPS compared to what I'd get normally. I didn't have that issue with Nvidia ShadowPlay and Filmora's built-in screen recorder. So that was the first feature I looked at. Can I record and edit Minecraft gameplay videos inside the same video editing software? The second I tried to render a gameplay recording, and we compared the results. Finally, we explored their pricing and ease of use. While most require a substantial one-time fee or small subscription fees, there're a few free options as long as you are willing to let go of integrated screen recording and turn a blind eye to performance issues and missing effects.
Filmora by Wondershare
When your goal is to get started with recording and editing as fast as possible, we'll recommend Filmora 11. Unfortunately, you don't get a free version, but there's a generous 7-day free trial which is more than enough to test the waters before committing to it. What impressed me about Filmora is that you can record hours of game clips without lagging your game and when you stop recording and exit the game, your Minecraft gameplay recording will be ready to edit, apply effects, do color correction and render. I recorded the gameplay using Filmora's screen recorder at 1080P full HD and haven't noticed any lag or drop in FPS.
Rendering the recording took 6 minutes and 12 seconds with some basic effects and color correction applied. No fancy edits, cuts, or transition effects. Expect longer render times if you'll be adding more effects.
I prefer adding my own subtitles and captions to my videos; it captures the viewer's attention and helps them focus more on the video without relying on YouTube's own Closed Caption feature. Because the ones I create are embedded to the video and the text style just looks much better due to the text effects I apply. Unfortunately, it was a daunting task with Filmora since there's still not an automated caption tracker. This means that you can't turn your voiceover into subtitles with a click of a button, unlike Premiere Pro.
Regardless, Filmora is an affordable, very beginner-friendly video editing software that is packed with dozens of free effects, music, and icon libraries. It has everything you'll need to create gameplay videos and tutorials that are engaging and captivates your audience's attention.
Adobe Premiere Pro
Adobe is a household name when it comes to video and image editing. Premiere Pro by Adobe offers tools for both beginners and professionals alike. We have a more detailed review of Premiere pro if you wish to dive deeper into its features and settings. Now let's talk about how we used Premiere Pro for Minecraft video editing. First of all, unlike Filmora and Camtasia we tested, Adobe doesn't have a screen recorder you can use. Instead, you'll need to use a 3rd part application. I tried Nvidia's built-in ShadowPlay, and it did the job just fine.
After punching some trees and chasing diamonds for half an hour, I stopped recording and opened my video in Premiere Pro. Its interface might seem overwhelming at first, but when you get used to it, it is one of the easiest video editors you can use out there. First of all, the number of transitions, effects, and available Premiere Pro LUTs online are astonishing.
There's literally a plugin for everything. From shading, text effects to motion tracking, you'll find a free or paid extension. After all, it is the most common video editor among amateur filmmakers and editors.
I mentioned how I like adding subtitles to my video with fun text effects. Premiere Pro has a free and 100% automatic subtitle generation tool. It'll normally take hours to transcribe the voiceover yourself. Premiere Pro brings that feature included with the cost, so your Minecraft gameplay will have captions embedded to it with a beautiful style.
Premiere Pro finished rendering the 30 minutes long Minecraft gameplay in 5 minutes and 3 seconds. It is exactly 67 seconds faster than Filmora, despite having background music, sound effects, transitions, and captions.
Camtasia
Another video editor I tested and liked is Camtasia. Like Filmora and unlike Premiere Pro, it also has its own screen recorder. Camtasia was the easiest to use among other video editors in terms of complexity. It has the simplest UI and not many features, to be honest. If you're looking for a very simple cut and copy type of editing, Camtasia will do the job. But anything more complicated, such as subtitles, effects, titles, and transitions, it falls behind your other options. The number of available background music and effects is also very limited.
I ran the same record and render test on Camtasia as well. It was surprisingly fast, 10 seconds faster than Premiere Pro at 4 minutes and 53 seconds for a 30 minute long video. I'm can't say it's a big achievement since the rendered video didn't have any effects and edits applied. Just simple cuts, and that's it.
I could argue that Camtasia has its advantages over other options on the list in 2 ways. Price and simplicity. First of all, it costs $265.49, with no subscriptions and unlimited updates. You own the software once you buy it. You basically rent them with Premiere Pro and Filmora due to their business models.
Another edge it has on others is that you can run it fairly easily on lower-end machines with 2 or 4GB of RAM without any issues. It'll be pretty much impossible with others. For example, we recommend 8GB minimum RAM for Premiere Pro. Or you'll have to run a really old version of them to be able to record and render without crashing your computer.
What do Minecraft YouTubers use to edit their videos?
Some of the top video editors popular Minecraft YouTubers use to record and edit their gameplay and tutorial videos are Premiere Pro, iMovie, Final Cut Pro, and Filmora. I didn't include iMovie and Final Cut Pro in this list because I specifically looked at cross-platform video editors that you can run on Windows or MAC. Premiere pro and Filmora are available on even mobile devices for quick edits. On the other hand, iMovie and Final Cut Pro will only work on iOS devices.
One of the most popular Minecraft YouTubers, TommyInnit from the UK uses Adobe Premiere Pro to edit his Minecraft videos. Although not entirely a Minecraft YouTuber, Markiplier and his team also use Premiere Pro for editing. It is truly one of the most popular timeline-based video editors out there.
How do you edit good Minecraft videos?
It is a topic that deserves its article altogether. So I'll direct you to a few other sources you can study.
This video from Welsknight Gaming, a popular Minecraft YouTuber with more than 500.000 subscribers as of writing this article, outlines exactly his exact editing strategy. It is a step-by-step guide, a behind-the-scenes video showing you how to edit Minecraft videos in a way that'll grow your channel using Premiere Pro.
This video from MadManiacGamer, an upcoming Minecraft YouTuber, analysis how TommyInnit edits his videos. Although Tommy uses Premiere Pro, this guide shows you how you can get similar results using a free video editor called Shotcut. I'd highly recommend checking these two videos to learn the best ways to edit good Minecraft videos.
Bottom Line
It felt nice after all these years to log in to my Minecraft account to play around a little and find out the best video editor for Minecraft gameplays. As a video editor and Minecraft player, I listed my top 3 choices above. I'm hoping you'll find them valuable. If there are other alternatives you wish I had looked at, let me know in the comments, and I'll give them a try.