No video would be complete without stylish transitions applied to it. Best transition video editing apps offer a rich library of transition effects that come with the software.

Premiere Pro
---

Filmora
---

PowerDirector
---
We have a detailed tutorial explaining how to apply fade effects in Premiere Pro. We went into detailed analysis, teaching you applying fade and other effects on your clips, texts, and even captions and changing their durations. But if you already know all that and just want to read about the software you want to use, read on.
Best overall: Adobe's Premiere Pro has an extensive library containing more than 200+ free transition effects. But, it has a virtually unlimited number of user-generated transitions you can download or purchase. It even lets you create your own unique transition effects for free.
Best free transition effects app: I recommend Premiere Rush for Android. It's completely free and has a similar number of transition effects to its desktop-based cousin, Premiere Pro.
Free video editing app for iPhone: InShot is the best free video editing and transition effects app for iPhone and other iOS devices. It's used by 10s of millions of people worldwide and has a 4.9 stars out of 1.9 million reviews. It has dozens of smooth transitions as well as other basic editing features.
How we tested?
For this roundup, we sorted our video editing software database by the number of transition effects they offer in their library. We've also taken into consideration features like being able to create your own transition effects or whether the app allows you to download other people's transition effects and apply them to your clips.
Filmora Wondershare
Filmora is a well-known video editing software that you can use to add various editing effects to your videos, such as adding graphics, trimming videos, and adding voiceovers and transitions.
Adding transition to your videos using Filmora is a simple task. The thing I like most about Filmora is that it offers a lot of transition styles. You can preview the transition effect before applying it to your video by double-clicking a particular transition.
After selecting the required transition, all you have to do is just drag and drop the transition to your desired point in the video timeline. You can also place the required by right-clicking the desired transition and then by selecting apply.
Filmora also allows the users to apply one transition effect to all the videos in your project. Moreover, deleting the transition is also easy on Filmora. You can also add a particular transition to your favorite list if you like it and would like to use it quickly in the near future.
What I like most about using Filmora for transitions is the super-fast speed it offers to its users. The video saves quickly after the transition is applied. Filmora gives you the freedom to add transition effects at the video's start, end, or middle.
Filmora offers a wide variety of transition effects that you can use to make your videos stand out from the rest. The transition effects are best for editing video before sharing it on streaming and social media platforms.
Please note that Filmora is a paid software, but it offers a 7-day free trial period to use the software and assess if it is good enough for you. The free version has a watermark in the middle of your project, however.
Adobe Premiere Pro
Adobe Premiere Pro is the second-best video editor software that allows users to add transitions to videos quickly and easily.
Just like I discussed above, Adobe allows the users to add transitions quickly to a video. You can find the transition folder in the Effects panel under the windows tab on Adobe Premiere. Open the video transition folder and pick out the transition you want to apply to your video.
Drag and drop the transition between the two clips where you want them to appear. You can customize the duration and alignment of your transition using the Effects Control Panel. This is an excellent feature that Adobe offers for adding transition effects.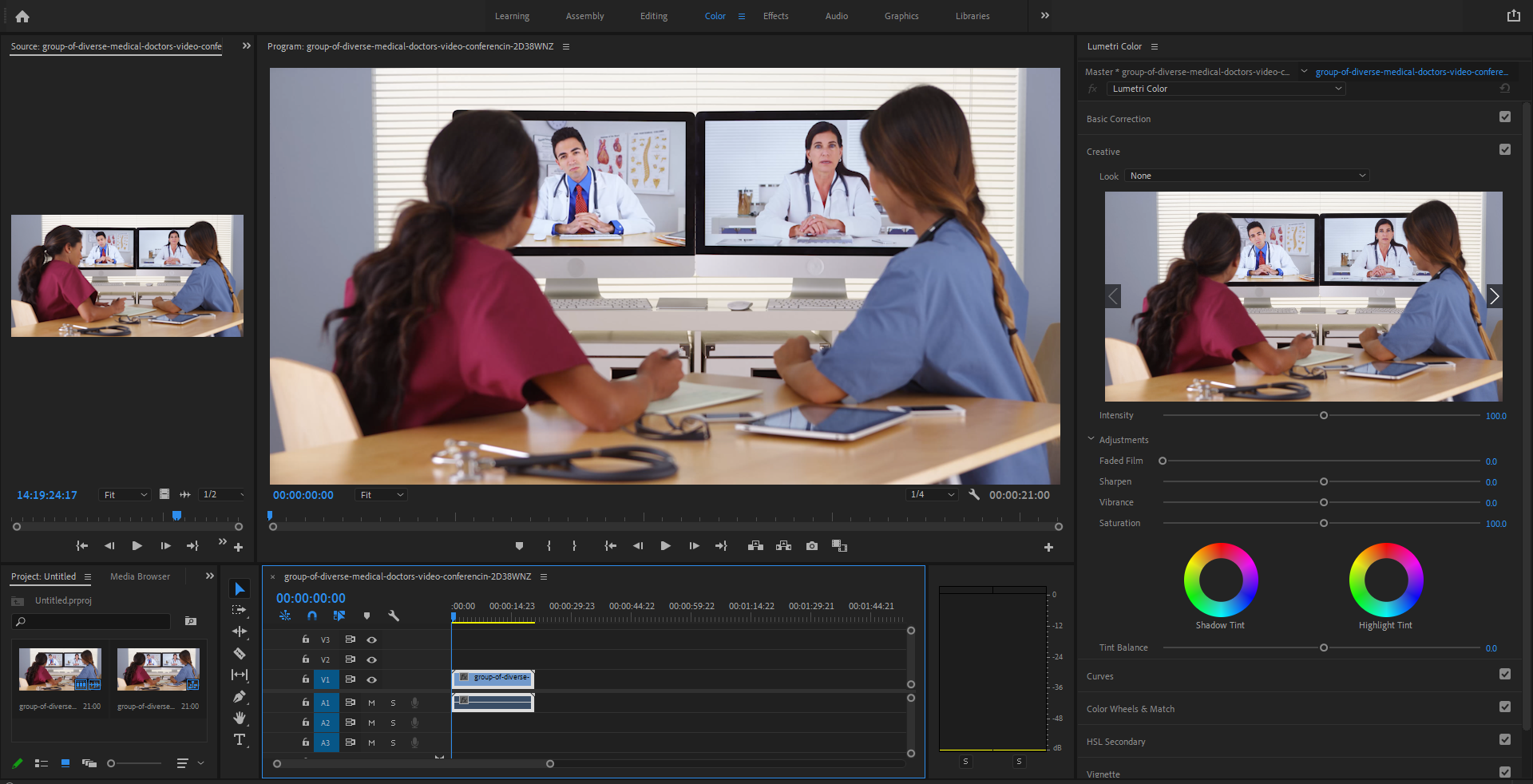 Adobe offers a variety of transition effects like 3D motion, dissolve, immersion video, pearl, slide, swipe, and zoom. Just a pro tip: transitions like fade in, fade out, and cross-dissolve are common transitions for videos, and they are light on motion graphics. On the other hand, flashier and more complex transitions in Adobe add creativity to your videos, but they make your video heavy and increase processing time.
To get the best out of your transition using Adobe, ensure you don't add too many transitions to your video. A few well-placed transitions are best to attract a crowd to your videos. If you are a streamer or a content creator, it is best to stick to only a few types of transitions so your viewers can get used to your videos.
Like Fimora by Wondershare, Adobe is also a paid software, but you can enjoy a 7-days free trial.
HitFilm Express
HitFilm Express is a simple and easy-to-use video editor that you can use to add transition effects to videos. It also offers professional-level visual effects that you can use in your videos. HitFilm Express is an advanced tool, and you may feel a bit alienated if you aren't an experienced campaigner.
I found the software overwhelming when I used it for the first time, but I got the hang of things after I edited a couple of videos on this tool. Its free version has all the features you will find in the pro version (paid) but with a limited number of effects. The only price you will pay for downloading the free version is a social media update which is mandatory by the company.
The best thing about HitFilm is that it lets the users create transitions without creating composite shots. This saves a lot of time when you are editing the videos. The tool also offers free 3D transition effects, 4K video editing, 360-degree editing, and a large collection of special effects.
Some other worth discussing features in this software include an auto-stabilizer to make shaky footage stable, unlimited audio and video timeline length, an adaptive trimmer for trimming videos and shot enhancement to animate two separate shots together for surreal video effects.
VSDC Free Video Editor
Please note that this software is not available for MAC; you can only use it on windows. The best thing I like about this tool is that its free version comes without any watermarks, unlike Filmora, which posts a full-size watermark across the video.
Another plus with this tool is that the free version comes with a full-fledged video editing suite but with reduced features. The free version includes a mask tool and chroma key functionality as well.
The free version comes with a full suite of transitional effects that you can use to move from scene to scene. It also comes with easy-to-use image filters that you can add along with a transition to your videos and built-in links for sharing your videos across various social media platforms.
KineMaster
KineMaster is a great tool that you can use to add transitions to your videos using iOS, Android, and Chromebook. I like this tool because it allows users to edit videos and add transitions on the go. The free version of this tool is a great and powerful tool for mobile devices. KineMaster is not only an editing software; it also lets users shoot video, add effects, and share it wherever they want.
KineMaster offers more than 2500 transitions effects, but there is a catch. You have to download the transition effect before applying it to your video. Overall, it is a great app for mobile-based video editing.
What video editing app has the best transitions?
KineMaster, FilmoraGo and Premiere Rush have the most extensive list of transition effects for Android, iOS and tablet devices.
How do you do transitions in video editing?
Generally, you have two clips in your timeline. It could be entirely separate clips, or clips cut into two parts. Depending on your editor, you open the transition effects section, select the one you like then drag and drop it between the two clips. There might be shortcuts and other ways to do it based on the video editor.
How do I turn a video into a transition?
When people who are new to video editing ask this question, they usually mean how to apply the fade effect. Because it looks like you have turned your video clip into a transition itself. But that's of course not the case. Every video editor whether desktop or mobile-based has fade in or out transition effect. Simply go to your effects library, find fade transition and apply it to your clip.