If your company isn't on YouTube or some other video-based social media platform, it doesn't exist. According to a massive survey done by HubSpot, 86% of all companies use video as one of their primary marketing tools. 81% report they generate sales directly due to their video marketing efforts, while 96% think it'll play an even bigger role in the coming years.

Premiere Pro
---

Filmora
---

PowerDirector
---
Our team specializes in analyzing software, and today, we tested 26 video editors to find out the best video editor for marketers. Some are online, some are cross-platform, some work only on Windows, while the others are made for MAC devices. They all have one thing in common; features that'll make sure your company exists online in video form and communicates its message effectively.
How we tested
In 2021 we provided our video marketing consulting services to 253 companies around the world. Based on what we learned from them, we know that they care about the following features the most;
Ability to render video in multiple frame sizes. Almost all the companies we worked with wanted to create for YouTube and then publish the same video on Instagram, Facebook, Twitter, and others. A video editor that can render the video in different vertical and horizontal formats with little to no effort comes in very handy.
Most of our clients didn't care about price. Some of the options we looked at can be downloaded for free. However, Adobe Cloud's affordable subscription-based pricing model that'll give you access to more than 20 graphic design and video editing applications attracted attention.
When you create your videos in order to make a profit as a business, you may have to pay license fees depending on the material you end up using in your video and who owns them. While some music and sound effects can be accessed for free on YouTube Media Library, some video editors include extensive libraries of their own regardless of your commercial intent, while some others have both free and paid music and stock image options.
Simplicity and cross-platform capabilities were also included in our analysis. While our clients creating video content for social media prefer online solutions, we suggest going with a desktop-based solution instead for far more advanced capabilities.
Half of our clients had more than one person working in their social media team. That required multiple people to be able to work on the same project seamlessly without losing data or time. Unfortunately, not many video editors offer such flexibility. Giving established players in the industry like Premiere Pro a distinctive advantage.
These were some of the main deciding factors for selecting the best video editing software for marketing. There are a few other minor, nice-to-have features as well, but we'll talk about them specifically later on.
What's the best video software for video marketing?
Best for every marketer: Adobe Premiere Pro is our category winner when it comes to creating video marketing material. Its seamless integration with other Adobe Suite applications and ease of use are unmatched by any other software.
Best online video editor for marketers: Either Adobe Spark or Lumen5 will work great if you're planning to create social media videos. Both are paid applications since it's not cheap to offer such services. However, you can have Adobe Spark for free if you're already paying for Adobe Cloud.
Beginner-friendly: Not all of our clients had their own in-house video editing team or outsourced it to another expensive company. Filmora by Wondershare worked great for our clients with a limited budget and team thanks to Filmora's intuitive design.
Professional, heavy-duty video editing software for marketing
Premiere Pro
Regardless of the type of content you're creating. Whether it's tutorials, product videos, or Instagram reels, Premiere Pro will get the job done. It is easily integrated with our social media channels, so we could directly push our videos to YouTube and Instagram. Uploading the video while it is being rendered is a huge time saver. We use Premiere Pro at one of our sister projects, 9to5Laptops. Editing the video from beginning to end became the easiest part of our production whether we were doing product roundups or individual laptop reviews at the studio.
Since we publish dozens of videos every month, automating as many repetitive tasks as possible is crucial. We haven't seen a better video editor suited to that purpose than Premiere Pro. Take color correction, for example. We have reviewed more than 60 laptops and recorded hundreds of clips to date. Each clip requires the same color correction and grading. Instead of doing the same color correction over and over again and potentially messing every now and then, we simply import the LUT we have created long ago, and all our clips and videos are graded exactly the same way, saving us countless precious work time.
Video marketing for a company isn't an easy job if you're starting from scratch. Premiere Pro has the biggest extension and effects library among all other video editors. If designing and editing videos from scratch aren't your strong suit, just Google the type of effects you're looking for, and I assure you, there'll be a tutorial or a ready-to-use extension for it. It's all there, from text effects and transitions to motion graphics.
We do all our edits in Premiere Pro because of Shared Projects. Before Adobe introduced this useful collaboration feature, we'd use our local network to send and receive data between different devices and relied a lot on hard drives and external SSDs to move data between different computers. Shared Projects eliminate that time-consuming process. With a click of a button, your coworker can see your changes and work on their version of the project. When you are satisfied with your edit, discard or sync them together before the final render. This was a true game-changer for our bigger, corporate clients, and It sure made our editing team's life a lot easier.
Filmora
The amount of work Wondershare has put in Filmora over the years surprises me every time I fire up the editor. Take the ability to fix shaky footage, for example. Normally, it's recommended to shoot footage with a gimbal while you're on the go, whether internally built or externally. Premiere Pro has a feature for that called Warp Stabilizer. It takes the shakiest footage you can imagine and completely removes the shake, and makes it stable. Filmora 11 recently introduced a similar feature called "Stabilization" under their video settings, which does the same, albeit rather worse than Premiere Pro. But it gets rid of the shake nonetheless.
I'm aware of every video editor out there that brags about their extensive selection of effects and transitions. But Filmora delivers on that. Usually, we recommend Filmora to beginner users or YouTubers who want something simplistic with strong features. But the number of available effects, transitions, and texts made our promotional videos as modern as it gets, it immediately stands out from the rest.
Of course, as I mentioned, it's a simpler product for simpler needs. The biggest deal-breaker for us was the fact that it doesn't have an extension or feature allowing you to collaborate with your colleagues. It's fine if you have just a single person editing your videos, but it'll slow you down as your team gets bigger. 90% of the edits you can make can be done with Filmora, perhaps, even more, considering they're quick to introduce features with regular and free upgrades. But the shared projects feature just isn't there yet.
Corel VideoStudio Ultimate
For clients who record their screens for tutorials, product demos, and presentations, you can't go wrong with VideoStudio Ultimate from Corel. While Premiere Pro offers something for everyone, whether you're a Minecraft YouTuber or a Hollywood filmmaker, VideoStudio Ultimate is designed with corporate needs in mind. We pay both for Filmora and Adobe apps so we can do our research and publish these reviews and tutorials from first-hand experience. I appreciate that they aren't greedy with their pricing, unlike Adobe and Wondershare, which require you to pay monthly subscriptions. You own the software with a one-time payment of €69.99, or roughly 80 US dollars. It's a pretty huge deal when you consider you get 4K editing, 360-degree video editing, animated overlays,
PowerDirector 365
PowerDirector 365 by Cyberlink is the 3rd and last desktop-based video editor we've recommended to some of our clients. Out of 250+ small businesses and online stores we worked with, 34 preferred PowerDirector as their main timeline-based video editor.
It works flawlessly on Microsoft and MAC devices, starting from just $4 a month with a free trial version available.
Don't let its affordable pricing fool you into thinking it's a basic piece of software, yes it has disadvantages compared to more advanced Premiere Pro, especially in the collaboration department, but its affordable pricing and vast amounts of stock footage selection make it a great choice for any video marketing efforts.
It is integrated with Shutterstock video clips, stock images, and background media library, as well as Getty Images, providing access to tens of millions of stock footage libraries in total.
On top of all that, even the basic $4 package include a 50GB cloud storage for securely saving and storing your data and sharing them with your team.  
Mobile / on the go video editors
We have covered some of the desktop-based, more professional solutions. Now, let's look at mobile and online video editors you can use on the cloud.
Headliner
Not all of us have products or services we are looking to promote. Some of us have other types of media to promote in video format. That's where Headliner comes in. It helps you turn your podcasts and blog posts into elegant, shareable videos on the cloud.
For example, if you have a podcast, you could turn it into a video to publish on YouTube, no matter how long it may be. You can even create bits of the same video in different formats and dimensions to publish on different social networks. Enrich your videos with built-in effects, transitions, sounds and more.
Quik by GoPro
This is a must-have and a free video editor for GoPro owners. If you're shooting videos with a GoPro and you want the freedom of being able to edit them on your mobile devices, get Quik by GoPro.
One could argue it's mostly for people shooting action and outdoor footage. But it'll also work great if you are taking videos and pictures of your own products using a GoPro. Modern-day GoPros take some of the best-looking footage out there, and in many ways, it beats heavy-duty professional cameras for most people. Just take your shot, wirelessly transfer the footage to your phone, edit it quickly, add some effects, and it's ready to publish on any social media, your Etsy or Amazon store. All these without paying subscription fees to a video editor or even opening your laptop. Your work is also saved on GoPro cloud servers with unlimited storage. Some of the editor's features include:
Auto-syncing audio and video
Trimming, cutting, and cropping
Adjusting clip speeds
Dozens of beautiful looking filters
Ability to use your phone as a remote controller for your GoPro
VideoPad
VideoPad by NCHSoftware is a bit basic, Windows-only video editor. But it'll get the job done if you want a one-time payment solution. For $49, you are getting all the features VideoPad offers, including support for all the video formats you can imagine, 3D and 360-degree video editing, and video stabilization.
A unique feature I haven't seen elsewhere is the ability to burn your video directly to a disc. I don't know who would need it and why. I certainly haven't seen any other video editor offer this, but if you need it, there you have it.
You could get VideoPad for $3.88 per month if you prefer a subscription-based model. Or get a limited version of the software for 25 dollars. But you cannot add more than 2 audio tracks and lose external plugin support. My professional opinion is that there are better, cross-compatible solutions out there.
VSDC
VSDC has the top spot in our free video editors roundup. The number of features you get for free is truly amazing, but most importantly, they don't place a watermark on your video, completely ruining your work.
It's a Windows-only video editor as well, so it's not going to work on MacOS or Linux devices. If your work involves removing green screen, you get a powerful Chroma Key that'll get rid of the background for you. Its library containing hundreds of useful transitions and effects will definitely help you create modern and elegant-looking videos. You also have the option to render your video for different platforms in different sizes and formats.
These are all great, but what makes VSDC truly unique is that it2ll work smoothly on lower system hardware devices. Take Premiere Pro, for example. It's recommended to have at least 8GB of RAM. But with VSDC, you can get the job done easily with 4GB of RAM.
If all these aren't enough for your needs, you could upgrade to VSDC PRO to unlock more features. It brings a lot of extras for professionals, such as;
Motion tracking
Powerful audio editing tools called "Edit the beat."
AI art generator, which turns your pictures and videos into artsy-looking clips.
Mask tools and non-linear effects
More importantly, it's twice as speedy as the regular free version.
Splice by GoPro
We mentioned Quik by Go Pro. GoPro also acquired a mobile video editing application for iOS and Android called Splice. The main difference between Quik and Splice is Quik is for more simple and, as its name suggests, quick projects, while Splice lets you have more control over your videos on your phone with more effects and features.  
Promo
Promo is a Software as a Service video editor that works on the cloud. One of its advantages is that it is online, and you can access and create your video from any device, including your desktops and mobile devices.
It has two subscription-based pricing, starting from $16 a month, and you get more than 5000 templates, unlimited clips, and publishing credits. The second package, however, is for agencies. For $50 a month, you get the right to white label and sell the work to 3rd parties.
Overall, it's the perfect online video editor for short-form social media videos and ads.
Lumen5
I'd highly recommend if you have blog content and looking to turn them into videos using an online tool. We have used Lumen5 in the past, and it gets the job done well. All you do is give it your URL. It automatically scrapes the content, finds the suitable background clip for it automatically from millions of stock footage, and places important sections of your blog on the video as text.
Of course, you have complete control over every second of the video. After all, it's AI, and it can make mistakes. You can change the stock background footage, edit its effects, change the text, pick background music, and simply export the video when you are ready.
It is truly the best for creating short corporate videos for your website pages or social media accounts. Some of its biggest users include Mitsubishi, DNV, Siemens, NC State University, Berkshire Hathaway, and more.  
Fortunately for small creators like us, it has a forever-free plan that allows you to create and render 720p videos. This is more than enough for social media content like Instagram and others. But for YouTube, you may want to premium so you can export Full HD 1080P videos without branding and watermarks. Yes, unfortunately, the free version will have watermarks at the end.
Adobe Premiere Rush
Formerly known as Premiere Clip, Premiere Rush is Adobe's answer to Adobe users who demand a mobile video editor. You can think of it as a simplified version of a more complicated Premiere Pro. It's completely free for all mobile operating systems. You'll have total control over your video, edit, cut trim your clips, apply effects, and upload them directly to your preferred social media account when you are ready.
You can also save your rendered videos directly to Adobe Creative Cloud if you wish to access and edit them on your computer later. Premiere Rush is the best mobile editor because it is fully integrated into Premiere Pro, and you can easily transfer your videos to Premiere Pro later.    
FilmoraGo
Just like Adobe has Premiere Rush for mobile users, Filmora also has FilmoraGo for Android and iOS devices, not to mention its completely free. Yes, it has all the basics you'll expect, such as editing, effects, and transitions. On top,  you'll get a selection of stickers and emojis that make your videos great for social media. Footage reverse and full speed control help create exciting action clips. When you are done editing, you could directly upload your clip to YouTube, Instagram, Snapchat, Facebook, Twitter and more.
One thing I haven't seen any other video editor has so far is its Imgur integration. You have full access to Imgur's wide selection of GIFs and memes, helping you create Instagram-style videos with memes embedded on top.
Typito
We recommend Typito for text-heavy videos that have a lot of captions, titles and subtitles in them, because Typito knows how to make them look beautiful.
It's fully drag and drop. Click on where you want to add texts or captions, type it down and you're done. If you don't like to create your own custom effects, which you can totally can, there are more than 500 premade text and title styles you can use to give your texts a lively look. These motion graphics are divided into categories such as travel, food, technology, business, blogging and more. So you'll find what you're looking for immediately.
Once you've created something you are happy with, you can select the logos, styles and effects you used as a branding kit and immediately apply the same settings to other videos, and save yourself hours of repetitive editing time. Similar to Lumen5 and others, you'll be getting more than 600,000 free stock footage that you can import with one click, so you don't even have to record your own videos to get started with video marketing.
InVideo
Founded in 2017, InVideo is one of the top used online video editors out there, and it's a competitor to likes of Lumen5, Typito, Adobe Spark, and Promo.
Usually online video editors are on the amateur side compared to desktop based professional solutions, because editing and rendering requires a lot of RAM power. InVideo is one of the few online solutions that come close to other self hosted video editors. Of course, you aren't getting anything crazy like Chroma Keys, video stabilizer or motion tracking, but more than 5000 templates make it one of the best chocies for branding, promo, commercial and short social media videos.
It has a forever free plan available, but its business plan starts from $30 a month if you want to unlock full features and get rid of the watermark. Unfortunately the business plan is also limited at 60 videos a month. If you need more than that, you'll need the unlimited plan.
Adobe Spark Video
Spark Video is Adobe's online, drag and drop video maker. I chose the word "maker", not "editor" spesifically because it is nowhere powerful as other desktop based solutions. Sure, you can add images, clips, add texts, give them styles and transitions, but that's pretty much it, just as most other online video editors.
However, there's a simple reason I'd recommend Adobe Spark over other online video makers, it isn't just a simple video maker. You could make logos, infographics, flyers, banners, posters, business cards and much more. All these just for 10 dollars a month.
It's not yet over, if you have Adobe Cloud, you get unlimited Adobe Spark for free! We've been using Spark for 3 years to create our YouTube thumbnails and it really doesn't get any better and easier than that.
Kapwing Video Montage Maker
What differentiates Kapwing from Lumen5 or InVideo is that, you could get a free account and get started editing video online professionally, then export them without any watermarks. But you are limited to 3 videos a month using the free account. If you need more, you'll need to upgrade to PRO plan for $16 a month.
If you chose to go with Kapwing's Pro plan, you get to upload up to 6GB videos to edit, which is only 250mb on the free plan. Also export up to 1 hour long 1080P videos. Again, on free plan you are limited to 30 minutes and 720P resoulution.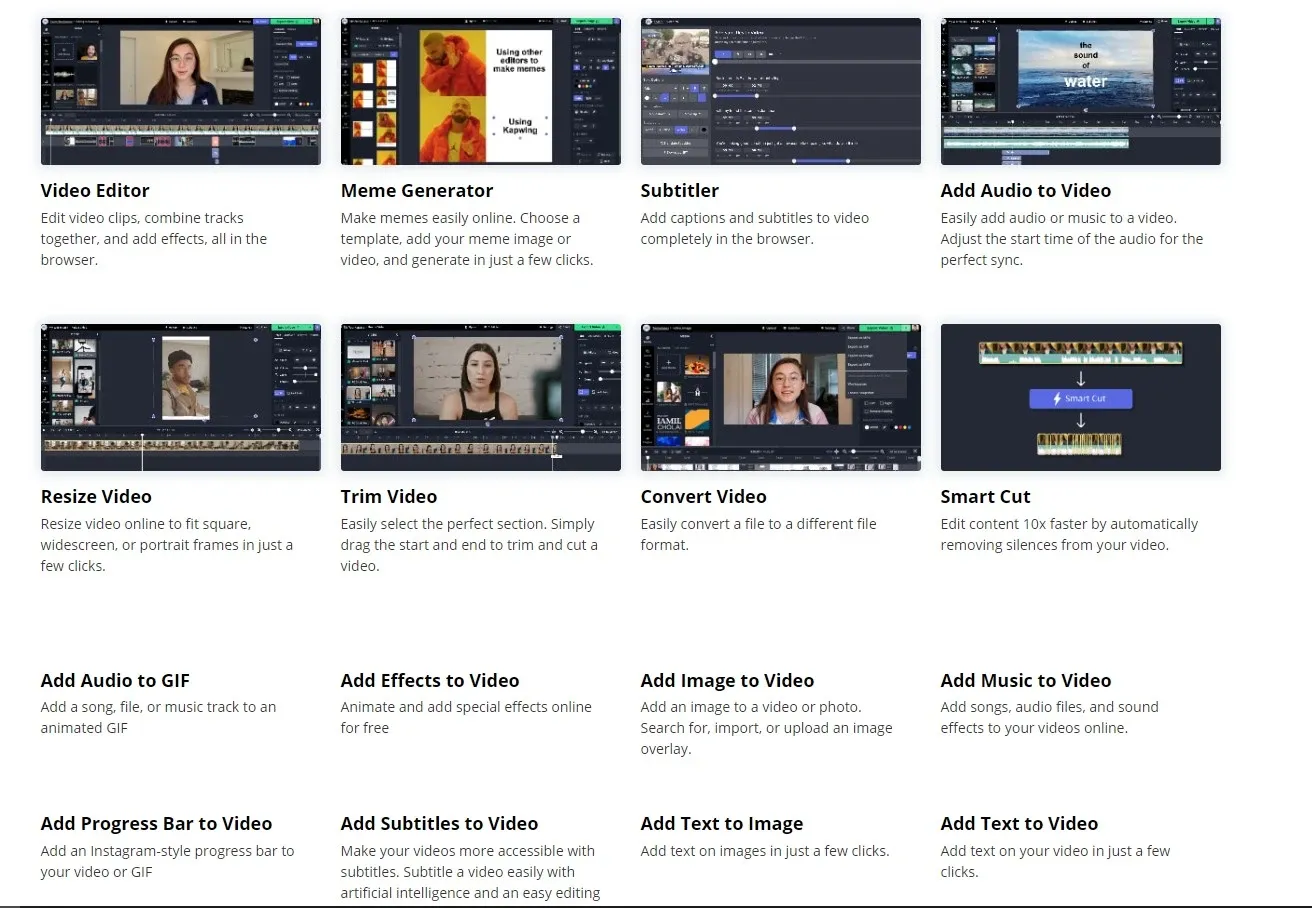 Other than that, Kapwing comes pretty close to a desktop based video editor. Apart from video editing, it offers features like meme generator, subtitle and caption creator, audio recording and editing, resizing and formatting, trim/cut features, converting, smart cuts and much more. Definitely worth a try.
Wave.video by Animatron
We briefly used Wave.Video in the past for a social media marketing campaign. What sets Wave.Video apart from its competitors like InVideo, Spark and Lumen5 is that, it excels at live multi streaming! Meaning that, you can create very unique looking live streams on YouTube, Instagram or wherever you choose to go live.
This is especially great for educators or companies giving demos because Wave lets you switch between multiple cameras. One camera could be facing the face of the video, while the other displaying your whiteboard or product for example. And you can switch between the cameras instantly.
Wave also happens to have more than 200 million stock images, videos and audio in its arsenal, beating its closest rival by 170 million more stock media.
It has bit of a strange pricing. It has a free plan for making thumbnails, but the streamer plan which costs $16 a month only lets you create videos and GIFs up to 5 seconds long. A bit unorthodox.  For longer videos upto 15 minutes, you'll need the Creator plan for $24 a month. Business plan costs $60 and lets you create hour long videos up to 60FPS, gives you auto created subtitles, access to 200 million media library, background removal and text to speech.
It has competitive pricing and features when it comes to live streaming, but we'll discuss these in another analysis.
Soapbox by Wistia
As a marketer, you are probably aware of Wistia by now. One of their newer products, Soapbox aims to help content marketers, out reach managers and product marketers.
To get started with Soapbox, you install their Chrome Extension. It records your screen and webcam at the same time, allowing you create epic product demos, tutorials, ads and corporate messages.
When you are done recording you can edit your work just like any other video editor and render online.
If you are really serious about creating these type of educational or promotional videos, they have a very unique product called Soapbox Station, that brings your microphone, camera and lights into a single station.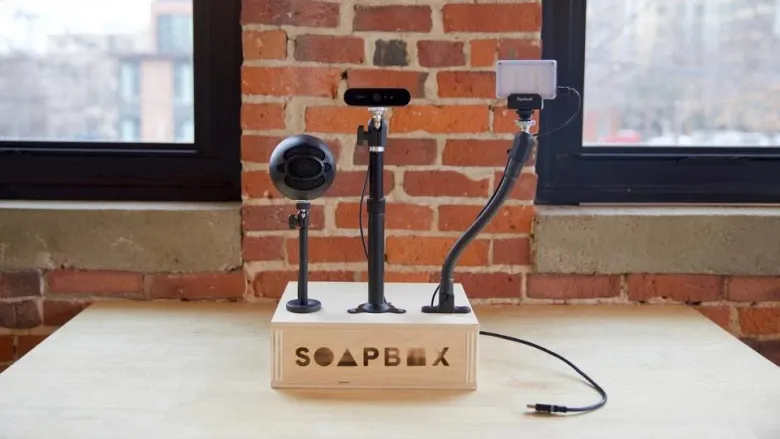 Truly innovative.