In 2023, Twitch streaming is competitive as it gets. There are more than 50,000 streamers at any moment, and 1,500,000 live viewers, and the numbers are only growing.
You're going to need to do more than just turn on your camera and start streaming whatever you are streaming to stand out from the crowd.

Premiere Pro
---

Filmora
---

PowerDirector
---
In this roundup, we will look at the best video editing software for Twitch streaming.
Please check our Minecraft video editor guide if you're interested in gameplay streaming, as we have already covered it more in depth.
How we tested?
Last year 673 up-and-coming Twitch streamers asked us what video editor they should be using. An overwhelming majority of them preferred Filmora and Premiere Pro to be able to edit their live streams. It's a feature that lets you edit videos as you stream, add images, videos, buttons, and effects on the go.
Editors that didn't have that feature didn't make it to our list as it's the only must-have requirement for live streaming for Twitch.
Wondershare Filmora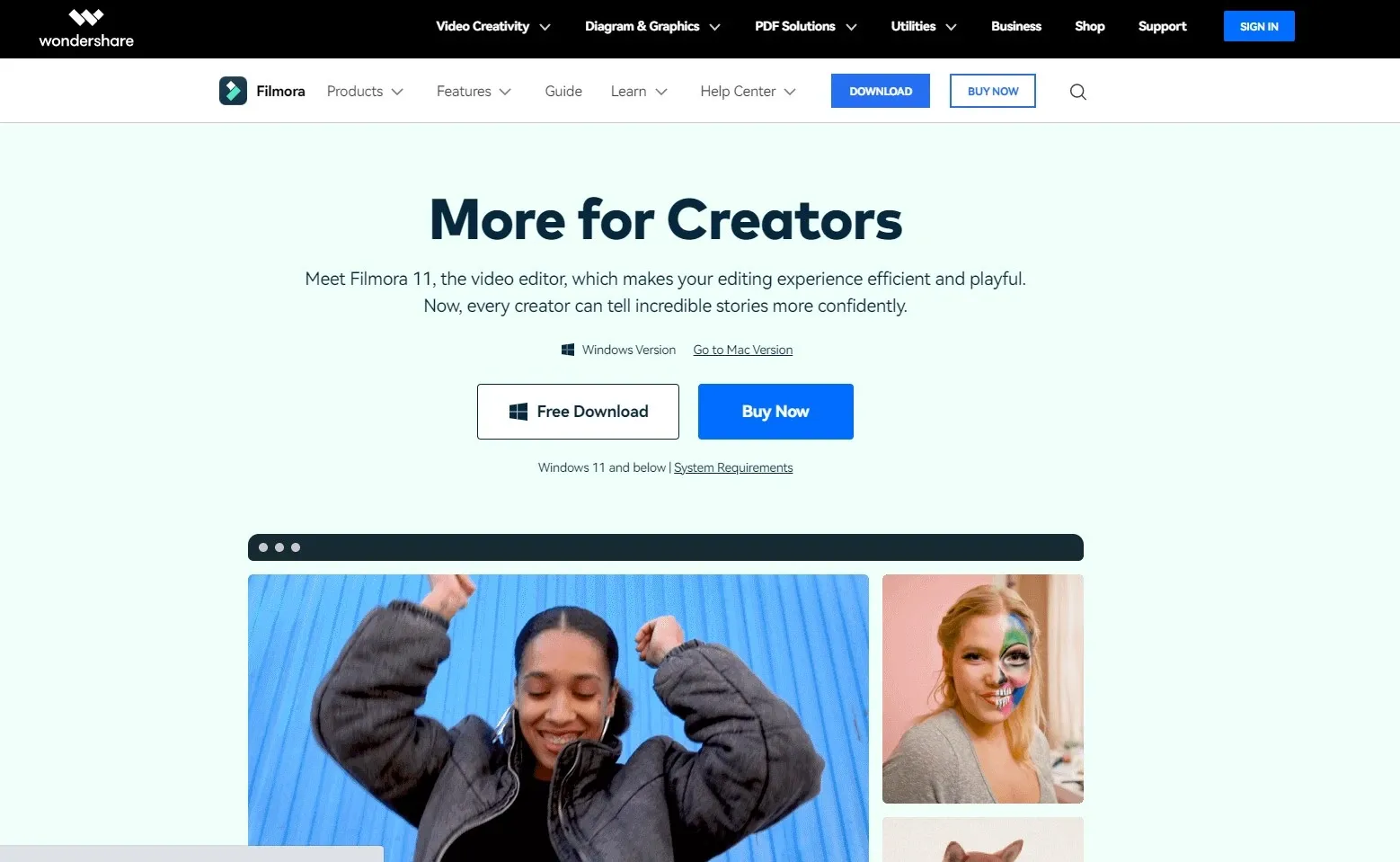 Twitch videos look way better when they are edited. Live streaming unedited videos is not the thing nowadays. If you are looking for a no-complaint video editor for your Twitch content, then Filmora by Wondershare is an excellent option. However, there's a catch. It is subscription-based, but you can try it for a 7-day free trial.
You can add crazy filters, interactive overlays, and animations to your content to make it look great. What I like most about Filmora is that it offers interesting designs for viewer donation buttons, "Twitch Bits." This really sets your streaming level higher than other streamers and increases your follower numbers.
What's more, Filmora by Wondershare has one of the biggest tutorial libraries among video editing software. This tutorial, for example, shows you step by step how to live stream to Twitch from PC, Xbox One and PS4.
The live cam video box on Filmora has the lowest lag in all the video editing software. All your actions and voice clips will be streamed without any delay, enhancing your gameplay and other live videos. You can also use Filmora to edit Twitch clips for TikTok.
Adobe Premiere Pro
Another best video editor you can use for Twitch is Adobe Premier Pro. I mean, who doesn't know about Adobe. It is one of the most fundamental and necessary tools in the arsenal of every video editor, either novice or expert.
The best thing I like about the Adobe suite is that it allows you to work on various mediums. Adobe and Filmora have the potential of the only 2 video editing softwares you will need to edit video for Twitch or any other platform.
I use Adobe After Effects to enhance my videos and bring in professional-level graphics that you find in Marvel and DC movies and TV shows. You can add 2D vector animation, 3D animation, character animation, kinetic typography, UI/UX mock-up animations, and many other visual effects to your live videos. You can buy After Effects alone or bundle it with the Adobe Suite.
Moreover, Premier Pro supports live video streaming without any mentionable lagging. One thing I would like to mention here is that Adobe doesn't have a screen recording feature. Hence, you will want to use a 3rd party application to record your screen if you want to.
Premiere Pro also allows you to automatically add subtitles to your Twitch content, which would take over hours if you were to do this on your own. Adobe supports 4K XAVC-S Format and 360° VR Content with 3D video editing.
One interesting feature in the latest update is media replacement in the motion graphics template. You can just drop your media into pre-built templates to customize effects. It is a great way to replace logos and text in a motion graphic template. You can copy and paste audio effects on your clips.
HitFilm Express
The software that I tested is HitFilm Express. It is the best video editing software for beginners. What I like about this software because it offers around 400 presets and effects for free. Its free version is one of the most powerful in the editing industry. This is why millions of people use this software and enjoy quality Twitch video editing.
Sony Vegas Pro (Version 19)
Sony Vegas is one of the oldest and most excellent video editing software. Its latest version is a great tool to edit Twitch videos. The current version, launched on 18th August 2021, has amazing features.
You get a lot of plug-ins in this version with an improved video FX, transitions, and Media Generator windows. The latest version also supports live streaming. So if you are going live on Twitch, it will allow you to make fun and interactive edits on your video that your followers are definitely going to love.
Lightworks
Lightworks is another video software best for beginners. Lightworks can use a wide variety of video and audio formats. You will never feel limited while working with this software. I like this software because it lets me do my work without searching for tutorials and online guides. Moreover, the free tutorials on the Lightworks site are best for supporting novice editors. You may be a great content creator but being a great video editor is an altogether different ball game. Therefore, it is a good idea to start with basic software.
I don't recommend using Lightworks if you are a seasoned video editor. Its interface and editing technology differ from leading software, especially for Adobe's users.
Renderforest
If you are looking to create some motion graphic videos, Renderderforest can be a great tool to have. I like this tool because it offers many free templates to choose from. The free templates will bring your creative side alive, and you will make some great videos for your Twitch account.
What do Twitch streamers use to edit videos?
OBS Studio, Xsplit Gamecaster, and Nvidia Shadowplay are among the top streaming software Twitch streamers use. However, most famous Twitch streamers like Richard Blevins, also known as Ninja, use Premiere Pro to edit his Twitch streams to be uploaded to YouTube later.
Does Twitch have an editor?
Just like YouTube live streams, Twitch also has an editor that lets you go live and stream on Twitch. It also offers features like audience chat, donation buttons, and more.
How do I edit a streaming video?
Most video editors these days integrate with live streaming platforms so you can directly stream your screen and edited videos.
If you're looking to edit streaming videos to upload them on YouTube, TikTok, Instagram, or other social media channels, Twitch lets you download your streams right from your dashboard. Drag and drop that video to our #1 recommendation Premiere Pro, select the parts you want to upload, and automatically convert them into social media screen formats within seconds.

How to edit Twitch VODs for YouTube?
Twitch VOD, also known as Video On Demand, is a library of videos previously streamed live on Twitch. You edit them after downloading similar to how you edit any other video. Import the file to your favorite video editor, render for YouTube and directly upload from the editor.

How to Edit Twitch Streams on Mobile?
Twitch's own video editor and streamer work best on mobile devices. Regardless of the platform you're streaming, whether it is YouTube, Instagram or Twitch, we recommend using official streaming software.