MC Eternal differs from all the modpacks we have been covering over the past few months in a way that it brings science, magic, combat, farming, mining, exploration, and automation together.  

GameTeam
Use "9to5software" coupon for 25% off
---

Apex Hosting
---

ScalaCube
---

HostHavoc
---
What is MC Eternal?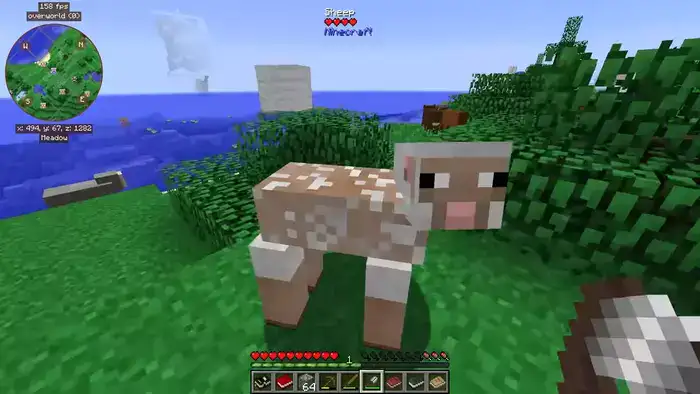 MC Eternal is a Minecraft modpack developed by adam98911 and it features well over 300 mods, making it one of the biggest out there. I can't say this modpack has a primary aim apart from having quests and game mechanics for everything from science to magic.
MC Eternal achieves its goal using smaller mods that are less known without repacking mods you played a hundred times before in modpacks such as atm7, and Crazy Craft 4.0. As a result, from the moment you started the game you find yourself in a foreign world with weird and fun tasks.
Also read: Minecraft RLCraft Tutorial
It packs over 750 challenging quests that require ingenuity and problem-solving skills.
It's also one of the most often updated modpacks out there, so you can be sure there'll be new quests and maybe new mods added to the game every few weeks if not days.
How much RAM do you need to run MC eternal?
Authors of the MC Eternal say you should have at least 5.5GB of RAM. But we recommend 8GB of RAM. We tested the modpack on our 16GB RAM laptop with 8GB of RAM allocated to Minecraft. On the server side, we created a server with 6GB of RAM. The game ran fine but things were much smoother on 8GB RAM.
If you want chunks to load at lightning speed as you fly across the game, you should allocate 16GB or more RAM.
Where can I download MC Eternal?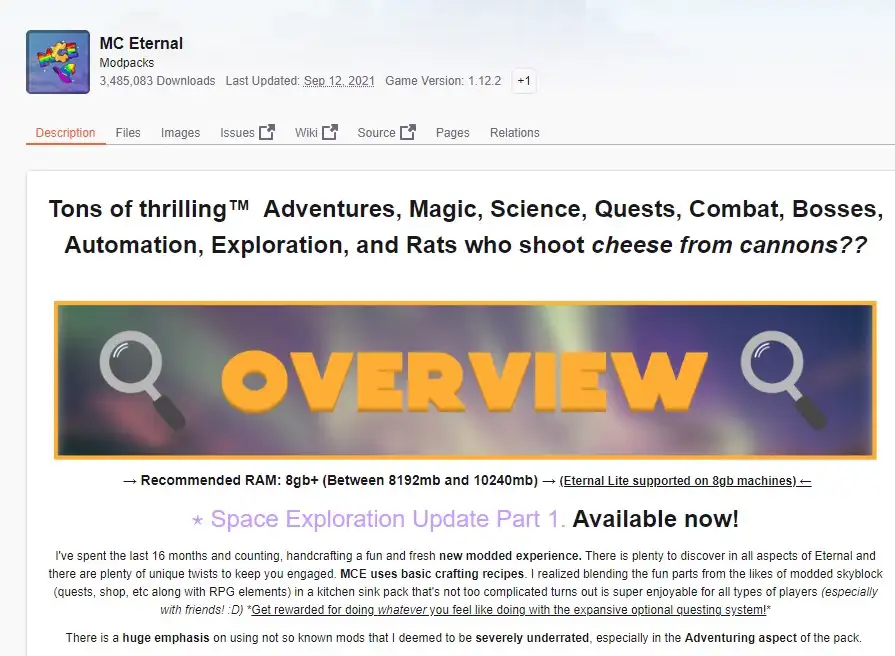 You can download Minecraft Eternal on CurseForge app. The modpack comes preinstalled with the launcher. So if you already have the launcher, simply open it and go to the modpacks tab. Then find MC Eternal in the list and install it.  
Also read: Minecraft Hexxit 2 Tutorial
If you prefer installing MC Eternal without using the launcher for some reason, you could still download the files from its official page on the CurseForge website and do the installation manually.
MC Eternal vs MC Eternal Lite: What's the difference?
The main difference between MC Eternal and MC Eternal Lite is hardware requirements. Eternal Lite is the watered-down version of the modpack that requires much less hardware specifications and it's also easier both on your server or PC. MC Eternal Lite can be played on machines with 8GB or less RAM. While the original Eternal is best played on 16GB or higher RAMs for the best experience.
How do I install MC Eternal Server?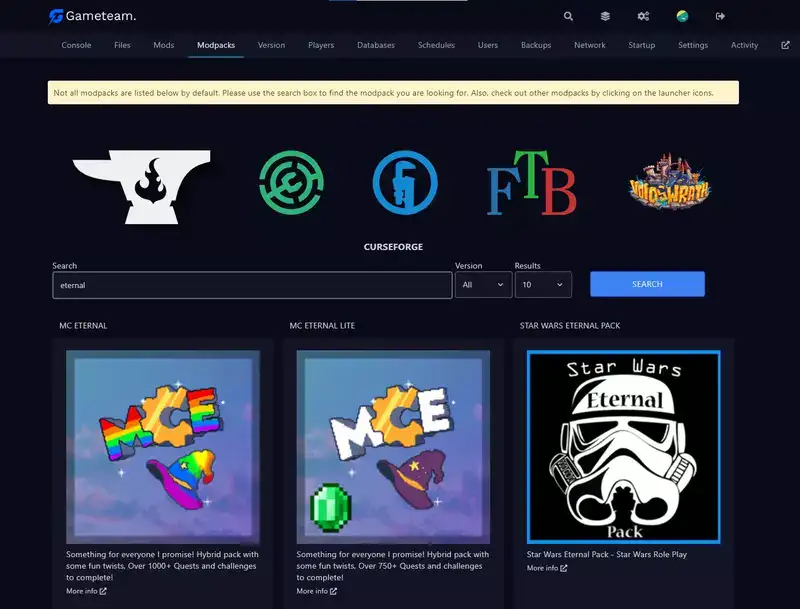 MC Eternal could be a challenging modpack that requires a lot of skill and hardware specs. But it's still one of the most popular modpacks out showing 3.5 million downloads on GameTeam. That means most server hosting providers have automatic easy installers for the modpack, including GameTeam.
Login to your service provider's dashboard. We'll demonstrate it on GameTeam but the process will be similar elsewhere.
Go to modpack installer from the menu.
Click on the Forge Launcher icon since it was launched on the CurseForge app.
Search for MC Eternal in the search bar and click on search.
You'll get a list of modpacks including MC Eternal and MC Eternal Lite.
Select the latest stable version of the modpack you want to play and click on install.
Also read: All the mods 7 guide
MC Eternal is a big modpack. Depending on the game's performance, you may need to upgrade or downgrade your RAM. If you find MC Eternal unnecessary or you don't want to allocate that much RAM to it, install MC Eternal Lite instead.
How much does an MC Eternal Server Cost?
How much a Minecraft server costs are calculated based on several factors, mainly the RAM and a few other features such as memory, DDoS protection, backups, and others.
MC Eternal creators recommend at least 5.5GB of RAM. However, that's the bare minimum and I'm not that optimistic that it'll run well with a few of your friends on it. Let's say you went with better RAM and got yourself a 6 or 8GB server, this will cost you around $24 to $32 per month on GameTeam. For the price, you get to play on the latest AMD Ryzen 9 processors and get all the side features for free including unlimited players, unlimited SSD storage, DDoS protection, and others.
Few providers offer the same amount of RAM for cheaper, some going as cheap as $1 per RAM. However, remember not all servers are created equal even though some appear to have the same RAM. You're guaranteed to get an AMD Ryzen 3 or its Intel equivalent for the price. An AMD Ryzen 9 server, rocking 32 CPU threads will be roughly 16 times faster than its contender.
No modern, big modpacks can be played on these beginner server hosting packages that are designed to lure customers in and to later sell higher, better packages. I recommend you save yourself the hassle and get something that can handle the load of the game.
Also read: How to play SevTech ages with your friends?
Final thoughts: Should you play MC Eternal?
Originally when I first installed the game and started playing around, my first thoughts were negative. I mean, it has a "Rats" modpack instead of skeleton horses or dragons. But as I dove into the game deeper, I found tasks and quests are virtually endless and will keep you busy & entertained for months.
For example, one of the quests in the game is to mine 42 million cobblestones. Obviously, you shouldn't go around digging earth trying to strike a cobblestone mine. But instead find creative ways to use science, mechanics, and automation aspects of the game to achieve your goal.
So, yes. If you are the type of person who's up for hard challenges, we'd strongly recommend this modpack.