website: https://www.yodiz.com/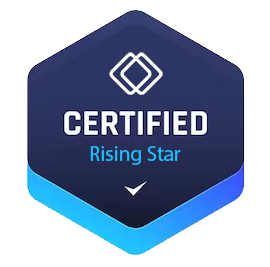 What is Yodiz?
Yodiz is an Agile project management software designed specifically for Agile development and issue tracking. It helps teams streamline their workflow, manage projects more efficiently, and gain valuable insights for smarter decision-making. With its user-friendly interface and powerful features, Yodiz provides a comprehensive solution for teams that follow Agile methodologies.
Yodiz offers various products to cater to different requirements:
Issue Tracker: A simple and efficient tool for tracking tasks and managing issues. It allows teams to stay organized and prioritize work effectively.
Agile Management Tool: The end-to-end solution for managing Agile processes. It helps with planning, collaboration, tracking, and customer support, all in one platform.
Yodiz is known for its ease of adoption and scalability. Whether you're a small team or a large enterprise, Yodiz can adapt to your needs and grow with your organization. It simplifies planning, tracking, and provides valuable analytics to drive success. Pricing and Inclusions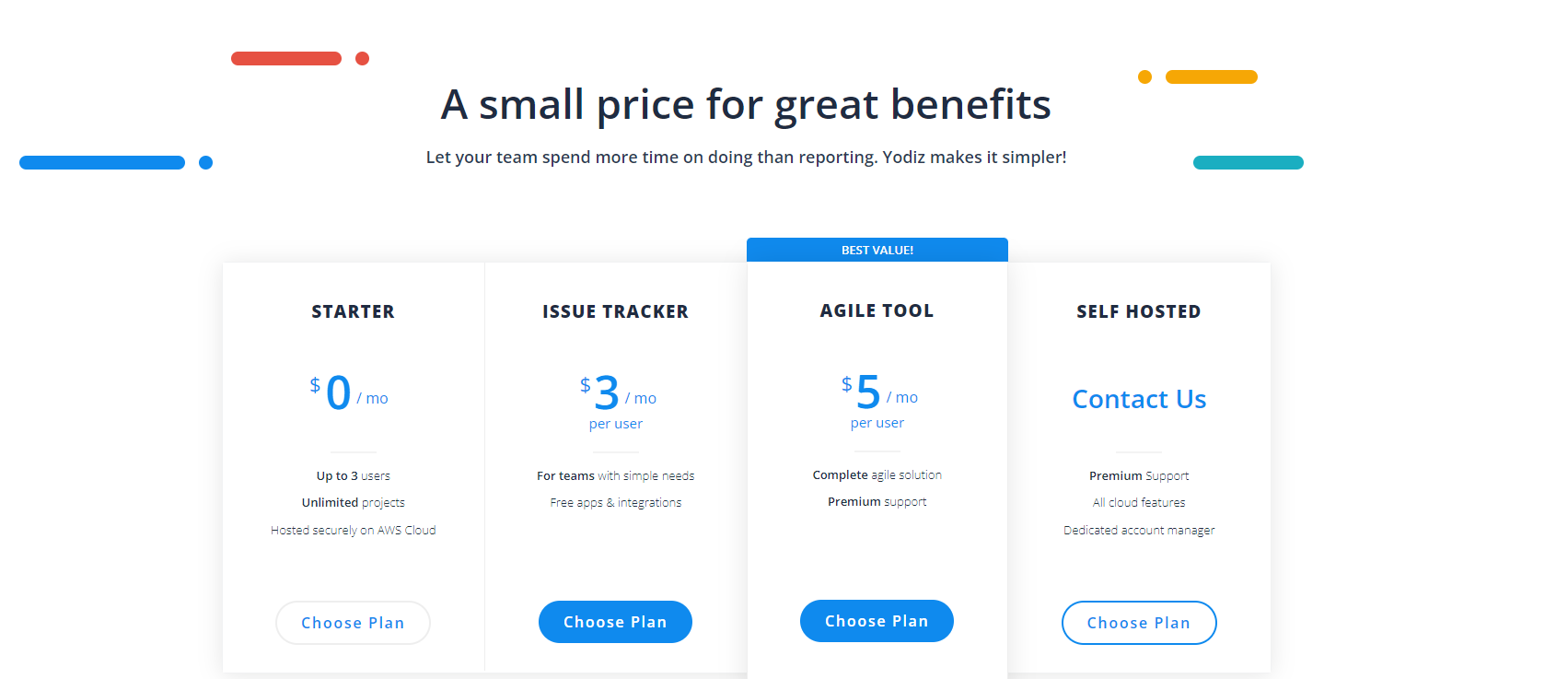 Yodiz offers a range of pricing plans to accommodate different team sizes and requirements. The pricing is as follows:
Basic Plan: Starting from $3 per user per month. This plan includes essential features such as issue tracking, task management, and basic analytics.
Standard Plan: Starting from $4 per user per month. In addition to the Basic Plan features, this plan offers collaboration tools, customer support integration, and advanced analytics.
Premium Plan: Starting from $22 per user per month. This plan includes all the features from the Standard Plan, along with additional customization options, priority support, and enhanced data security.
Please note that these prices are subject to change, and it's best to visit the Yodiz website for the most up-to-date pricing information. Frequently Asked Questions (FAQ) about Yodiz
1. Can Yodiz be easily adopted by Agile teams?
Yes, Yodiz is designed to be easy to adopt, even for teams new to Agile methodologies. Its user-friendly interface and intuitive features make it simple for teams to start using and maximize its benefits.
2. Can Yodiz support both small teams and large enterprises?
Absolutely! Yodiz is flexible and scalable, catering to the needs of both small teams and large enterprises. It can adapt to your organization's growth and provide the necessary tools for efficient project management.
3. Does Yodiz offer customer support integration?
Yes, Yodiz offers easy integration with help desk software, email, and other channels to bring development teams closer to their customers. This ensures efficient communication and support throughout the project lifecycle.
4. Can Yodiz provide in-depth analytics for better decision-making?
Yes, Yodiz offers actionable smart analytics that provide in-depth understanding and forecasting. It allows teams to customize the analytics to better suit their specific needs and gain valuable insights for improved decision-making.
5. Does Yodiz offer mobile applications?
Yes, Yodiz has mobile applications available for Android and iOS devices, allowing users to stay connected on the go. This ensures that teams can access and manage their projects anytime, anywhere.
These are just a few frequently asked questions about Yodiz. If you have any other queries or need more information, please feel free to reach out to the Yodiz customer support team through their website.