All the mods 8 just came out, and in this tutorial, we are gonna find out how to install it on a server, check out some of the best ATM 8 server hosting providers, answer your most asked technical questions and even give you tips on how to play. You can find links to all the modpacks, launchers, software, and services we talk about in the description. I also divided the video into sections. Feel free to jump into any part using the timestamps in the description.
So, without further ado, let's get started.

GameTeam
Use "9to5software" coupon for 25% off
---

Apex Hosting
---

ScalaCube
---

HostHavoc
---
About All the mods 8

All the mods 8 is finally out after a long wait. All The Mods 8 is the last version of the popular, once private, All the Mods series. It's made for Minecraft 1 point 19 and brings a bunch of new mods and quests, which we'll discuss later.
Also read: MC Eternal Tutorial
How to install All the Mods 8 on server?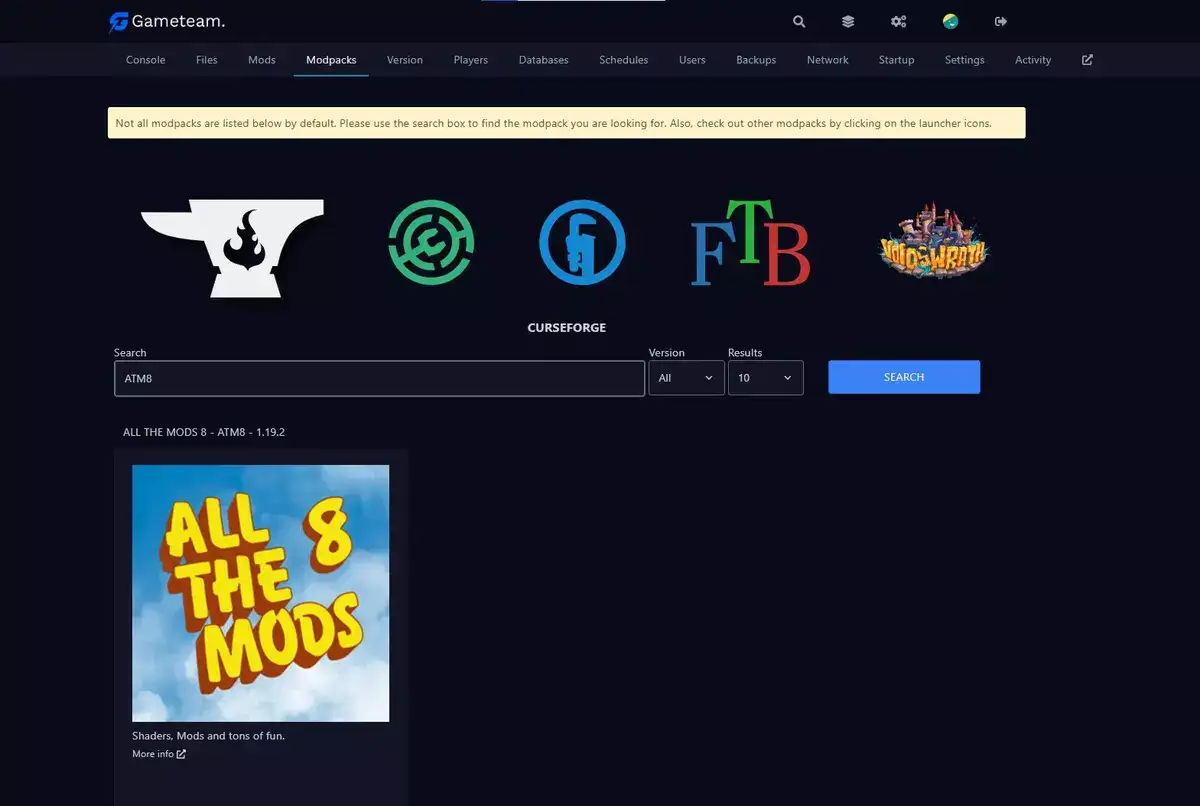 Hosting your game with professionals that specialize in gaming servers is the easiest way to go. Whether you go with GameTeam, Apex, Hostinger or Bisect hosting, you'll be able to play All the mods 8 without lagging issues and get started using their one-click modpack installers in minutes.
First of all, go to your preferred server hosting provider and create a server. We recommend at least 16 Gigs of RAM, especially if you'll be playing it with friends. Since we already have a server, we'll log in instead.
Once you are in your dashboard, stop your server if it's already running and navigate to the "Modpacks" menu. That's where you can install thousands of modpacks with just a click.
All the mods 8 is a CurseForge modpack, so make sure you are browsing through the correct launcher. It might not be in the most popular section since it just came out and has around 60000 downloads. So you might need to search for it.
Also Read: All the Mods 7 Server Hosting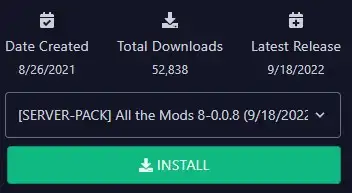 Once you have found it, select the latest stable version and click on the install button. Accept the pop-up to continue.
Installation might take a few minutes, depending on the number of mods the server needs to unpack. When it's finished, the page should automatically refresh and show you the currently installed modpack. If it all looks good, go to the server management dashboard and start your server.
Happy gaming!
How to set up an ATM 8 server?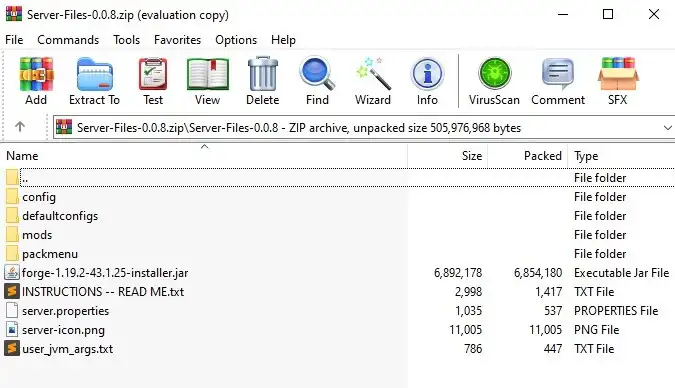 If you trust your computer's hardware specs, you can host the game in your own computer and open it to your friends or the entire world. In this section, we'll discover how to set up an All the Mods 7 server.
The process is roughly similar to installing it on your client. Head over to All the mods 8 modpack lists on CurseForge.com and navigate to the files section. You should see a dozen downloadable files under 3  different sections. What you're looking for is the server files under the additional files title. Download it.
Once it's downloaded, unzip all the files and run "java -jar forge-installer-*.jar --installServer"
Also read: How to setup RLCraft server
How to install on Client?

All the mods 8 is a CurseForge modpack. Simply head over to CurseForge.com and install the launcher if you don't have it already. Make sure to scroll down and download the correct version for your operating system. Curse Launcher helps you install thousands of modpacks for many games, including World of Warcraft and World of Tanks, apart from Minecraft. Select Minecraft from the menu and navigate to the Browse Modpacks section. If you scroll down a bit, you'll see All the Mods 8. But if you don't. Use the search bar to find it.
Click on the Install button and let the launcher download and set up hundreds of mods. Depending on your system and connection speed, this may take quite a while.
Once completed, you'll see the modpack in the "My Modpacks" menu, along with others you might have. You can install and play as many modpacks as you like without worrying about them interfering with each other and crashing. Launchers like Curse manage them for you and make sure everything runs smoothly.
Also read: Setup SevTech Ages server
Most Asked Questions and common issues
All the mods 8 is a new modpack. That means tutorials online are limited, and the modpack might have unsolved performance and bug issues. In this section, we'll try to answer some of your most asked questions.
How much RAM do I need for All the Mods 8
We recommend at least 8 gigs of ram for All the mods 8. For a huge modpack such as ATM 8, the more ram you have, the better. If you plan on playing it with a couple of your friends, you'll most likely need 16 gigs of available ram on your server.
How many mods do All the Mods 8 have?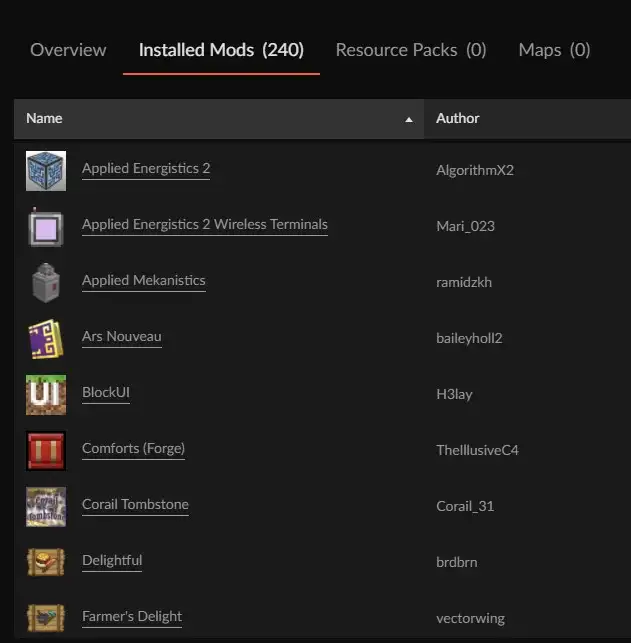 All the mods 8.0.0.8 currently have 240 mods in fields ranging from mechanics, farming, and magic to science. Some of the mods include Applied Energistics 2, used for wireless terminals. Applied Mekanistics that introduces chemicals into your gameplay. Also, some utility mods such as Corail Tombstone keep your inventory safe in the event of your death and mark your last location with a tombstone to encourage discovery far from your base.
What's the best server hosting provider for All the mods 8?

GameTeam is one of the best server hosting providers for All Mods 8. We were able to set up our server and start playing in just a few minutes without extensive server management knowledge. What also sets GameTeam apart from the competition is that you get the latest Ryzen 9 processor that guarantees a lag-free and blazing-fast game experience. It's the only server provider out there with such top-of-the-game specs. That said, Apex and Bisect are also some of our recommended providers with similar ease of setup and gaming experience.
Why doesn't All the Mods 8 load for me?
During our installation of All the Mods 8, it got stuck in the loading screen for over 10 minutes, showing just stars and not opening the game. It was because, at first, we allocated 4 gigs of ram to test system requirements. When we freed 8 gigs of RAM. The game loaded just fine without issues. Some gamers reported All the Mods crashing while downloading mods on Curse Launcher. Its solution is also allocating more ram to Minecraft.
This was it for this tutorial everyone, thanks for reading. If there's another modpack you want us to look at or you have questions, please comment down below, and we'll get to you right away.