After recording your raw footage, as a video editor, you always want to take them to another level and make them stand out. Have you tried a 360 video editor?
A 360 video editor is a non-linear video editing tool that helps you refine your videos by allowing you to show all the parts of your video you wish your viewers to see.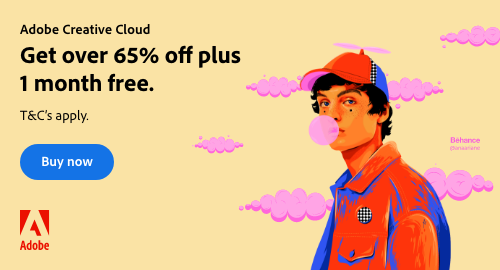 Premiere Pro
---

Filmora
---

PowerDirector
---
Editing raw footage using a 360 video editing software is similar to using a normal video editing software.
However, 360 video editing has a steeper learning curve, but once you have mastered the steps, you will edit in a breeze. Moreover, 360 video editing provides you with VR editing capabilities that will transform your videos in no time.
Are you on the lookout for the best 360 video editing software? Your search ends here.
HitFilm Express - Best 360 Video Editing Software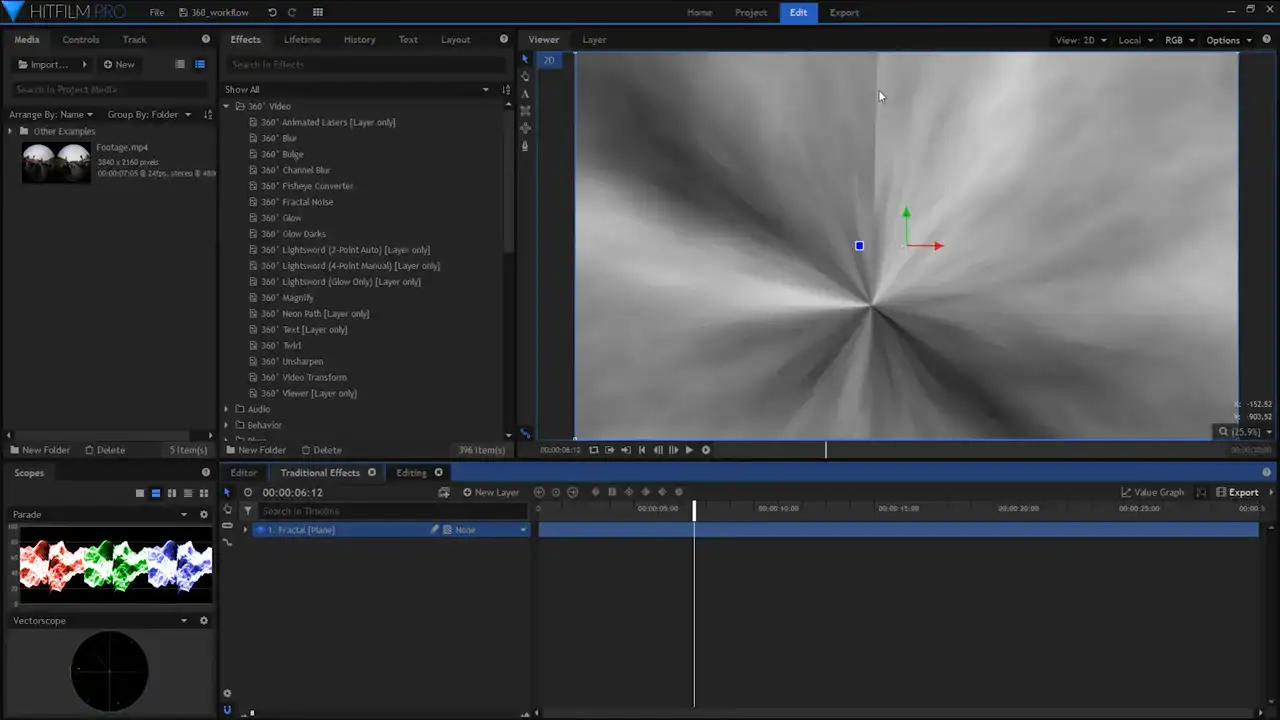 If you want to edit classical videos and convert them to 360-degree mode, HitFilm Express is your best pick.
The results are epic when producing 360-degree videos, and it also corrects lens distortion from action cameras. Moreover, HitFilm Express also supports video export of 4K 60fps.
To get the most out of HitFilm Express, ensure your computer has great specs so that the software does not freeze often.
Other remarkable features of HitFilm Express are the 'Blur' option which allows 360-degree blurring, and the 'Chanel Blur,' which blurs color channels.
Also read: Best video editor for transitions
The fisheye effect also enables video editors to convert a video to a standard equilateral editing format.
HitFilm Express also comes with a variety of sound effects, and it also allows noise reduction and adjustment of sound balance using unique mixers. What's more? You can also add echoes.
While editing the 360-degree videos, you can test the fisheye effect and utilize color curves and wheel tools for color adjustments.
There is also a selection of color gradations under the StarterPack, color LUTs, graphic effects, art, compositing effects, and moving graphics.
HitFilm Express has features and tools to ensure that your 360-degree video is top-notch. You will not regret using this software.
Related: Best video editor for trimming
Pros
Allows video export of 4K 60fps.
Has a fisheye option.
Has a personalized workstation.
Allows multiple streams.
It is multicore and GPU accelerated.
Supports both Windows and Apple devices.
Contains free training resources and support.
Has a free trial.
Cons
Has a limited number of transitions in the library.
Does not have green screen editing.
The learning curve is steep.
The support team is not reliable.
VIRB Edit - Best for Adding a Real-Time Measuring Scale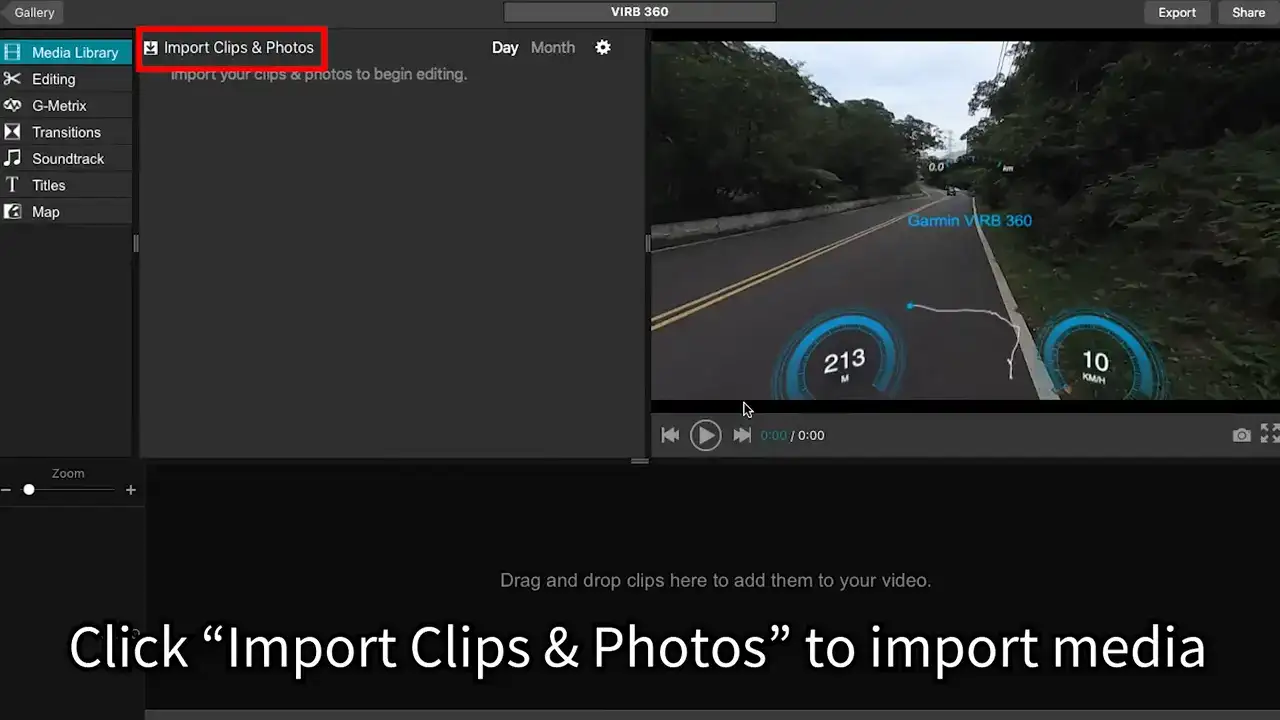 Developed by Garmin, VIRB Edit is an incredible free 360 video editing software for PC - VIRB Edit.
Some of the video editing features include tools for video stabilizing, speed adjustment, cropping, splitting the footage, and flipping or rotating to 180°.
Also read: Best video editor for real estate
You can also add captions which will be edited automatically to match your 360-degree video. Moreover, the proportions of the texts will still be maintained.
VIRB Edit also has a transition library compatible with 360-degree videos and a spectacular transition.
Other features available on VIRB Edit allow you to add sound, which you can either add from the ones available or download your own.
Features that make this 360-degree video editing software stand out include "G-Metrix," which allows you to map the recorded area with statistically fully working dials to the footage.
Also read: Best video editor for YouTube
They will calculate the angle, time, heart rate, depth, altitude, and speed. However, one major drawback of VIRB Edit is that it only allows 2K export options.
Therefore, it is not a great option if you are after professional 360-degree video editing.
Pros
Has a G-Metrix function.
Automatically edits text to match video.
Has an expandable music library.
It is free.
It has features not even included in some paid software.
Cons
The transition library cannot be expanded.
Not suitable for professional 360-degree video editing.
Does not support 4K or 8K export options.
VideoPad - Best for 4K 360 Degree Video Editing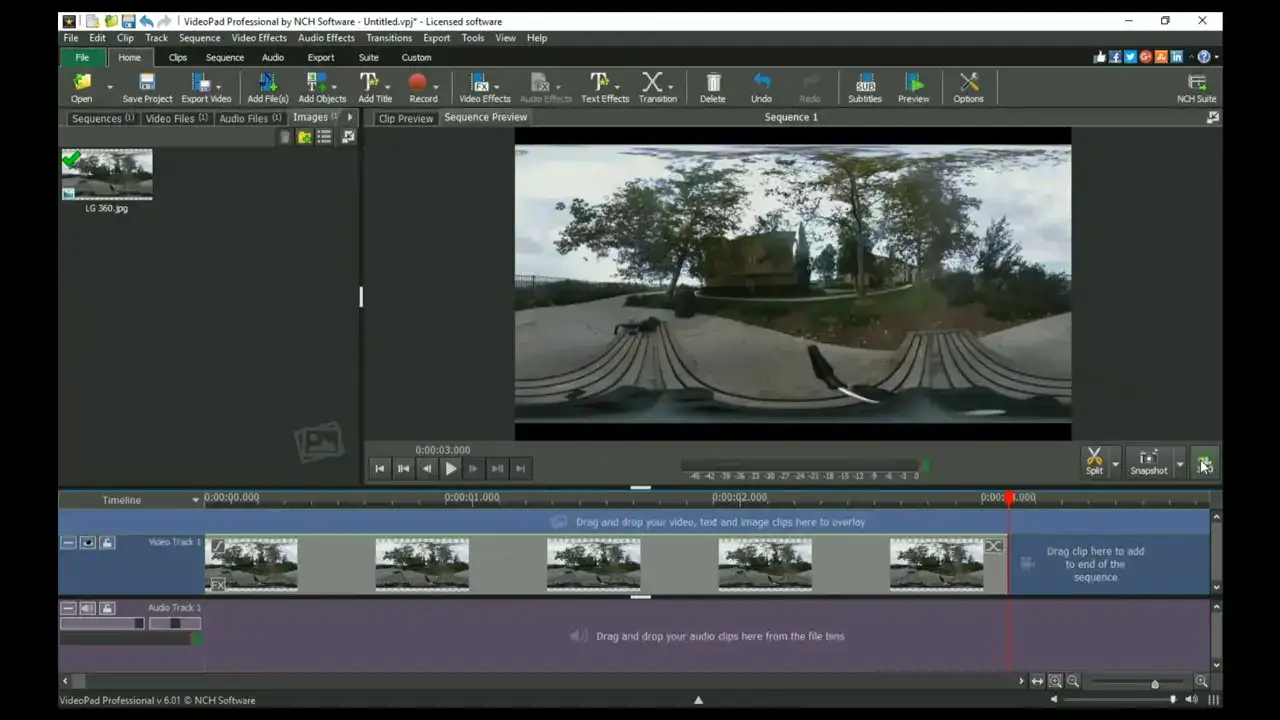 If you have a Mac or Windows device and are looking for a 360-degree video editor, VideoPad is a great option. Moreover, it is also suitable for beginners after a simple video editing software.
The interface of the VideoPad is also self-explanatory with a classic look. It makes 360 video editing smooth, but you may find some challenges when adding texts.
This software is free to use with transition effects and filters to move between images and clips. With VideoPad, you can combine several filters, come up with your effect, and decide how long the transitions should last.
Also read: Best video editors for MAC
Under the Home Tab of VideoPad, you will find the Texts Effects module, which contains 3D effects, drawings, counters, and character animation. You only need to select your desired effect, and it will reflect on your clip.
VideoPad also allows users to customize their clips with fonts and colors to create an engaging and professional look.
With this software, you can export your edited 360-degree footage directly to Google Drive, Flickr, Dropbox, Facebook, or YouTube in various resolutions such as 2K, 4K, and HD.
Pros
Has a broad collection of transition effects.
Allows video editors to create their own effects.
Allows export of 4K fps.
Videos can be saved on multiple devices.
Has a sound effects library.
Suitable for both beginners and experts.
Has more than 50 visual effects to use.
Has a free version.
Cons
The design is a bit outdated.
Does not support video animation.
Does not have video capturing and collaboration tools.
Premium version is affordable.
What is the Best 360-Degree Video Editor?
So far, the best 360 Degree video editor is HitFilm Express, and that is because of its remarkable and outstanding features.
Whether you are a beginner, creative or professional video editor, HitFilm Express will work perfectly. It supports OS Windows 10 and later and Mac 10.14. The premium version is also very affordable.
One unique feature of HitFilm Express is that it has three add-on packs. The 360 VFX add-on pack allows you to magnify, twist, and twirl the clips. There are also the 360 Neon Lights that enable you to add neon effects to text and layers with 360 laser animation.
Finally, the 360 Tool Kit is for checking the full view with the 360 Viewer Panel and blends 360 videos with effects such as fisheye and blur. HitFilm Express couldn't get any better.
Can You Edit 360 Degree Videos?
Yes. Using various 360-degree video editing software, you can transform your raw footage into a cinematic and professional video.
360-degree video editing allows you to show and tell your story as you wish. Simply add your clip to the software's timeline and edit away.
How Do You Edit 360 Videos Together?
You can only edit your 360-degree videos one at a go by adding them to your timeline sequence and editing depending on the software you are using.
Can Premiere Edit 360 Degree Video?
Yes. Premiere Pro can edit 360-degree videos using the VR Plug-ins, which enhance the software's capabilities for 360 video editing.
For instance, Premiere Pro has the GoPro FX Reframe Plugin that changes perspectives, zoom, pan, and tilts like the camera was moving while shooting.
You can extend the editing options in Premiere Pro by associating with Photoshop and After Effects, like cleaning stationary or moving objects.
The plug-ins are free of charge, but you will have to pay a monthly fee to use Adobe Premiere Pro.
There is a variety of 360-degree video editing software available but we have made your search easier by selecting the best.
With this software, you will be sure to explore and take your 360-degree video editing to another level.
Whether you are just a beginner learning how to edit 360-degree videos or a pro who wants to produce top-notch videos, there is something for everyone.
Which 360-degree video editor have you settled your mind on?