Cropping is an integral part of video editing. You have to crop your videos to get rid of unnecessary details or remove bars from the side of the videos to make your videos relevant and engaging for your viewers.

Premiere Pro
---

Filmora
---

PowerDirector
---
The best video editor for cropping must also let you make other edits like resizing, trimming, adding sound/voiceover, adding transitions, and various other effects. If you are looking for the best video editors that you can use to crop your videos, you are at the right place.
In this article, I will discuss the best cropping software that you can use to crop videos online, on your PC and your mobile phone. Let's check out the best video cropping software!
Best Video Cropping Software for Desktop:
1. Filmora WonderShare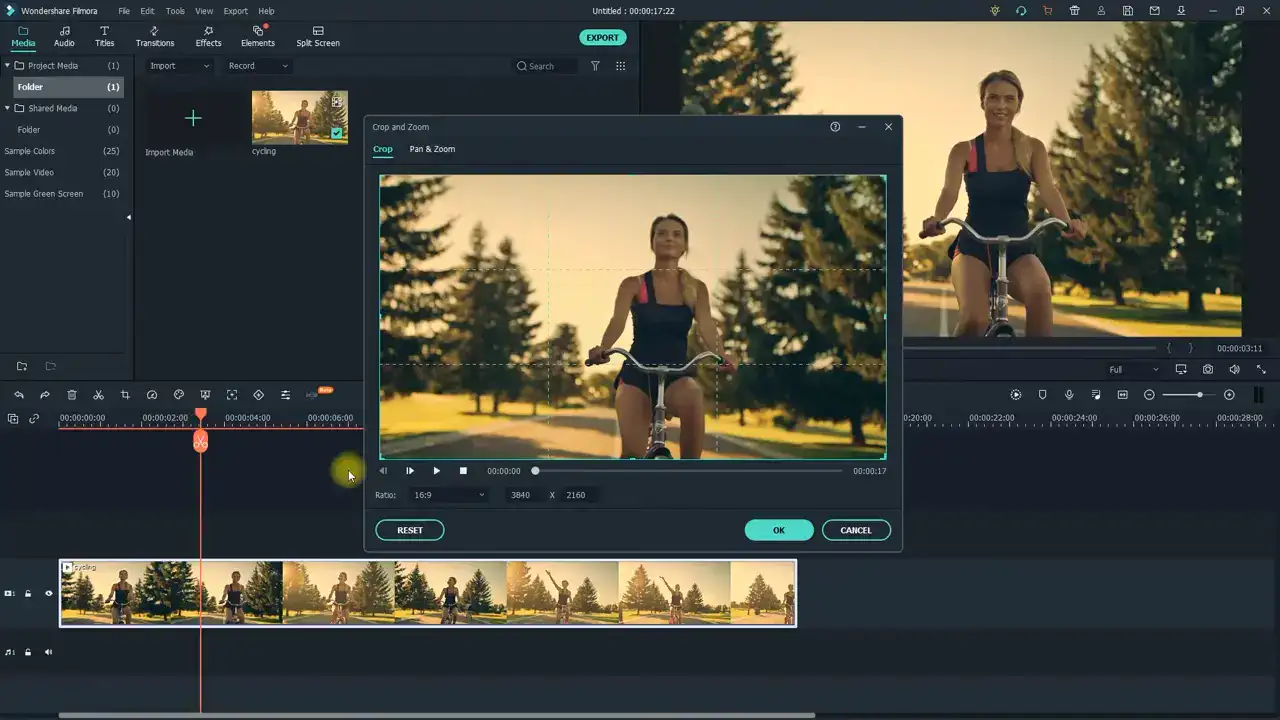 If you are looking for a wholesome video editor with amazing cropping features, Filmora WonderShare is an excellent option. The tool comes with easy interphase and a host of features that make video editing a breeze.
Video cropping is a 3-step process on Filmora. All you have to do is import the video on the timeline. The second step is to right-click on your video and select Crop and Zoom. This will open a window with various aspect ratios to choose from. Filmora offers you to crop videos for IG stories, IGTV, Facebook In-Feed Video, Facebook 360-degree Video, Snapchat, and Twitter. Once the video is cropped, add your required effects and export the video by selecting one of many supported video format tools.
Related: Best video editors for cooking videos
Filmora also offers more than 300 effects overlays to make your story amazing. You can use advanced features like Chroma key, split-screen, color correction, transitions, motion graphics, animations, and audio correction tools to make your videos stand out from the rest.
Apart from all these features, Filmora comes with a large collection of royalty-free soundtracks that you can use in your cropped videos. Its interphase and features are easy to use and accessible with a single click. Overall, this is an amazing app to crop videos for beginners and experts alike. Please note that it is a paid app, but you can check it out for a 7-day free trial.
2. Adobe Premiere Pro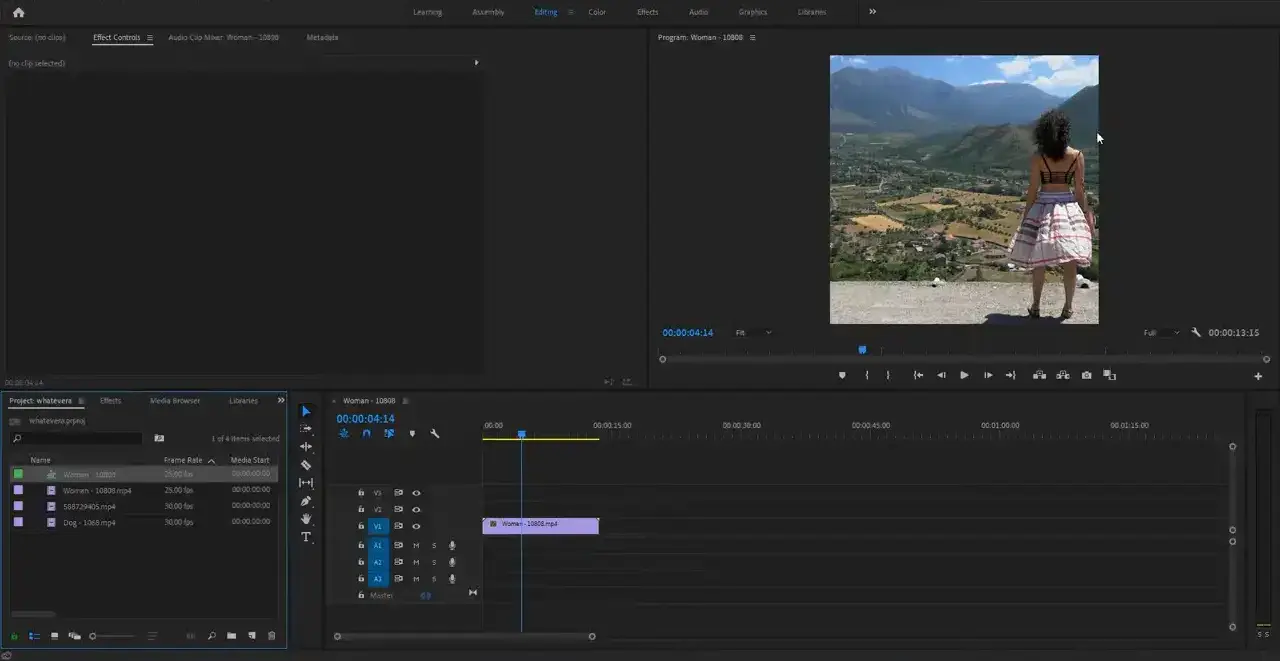 Adobe Premiere Pro is another excellent video editor that you can use to get professionally cropped or resized videos. This app is best for experts. It is a professional application that many industry experts use to make Hollywood-style edits.
However, the process is a bit complicated for cropping or resizing your videos. Unlike Filmora, it doesn't come with predefined aspect ratios; it lets you add your dimensions so that you get maximum control over your edits.
Related: Best animation video maker
Drag your video to the timeline and open the video effects panel from the effects tab to crop your video. Search for the crop option in the effects menu and select it. Click the dropdown and enter the values in all the fields to crop the clip to your preferred size.
So you see that Premiere Pro offers more control over video cropping than other tools. Yes, having pre-defined dimensions is great as it saves time, but when you want to make advanced edits, it limits your work.
Adobe Premiere Pro is more powerful and resourceful than just being an accurate video cropper. You can trim your videos, remove background noise and grain, add effects and motion graphics, add subtitles, voiceover, improve audio, and mix videos.
Premiere Pro supports 4K, 8K, VR, and 360-degree video edits. It allows users to do multi-cam editing so you can work on your video from every angle.
Overall, it is an amazing tool that you can use to make high-level edits. Please note that Adobe is a paid tool and a costly one. You have to pay more to enjoy advanced and high-level features. Moreover, beginners may get confused while using this tool; it is best for pro editors.
3. Kdenlive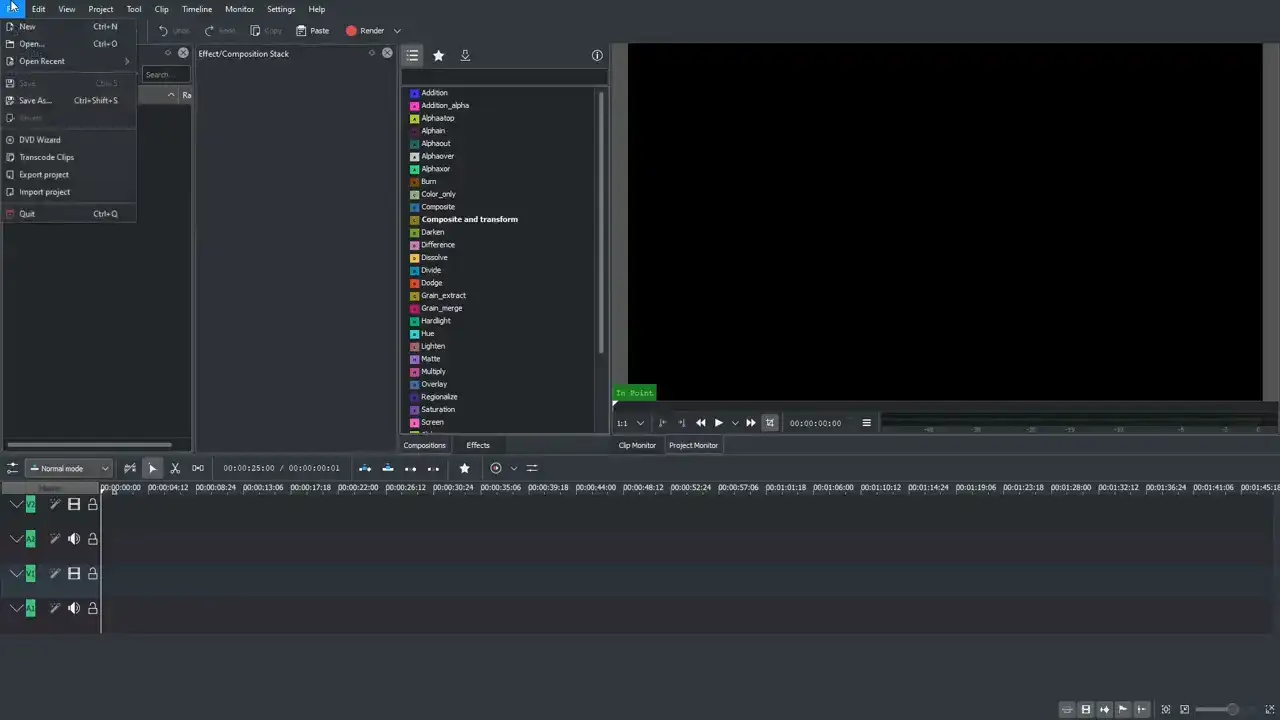 Kdenlive is open-source video editing software used on Linux, Mac, and Windows. Cropping your videos on Kdenlive is a pretty straightforward task. The tool comes with a cropping tool that you can use to select the cut size or add the cut dimensions manually.
Other features include a multi-track timeline, support for a wide range of audio and video formats, and a customizable interface and shortcuts. Kdenlive lets its users select the shortcuts they frequently use and place them as per their convenience and workflow.
Related: Best video editor for Windows
You can add texts and titles to your videos, apply transitions, filters, color correction and improve audio in the videos. Moreover, you can download these resources directly from Kdenlive's online library.
One thing I like about this tool is the automatic backup option. Kdenlive saves a copy of your project file every few minutes to ensure that you don't lose your work.
Overall, it is a reasonable tool for beginners and experts alike. However, it crashes occasionally, which can be pretty detrimental when you are working on important tasks.
Best online video cropping apps:
1. Fastreel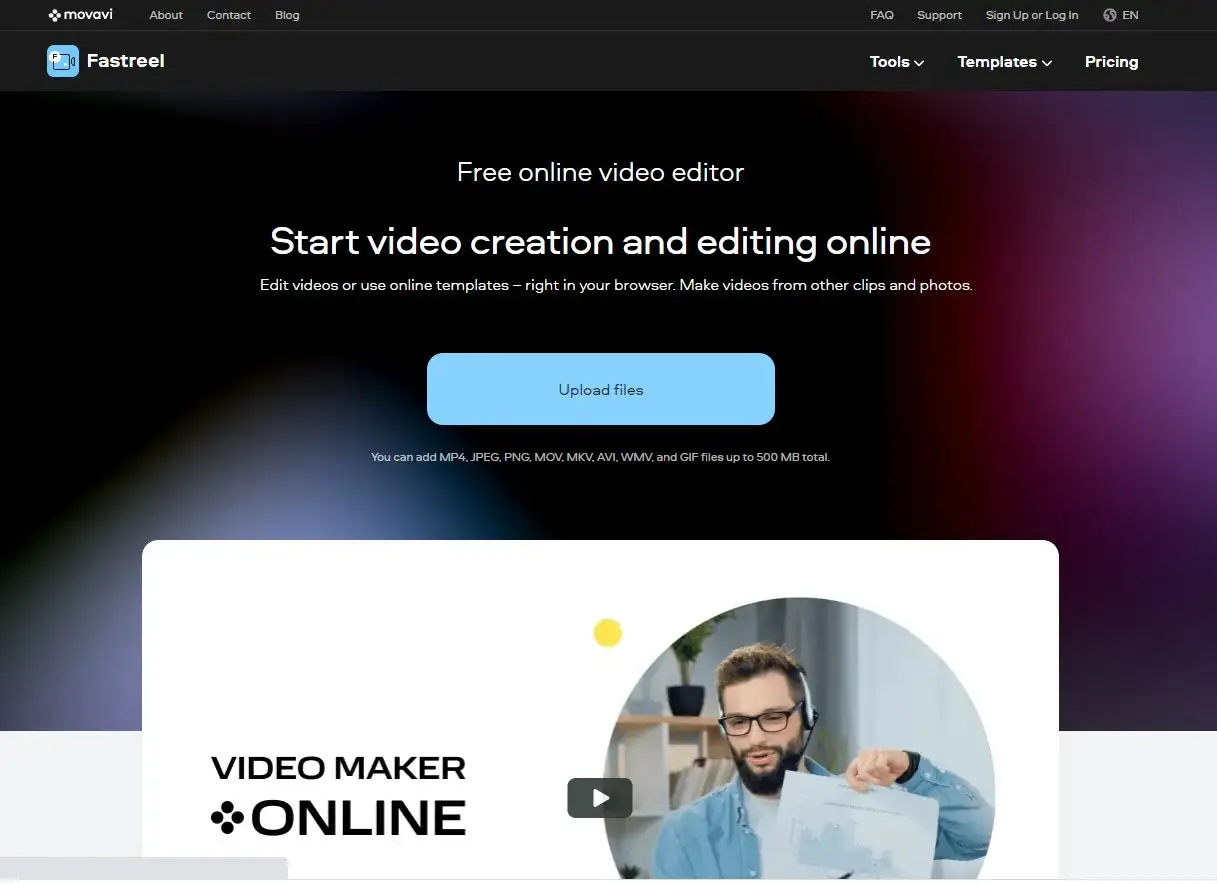 Fastreel is an amazing online video editor that you can use to crop your videos. Online video editors are best for people that don't have enough space to install a desktop video editor. Moreover, people who have to crop videos occasionally can use Fastreel.
Fastreel by Movavi is an amazing and easy-to-use video editor that lets you crop videos, edit them, and then save them quickly without long wait times. The UI is simple, and all the options are available with one click. You don't have to watch videos or read guides to edit your videos.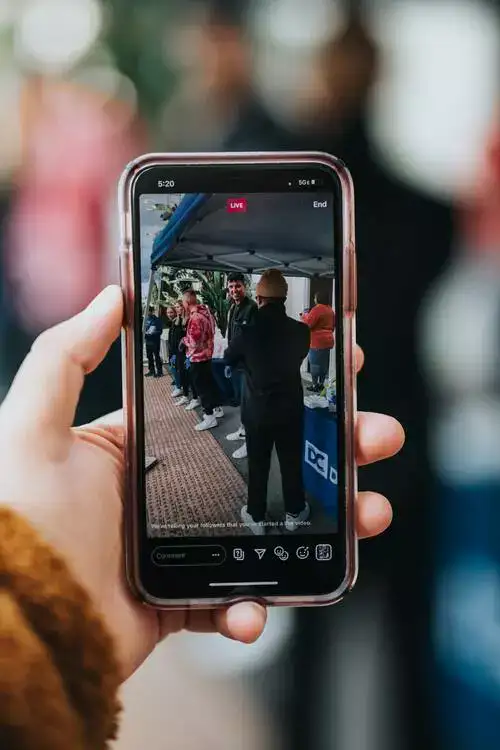 The cropping process is simple too. Once you upload the video, select the crop tool, and adjust the tool manually to crop your videos. You can also use preset tools to resize your videos while retaining all the details in the video. The preset templates are great for social media services and YouTube.
Apart from cropping, you can trim your videos, speed up/ slow down your clips, add transitions, add music, edit it, or upload from a free music library. On the contrary, there are some limitations in the free version. You can only edit videos smaller than 500MB and the MP4 version. Moreover, all videos edited with the free version have a watermark.
2. Media.io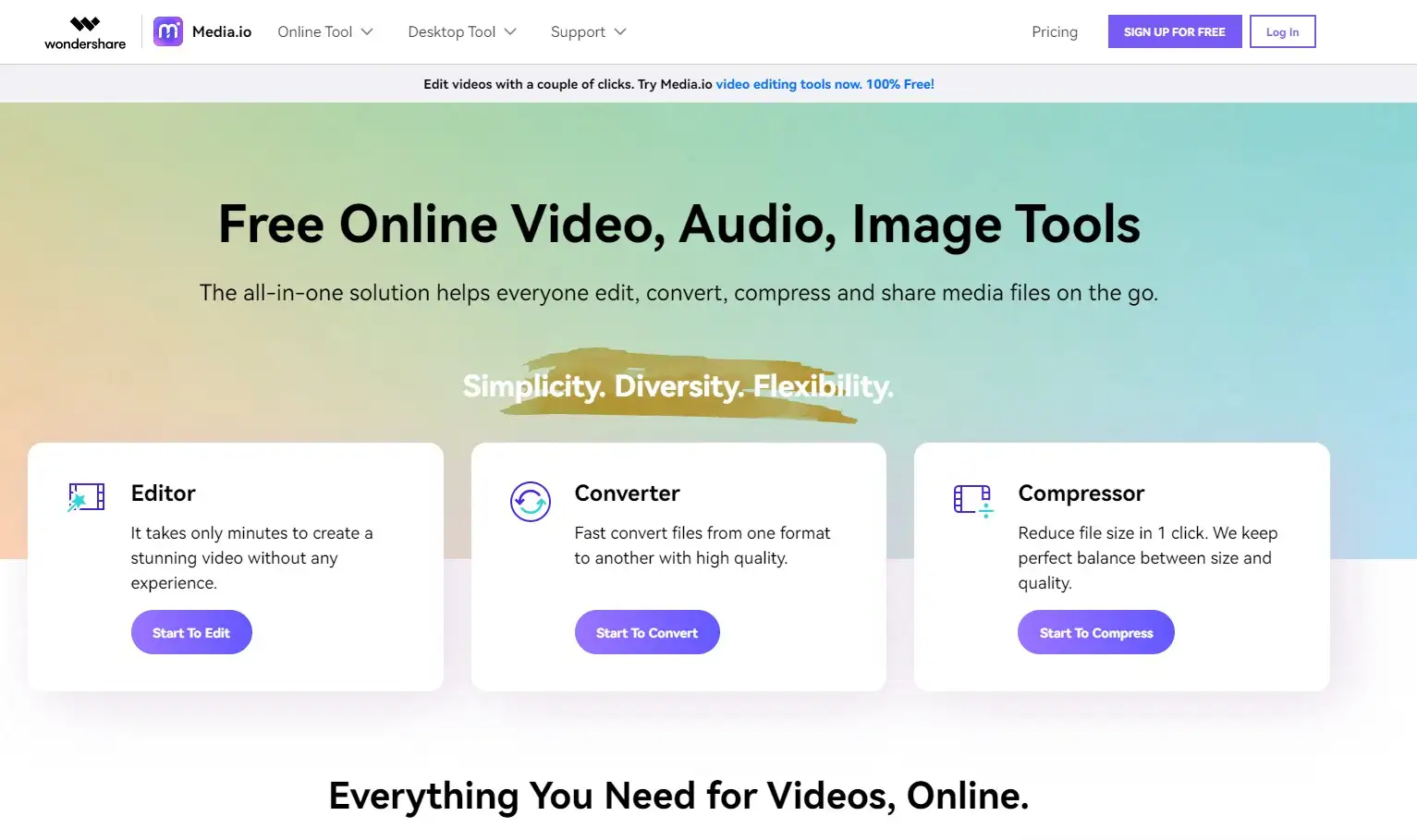 Media.io is another excellent online video cropping tool that is free to use. I love this tool because its free version puts no watermark and has no limitations for video editing. Moreover, the quality of the edited video is pretty much similar compared to costly high-end tools.
Another excellent feature is that it offers a Chrome extension as well. You can edit video right from your browser with just one click. Not only you can crop your videos using Media.io, but you can also include the parts you want by moving the frame after it gets uploaded on the Media.io server.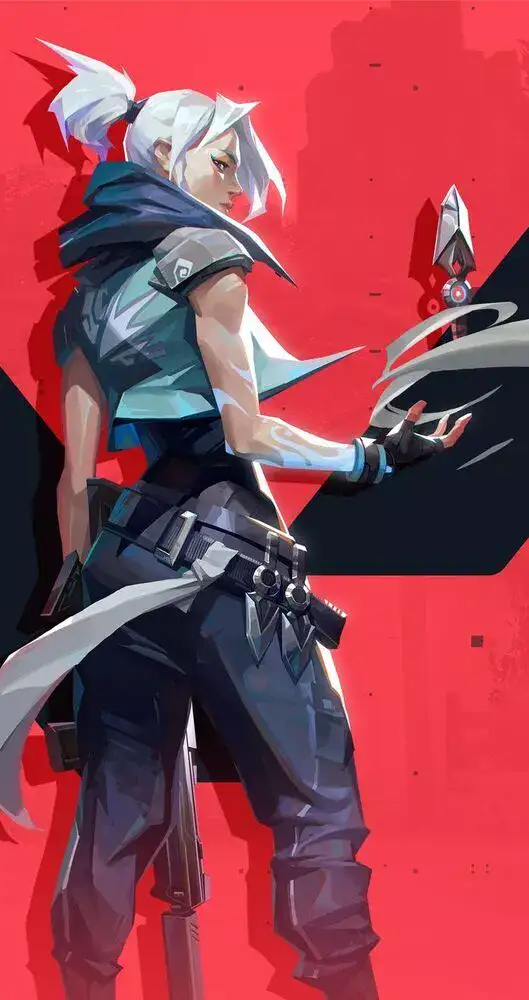 It also offers some preset dimensions so that you can crop your videos to square, vertical, or horizontal and upload them on different social media handles.
Media.io lets you import videos from Dropbox or Google Drive, and you can save these videos to different formats as well. Apart from cropping your videos, you can add text, titles, subtitles, elements, and transitions.
Media.io is owned by WonderShare, so you can expect great quality from them. Overall, it is a great tool for beginners and experts alike.
Best video cropping app for MAC
1. iMovie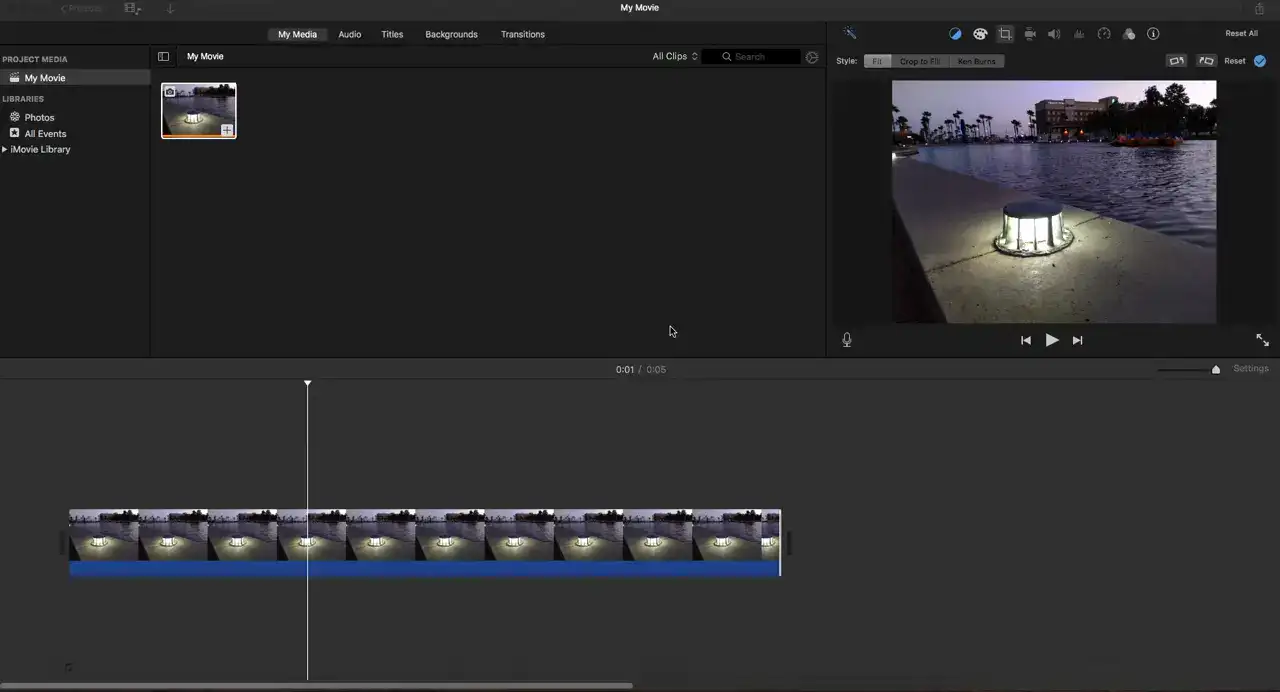 iMovie is another Mac OS and iOS-based video editor that apple users can use to crop videos and make other edits. The best thing about this tool is that it is free and made by Apple.
The interphase is simple and easy to use that beginner, and mid-level editors can use to crop their videos. The reason I say that it is best for beginners is that it comes with only 8 different themes and some limited effects like transitions, filters, titles, and text fonts. You can also add soundtracks, do image-in-image processing, split-screen, fast forward, or slow down your videos.
Cropping your videos is simple and easy. You can select a preset cropping mode or add values manually. Moreover, you get to enjoy no loss of quality while working with this tool.
Compared to other free tools, iMovie offers support for 4K videos and supports a wide range of audio and video formats. Since it is an Apple-made editor, you can access your stuff on iCloud and iTunes.
The audio tools are also impressive. You can do voiceover or add soundtracks. Overall, this is a great tool for occasional editors and hobbyists. You don't have to pay anything and enjoy excellent editing features.
Best mobile video cropping app:
1. Adobe Premiere Rush
Adobe Premiere Rush is an amazing tool that you can use to crop your videos across all platforms. However, it is commonly used on mobile phones. Adobe has designed Premiere Rush as a lightweight version of Premiere Pro, so you can enjoy all of Pro's features on your mobile phone with easy interphase.
Cropping the video on Adobe Premiere Rush is an easy task. The drag and drop functionality makes it easy to add videos to your timeline. Moreover, unlike Premiere Pro, Rush offers preset templates to make editing easy for you. You can easily select aspect ratio according to the uploading platform, such as Instagram and Facebook. The latest update bought in an amazing feature for people who want to crop or resize videos using Premiere Rush; it automatically converts the video to the preferred aspect ratio of the platform to which you are exporting the video.
Apart from cropping, you can edit 4K videos, do multi-track editing, and add transitions, filters, voiceover, and music tracks to your videos.
The biggest downside of this app is that it is costly. Hence, I recommend it to only frequent and advanced users. Beginners and occasional users will waste their money on this application.
FAQs
What software can I use to crop a video?
You can use video editing software to crop your videos. Almost all video editing software have a built-in cropping tool. Some editors come with preset cropping and resizing dimensions that you can use to adjust the size of your video according to uploading platform requirements.
What is the easiest way to crop a video?
The easiest way to crop a video is to use a video cropping tool. You can either download a tool or use one available online. Once you have the tool with you, upload your video, select the cropping tool, add dimensions, or select a preset size to crop your video and click OK. Your video will be cropped in a few minutes.
What's the best online video cropping tool?
Media.io is the best online video cropping tool. It is free, doesn't put a watermark on your video, and offers a lot of other editing effects and features.