From the novice to the professional, everyone wants to take their portraits to the next level. Whether you're looking to retouch & adjust colors of your commercial portrait shooting gigs or apply effects on your Instagram selfies, finding the right photo editing software can make a world of difference. Fortunately, there are plenty of great options out there that provide powerful yet intuitive tools for getting stunning results with your photos.

Adobe Photoshop
---

Adobe Lightroom
---

Corel PaintShop Pro
---

CyberLink PhotoDirector
---

Skylum Luminar Neo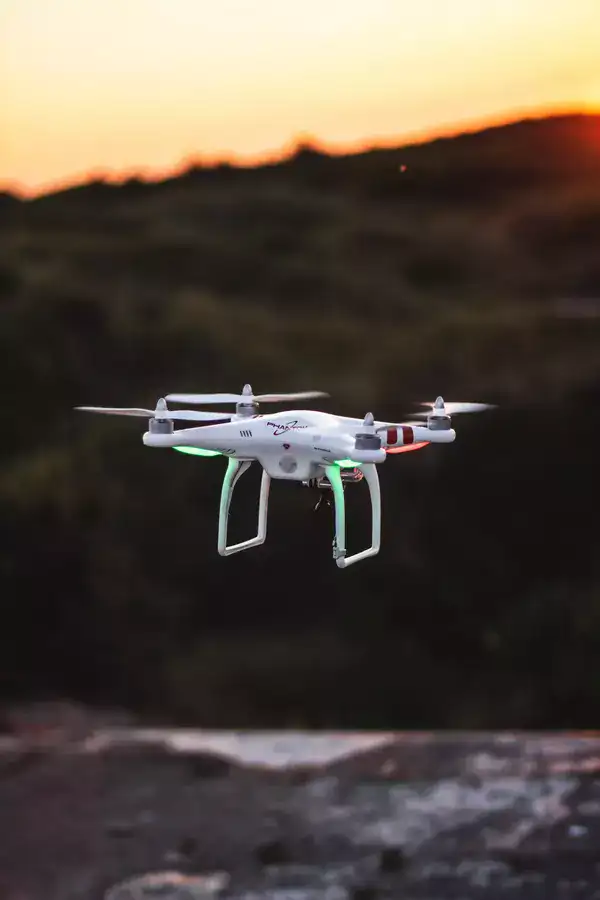 Lightroom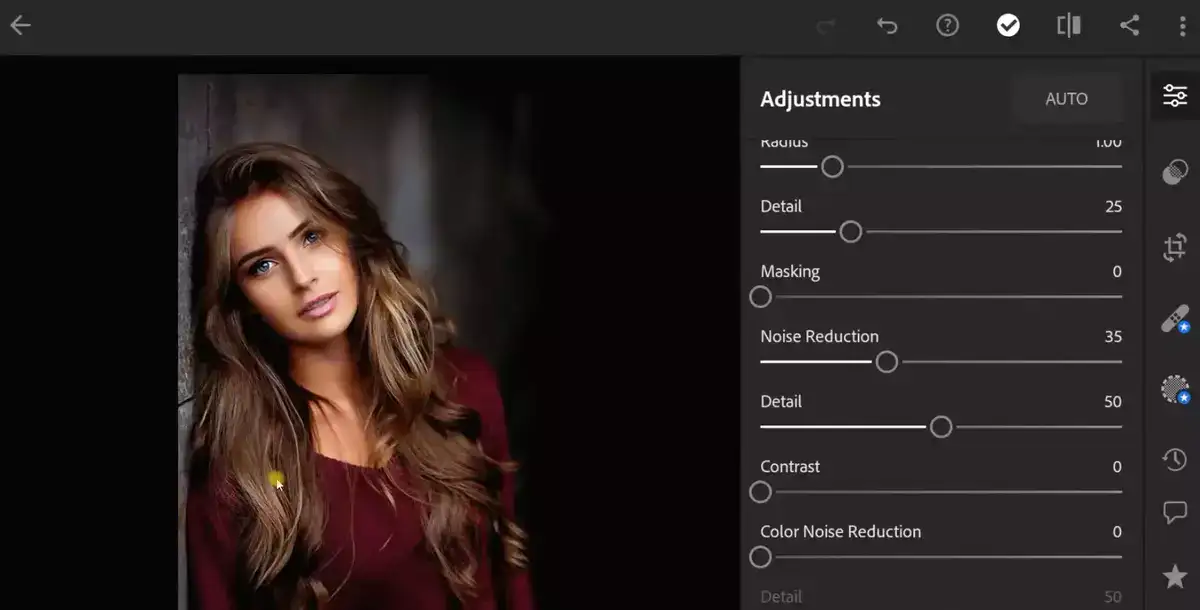 When it comes to portrait editing in Adobe Lightroom, there are many options you can utilize to make your photos look stunningly beautiful. You can start by applying some basic adjustments such as exposure, contrast or white balance with just a few clicks. This is often enough to create dramatic changes in lighting conditions or color casts. Alternatively, you can choose to refine individual details using built-in brushes and selection tools that allow you to fine-tune each portion of your image separately.  There are also tools built in to get rid of acne and scars on the skin if that's something you'd like to do.
Also read: Best Android photo editors
Advanced features like custom curves or automated toning settings give you even more control over the final look of the photo. Additionally, Adobe Lightroom gives you access to advanced features such as lens corrections and noise reduction which enable you to instantly remove any imperfections from the image without having to manually retouch them away in Photoshop afterwards - making Adobe Lightroom an incredibly efficient tool for portrait editing!
PROs:
• Intuitive user interface;
• Comprehensive range of professional tools;
• Lens corrections/noise reduction;
• Automated toning settings;
• Customizable curves;
• Easy batch processing options;
CONs:
• Monthly subscription model may be expensive for some users;
Photoshop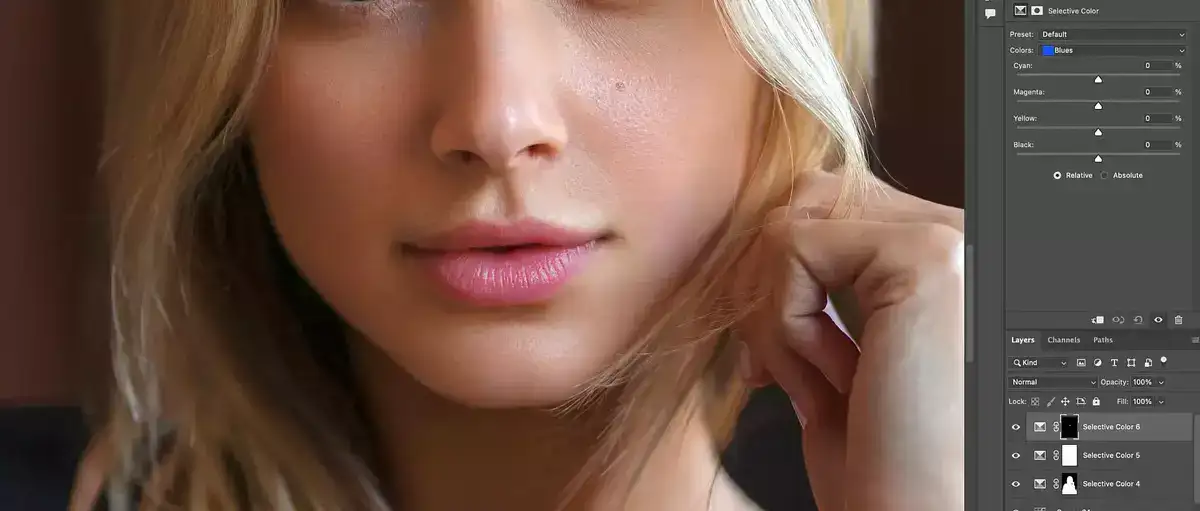 Adobe Photoshop can be found in the arsenal of any photography studio. In fact, it's the go to editing app when it comes to portrait photography. It has been around for decades, evolving constantly over time to stay at the top of its game. For portrait photography, Adobe Photoshop has a wide range of tools that can help you capture all the features of your subject's face and edit it without compromising on quality. It also has full RAW file type support of any kind. Essential when shooting with DSLR or SLR machines.
For those who prefer manual edits, there are many ways to tweak your portrait photograph manually with sliders such as brightness/contrast or hue/saturation. Further fine-tuning may involve using much more advanced techniques such as dodging & burning (selectively lightening or darkening parts of an image) or even painting directly onto areas using brushes and layers - all possibilities in Adobe Photoshop!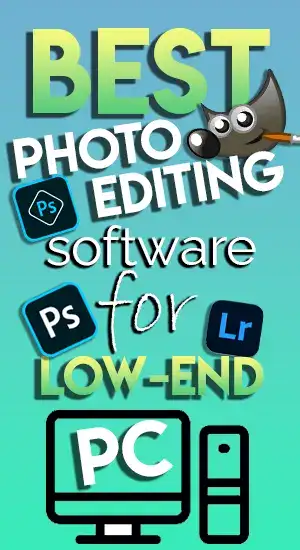 Finally, once you've perfected your image there's plenty of useful features available to streamline the process; batch processing (applying edits to multiple images at once), exporting into different file types & creating prints are all possible with little effort - making it ideal for any professional photographer.
Portrait Pro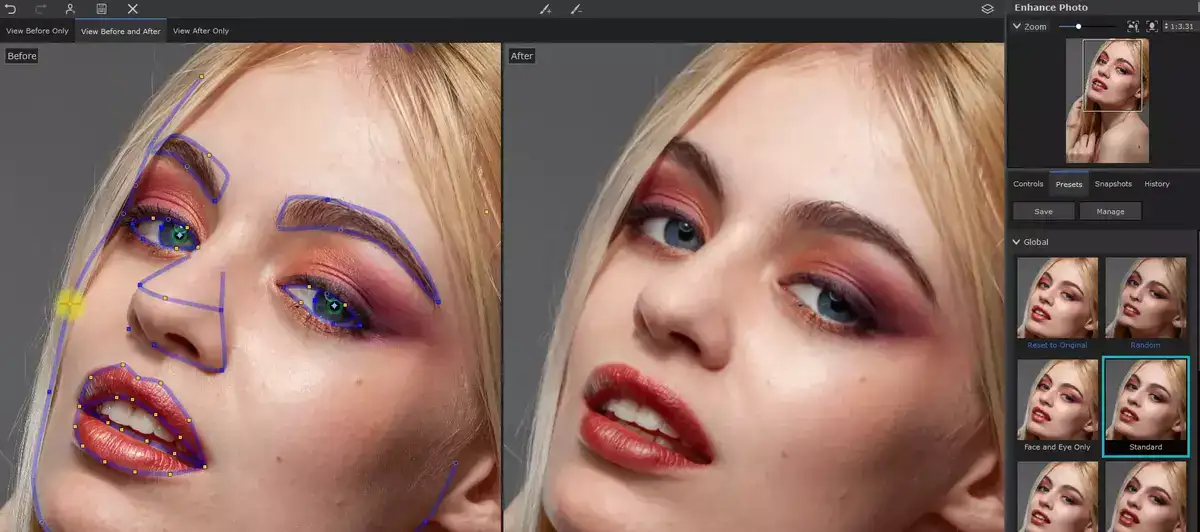 When it comes to portrait photography, Portrait Pro is among the most often used editing programs. It provides a variety of options, including as skin retouching, lighting tweaks, makeup enhancements, and more, for improving the quality of your portrait photographs. Its user-friendly design makes it suitable for novice photographers and editors.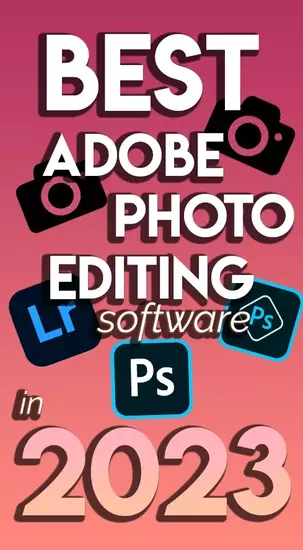 Created by Anthropics Technology, and released in 2006, Portrait Pro achieves the desired look on different sections of the face independently, the Portrait Pro editor takes a novel approach with the introduction of an adjustable slider. Because of this, you can focus on specific areas if need be, such as the eyes, the mouth, or the eyebrows and eyelashes. This is a terrific tool because it allows you to quickly and easily make significant changes.
PhotoDiva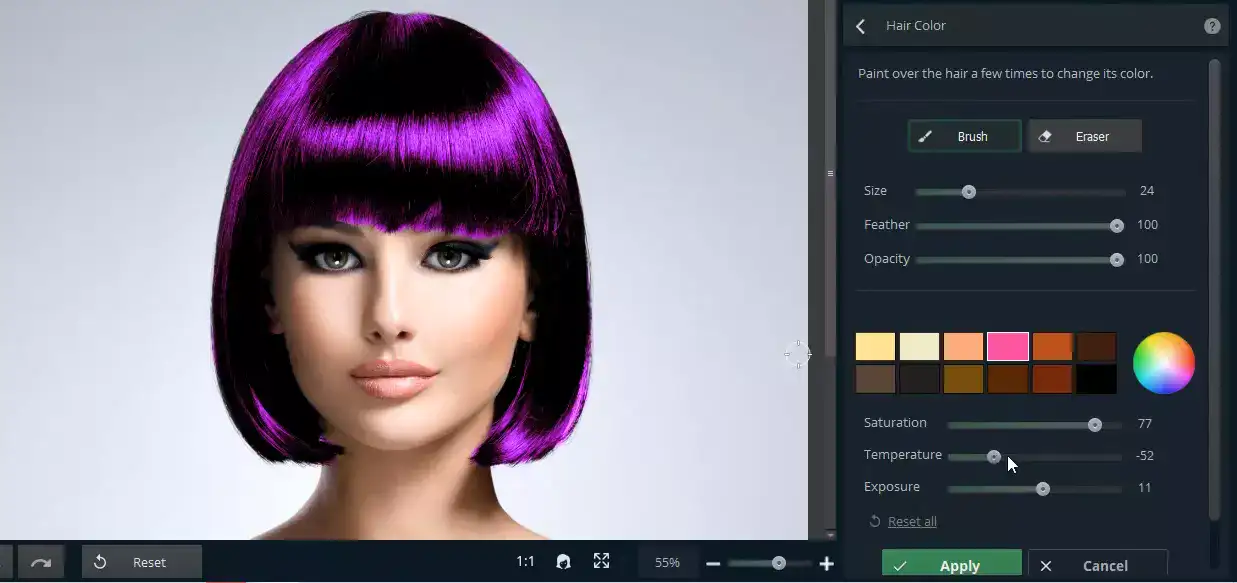 Editing portraits is a breeze using EIMS SOFTVER's PhotoDiva, a highly effective photo editing program. It has a ton of features that help you take better portraits, including ones that look more polished, professional, and breathtaking. For portraits in particular, the sophisticated 'Portrait Enhancer' tool in PhotoDiva can quickly and easily change the lighting, contrast, and skin tone of the image with a few mouse clicks.
PhotoDiva's primary strength is that it is optimized for portrait editing, providing useful tools like an AI-powered one-click editor for every facial blemish, teeth editing&whitening, multiple types of filters for your perfect skin color, and more.
PhotoDiva's "Eye Refocus" tool allows you to alter the focal point of the eyes, and the "3D Depth Effect" feature gives your photos a three-dimensional look. The 'Bokeh' effect tool can be used to improve upon or remove distracting elements from a photo's backdrop. When shooting images outside or for dramatic effect, this can be quite helpful. In addition, you may cure redeye, a typical issue with photographs that use flash, as well as remove wrinkles, blemishes, and other flaws from a person's face; change colors, shadows, and highlights; apply unique textures and frames; crop photographs; and more. Using straightforward sliders, you can easily adjust any of these features until you're happy with the end effect.
PhotoWorks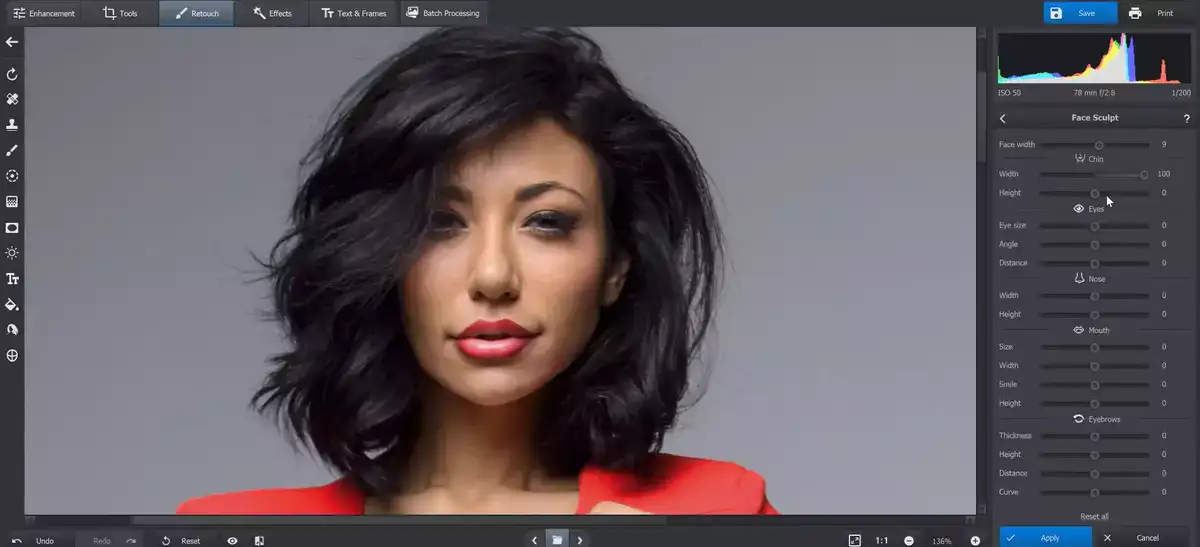 PhotoWorks is one of the best photo editing softwares for portraits. It's user-friendly interface makes it easy for beginner and experienced photographers alike to quickly produce stunning portrait images. PhotoWorks has powerful editing tools that allow you to easily manipulate, enhance, and refine your images to give them a unique look. With its wide array of features, including retouching tools such as blemish removal and skin smoothing, creative filters, color correction capabilities, and batch processing options, PhotoWorks is an excellent choice for any photographer looking to create beautiful portrait images.
It's available on PC and mobile devices with a life time licence fee of $16.80 for the PRO version.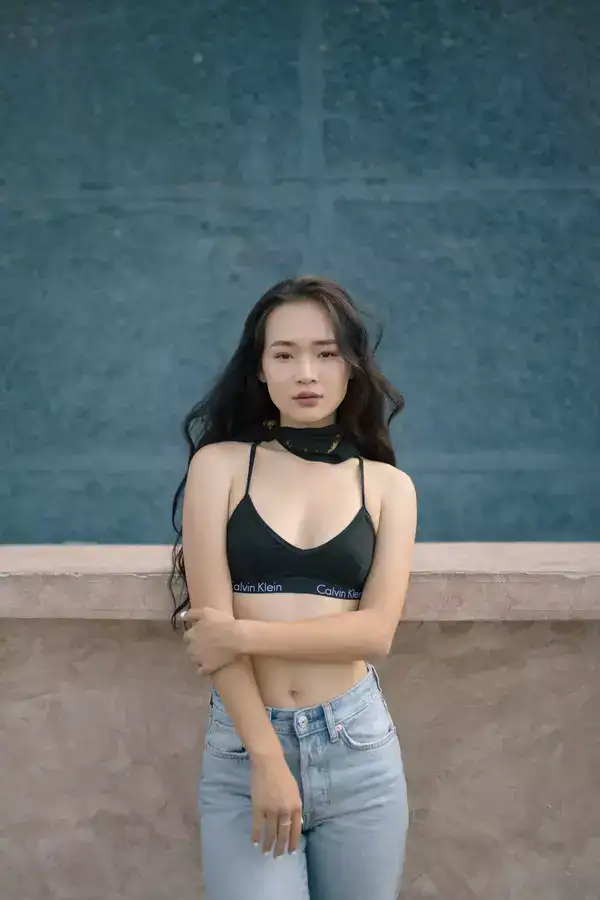 One of the most convenient aspects of PhotoWorks's photo editor is its ability to automatically detect faces in the image. This allows you to easily apply subtle enhancements such as red-eye reduction or skin-tone adjustments without having to manually select each face individually. You can also quickly make global adjustments to your image with the help of sliders that adjust lighting levels, contrast and saturation levels all at once. The software even contains an AI feature which can detect objects in your image and suggest further edits accordingly.
In addition to these features designed specifically for portrait photography, PhotoWorks also provides a range of more advanced functions such as layers support which enables complex compositing tasks with ease; masking capabilities so you can selectively apply effects; HDR merging; curves adjustment; noise reduction; Bokeh effects; Liquify tool – allowing users greater control over facial expressions - plus much more!
Luminar AI

If you solely deal with portrait photography and editing, Luminar AI by Skylum is the GOAT.
Photographers of all skill levels can benefit from its capabilities, which include a wide collection of tools and presets for rapid image enhancement. Luminar AI is the best portrait editing software because of its intuitive interface, intelligent editing tools, and high-quality output.
When modifying a portrait in Skylum Luminar AI, the first step is to select a suitable preset or template. You may quickly get started with editing with the software's many predefined looks, such as the Portrait Enhancer. After deciding on a starting point, you can tweak aspects like exposure, contrast, highlights, shadows, color temperature, and saturation. Even more subtly, you can paint in modifications to specific regions of your portrait using brush-based masks or local adjustment brushes. The Accent AI 2 filter, powered by artificial intelligence, streamlines the editing process by automatically boosting color tones and contrast based on your selected style settings. This means you can obtain professional-looking results in no time at all. Field blur and depth masking are just two of many accessible creative tools that may be used to inject an extra layer of depth and drama into your portrait photography. Take advantage of Luminar AI's myriad artistic filters if you want to give your photos a little something extra. From dramatic film simulations to vivid creative looks, Luminar AI has what you need to make your portraits stand out.
Pros:
Easy To Use Interface
Wide Selection Of Presets & Tools
Accent AI 2 Filter For Automated Enhancements
Creative Filters & Depth Masking Features
Brings Professional Quality Results
Cons:
Limited File Format Support (RAW & JPG Only)
No Batch Processing Feature Yet
No Camera Calibration Profiles
FAQ
What is the best portrait editing software?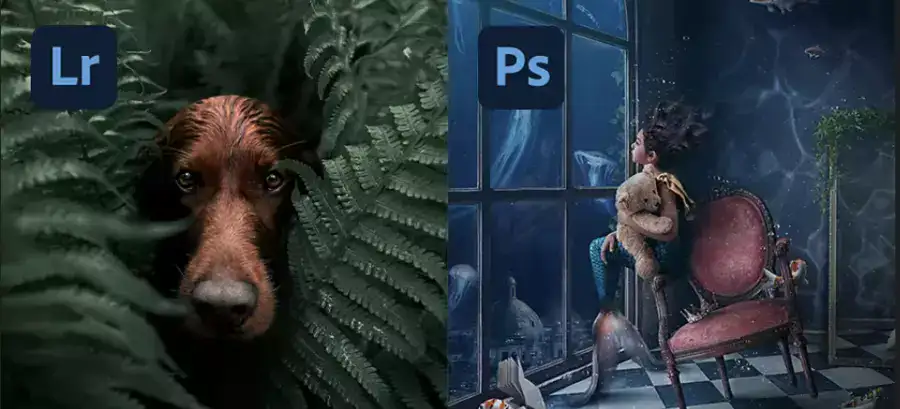 Any of the apps we have mentioned will be great for photo editing. However, we strongly suggest using Lightroom or Photoshop for advanced edits.
How do I edit portraits like a pro?
Editing portraits like a pro involves understanding and mastering the fundamentals of image editing, such as exposure, contrast and colour. I always pay attention to details, making sure that every pixel is perfect. Choosing the right editor is 50% of editing like a pro, the other half is mastering correction and editing fundamentals. With an eye for aesthetics, patience and practice, anyone can become an expert portrait editor!