As we become more and more reliable on our mobile phones, our photo editing needs have changed and progressed a bit towards smartphones. Luckily, the best photo editing apps for Android caught up to the changing trend and optimized their software to be used on Android OS. You can run these photo editors on most Android versions regardless of the brand and hardware specs of your phone. Actually, do almost every type of editing on your phone that was barely possible on the best computers.

Adobe Photoshop
---

Adobe Lightroom
---

Corel PaintShop Pro
---

CyberLink PhotoDirector
---

Skylum Luminar Neo
Also read: Best iPad photo editors
FixThePhoto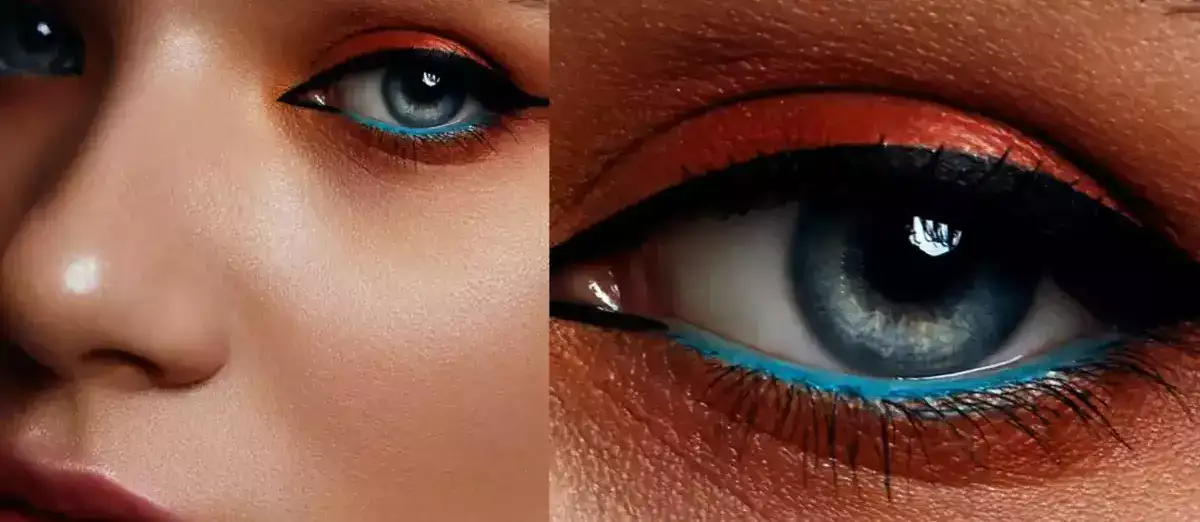 There are so many photo editing apps available on the Play Store, one of the freemium ones is called FixThePhoto.
FixThePhoto by Artem Danylov is a mixture between a photo editing service and an application. There are a few features for some basic editing. However, the main use of FixThePhoto is you upload your photo, and 24/7 available professional photo touchers edit your photo. It is for a fee, of course.
Prices range from $2.5 per photo edit all the way to $30 per photo depending on your requirements. FixThePhoto editor belongs to body/face retouching subcategory of photo editing.  You can ask professional retouchers to edit your hair, body, face, or even make your muscles look bigger on the picture!
There is a 15% discount available if you have multiple photos that need professional body retouching.
Overall, great service/app if you don't want to do the work yourself or resell the images.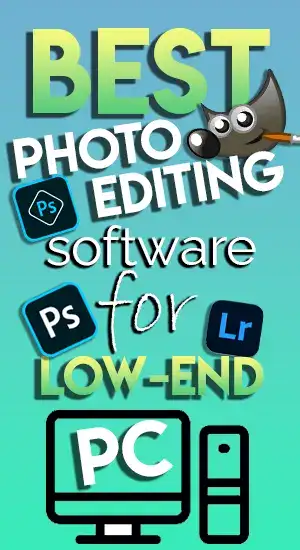 Pros:
Easy-to-use interface
24/7 available professionals
Quick turn around time
Cons:
Requires payment per image edited
Adobe Photoshop Express

Photo editing on Android devices is a breeze using Adobe Photoshop Express or previously known as Photoshop Online.
Even if you don't have the latest and greatest smartphone with a Snapdragon CPU, this software will let you quickly and easily transform your ordinary photos into stunning works of art because of its user-friendly interface, variety of preset filters, and integration with Adobe's Creative Cloud.
Common exposure tweaks like brightness, contrast, and saturation are included in the program as well as more fundamental tools like cropping and rotating photographs. In addition, the app comes with a variety of filters that users may apply to their images for a personalized touch. Additional photo editing options, such as curves, levels, and masking tools, can be found in Adobe's creative cloud library.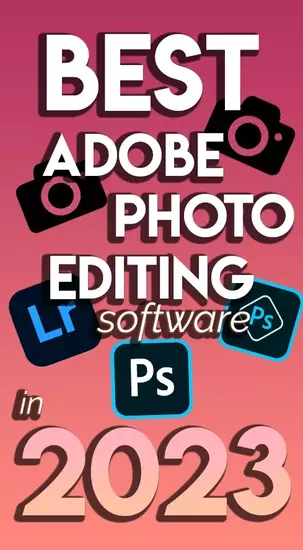 There are no premium upgrades or other costs associated with using that software; it's fully free. With a Creative Cloud membership, however, you can automatically back up your photos to the cloud and access them from any computer or mobile device.
The photographs you capture or modify on your phone will then display on all of your other devices.
It works even on the cloud!
PhotoDirector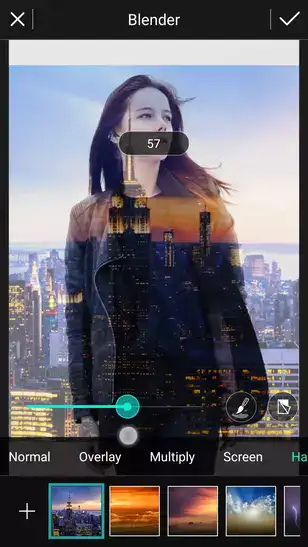 PhotoDirector is an Android-compatible photo editing app. It's a terrific app for quickly improving the look of images taken with a smartphone. The editing procedure is streamlined because of the app's user-friendly design.
Special effects like bokeh blur or comic book tones may be used in the PhotoDirector software if that's the look you want to go for. Helping users to produce breathtaking photographs that retain their visual impact at any size. You can quickly and easily improve your photos without having to spend time manually editing each one because the program provides a library of designer-made filters that can be applied to numerous photos with a single push of a button.
Ribbet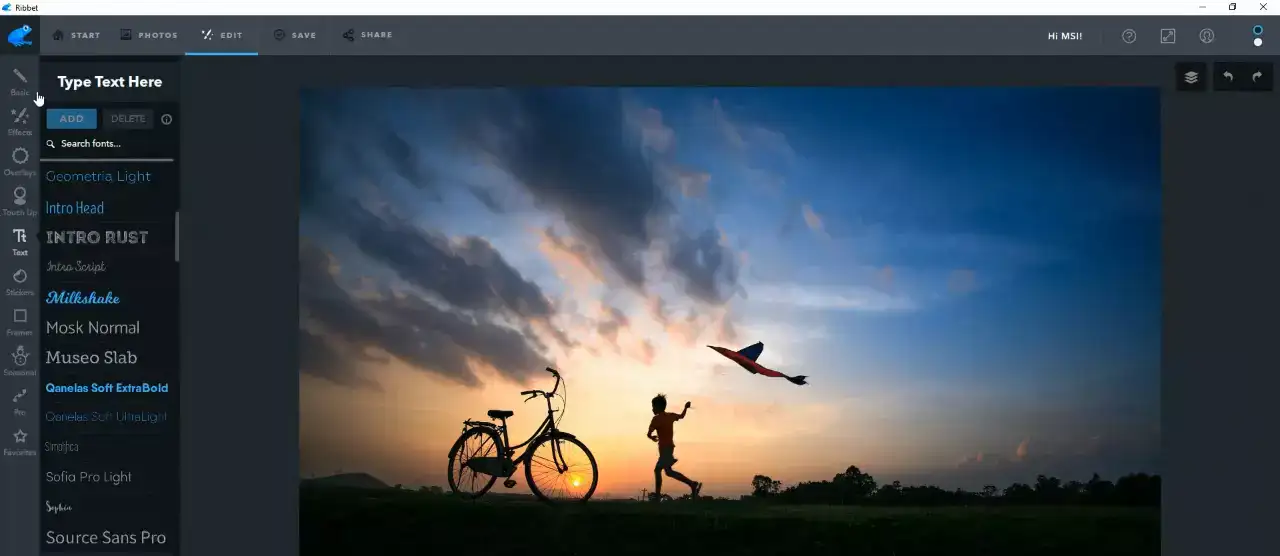 Ribbet is a free, powerful picture editor that was first developed for Android handsets. It has since been ported to iOS and made available online. Its straightforward design and intuitive interface make it a breeze to learn and implement. Aside from standard photo editing functions like cropping, flipping, and rotating, you also have the option of changing the image's brightness, contrast, saturation, and hue. You may use Ribbet's array of filters and effects to add some flair to your snapshots.
Ribbet is available both on iOS and Android. It works on a Freemium based pricing plan. On the free plan, you can have up to 5 projects and edit up to 5 images at once. You have to suffer through ads to be able to edit your images. But at least there are plenty of great filters and features you can use for free if you don't mind seeing some ads.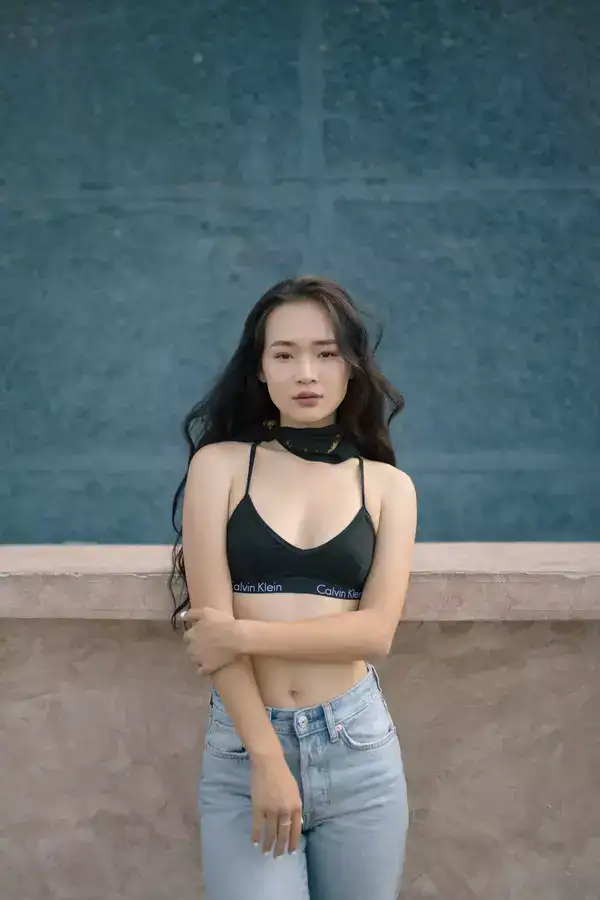 Premium plan on the other hand costs $3.33 per month. It gives you unlimited projects and ability to edit up to 100 pictures at a time. A great feature for busy photographers.
On Android, it has been downloaded over 100,000 times and has received 4.1 out of 5 stars. Unfortunately, the date of the most recent update appears to be November 1st, 2020. This means you are losing out on some of the newest features that other apps offer, namely artificial intelligence features and bug patches.
Even though it claims to be free, there are optional paid upgrades available within the app. If you want the full features, you'll need to pay $4.99 every month. Or pay only $39.99 yearly. There will be a slight price reduction for you in this manner.
PROS:
• Easy to use user-friendly interface
• Includes basic adjustments as well as more advanced features such as layers & blending modes
• Free on the Google Play store
• Plenty of cool stickers & frames available
CONS:
• Limited compatibility - currently only works on Android devices
• Some settings may be difficult for beginners
• Some users complain you can't manually set width & height in numbers.
Fotor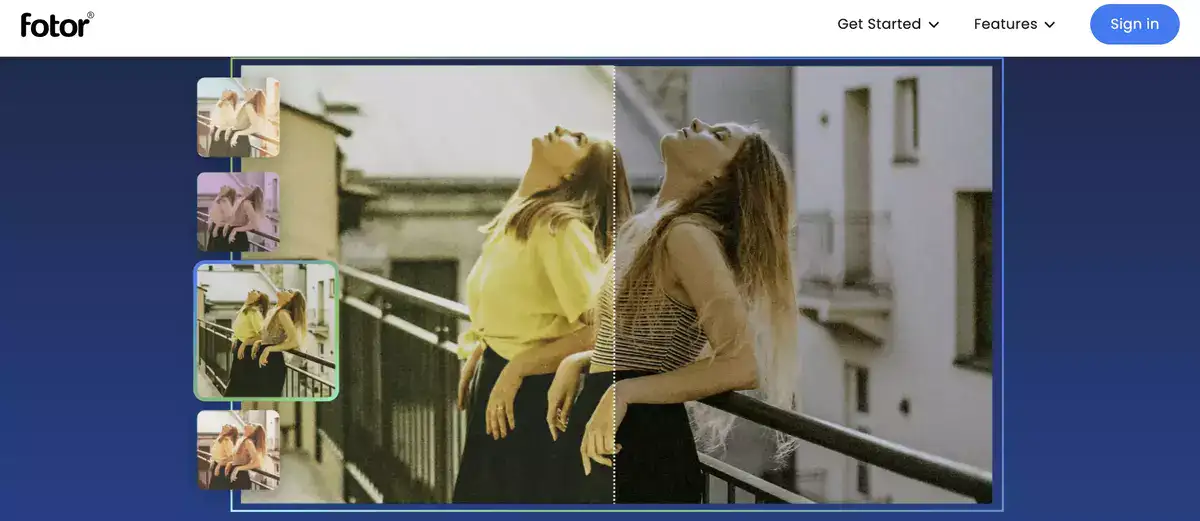 Whether you shoot your pictures with a phone or a high-end DSLR, Fotor, a sophisticated photo editing app for Android smartphones, will get the job done with its intuitive and user-friendly design. Among the many features, it offers are exposure controls, cropping, text overlays, and more. There are a few hundred other aesthetic filters and predefined effects available within the app as well.
You'll especially like its one-touch image-fixing capabilities.
One of Fotor's biggest features is the wide variety of options it provides, from those suitable for casual photographers to those more suited to expert photographers on the go. You can swiftly enhance the composition with only one click using the tool's built-in quick auto-enhance function. In addition, you can tweak these automatic enhancers to your liking, create an edit preset, and then apply that preset to any future images you process. Last but not least, Fotor provides simple collage capabilities for combining many photographs into a single breathtaking composition.
Created by Tony Duan, but owned by a China based company called Chengdu Hengtu Technology Co., Ltd. Use at your own risk. Instasize

If you own an Android device, you should definitely check out Instasize. It's a breeze to improve images, tweak hues and saturation, apply filters. Also find the ideal frame thanks to the extensive set of editing tools provided. There are even one click AI powered photo editing features for removing objects and doing skin touches. Instasize also allows you to apply the same effects to many photos at once, perfect for making collages. Moreover, their collection contains dozens of premade templates as well as style packs that you may use immediately. One of the key benefits of Instasize Inc. is, how simple it is to use. Even those with no prior experience with photo editing can rapidly learn how to make basic adjustments to their photographs with only a few taps. Additionally, the software is free, so it may be used by everyone regardless of financial means.
However, as a CON, it is restricted by the capabilities of mobile devices. So Instasize does not have as many functionality as desktop photo editing tools like Photoshop and Lightroom. Nonetheless, Instasize remains a fantastic choice for simple and fast Android photo editing.
Pixlr

Formerly known as Pixlr Express, Pixlr by Inmagine Lab is a photo editing app for Android devices that allows users to take their photos to the next level. The app offers an extensive list of professional-level editing tools, from basic exposure and tone adjustments to advanced effects and filters.
Updated regularly almost every few weeks for bug fixes, performance updates and new features, it has over 50 million downloads, featuring 1.21M positive reviews averaging 4.1 star out of 5. As far as user interface goes, Pixlr is quite intuitive. If you've used any video or photo editing software before, you'll know what all the icons and buttons do intuitively. As a result, making it easy for newbies and experienced editors alike to get up and running quickly. Its menu system provides quick access to all of its features via an organized sidebar with color-coded options, so you can find what you need with minimal effort.
Snapseed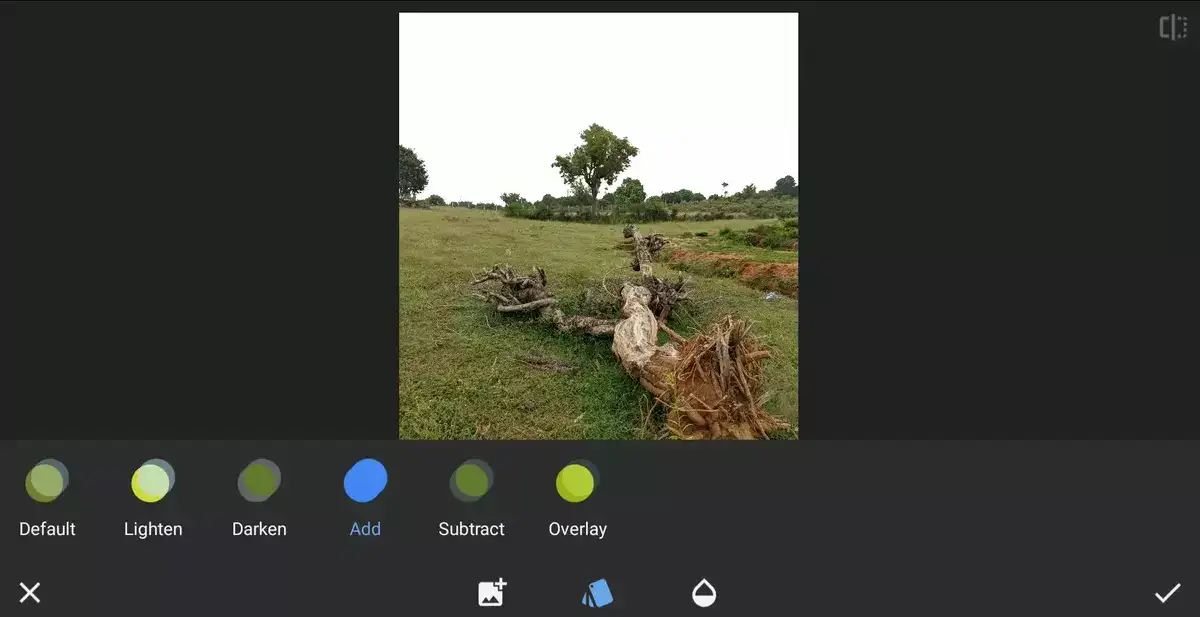 We regularly list Snapseed as one of the best alternatives for Photoshop on mobile devices. For the low low price of zero dollars, you get advanced features like precision editing RAW file support, color grading and light correction features.
The app allows you to make selective edits by brushing parts of an image that you want adjusted with precision. And if you're looking for something more artistic then Snapseed's Double Exposure feature can help you blend two images together into one stunning composition. Additionally, the app provides an in-app tutorial section which explains how each tool works and what they do.
It rocks a solid 4.4 stars with 1.59M reviews and over 100 million downloads just on Android devices.
PROS:
• Intuitive user interface
• Wide range of features
• Ability to make selective edits
• In-app tutorial section
CONS:
• Some users may find some features too advanced for beginners
• Lack of batch editing for multiple images at once
Bonfire Pro

It's one of the up and coming photo editing apps on Android with averaging 3.9 stars and about 100K downloads. Nothing massive, but somewhat popular nonetheless.
Updated over a year ago, you get basic photo editing capabilities like cropping, light correction, plethora of filters and that's pretty much it. No RAW file type support or competitive features but it's a trade for ease of use. Because it's as simple as it gets.
FAQ
What is the best picture editing app for Android?
One of the best photo editing apps for Android is undoubtedly Adobe Photoshop Express. First of all, you get this powerhouse of an editor for free. Add in its wide range of features like custom curves and contrast adjustments, and you have a truly amazing photo editor at your fingertips.
How do I edit photos like professional Android?
I have been professionally editing photos on Android devices for 5 years now and I can confidently say that it's a skill that requires practice and attention to detail. With patience and dedication, anyone can learn to edit like a professional; by utilizing tools such as Adobe Lightroom, playing around with colors, saturation levels and adjusting sharpness - you'll be taking your pictures to the next level in no time! Best photo editing app for Android without watermark
The best photo editing app for Android without watermark is Adobe Photoshop Express. This easy-to-use app offers powerful features and fast performance, allowing you to quickly edit and enhance pictures with a simple tap or swipe. With fantastic filters, frames and effects, it's the perfect tool to give your photos that extra flair. Plus, it's completely free and doesn't require any registration – making it effortlessly user friendly!