Many content producers prefer to edit their footage on their smartphones and share it on YouTube, Instagram, or other social media platforms. If you are on the go and need a mobile video editor, iPhone is one of the bests out there to quickly edit short videos.

Premiere Pro
---

Filmora
---

PowerDirector
---
We've compiled a list of the best 10 video editing apps for iPhone based on different preferences. While some are more focused on providing beautifully constructed tools for professional video editing, others are designed to make the video-editing process as simple as possible by including many eye-catching filters and real-time effects.
If you're not even interested in filmmaking, you can create exciting clip videos to draw much attention on YouTube or any social media platforms. With that said, let's get this show started on the right foot.
PS: We also have a video version of this post. Check it out here:
Top 10 video apps for iPhone users
When it comes to the best video editing apps for iPhone, they must provide more than just basic editing features. Let's look at the best iOS video editors in terms of versatility and performance.
iMovie
Final cut pro
PowerDirector for ios
FilmoraGo
Videoleap Editor
Videoshop
InShot Video Editor
VivaVideo
Apple Clips
LumaFusion

iMovie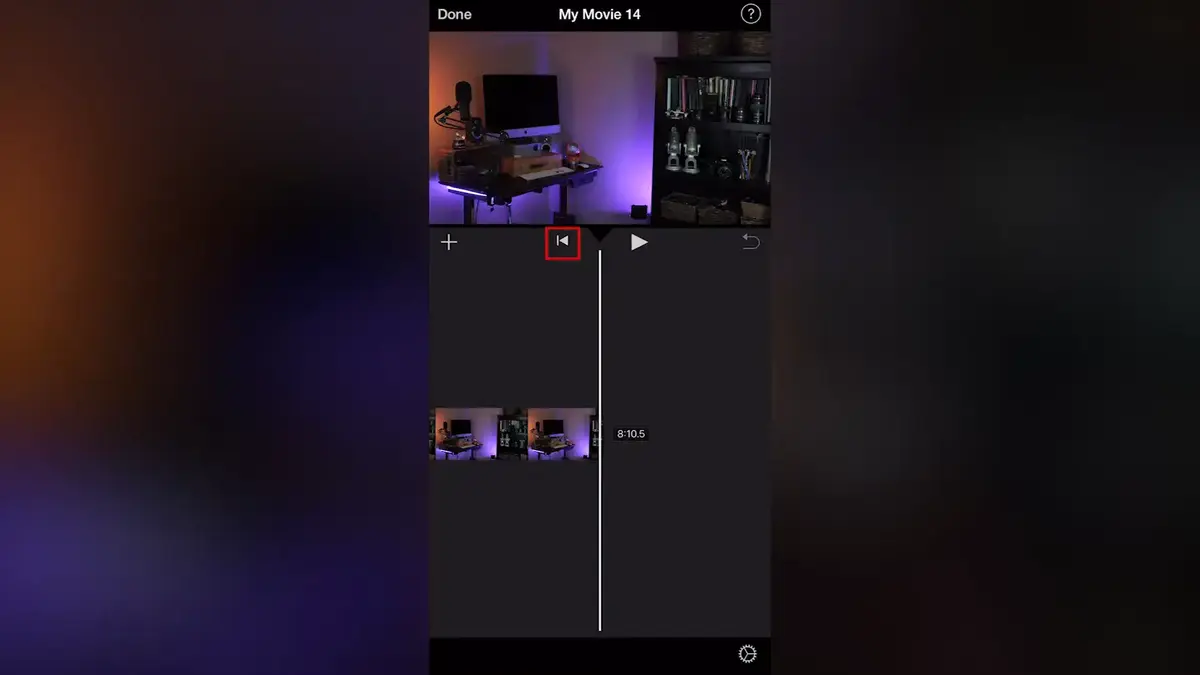 If you have an iOS-enabled device, Apple iMovie may be an excellent option. Numerous iPhone users even recommend this program as the best video editor for the Apple iPhone.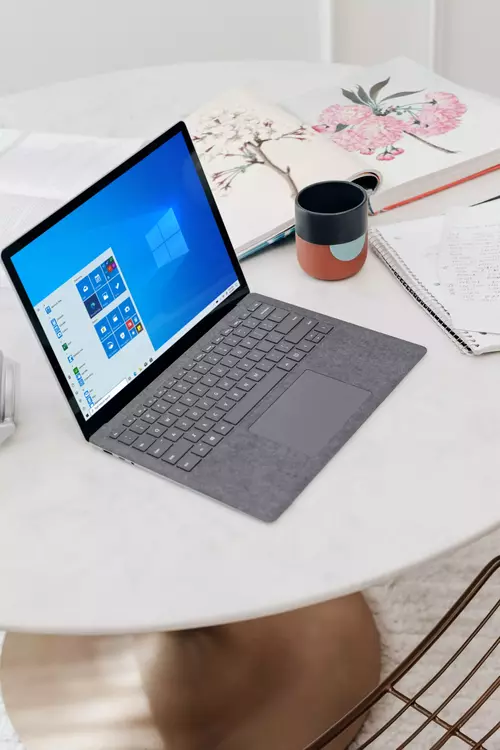 It helps you to edit videos and mix films. You can shorten, duplicate, and split your clips. Other capabilities include volume and speed settings, title text filters, soundtracks, themes, and fading choices.
Overall, the app is one of the most effective ways to edit videos, and it's free for iPhone users; you should give it a try.
Key features:
When editing, the keyboard provides key shortcuts for moving to the next frame, jumping forward, moving to a previous edge, and marking the start and endpoints of a clip.
iMovie allows you to adjust the levels of your audio clip freely.
Green-screen controls are best and more delicate in iMovie.
The character detection feature will track and tag the characters to determine their number and distance from the camera.
To determine the length and timing of a clip, so be sure to try out the new iMovie's advanced version.
Pros:
Easy-to-operate video editing software.
There is a lot of helpful information available for beginners.
There are plenty of sharing options included for the users.
You can record videos or import existing ones with the app.
Free for iPhone users.
Cons:
Only ios devices are supported.
Formats and features are limited.
Final cut pro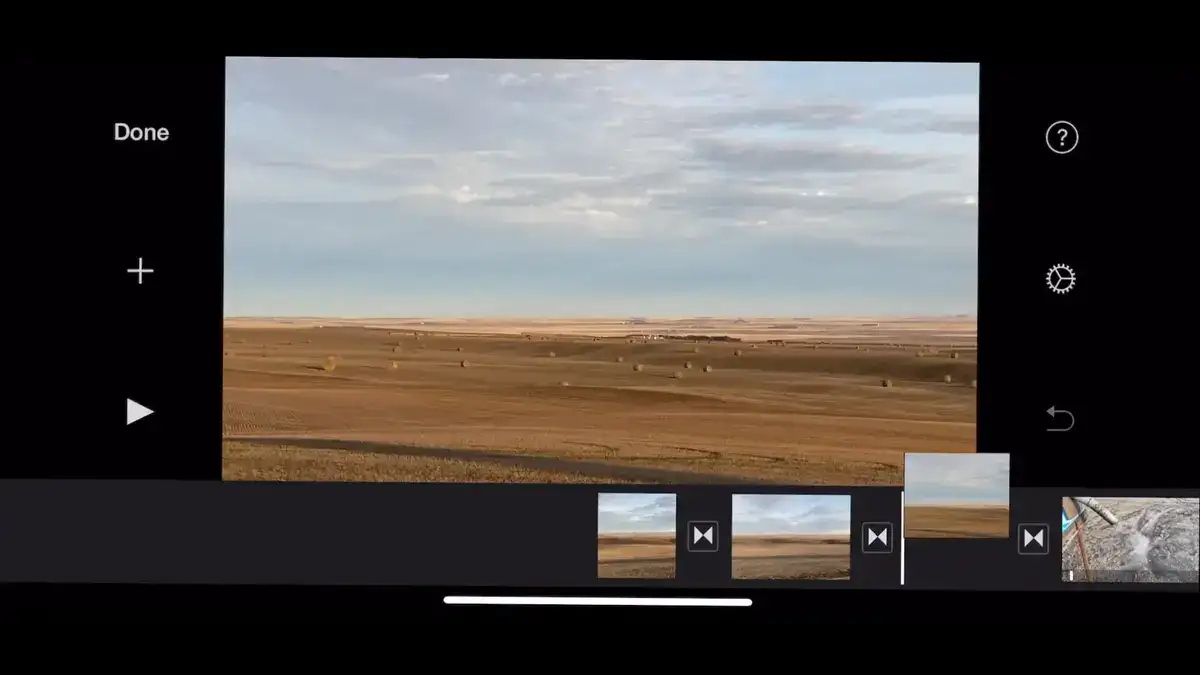 It is a specialized video editing program for iPhone users. Final cut pro is ideal for filmmakers looking to build sophisticated films with special effects. This app allows you to effortlessly edit and relocate segments without affecting the remainder of the video. Clips can be color-coded for added convenience, making staying organized a breeze.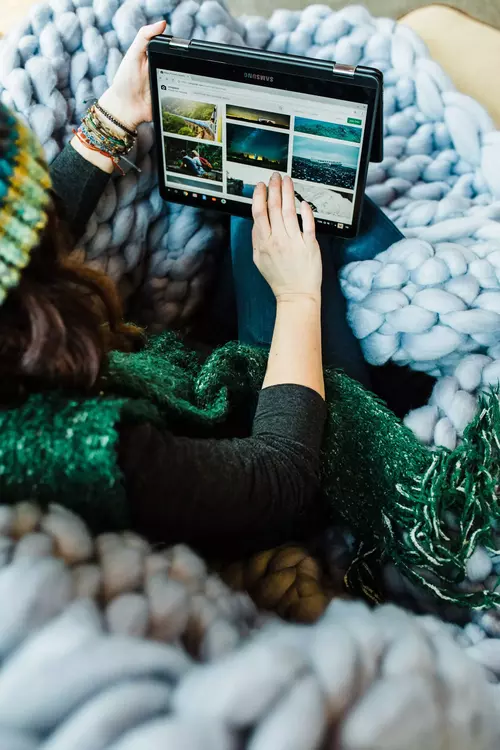 An anamorphic lens attachment is used by many iPhone creators who want to achieve ultra-wide aspect ratios. The anamorphic lens is trendy among iPhone moviemakers as it expands the x-axis and creates a wide horizontal frame. Final Cut Pro includes apps that can de-squeeze ultra-wide footage into a letterboxed frame.
For professionals, Final cut pro has included several unique features such as 360° VR editing, specialized audio editing, motion graphics, and advanced color editing.
Key features:
Asset management is the management of one's assets. Color grading on a higher level.
Playback with a VR headset and 360-degree VR video editing for environmental changes.
Clip trimming and moving, as well as the application of effects.
Support for High Dynamic Range (HDR) video.
Templates for motion graphics.
It offers traditional GPU utilization and powerful media organization, allowing you to organize assets such as audio and video carefully.
It includes real-time graphics and effects, such as texts and blurs, that are simple.
Because audio customization is simple, it creates flawless VR videos with stunning sound.
Pros:
Its strong architecture enables you to take on complex and time-consuming projects.
It's dependable software that can also be used in small businesses.
It renders at a fast rate. Multicam editing is possible with it.
It comes with a customizable and streamlined share interface that makes delivering high-quality files quick and straightforward.
Offline video editing is also possible.
4.1 user rating
Cons:
It is difficult for beginners because it is complex.
It only has a few export options.
There is no native support for redrawing files.
It is not updated regularly.
Pricing is $299, which is high.
PowerDirector for iOS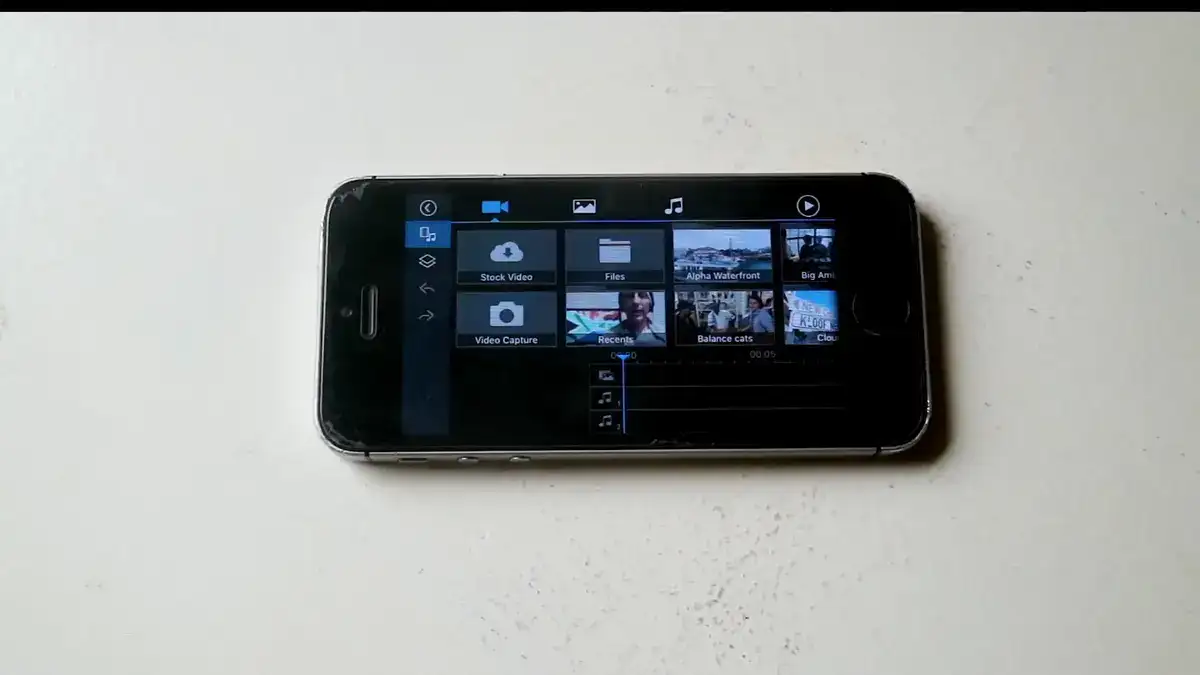 PowerDirector is a professional video editing tool that allows users to cut, edit, refine, publish, and share videos. Layer, blend and shape to create artistic scenes, add text or graphics to footage, and adjust transitions with a drag-and-drop interface.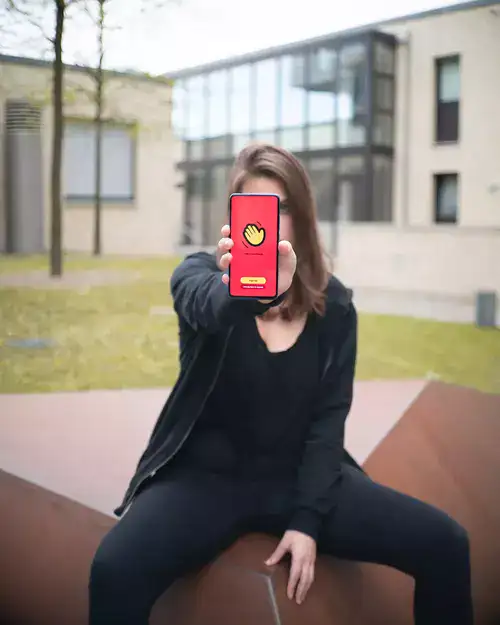 Professionals can use templates and keyframe controls in this app to add titles and shapes to videos. Content creators can use TikTok, Facebook, YouTube, and other social media platforms to shoot, edit, and share videos.
Users can customize PowerDirector to meet their specific needs for a more personalized video experience.
Key features:
Up to 4K resolution videos can be edited and exported.
In the voice changer, try out some unusual audio effects.
Using chroma-key, replace the background with a green screen editor.
With just a few taps, you can trim, splice, and rotate videos.
With precision, control the brightness, color, and saturation.
Using the multi-timeline, combine images and video into a single clip.
Hundreds of free templates, effects, filters, background music and sounds are at your disposal.
Pros:
The quickest rendering.
It contains a user-friendly interface
a vast number of effects
Editing with multiple cameras
tracking of movement
Screen capture capability.
$19.99/month is a reasonable price to purchase.
4.6 user resting
Cons:
The transitions and animations are cheesy and unprofessional in appearance.
Take more time to export ultra 4k videos.
Many users don't like its common features.
Lots of users complain about phone crashing/ lagging
FilmoraGo for iOS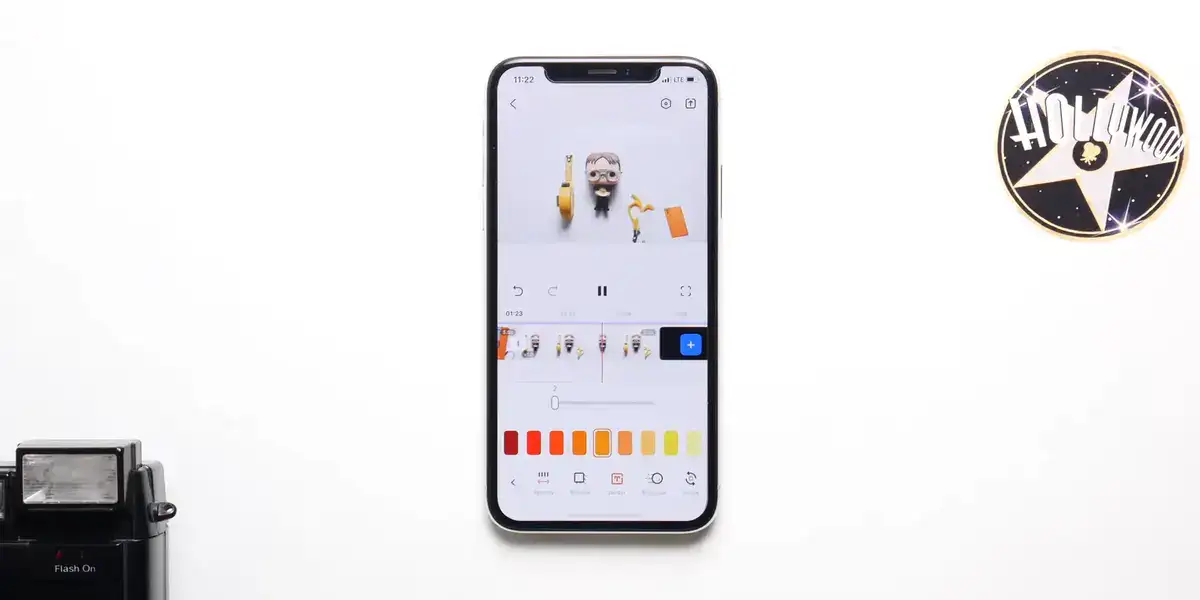 FilmoraGo includes royalty-free music and built-in sound effects. You can record your custom voiceovers. Filters and text overlays are added. A single video can have multiple layers of products applied.
If you have an iPhone XR or later, you can simultaneously record video with both front and rear cameras. For retouching, there are also video filters available. The app is available for free download. However, you'll need a subscription to access all of the features. Subscribers have access to multiple layers, unlimited-length videos, and other features.
Key features:
Timeline view that is easy to understand
Video can be adjusted, cut, and rotated.
With a simple sharing option, you can create stunning video effects.
Toggle between fast and slow-motion playback.
Video clips can be rotated in any direction.
Change the brightness, contrast, temperature, vignette, saturation, and clarity of the display.
Built-in sound effects and a royalty-free music library.
Create your own voice-overs by recording them yourself.
Add fun stickers or animated text to your video or photo.
PIP: combine multiple layers of video, images, stickers, special effects, text, and other elements.
Pros:
The user interface is enticing.
There are a lot of effects and overlays included for creative video editing.
Excellent title and text tools
Fast rendering in the test.
4.6 user rating in App Store
$49.99/ year is reasonable for everyone
Cons:
Compared to competitors, there are fewer fine-tuned effect-tweaking tools.
The user interface is not touch-friendly.
Crashes on occasion.

Videoleap Editor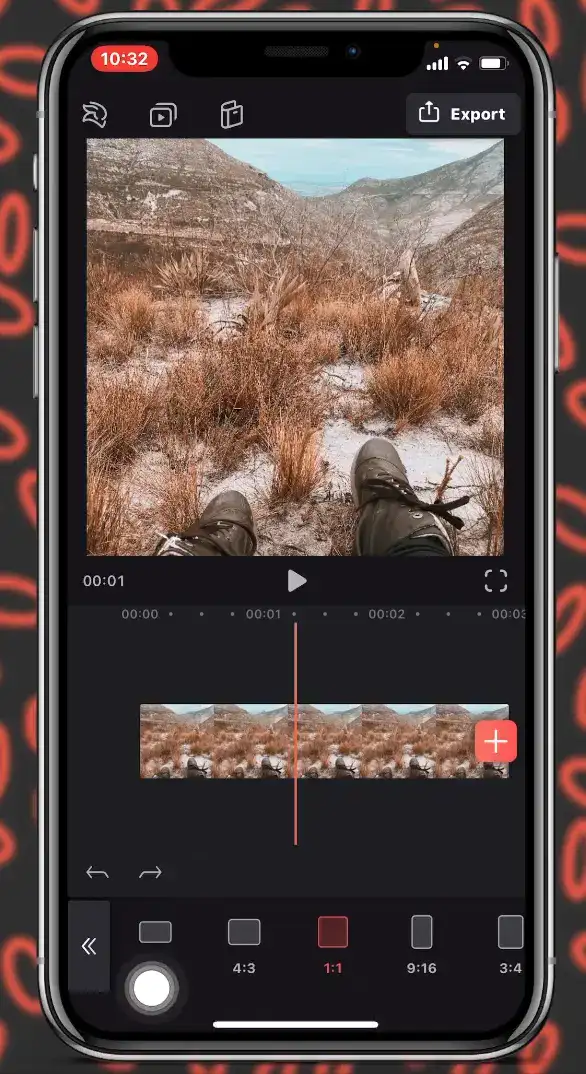 Videoleap is a powerful and entertaining video editing app. You can combine clips, add text and artistic effects, and edit videos on your iPhone or iPad.
Videoleap is an innovative video editor specifically designed for you if you want to make artistic films or simply share experiences, moments, or funny moments with your friends.
Professional filmmakers can take advantage of high-end editing features. Beginners and casual users will enjoy cutting and combining clips intuitively. You can edit movies or videos for Instagram with advanced video editing software. Add video effects, sound effects, filters, green screens, etc.
Key features:
Compared to competitors, there are fewer fine-tuned effect-tweaking tools.
It's not a user-friendly interface.
Occasionally, there are crashes.
Prism, Defocus, Colorfy, Pixelate, Chromatic Aberration, and more are just a few effects available.
Fonts, emojis, shadows, colors, opacity, and blending are all used in the text.
For every occasion, there are unique, adjustable film filters.
Trim, split, duplicate, flip, mirror, and transform clips.
Adjust the brightness, contrast, saturation, and other aspects of color.
Pros:
Drag and drop photos and video clips from your camera roll or use stock content to start a new project.
Use a resolution of 360 to 1080p when exporting.
To control the cinematic feel, change the frames per second from 24 to 60.
To customize layers, use blending and masking modes and green video options.
Make transitions between clips that are seamless.
Colors for the backdrop can be chosen and customized.
For all features, go over the tutorials.
Although the free version is fully functional, upgrading to the pro version unlocks unlimited layers and additional effects and features.
4.5 user reviews.
Cons:
Some features are not intuitive, and it may take a few tries to figure out how they work.
Videoleap Pro is not cheap, costing up to $139.99 per year.
Videoshop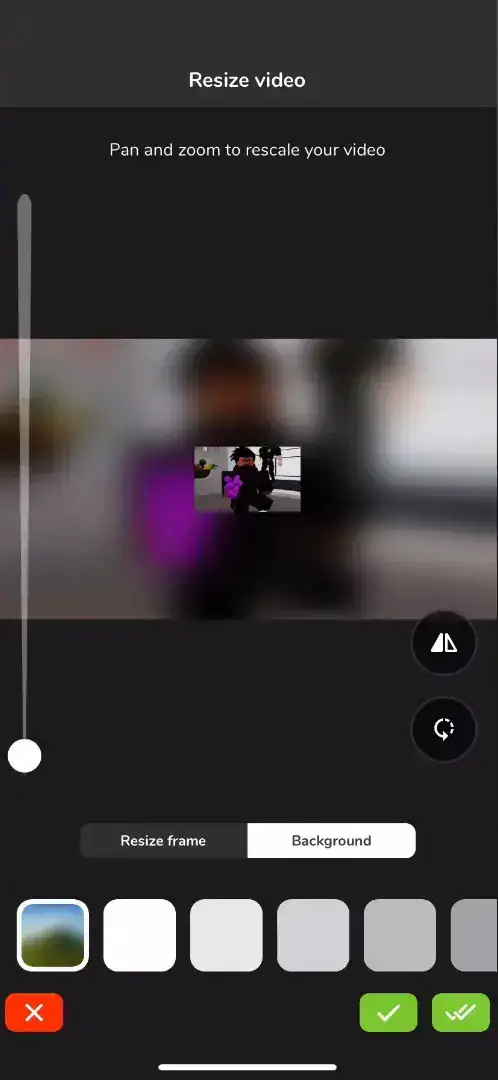 Videoshop is a simple and free video editor that includes fast editing tools, filters, and a variety of other effects for customizing your videos.
You can record or import clips from your camera roll directly from the app. After that, you can add text to the clip, add narration, combine multiple clips into one, and more.
You can also add tilt-shift and transitions between multiple clips to the video. This powerful app allows you to manipulate your videos in various ways. Videoshop also enables you to record voiceovers, which is helpful if you need a video editing app for how-to videos.
Key features:
Powerful editing tools include Trim, slow motion, fast motion, stop motion, merge, resize, reverse, copy, tilt-shift, rotate, etc.
Themes and filters Choose from various filters and animated transition effects to enhance your video.
Music, text, and images To make the video more interesting, add background music, sound effects, a voice-over, text, a title, and pictures.
Pros:
The design is simple, and it takes you straight to the record option or the video album archive.
Animated titles and sound are used to introduce videos.
Exposure, brightness, contrast, and saturation can all be tweaked.
In square frame, portrait, or landscape mode, shoot.
Voice-over audio, text overlays in various fonts, and ten different transition options are all simple to add.
Unwanted footage can be quickly spliced and trimmed, and multiple clips can be merged into one.
Send finished videos to Vine, Instagram, Snapchat, Facebook, YouTube, Vimeo, email, or save them to your camera roll in low, medium, or high resolution.
Cons:
Excessive content and effects may put the phone's processing power to the test.
Only supports 720p resolution, while other apps support 1080p or 4k.
It's possible that using video footage from non-iPhone or non-iPad platforms will result in instability or crashes.
There is no help section describing how to use the numerous editing tools.
Apple devices are the only ones that have it.
InShot Video Editor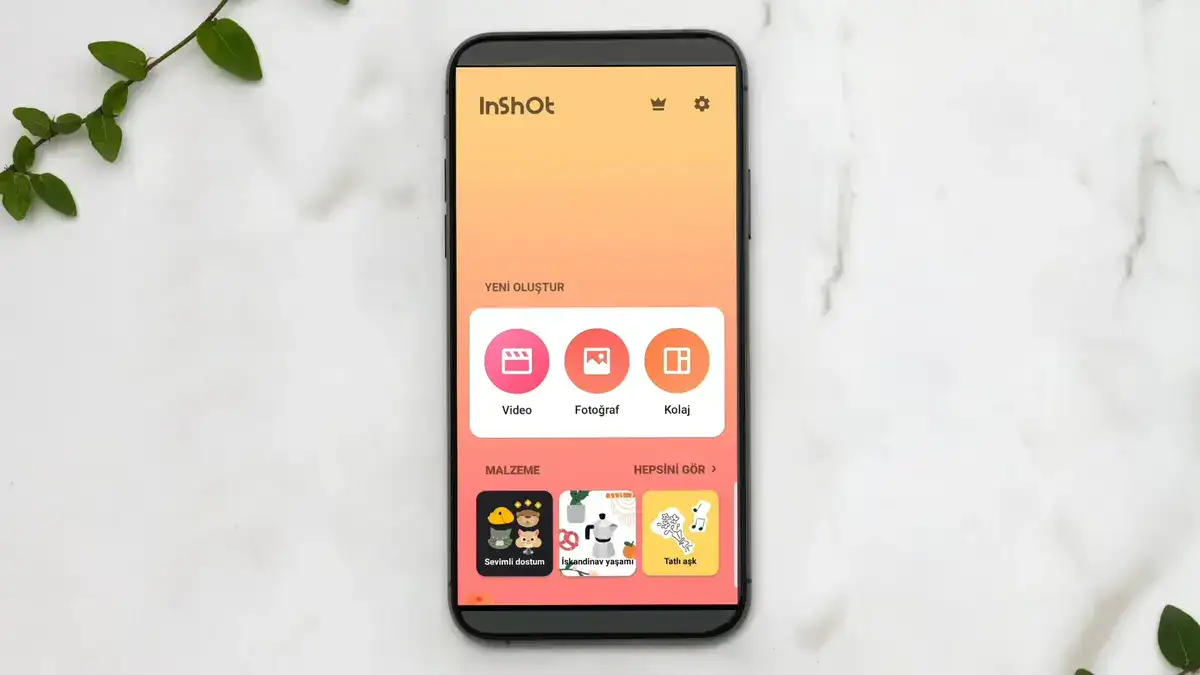 For iPhone users, InShot is a simple-to-use video editor. The essential editing tools are available here, including cutting, trimming, deleting, merging, and adjusting the video. You can also upload your music or choose from a free music library.
The app also includes many sound effects and allows for voice-over layering, as well as Stickers, emojis, filters, effects, transitions, color correction, and more are all supported.
One of the most valuable features of Inshot Video Editor is the ability to rotate and flip videos, which comes in handy in various situations. Overall, this is a fantastic video editing program.
Key features:
Video splitting
Video trimming
Merging video clips
Importing photos or images
Applying various filter effects to the video.
Adding music or sound effects to the video.
Adding voice-over effects.
Adding animations, stickers, or text to videos
Pros:
It's a simple and free video editor.
Menus are easily accessible.
You'll have access to more features and tools in the pro version.
Users can change the video's frame rate.
Cons:
There are no stickers in the search.
Lack of assistance.
Need to watch ads videos to remove watermarks.
Advertisements are present.
The cost of unlocking the pro version is relatively high.
VivaVideo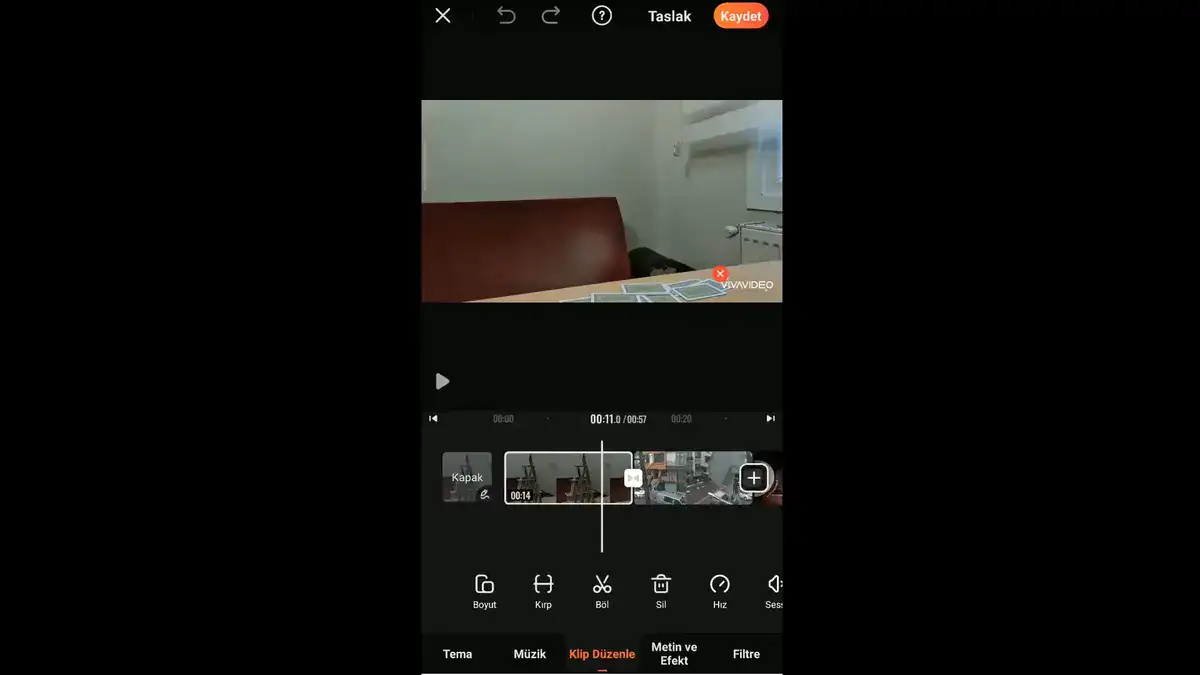 If you want to create visually appealing videos without getting into the difficulties of video editing,  VivaVideo is better than many others. The short tutorials for each feature make it easier to understand how and where to use each tool, which is especially helpful for newbies.
VivaVideo's comparatively neat timeline hasn't failed to catch my eye, as I prefer an intuitive timeline to edit clips with ease. The timeline makes it simple to add items such as text, music, and stickers and manage them.
The multi-track music functionality permits you to add music, sound effects, and even voice-over all at the same time. You can also combine videos and photos for a more dramatic effect, allowing your creativity to grab attention right away. Overall, VivaVideo is the kind of video editor that will appeal to most users' creative side.
Key features:
Make vlogs or professional music videos and add background music. Add snippets, effects, or lyrics to your project.
Make videos with transition effects or use music to edit them.
Make a longer video by combining different video clips.
Color and speed adjustments
The transition from one scene to the next
by watermarking with your design
Add music, sound effects, and voice-overs to any video clip with the music editing feature.
You can save and export videos in 720p, 1080p, and 4K with VivaVideo.
Use your social media accounts to share your edited and created videos. The most courteous.
Pros:
Stock and template libraries
Transitions and text effects
Library of music and stickers
Filters from the movie industry
Best for beginners
Cons:
Editing on mobile-only
On free videos, there is a watermark.
There are no tools for creating subtitles.
Only pro users can export in HD.
Apple Clips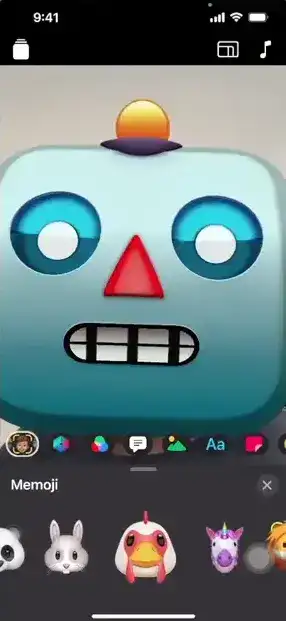 Apple Clips is one of the best iPhone video editing apps if you want to create videos quickly and easily with animated text, filters, and more.
Clip is a free app that allows you to create and share entertaining videos with your friends and family. You can make vertical and horizontal videos with immersive camera effects, artistic filters, dynamic music, animated text, emoji, stickers, and more with just a few taps.
Key features:
Simple controls allow you to record vertical and horizontal video clips.
To quickly create a multi-clip video, add photos and videos from your library.
Create engaging AR Spaces that transform your space into a rainbow light show, dance floor, confetti party, etc.
Label elements in your videos and photos with customizable text stickers.
Emoji, speech bubbles, illustrated stickers, and shapes can all be added to your photos and videos.
Choose from over 100 soundtracks that automatically adjust to the length of your video or add a track from your library.
Import and edit video from the iPhone 13's Cinematic mode.
Apply effects to video captured in Cinematic modes, such as filters, stickers, and emoji.
Pros:
Text captions are generated by voice in real-time.
Video effects reminiscent of Prisma.
Soundtracks.
Trim with a clip.
Sharing is simple.
Cons:
There are no widescreen videos, only square videos.
Limited sticker and filter selection.
During testing, it occasionally crashed.
There isn't one built into a social app.
LumaFusion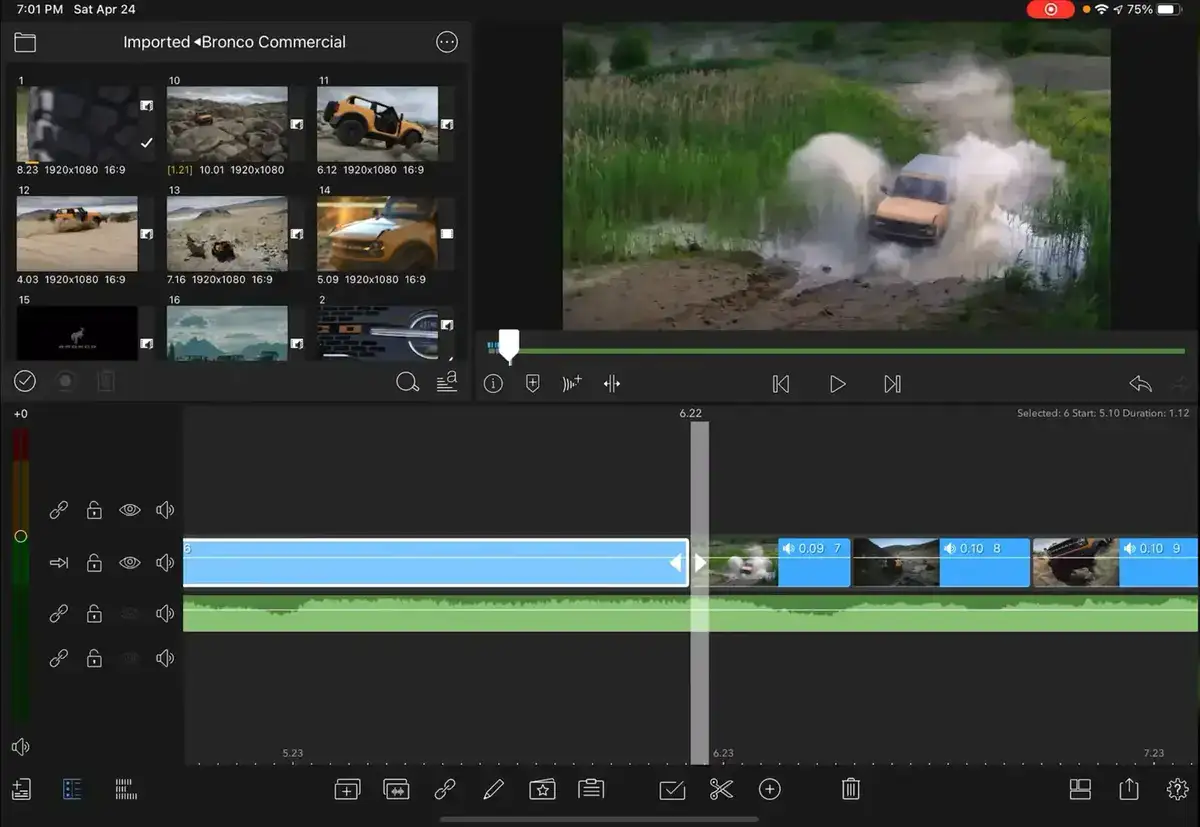 LumaFusion is undoubtedly one of the best professional video editing apps for iPhones and iPad.This mobile video editing app's functionality, powerful features, and rich interface have made it very popular.
You can alter the ratio of your editing frame, change the frame rate, and create video editing projects.LumaFusion also allows you to add music to your iPhone videos and provide additional audio tracks.
Key features:
Create video projects with a variety of aspect ratios to choose from.
iPhone videos can be cropped.
Other layer effects include chroma key, blur, distortion, and others.
Filters and EQ presets for audio can be added.
Create video projects with a variety of aspect ratios to choose from.
iPhone videos can be cropped.
Other layer effects include chroma key, blur, distortion, and others.
Filters and EQ presets for audio can be added.
Six additional audio tracks can be used
Insert/overwrite and link/unlink clips with the enhanced magnetic timeline.
Track headers are displayed for locking, hiding, and muting tracks.
Green screen, luma, and chroma keys, blur, distort, styles, and color; use preset transitions or create your own Layer effects.
Forward and reverse slow motion/fast motion
Using 120 and 240fps files, create smooth slow motion.
With the Graphic EQ, you can fine-tune your audio to perfection.
Using shapes and images, create multilayer titles.
Pros:
On iOS, you can do professional video editing at a desktop level.
Titles, effects, color correction, and royalty-free music are all included.
Media from SMB network drives and cloud storage services can be imported.
Beginners are welcome.
Cons:
There is no iCloud synchronization between devices.
Occasionally, there are crashes.
Projects can't be exported to the desktop.

What app do YouTubers use to edit their videos on iPhones?
You'll need the appropriate tools to help you create and edit your YouTube videos, whether you're a seasoned pro or a complete novice.YouTube has progressed from being merely a video-sharing platform to something much more, as many people prefer to watch YouTube over traditional television.
This indicates that if you want to grow your YouTube channel and become a YouTube celebrity, you must put your best foot forward. Choosing the best YouTube editing applications that offer the right tools to transform raw footage into view and like-worthy video content is one way.
The most recommended video editing tools for iPhones  that are significantly popular among youtube content creators are :
iMovie
Final cut pro
PowerDirector for ios
FilmoraGo
LumaFusion
InShot Video Editor
Does Apple have a free video editor?
Apple has a free video editor for iPhone in App Store. But most of them place a watermark on your videos that you cannot remove.
Apple's iMovie and Clips are much better than other free iOS video editing apps. Both are user-friendly and offer a variety of creative emojis and amazing effects to make videos entertaining to watch. Apple makes them available on the App Store, so you can continue editing. iPhone users can create professional-looking videos with just a few taps. You quickly create fun videos to share with your friends on Youtube, Instagram, Tiktok, or iMessage.
Is it easy to edit videos on iPhone?
It is easy to edit a video on an iPhone if you follow these ways:
Editing a video is easy by cropping, trimming, and adding filters and effects on iPhone.
Open a video in the Photos app on your iPhone or iPad and tap "Edit" in the top-right corner to edit it. Or
You can download some free apps like iMovie, clips, and luma fusion to make your videos more creative with lots of features and effects added.
How to combine videos on iPhone?
Anyone can combine videos on iPhone using the iMovie video editor. Check the procedure below:
First, download the iMovie app from the app store.
Start the app, and you will see a Welcome message. Just click on the continue option.
Tap on the "Create project" option
And then click on "Movie."
You will see  "Media" at the top left.
Click on "videos' and select your videos to combine.
Select a video that you'd like to combine with another. Select the checkbox in the pop-up. The video is now part of your project.
Tap any other videos you'd like to combine, then check the box to add them to your project.
Click the "Create Movie" option at the bottom of the screen once you've added all of the video clips you want.
You can preview the video and add transitions between the video clips on the My Movie screen. To choose a transition style, scroll the video to the left or right until you find a cut point, then tap the transition icon.
Tap "Done" in the top left corner of the screen when you're done.
Choose where you want to send the completed movie by tapping the Share button at the bottom of the screen.