Continuing our modpack review series, next up, we have All of Fabric 5. This modpack is a bit different from the likes of ATM 8 or Blightfall as it emphasizes more on visuals and effects.

GameTeam
Use "9to5software" coupon for 25% off
---

Apex Hosting
---

ScalaCube
---

HostHavoc
---
What's All of Fabric 5?

All of Fabric 5 is a CurseForge modpack released in November 2021 and regularly updated since then almost every month with new features, mods, performance updates, and bug fixes. Let's look at some of the new aspects it brings to your gameplay.
Also read: All the mods 7
Food
Over 300 types of food and crops, you can eat and grow. Including grains, vegetables, fruits, nuts, seeds, herbs, spices, oils, and much more.
1000+ Blocks
Think of all the blocks you get with Minecraft Vanilla. And think of another thousand more blocks that you can build the land and structures of your wildest dreams.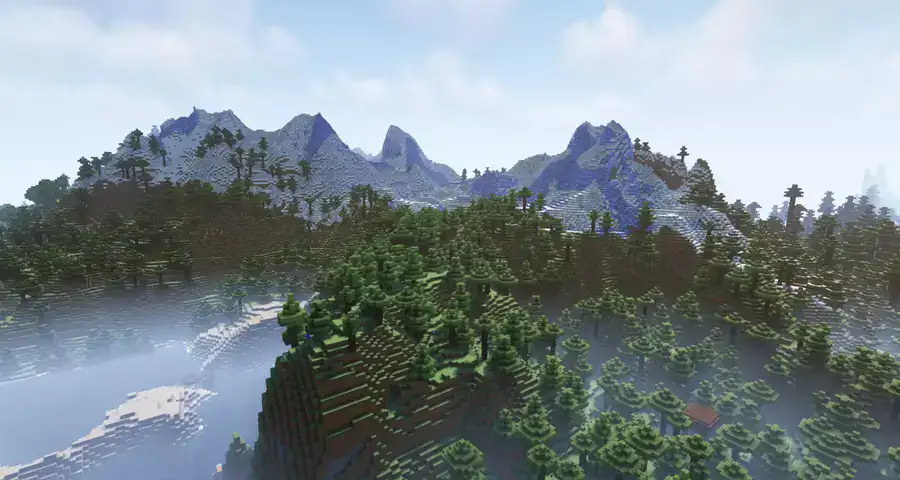 Ambient Sounds
All of Fabric 5 truly enhances your gameplay experience to another level with immersive nature sounds as you go from one biome to another.
Next level science
If you want to get quantum, set up a mining rig, or automate your farming or your entire world, All of Fabric 5 has all the technology and science mods you'll ever need.
Storage and Utility
It packs a ton of storage and utility options whether you need to store items on the go or back at your main base, no matter how complex the system you need.
Brand new structures
On top of classic structures in Minecraft like castles or sunken pirate ships, All of Fabric 5 also packs over 100 brand new unique structures you've never seen before. It'll surely be ton of fun to explore them all.
Magic packs
Explore dark and mysterious magic with new and original never seen magic quests and abilities.
Legendary mounts
AoF5 introduces dozens of mythical creatures. Some of them are rideable, and some of them can fly across your world.
How to make All of Fabric 5 server?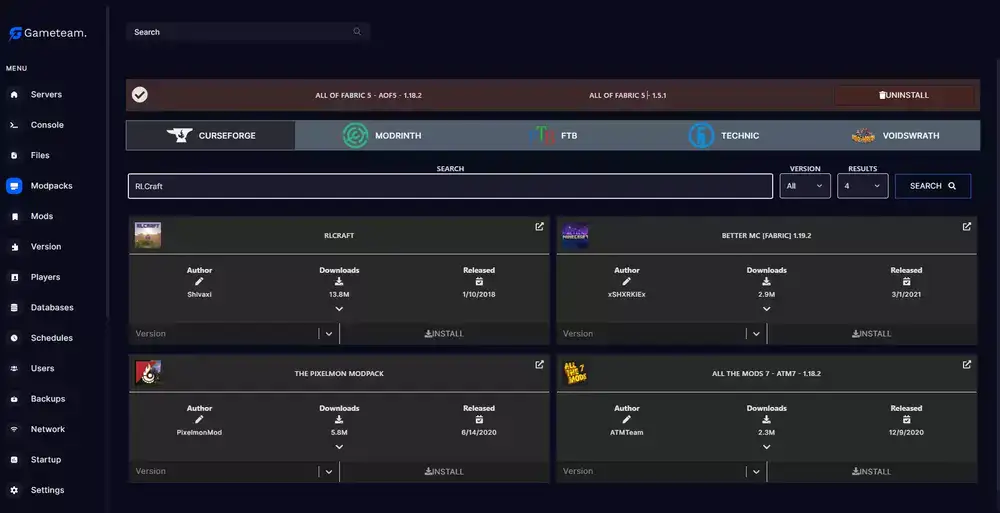 All of Fabric 5 is supported by almost all Minecraft server providers. Meaning that you can install the modpack with just a single click without having to deal with server management and issues like port forwarding yourself.
Also read: Scramble Craft Server Tutorial
Step 1. First of all, get a basic Forge server on GameTeam if you don't have it already.
Step 2. Once your server is created, navigate to the modpacks section in the menu. It's a modpack installer tool that lets you download and install any modpack in just a few minutes.
Step 3. Scroll down a bit until you find All of Fabric 5. Or better yet, simply search for All of fabric in the search bar. Make sure you're in the Forge menu, and not another launcher or the modpack will not show up.
Step 4: Select the latest release from the version selector and click on install.
Step 5: A confirmation pop-up will ask you to confirm changes. Click on Yes to continue.
Step 6: Now, all you have to do is wait until the installation process is complete. Once it's done, it'll automatically refresh the page.
How to install All of Fabric 5 on client?

All of Fabric 5 is a CurseForge modpack and comes with Curse Launcher. To get started, simply navigate to the Browse Modpacks menu in your Curse Launcher and search for All of Fabric. Scroll down a bit, and you'll see it in the modpacks list. Click on the orange install button and wait for your launcher to download and install all its dependencies.
Related: MC Eternal Tutorial
Why is All of Fabric 5 laggy, and how to fix it?
One of the issues with All of Fabric 5 is that it's a big modpack requiring a ton of available RAM. If your All of Fabric 5 is laggy, we recommend giving it more RAM and turning off its unnecessary visual settings, such as realistic clouds.
How much RAM do I need for All of Fabric 5?
All of Fabric 5 modpack makers recommend at least 4GB of RAM to run it efficiently on the server. But we found 8GB to perform better, especially if played with 5 to 10 people on the server.