Commercial video marketing attracts way more viewers and delivers the message more effectively than text and pictorial advertisements. However, this is not true for all videos. Two things help you make good-looking videos; content and editing. Out of 100 marks for a commercial video, 50 are for content, and 50 are related to editing. The surprising thing is that high-quality editing can cover deficiencies in content and shooting.

Premiere Pro
---

Filmora
---

PowerDirector
---
All these things can only be done with a good quality video editor. If you are looking for high-quality video editing, you are at the right place. In this article, I will discuss and review the best commercial video editor for your needs.
To ensure that you are fully facilitated in this article, I have included the best commercial video editor for your PC, Android, and iOS. The best thing about these video editors is that you can use them to edit commercial and business videos.
Let's check out the best commercial video editors for commercial videos.
Best Professional Video Editing Software for PC
1. Adobe Premiere Pro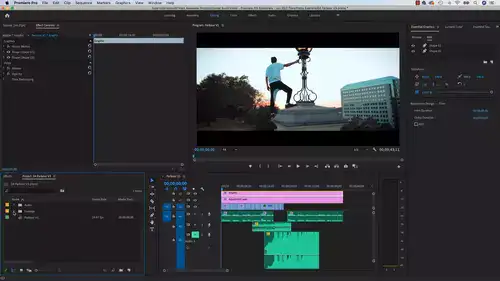 Adobe Premiere Pro has been hailed as one of the best video editors for editing commercial and business videos. Adobe Premiere Pro and Final Cut Pro (reviewed next) are industry-standard editing tools.
The tool comes with a wide range of basic and advanced editing tools that you can use to make high-quality edits to your videos. Before you feel tempted to buy this tool, please note that it is best for advanced users. Though beginners can use it, it comes with a steep learning curve. Beginners may need 3-4 weeks to get a hold of things.
Also read: Best video editor for low end PC
The tool lets you add aminations, motion graphics, transitions, add voiceover/edit the audio, add a soundtrack, synchronize the sound, and add texts and titles in your video. Its pen tool is great for freehand editing, and the razor tool allows you to make cuts and jumps that you see in vlogs.
Adobe Premiere Pro comes with a collection of presets and templates that you can use in your videos. Moreover, there is a huge collection of filters and transition effects. Moreover, the tool lets you do multi-cam and 3D editing.
Since the tool is a part of Adobe's Cloud services, you can import content from Adobe's other applications. This is a great feature that frees you from the tension of saving your work locally.
The plus points for this tool are the edited videos have a high-quality finish with smooth transitions and synchronization. You can configure and scale the timeline as per your needs. The tool is regularly updated and comes with advanced stabilization tools.
The only drawback of this tool is that it is pricey and beginners may feel lost on this tool.
2. Final Cut Pro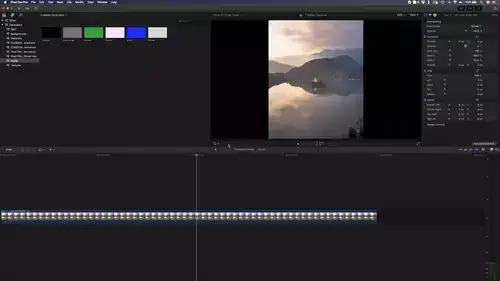 The second industry standard that you can use to edit your commercial videos on a desktop is Final Cut Pro. Please note that it is available for only Mac OS. Moreover, it comes with a lifetime subscription and a 90-day generous trial to let you test the tool in and out.
One problem with this tool is that you cannot align with Adobe Premiere Pro; this is a big drawback for people using Adobe's cloud iCloud services. However, there is a way around this problem; you can use a third-party cloud service compatible with both tools.
Also read: Best MAC Video Editor
Now coming to its commercial video features and tools, Final Cut Pro is routinely used by industry professionals to create TV commercials, Hollywood movies, and TV shows. This is ample testimony that this tool has the strongest commercial editing tools in its arsenal.
Its multi-cam feature synchronizes up to 64 different angles for a video to make pro-level edits that an average user doesn't need. It also supports 360-degree video editing, intelligent and most advanced color correction tools, and convenient grouping tools.
Final Cut Pro ensures that you don't lose quality while editing the videos, and it comes with super-fast processing speeds with instant previews. One thing I loved about this desktop commercial video editor is the ability to check out the effects before actually applying them to your video. For example, if you are applying a title to your video, Final Cut lets you check out the effect in real-time.
Apart from these advanced level tools, all basic editing tools like trimming, cropping, resizing, sound editing, voiceover, screen recording, and speeding up/slowing down video are also available.
Also read: Best iPhone Video Editor
One feature that deserves a special mention is its magnetic timeline. This timeline is different from conventional tools, and it may take some time to handle.
The beauty of this tool lies in the fact that despite its advanced tools, beginners can still use it because of its simple interphase.
3. Filmora Wondershare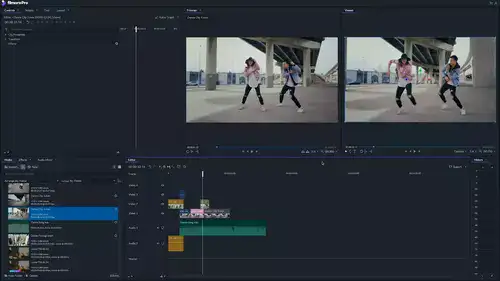 Filmora is available for Mac and Windows and is considered the best video editor for people on a budget. However, this is a basic tool for commercial video editing and may be good for beginners. If you are a startup or freelancing working on videos that require basic editing, Filmora is the best option.
The biggest advantage of using Filmora is simple interphase and features that even a first-timer can get hold of and use to make good-looking edits. The desktop editor offers many features leak pre-made text and title templates, trimming, cropping, and resizing with pre-set aspect ratios for different platforms. You also get many transitions, filters, effects, and motion tracking tools. Filmora comes with one of the largest royalty-free soundtrack collections that you can use to add soundtracks to your videos.
Related: Best Windows Video Editor
Filmora also allows users to use the Chroma Key effect, quick rendering speeds, previews, and direct export to different platforms.
The tool is paid; its lifetime subscription equals three months of subscription charges of leading editing tools. The best part about a lifetime subscription is that it comes with all the updates.
However, the biggest drawback is that this is a limited tool and is only best for beginners or individuals learning video editing. On the contrary, FilmoraPro is an excellent tool for making advanced-level commercial edits. It is a direct competitor of Adobe Premiere Pro.
Best Professional Video Editing Software for Android
1. Adobe Premiere Rush
Adobe Premiere Rush is a simplified version of Adobe Premiere Pro. You can use it on Android and iOS. Developers make sure that all platforms are equally supported, and regular updates are issued for both of them.
The best thing about Premiere Rush is that it delivers high-quality results for commercial video editing and still has simple interphase. Unlike Premiere Pro, the learning curve is not that steep. You will start using this app like a Professional in just a couple of days as everything in this app is neatly organized and grouped to make things easy for you.
Related: Best Chromebook Video Editor
You can use this app to add voiceover, convert the aspect ratio, trim, crop, resize your footage, add texts and titles, merge clips, synchronize sound to video, and many other features. One interesting and unique feature of Premiere Pro is that it changes the size of the video according to the application you are uploading the video.
Premiere Rush is a part of Adobe's Cloud services and lets you share content across different Adobe suites.
Though the app is free to download, you cannot access most of the features in the free version. You will have to make in-app purchases to remove watermark and unlock features.
2. FilmoraGo
FilmoraGo is another app that Android users can install to make edits on commercial videos. FilmoraGo has the backing of Wondershare, and it is regularly updated to bring new features to its users. Though the app is free to download, you will need to subscribe to remove the watermark and unlock the features.
FilmoraGo and other applications are known for their easy interphase. This app comes with drag-and-drop functionality and large icons so that you don't have to find anything while working on your phone. It becomes more fun if you use this application on a large-screen tablet.
Also read: Best YouTube Video Editor
The features include trimming, cutting, adding video, voiceover, photos, subtitles, transition effects, etc. You can add text/titles, format font, and animate the titles; you can also resize your video and convert horizontal video to a vertical with little or no loss of details and quality.
The voice editing tools are also excellent, and the good part is that you get access to Filmora's large royalty-free sound library that you can use to import soundtracks to your commercial videos.
However, it is a limited tool that you can only use to make basic-level edits.
Best Professional Video Editing App for iOS
1. Luma Fusion
If you are using iOS and are looking for a powerful and advanced-level editing app, Luma Fusion is your best bet. It has been specifically designed for iOS, and it gets even more powerful if you have iPhone 13 with you. However, it is a paid app, and there are no free lunches here. You will have to pay before you can download the app and the worst part is that there is no trial period.
The advanced features in this application are keyframing, chroma key effect, and a wide range of effects such as filters, transitions, masking, and motion graphics. The app comes loaded with 6 audio/video tracks for photos, videos, titles, graphics, and additional audio tracks for narration, music, and sound effects.
You can use this app to overwrite features, color-correction, edit soundtrack with a full-fledge audio mixer, pre-set aspect ratios, titles, and text formatting.
All these features make this application powerful, so you can make some professional edits on commercial videos smoothly and share your content on iCloud or import it from iTunes.
2. iMovie
If you have an iPhone and are looking for a FREE APP to make basic edits on your commercial videos, iMovie is here to have your back. The Apple-made application is best for all starters/learners and freelancers working on commercial videos.
It comes with basic editing tools like trimming, cropping, resizing, soundtrack addition, and editing. You can also add subtitles, transitions effects, filters, and many more effects to your videos.
The tool's simple interphase with big icons and quick rendering times make it the best option for beginners. However, experts will feel limited while working on this application.
iMovie comes loaded with 8 themes to create movies and some built-in animations along with a solid, gradient, or patterned background for editing your videos.
One surprising feature in iMovie is 4K support and multi-track editing; many paid apps don't offer these features. Since this is an Apple-original application, it integrates nicely with all Apple services and applications.
FAQs
Which is the best commercial video editing software for desktops?
There are a lot of applications that you can use to edit commercial videos on your desktop. The final decision depends on your skill level and the features you want in the software.
If you are an expert who wants an industry-standard tool, it is best to go with Adobe Premiere Pro (Windows and Mac) or Final Cut Pro (only Mac). Filmora is best for beginners.
Which is the best commercial video editing app for Android and iOS?
Adobe Premiere is best for Android users (beginners and experts), Luma Fusion is best for expert iOS users, and iMovie is best for beginners and basic edits.
What video editing software is used by professionals?
Professionals rely mostly on two tools for editing commercial videos. Adobe Premiere Pro and Final Cut Pro are the two industry-standard tools that professionals often use.
How do you edit a commercial video?
You need video editing software to edit commercial videos. Once the video is ready, import it to the timeline, and add effects/filters/ transitions or other edits you want to make in your commercial videos. You will need to edit the soundtrack, trim/crop unnecessary details, remove grain, shadows, etc. there is a long list of things you need to follow to make high-level commercial videos. Before you begin, please keep in mind that one minute of commercial video requires 1-1.5 hours of video editing.
Which is better for commercial video editing: Final Cut Pro or Adobe Premiere Pro?
Both tools have almost the same features. Many Mac users prefer Final Cut Pro because it is specifically made for Apple and has a one-time subscription; monthly subscriptions are a hassle. Windows users prefer Adobe Premiere Pro as it integrates nicely with Windows applications.