In today's tutorial, we dive deep into FTB infinity evolved and answer questions such as how it differs from other modpacks out there, why you should play it, what system requirements it has, how to play it with your friends, and the best FTB infinity evolved server hosting providers, so without further ado, let's get to it.
Play FTB Infinity Evolved on one of our preferred hosting solutions:

GameTeam
Use "9to5software" coupon for 25% off
---

Apex Hosting
---

ScalaCube
---

HostHavoc
---
What is FTB Infinity Evolved Reloaded?
FTB Infinity Evolved Reloaded is a fan-made pack that packs over 180 mods as of writing this article, and it's available on CurseForge. It's considered an expert pack due to the complexity of its recipes and tasks, but it's also more rewarding as the level of challenge rises.
You can download this modpack from the official CurseForge Infinity Revolved page. At the end of this guide, we will also explain how to install it on your PC or on a server if you prefer to play it with your friends.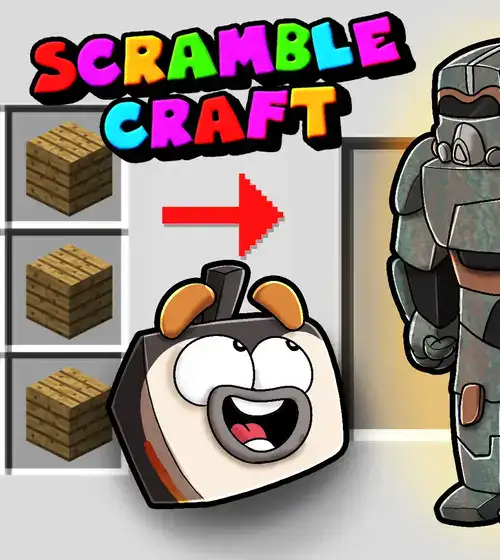 Gameplay and Questbook

As mentioned, it has a complex game quest design that doesn't leave you wandering around thinking about what you should be doing next. As soon as your game loads, you'll be greeted with a questbook showing you your progression through the game and tasks you have completed, and tasks you haven't yet started.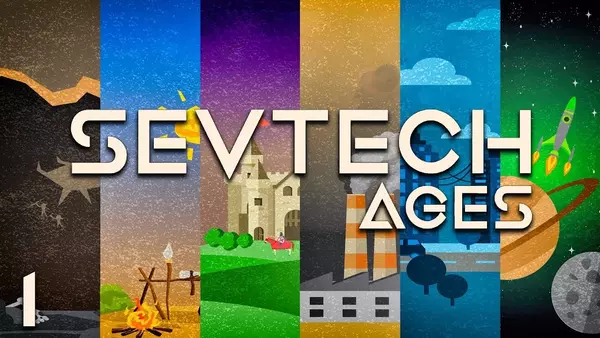 How to play?
It's safe to say FTB Infinity offers something to every type of Minecrafter. For example, if you're into farming, you can progress through the game doing farming-related tasks and collecting its unique rewards, or if you're into tech, there are separate groups of tasks that let you build your machinery. If you're into sorcery and magic, there are also many tasks dedicated to them.  

Still, the majority of the game is dedicated to tech. I'd say tech achievements and quests are 70% of the game, while the rest is farming and magical quests.  
One thing I really liked about FTB Infinity Evolved is that its questbook isn't just some bar showing you your achievements or progress in the game. But it's more like a guide showing you the machinery you haven't yet built and also giving you tips on how you can build them. It's certainly much faster and easier than watching "Let's Plays" or browsing through Wikis.  

As a natural result of all these features they've built in the game, you have a sense of progression and direction. In our and the Minecraft gaming community's opinion, this modpack is a must-try if you're looking for a fresh start in Minecraft. It's challenging and different enough to keep you entertained for a long time.
All in all, if you're sold on this modpack, you should definitely give it a try together with a bunch of your friends. Because there are so many things to do, there's a chance you'll be overwhelmed and give up. But if you're taking up the challenge with your friends, you could divide the work among yourselves. Still, it's a fun modpack to play by yourself as well.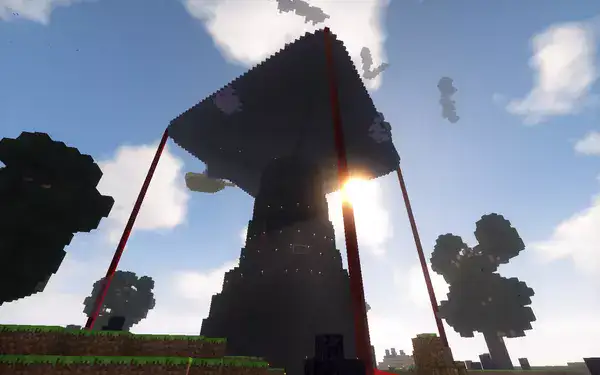 How much RAM do I need for FTB Infinity Evolved server?
GameTeam hooked us up with a bunch of their servers with different RAM and hardware so we could test what specs are most suitable for which modpack. 1 and 2GB RAM were insufficient for FTB Infinity Evolved. It lagged a bit on 4GB of RAM, but everything worked just fine when we installed it on 8GB of RAM. 8 to 16 GB of RAM is the sweet spot for any modpack this big. Start at this level, and depending on the number of players on your server, consider upgrading.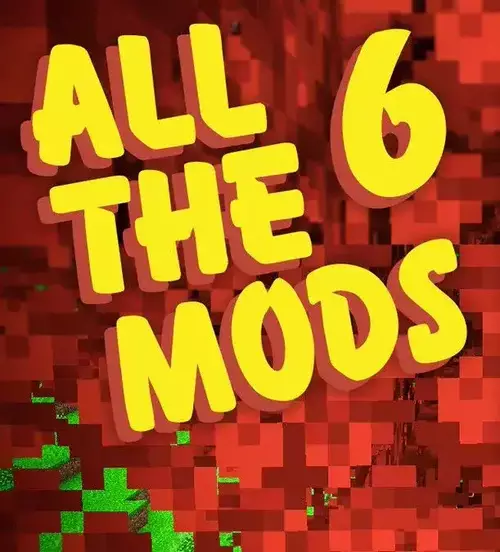 How many mods does Infinity Evolved have?
The latest stable version of FTB Infinity Evolved Reloaded contains over 180 mods and 250 quests. Some of its biggest mods are Biomes 'O Plenty, Thaumcraft, Draconic Evolution, Forestry, Magic Bees, and Industry.

What version of Minecraft is FTB Infinity Evolved?
The latest stable version of FTB Infinity Evolved is 1.12.2, and it was last updated on May 16, 2022.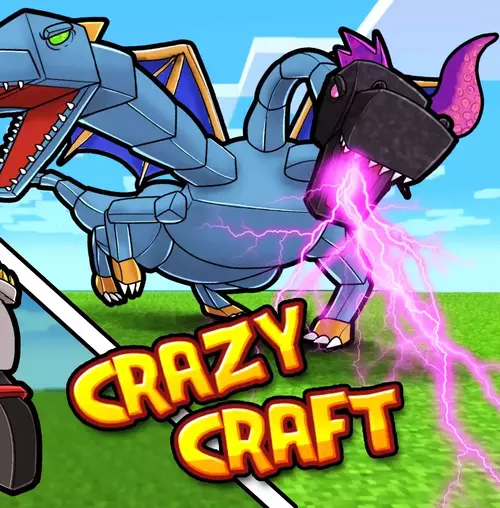 How do you activate Infinity Evolved expert mode?
Expert mode can be activated in the options menu. Go to Pack Mode and switch it to expert mode. You can also use the in-game command line to change it with "/packmode expert". Make sure to restart the game for changes to take effect.
If you're playing the modpack on a server, you'll need to update the server to expert as well. Everyone on the server will need to update their difficulty levels also.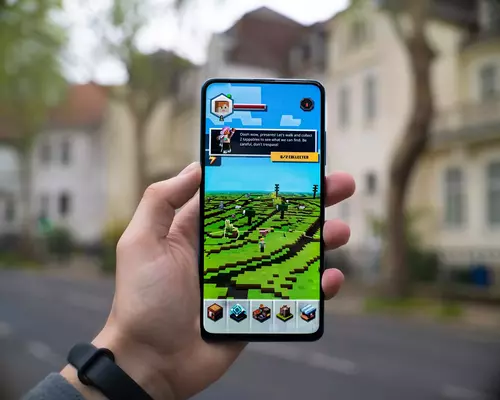 How do you install Infinity evolved reloaded?

FTB Infinity Evolved is a part of the Forge Launcher.
Go ahead and download the official Curse Forge launcher
Once the app is downloaded and installed. Go to "Browse Modpacks" in the top menu. It'll give you a list of all the modpacks you can download and play with the launcher.

3. Find Infinity Evolved in the modpack list or search using the search bar. Click on Install.

4. Click on the orange Install button and it should start downloading the modpack.
5. Once finished, you can find it in "My Modpacks"  section and launch the game from there.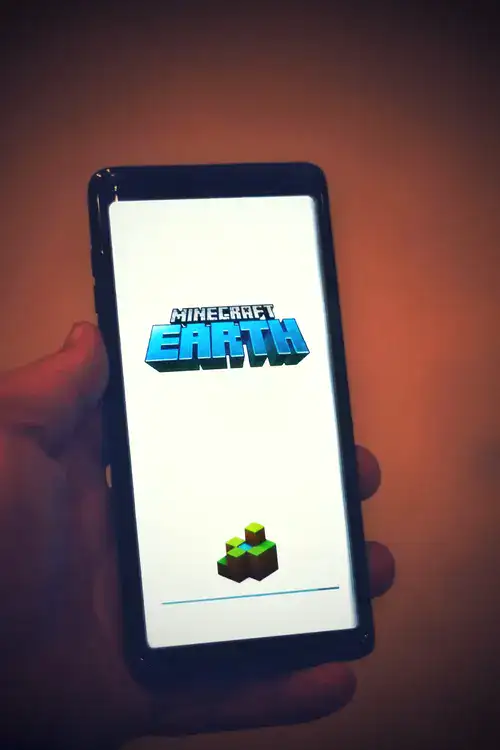 How do you make an FTB Infinity Evolved Server?
FTB Infinity Evolved is one of the most popular modpacks out there, with well over 5 million downloads to date on CurseForge. This means almost all server hosting providers have one-click install support for it.
To get started, log in to your preferred server provider's control panel and find the modpack installer. We'll demonstrate using the GameTeam panel since it's one of the easiest to use.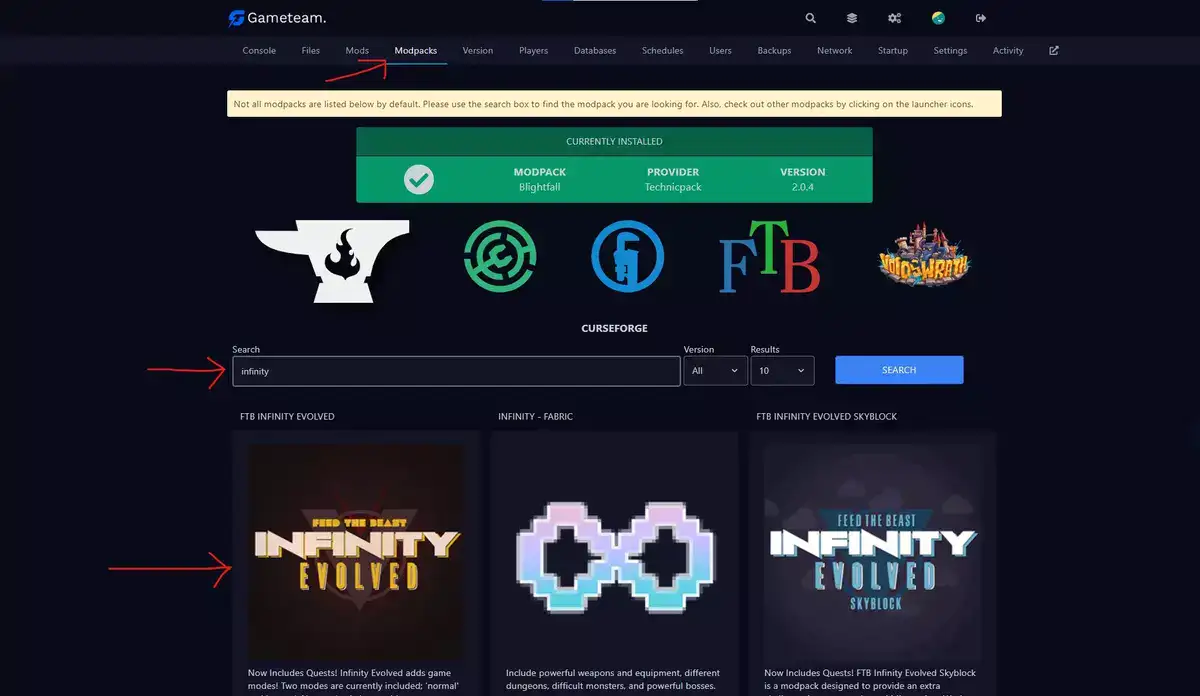 Once you've navigated to the modpack installer, search for Infinity and click on the "Install" button. Your server with the modpack installed will be ready in a few minutes.
That was it for this tutorial, everyone, I hope you found what you were looking for. If you have more questions regarding Infinity Evolved or any of the providers we featured in our content, please don't hesitate to contact us.
Happy Minecrafting!