Anime Music Video (AMV) trend has soared recently. More and more video creators are now making AMVs for their viewers. If you want to join the group of people who make AMVs, you need a video editing tool to provide you with all the latest technical features.

Premiere Pro
---

Filmora
---

PowerDirector
---
Apart from editing AMVs, you will also need to edit your non-AMV content, add transitions, apply filters, speed up, slow down your videos, add graphics, add texts, do voiceovers, etc. The best editing tool for AMV must not limit you on any front and must have all the necessary tools to help you create great videos.
If your video is not up to the mark, your viewing time will reduce, and you will not be able to attract subscribers/followers/likes, and shares. To ensure that this doesn't happen with you, you need a high-end video editor for AMVs.
Today, I will review the best video editors for AMVs for you. Let's check them out!
1. Adobe Premiere Pro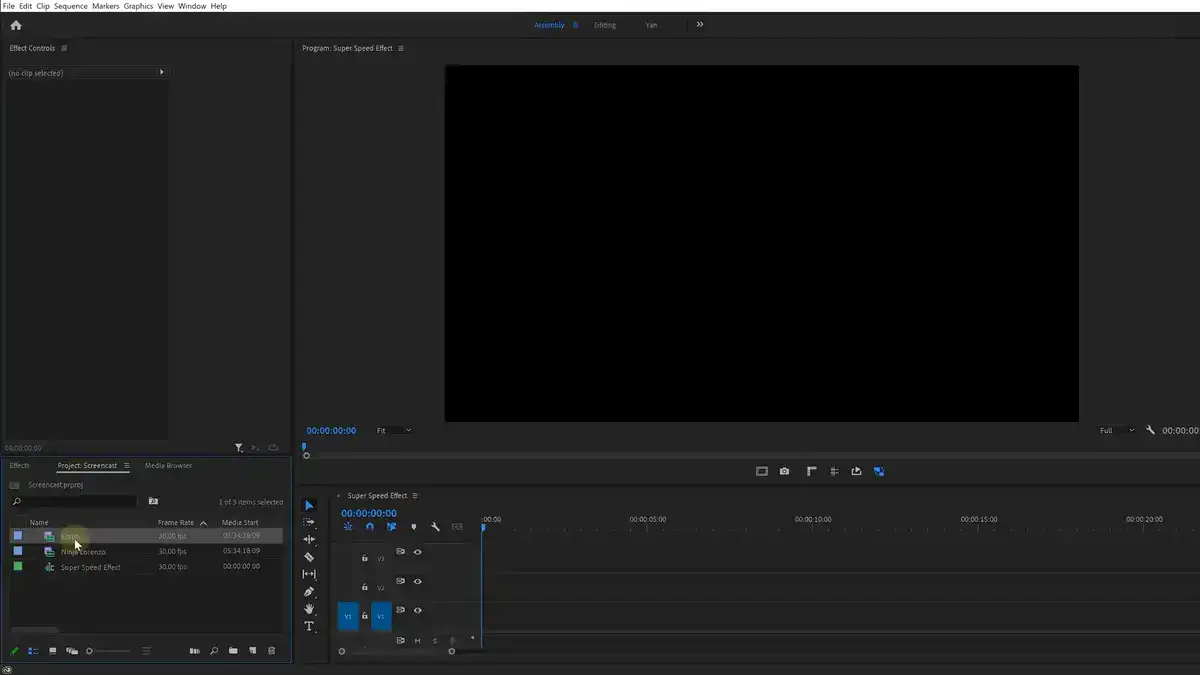 Adobe Premiere Pro is simply the hands-down best video editing tool that you can use for various tasks. On the surface, it may look like a complex tool, but once you start using it, you will love every bit of it.
The tool lets you edit your AMV content professionally. However, beginners may find it a bit difficult to understand and use the tool initially, but you will get a hold of things within a couple of weeks. Although the tool is paid, the best thing about it is that you can try it out for a free trial.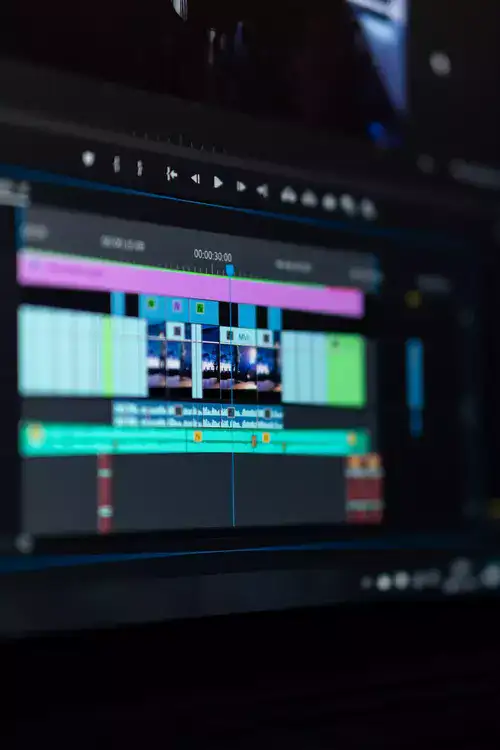 The tool lets you cut and merge your videos, add music, transitions, motion graphics, etc. You name it, and Adobe Premiere Pro will have it. However, the software doesn't make you smile when making animations itself, but it lets you do multi-cam and 3D editing.
The thing I like most about Adobe is that it is an industry-standard tool with continuous updates and powerful features. Another plus about Adobe is that it has a super-fast processing rate. If your PC is not slowing down, you will be amazed at how quick and fast it can run.
The tool supports 4K, 8K, and VR formats and a wide range of video and audio formats. You will rarely encounter a format that Adobe does not support.
Adobe Premiere needs plugins for many features, and the problem is that many of the plugins are paid. This can take things out of your budget at times.
Overall, Adobe Premiere Pros is a great tool that you can use to edit AMVs and various effects. An AMV created using Premiere Pro will always be loved by your fans.
2. Adobe After Effects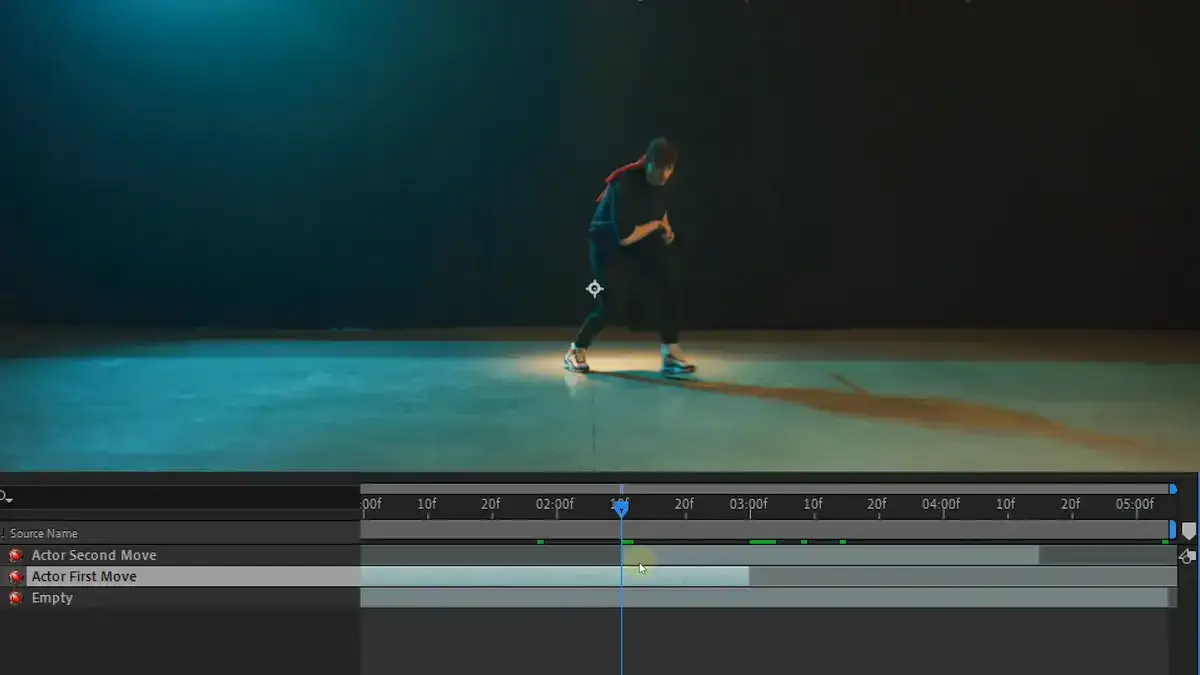 Are you up for some high-level professional AMV editing? If yes, Adobe After Effects is an excellent post-production tool that you can add some out-of-the-world effects to your videos.
On the contrary, After Effects is a complex tool recommended for only pro editors. You can assess its professionalism from the fact that it is used in Hollywood movies and TV shows.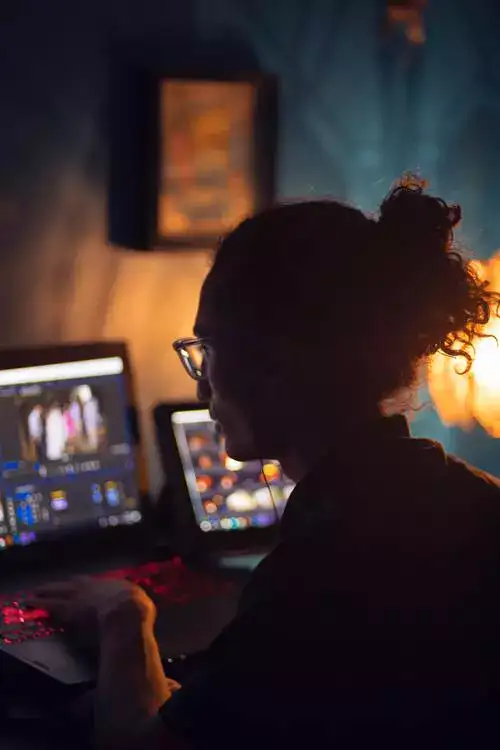 I like After Effects because it lets you animate each component easily. You can create high-level motion graphics in your edited videos. Adobe After Effects supports a wide variety of plugins and video formats. The tool comes with a large library of audio templates that you can use in your AMVs.
Adobe After Effects lets you animate shapes and colors, add transitions between them with various effects, and speed up and slow down videos. You can also apply animated masks and produce original and fresh artwork.
Adobe After Effects is a part of Adobe Cloud Services. You can upload your files from other Adobe tools and animate them. This is a great plus as it lets you work across Adobe tools and create truly amazing videos.
Overall, this is an awesome tool, but I would recommend After Effects to only expert video editors. It provides all the things that you need for AMV editing that Premier Pro lacks. Adobe Premiere Pro and Adobe After Effects will make you an excellent AMV editor.
3. Filmora Wondershare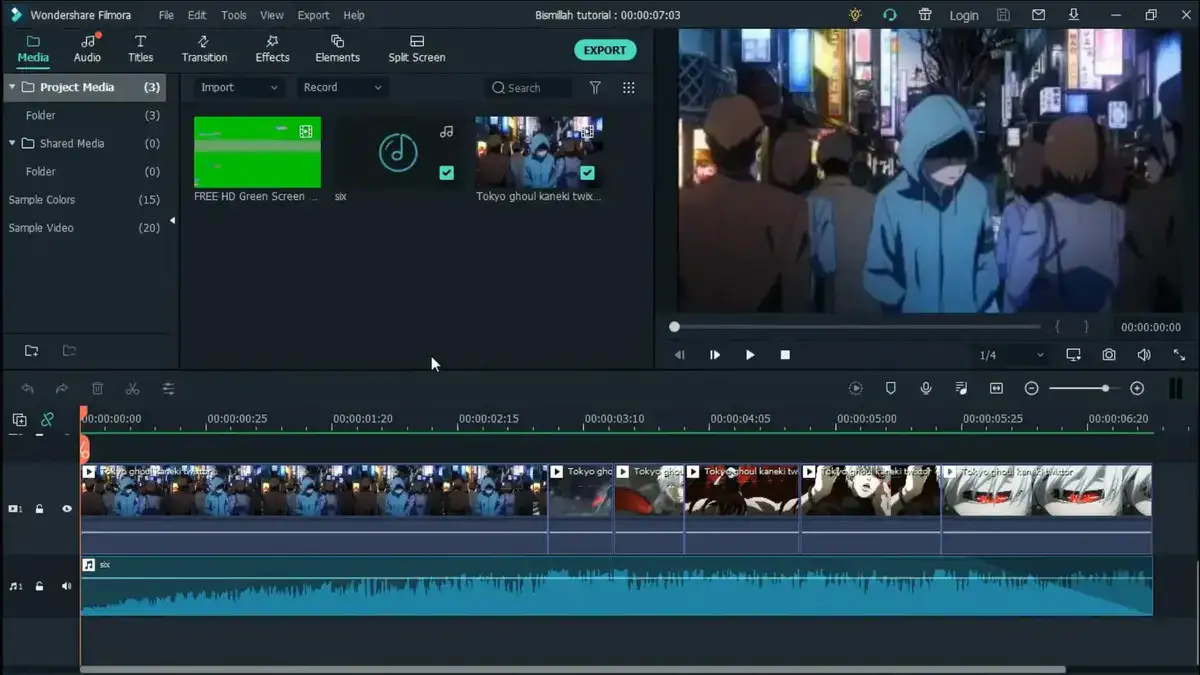 Filmora Wondershare is a top-of-the-line video editor for AMVs. The tool works with Windows and Mac and is often termed the best video editing software for beginners and hobbyists. Pro AMV editors may feel a bit limited while working with this tool because it doesn't offer advanced-level effects like Premiere Pro and After Effects.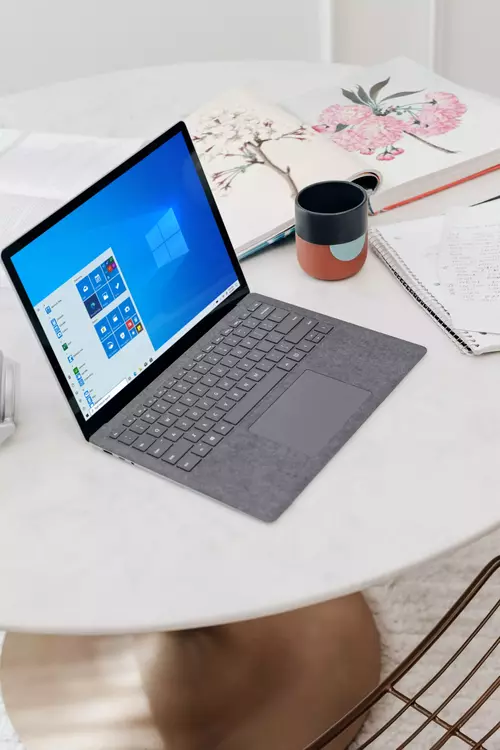 Like Adobe, Filmora is a paid tool, but it is cheaper; it comes with a 7-days free trial version. My tests with the tool revealed that its interphase is easy to grasp and work with, regardless of your skill level. All features and tools are organized simply, which lets you work with your AMVs conveniently.
You can add transitions, trip videos, add effects, soundtracks, trim videos, apply filters, correct colors, etc. It offers one of the largest free royalty free sound libraries with 100s of clips that you can use in your videos.
Overall, Filmora is a great tool to start your video editing journey. I recommend this tool for all beginners and students.
4. Sony Vegas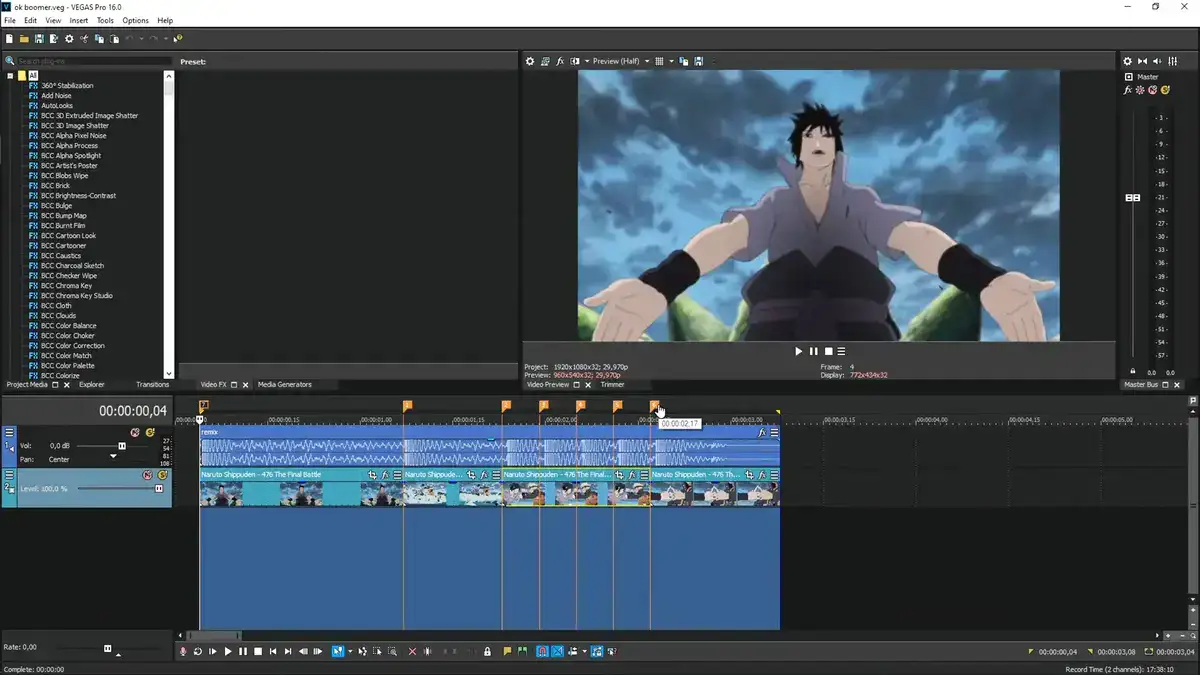 Another excellent tool that you can use to edit AMVs is Sony Vegas. The editor lets you make high-level professional videos through a long list of professional tools it contains. You can easily add music from its library or import your favorite tracks, add text, do transitions, trim, speed-up, slow down, and various other effects.
The things I like most about the tool are that it offers multi-cam editing, supports 4K resolution, and can generate subtitles automatically. You can also do crossfades, make 3D edits, improve colors, and many more things. Above all, the tool is super-fast. You will be amazed how fast it processes and exports your videos and lets you share on streaming servers.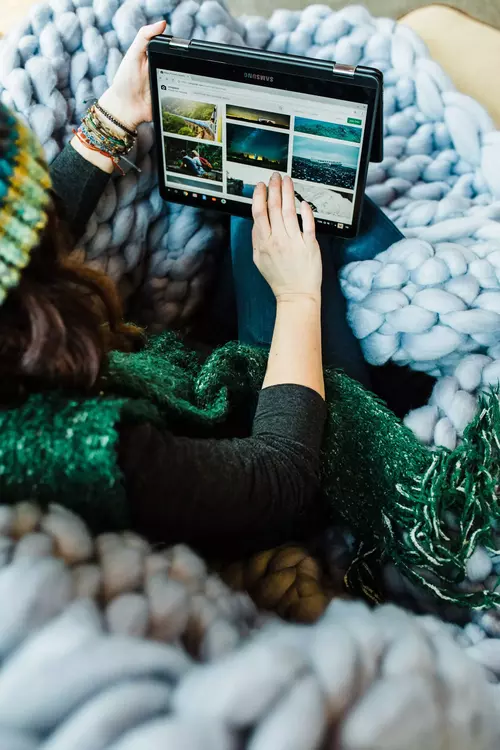 The biggest problem with the tool is that it has complex interphase. As a beginner, you will find it difficult to work with. Moreover, people using other tools may also feel limited while working with the tool. The tool also lacks welcome tutorials that are great for beginners to get started with a new tool.
My tests with the tool revealed that the multi-cam feature is nearly unusable. Overall, it is a reasonable tool you can use at an unaffordable price. It is 40$ cheaper than Adobe Premiere Pro.
5. iMovie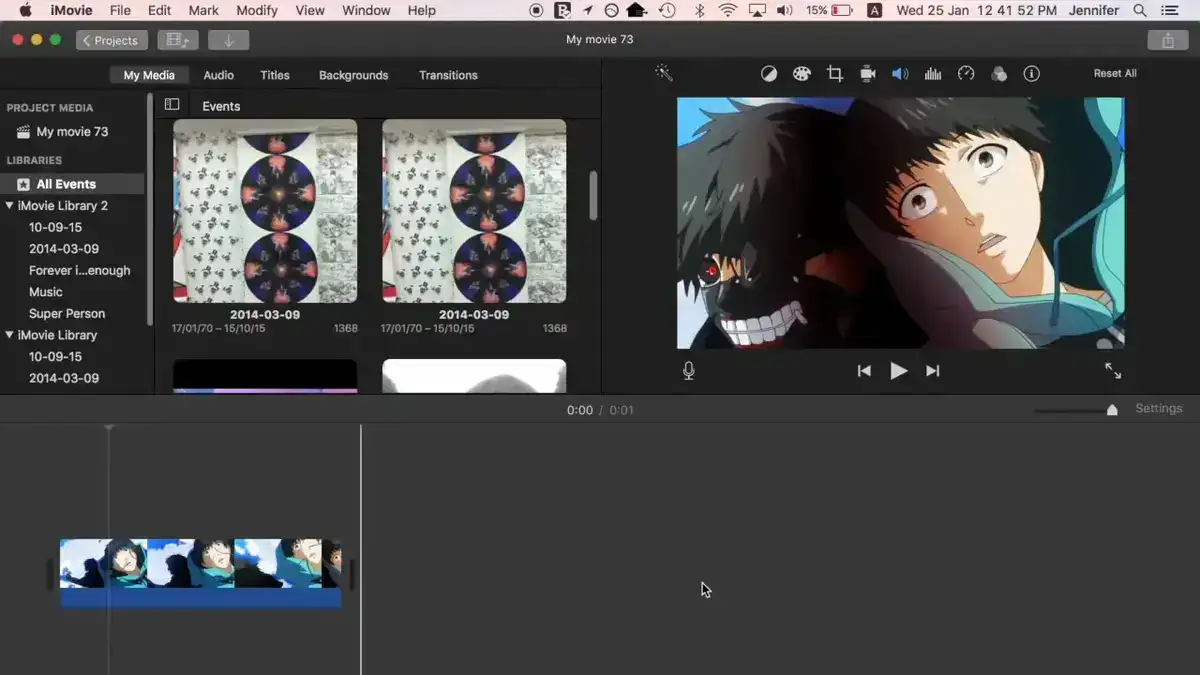 Mac users must consider themselves lucky because they get a quality editing tool for free. iMovie is often rated as the best basic editing tool for MAC users. You don't need to spend anything on a video tool if you are a beginner, as iMovie can help you create some amazing AMV videos.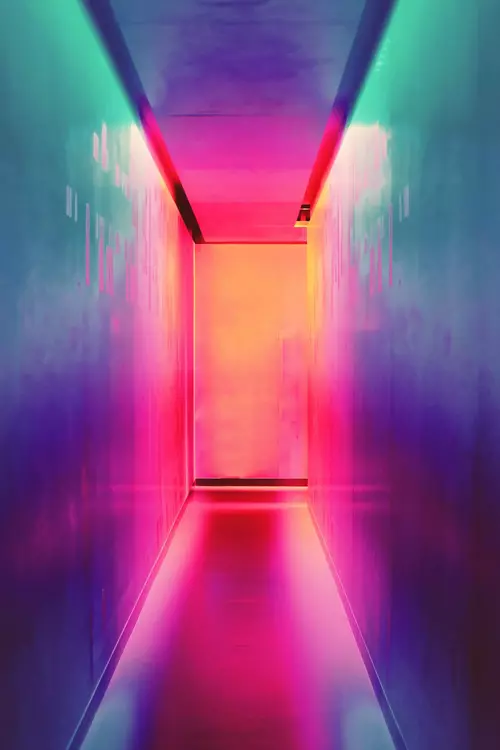 You can merge videos, add transitions, apply filters, speed up your AMVs, add audio, and many other things. However, the tool comes with limitations as well. It offers only 10 and tends to get slow as you work on high-quality videos.
I like this tool because it offers a simple UI that is great for beginners to understand and use. You won't feel like sitting in a cockpit as all the tools and options are conveniently arranged. You can also export your videos to other networks using the tool.
Overall, this is a great tool for beginners with limited features. You can't edit a video in the same way as you would do in Adobe or Sony Vegas Pro. I wouldn't recommend it to experts.
6. Windows Movie Maker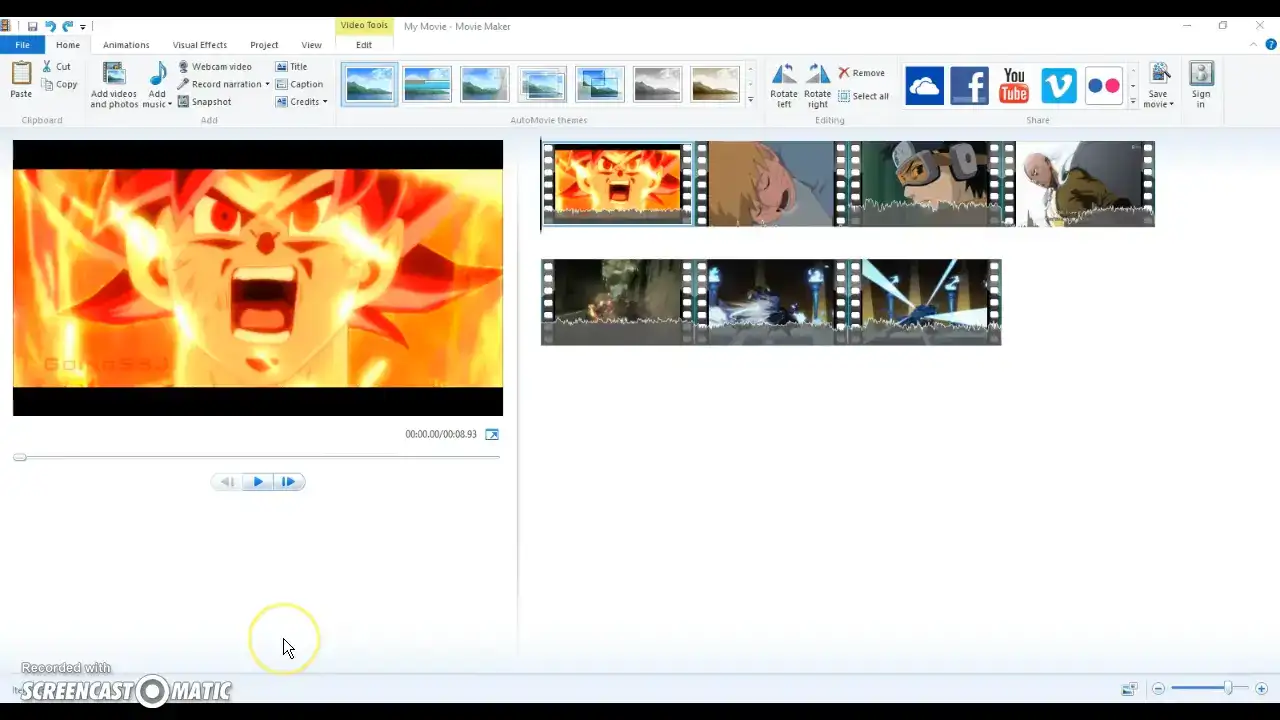 Windows Movie Maker is a free tool for video editing for Windows users. The tool lets you add transitions, cut and split your videos, crop, add audio, add slow-motion effects and add subtitles to your video.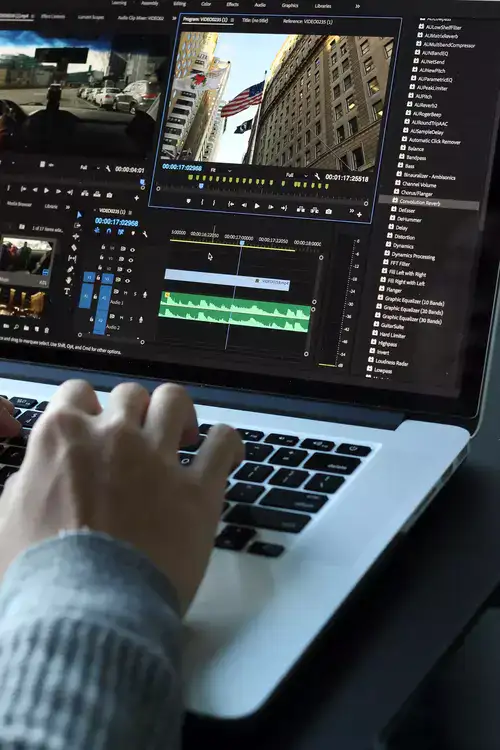 If Windows users want to try out their luck with AMVs or other video editing projects, this is a great tool. The tool supports numerous video and audio formats; you can also use it to transfer files to other websites.
The processing speed depends on how powerful your PC is. If you are using a slow or outdated system, Movie Maker can be very difficult to work with.
The best thing I like about this tool is that it offers various transitions. Other free tools don't have such a huge collection of transition effects that movie maker comes with. Moreover, it has easy-to-use interphase that makes video editing super easy for beginners.
7. Final Cut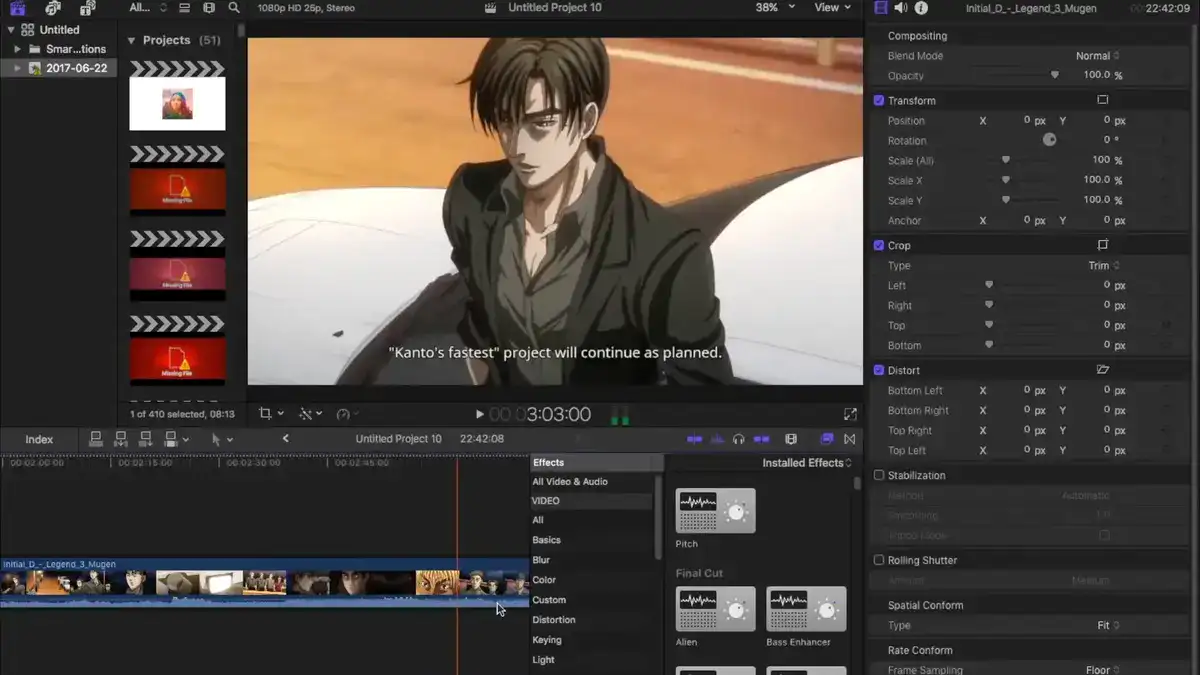 Last but not least, Final Cut is an amazing tool that you can use to create AMVs. However, it is limited to only MAC users. Windows users cannot enjoy this fine tool.
Final Cut lets you create professional and entertaining AMVs that your viewers will ravish after watching. One standout feature of this tool is a trackless magnetic timeline. It can be weird for some people who don't know how a magnetic timeline works. This feature and many other features make this tool complex for beginners.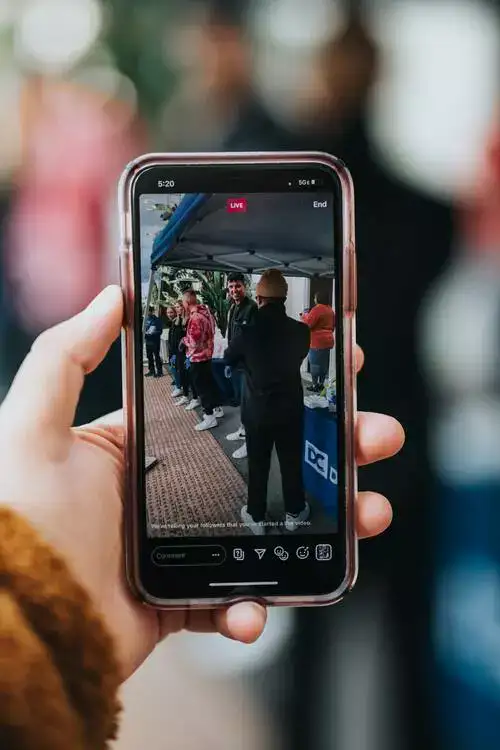 Once you start using the tool and get hold of things, you will love its features. The tool comes with 100+ transition effects, 140+ visual effects, and a large variety of sound clips that you can use with your videos.
Final Cut has a super-fast processing time and renders the videos quickly. One feature that I like in this tool is the Compound Clips feature. It lets you combine footage, music, and other effects into a harmonious composition, giving your video a smooth outlay.
FAQs
What is the best app for making AMV?
There are plenty of apps available for making AMVs, but Adobe Premiere Pro and Adobe After Effects are rated as the best ones.
Is Filmora good for AMV?
Yes. Filmora is a great choice for making AMVs. It comes with all the features that you need to make and edit an AMV. However, it is not as advanced as Adobe Premiere Pro.
How do I make an AMV video?
You can make an AMV using a video editing tool. You will need an anime clip and add audio and your desired effects to complete your AMV.
Who is the best AMV maker on YouTube?
There are a lot of AMV makers on YouTube that make high-level AMV content and edit them to perfection. To name a few, check out JGZ and AMV Strat. They make excellent AMVs.
Is Premiere Pro good for AMVs?
Yes. Adobe Premiere Pro is an excellent tool for making AMVs. It has all the features that you need to create captivating AMVs.