Drone footage is in vogue nowadays. However, drone videos need to be edited before you can share them with the world. The common edits you would like to make on your aerial video are trimming unnecessary details, adding effects/filters/transitions, zooming in or zooming out, cropping or resizing them, and adding a soundtrack before hitting the publish button.

Premiere Pro
---

Filmora
---

PowerDirector
---
For all these edits and other effects, you need a video editor for your drone footage. Whether you have shot a wedding ceremony, birthday party, sunset, sceneries, or just your locality, you cannot just upload your video straight away; it needs editing to make it engaging, entertaining, and interesting.
So, let's check out the best video editor for drone footage. I have listed some editors, particularly for beginners, so they can edit their drone footage without any hassle.
Best Drone Video Editing Software for Beginners
1. Filmora WonderShare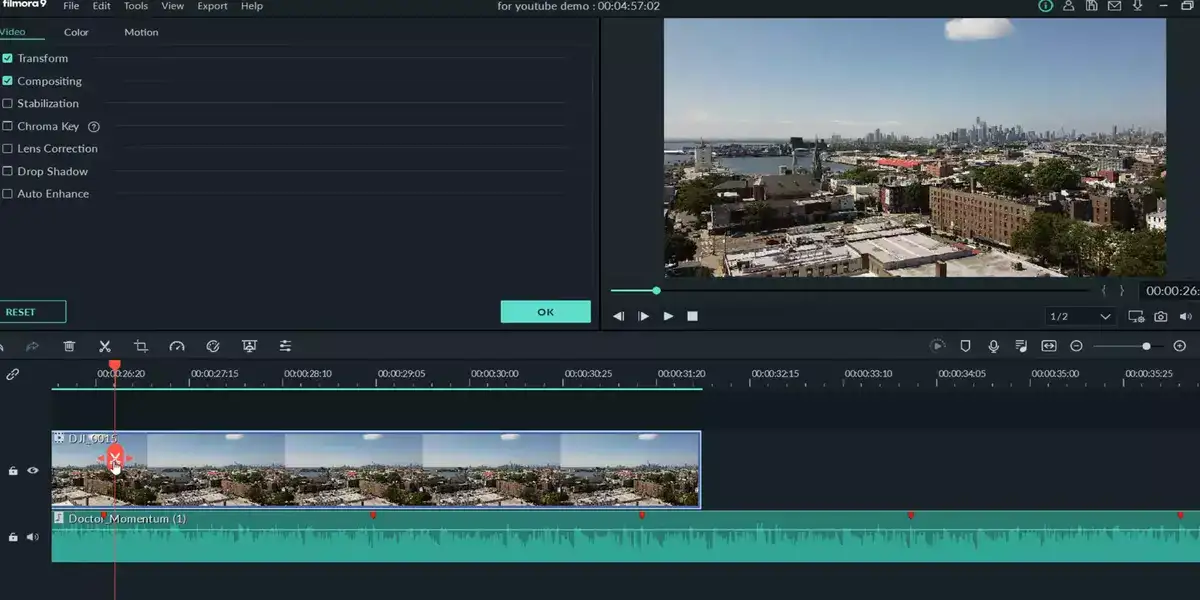 Filmora is rated as the best value editing software for beginners and hobbyists. The paid tool comes with a 7-day free trial and is one of the most affordable tools that beginners can use to edit drone footage.
The tool comes with 3 different modes tailored to meet your editing needs. The beginner mode offers basic edits with limited features. The tool's interphase is so simple and easy that even the advanced mode looks easy to work with.
Related: Best iPad video editors
Filmora lets you edit 4K videos, speed up drone footage, trim your videos, add transitions, do voiceovers, or select a track from Filmora's large royalty-free music library. The built-in effects and filters make your drone footage more interesting before you upload them on YouTube, Facebook, or Instagram. Moreover, you can also crop or resize your videos with the help of preset dimensions or add them manually.
The latest update features HDR support, speech to text, and a text to speech converting tool with an improved and easy way to add subtitles to your video.
Overall, it is an excellent tool for beginners with over 500 special effects, customization, and modification features. The only problem with Filmora is that it lacks advanced-level editing features.
2. iMovie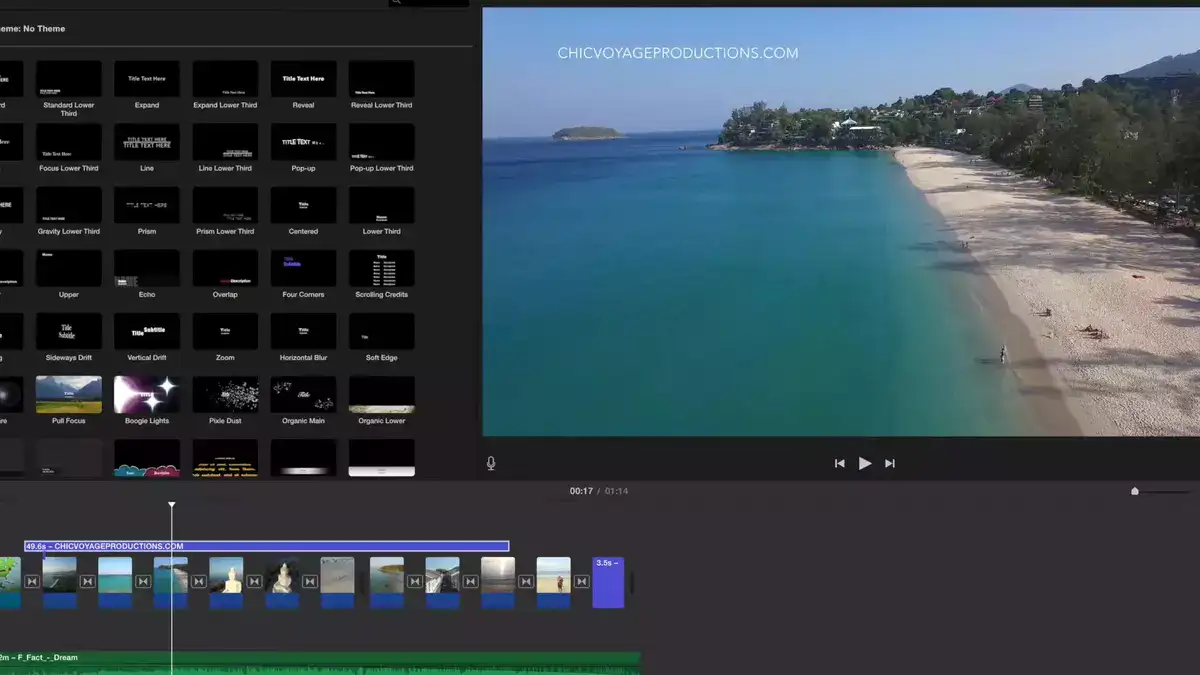 iMovie is an excellent free video editing tool that Mac users can use to edit drone footage. Please note that it only works on Apple devices. It is proprietary Apple software, and you can export/import drone videos on iCloud and iTunes for easy export/import of your videos.
Also read: Best 360 video editing software
The best thing about this tool is that it comes with 360-degree video editing, 4K support, easy interphase, and all the other tools you need to edit your drone footage. You can trim the videos, speed up or slow down, and add filters, images, and background music to your video, which is a must in drone footage.
One thing I didn't like about this tool is that it comes with a limited number of templates and themes that you can use in your videos. While editing regular videos, this may be a limitation, but drone footage rarely needs preset templates; it needs other effects that iMovie already has.
iMovie offers a lot more features than other free tools available for Mac. You can use the Green Screen effect, manage footage speeds, add audio overlays and edit them, add a split-screen effect, and do picture-in-picture edits.
Related: Best video cropping software
The only drawback of this tool is that it has limited features compared to paid tools. Pro-level editors may feel a bit limited while working on this tool.
3. Microsoft Movie Maker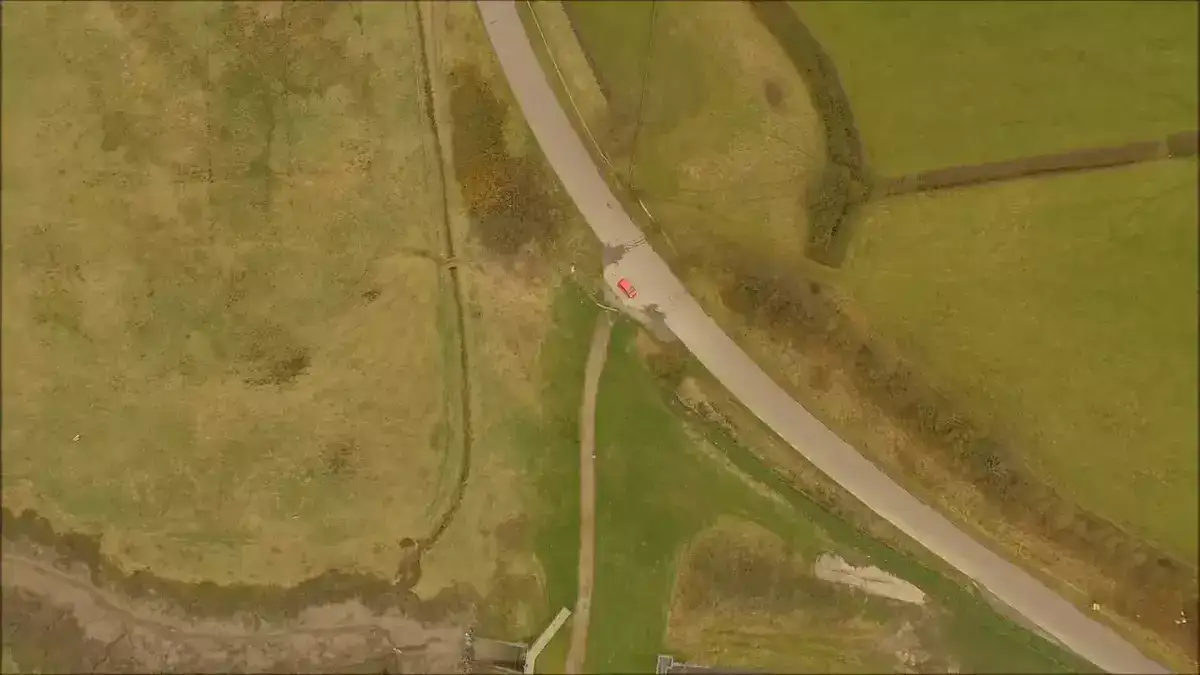 Just like iMovie is a free tool for Apple users, Windows Movie Maker is best for Windows users. Microsoft Windows Movie Maker was limited to Windows 7; you can find built-in Movie Editor in Windows 10 and 11, which is free to use and has more features than Windows 7 Movie Maker.
Using Windows Movie Editor, you can speed up or slow down your drone footage and add transitions, music or voiceover, text, titles, and many other effects. The highlighted features on Windows Movie Editor include 3D edits, motion graphics, and a sound equalizer.
Related: Best animation video maker
It also supports a large range of audio and video formats, so you never feel limited while working with this tool. You can trim your clips, increase playback speed and apply filters to your videos to make them interesting and engaging.
Windows Movie Maker lets you export your content directly on YouTube, Facebook, Vimeo, OneDrive, and Flickr. Moreover, you can also change the aspect ratio of your videos with the help of preset templates.
The preview option is also amazing, and the built-in tool works like a charm on Windows. Overall, it is an excellent option for occasional editors. However, the editor has limited features and effects that allow you to make only basic edits on your drone footage.
Best Drone Video Editing Software for Experts
1. Adobe Premiere Pro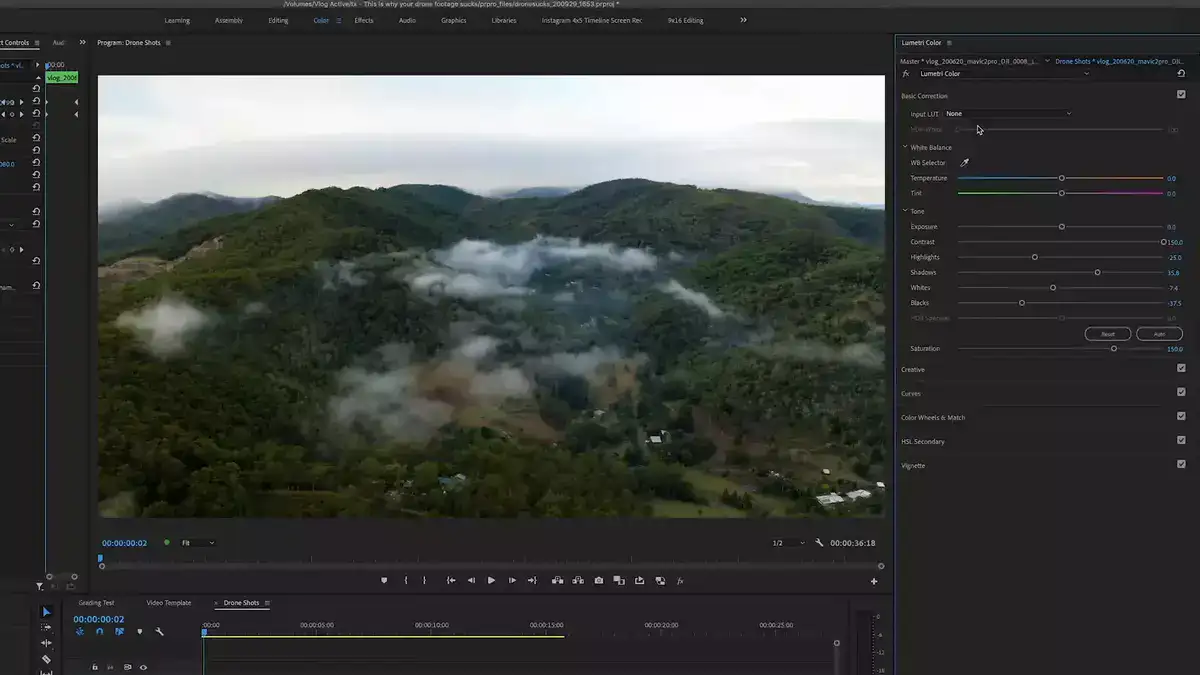 Adobe Premiere Pro is rated as the best tool for expert video editors. The highlighted features include multi-cam editing, 360-degree editing, and 3D editing with support for 4K, 8K, and VR formats. The industry-standard tool with powerful features comes at a price. Hence, I suggest that beginners stay away from it as you will end up using only the basic features in the editor.
Premiere Pro is a high-end tool routinely used to create videos for YouTube and other platforms. If properly edited, your drone videos will look like they have been shot and edited by professional videographers.
Also read: Best iPhone video editor
Drone users know that trimming videos is an integral part of footage editing, and this tool provides the best options for it. The trimming tools are advanced and offer 100% precision and control over your videos.
You can add transitions, zoom in/zoom out videos, add motion graphics, speed up or add slow motion, add soundtracks, do voiceovers and edit audio in the video. One amazing feature I like about this tool is that it comes with the feature to divide workflow into different workspaces that increase productivity and let you focus on one thing at a time.
It is best for drone footage shot with multi-angle. The auto-sync feature makes it hard to find any fault in your edited video. Moreover, Adobe Premiere Pro has so many features which you can use to transform your drone footage the way you like.
Related: Best video editor for Windows
One problem with this tool is that it doesn't offer preset dimensions for resizing your videos; you will have to add dimensions manually for editing your videos. Premiere Pro is a part of Adobe's cloud services, and it lets you export your content to other Adobe tools.
Overall, it is the best tool for both Mac and Windows users that want to make high-quality edits. Please note its subscription is costly, but the high-end features make it a great buy for everyone.
2. Final Cut Pro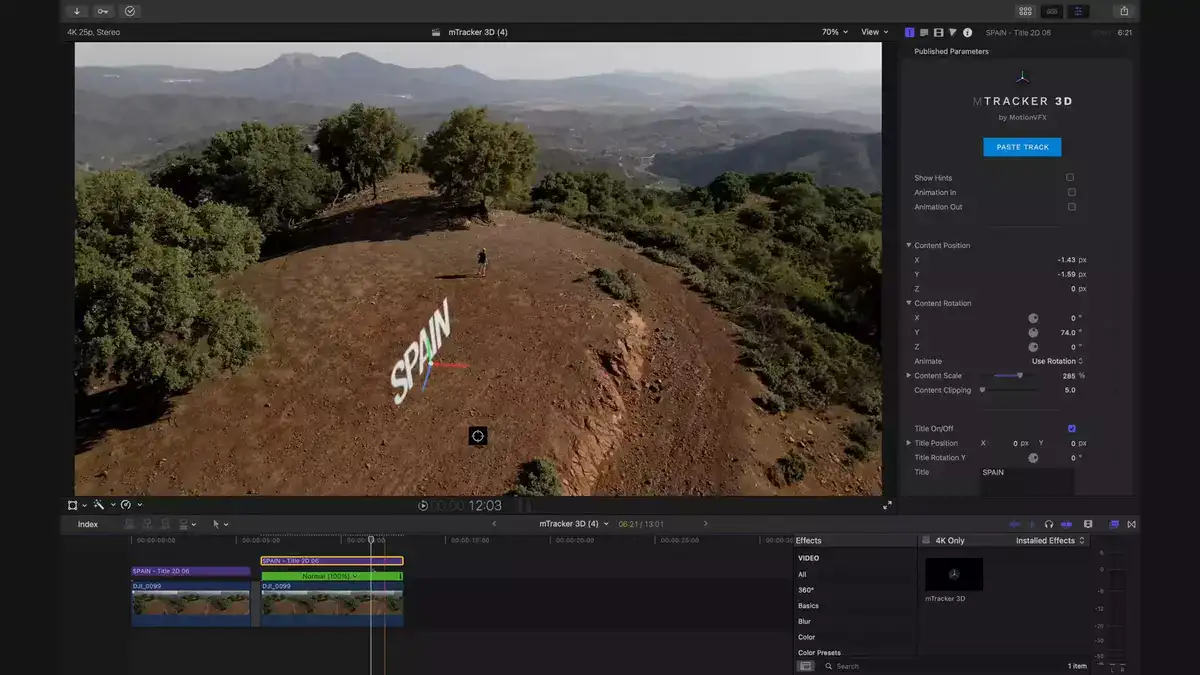 Final Cut Pro is another advanced editing tool for drone footage for Apple users. The only problem with this tool is that its subscription is very costly, but you get a 90-days generous trial period that lets you analyze each feature in it, but the videos will have a watermark.
The tool offers advanced features, multi-cam editing, intelligent color balancing, 360-degree video editing, and 3D edits. You can very well understand the level of this tool because it is commonly used by TV and movie professionals for editing drone footage.
Related: Best video editor for color correction
One interesting and unique feature of Final Cut Pro is its magnetic timeline. You can use the tool to trim your videos, add text and titles, and effects such as filters, transitions, zoom in or out, and fade-over.
Final Cut Pro integrates with iCloud and iTunes to let you share your content across the platforms without any hassle.
The latest update introduced a great feature for drone footage with your voice. It automatically reduces the background noise so you can project more clarity on your voice.
Premiere Pro and Final Cut are almost the same tools. The main difference is the subscription structure. Premiere Pro's subscription is monthly, whereas Final Cut Pro comes with a lifetime subscription plan.
3. CyberLink PowerDirector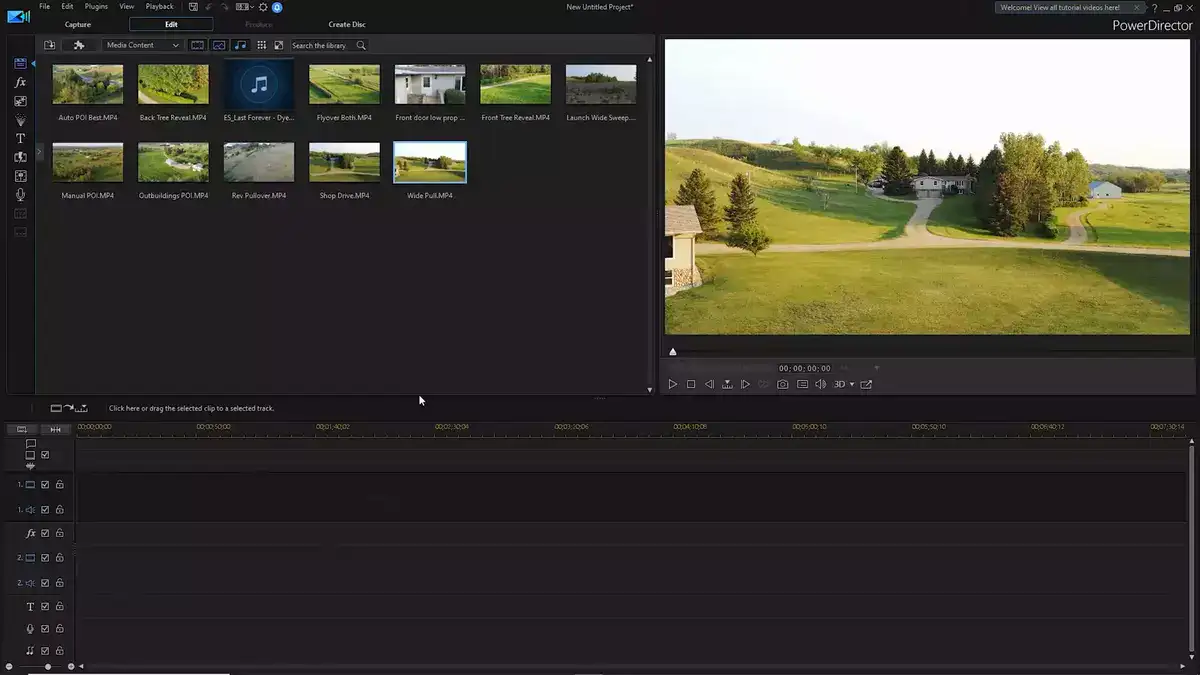 The third and last drone footage editor experts can use to make awesome edits on drone footage is CyberLink PowerDirector.  The tool is known for its powerful AI features that simplify editing and automate many processes with just one click.
Its multi-cam editing, 360-degree edits, and motion tracking, with a 100-track timeline, make it an ideal tool for video editing. Drone footage usually requires trimming and cutting down unnecessary parts in your video.
CyberLink offers an interesting motion tracking feature that lets you set an object in the crop tool. The tool follows that object and ensures that it stays in the frame. You can also apply filters, and transitions, do voiceovers, change aspect ratio, add texts and titles, and design objects on your videos.
Related: Best Valorant video editor
Drone footage often needs stabilization and video correction. CyberLink has the best tools in this category. AI Audio Denoise, AI Video Denoise, and AI DeReverb make video editing a breeze.
The tool includes access to extensive royalty-free Shutterstock content, music, and videos that you can use in your videos.
Overall, this is an excellent tool for mid-level editors. If you are someone that has some knowledge of video editing and want a mid-weight with affordable subscription rates, CyberLink PowerDirector 365 is a reasonable option.
Related: Best video editors for Twitch
FAQs
Is iMovie good for drone footage?
Yes. iMovie is a great video editor for beginners editing drone footage. It has basic features that let you trim, crop, add a soundtrack, and speed up your drone footage. The best thing about the tool is that it is free, but it is not the best editor for making advanced-level edits on your videos.
How do I edit a video captured by a drone?
You can edit drone footage using a video editor. Once the video is shot, transfer it to your PC and then import it to the video editor. Apply filters, and transitions, add music, or do a voiceover and apply other effects to your videos. Preview the video after you are done editing the footage, and then export the edited video.
Is there a DJI video editor?
Yes. There are a lot of DJI video editors available. I have reviewed the best ones above; you can select the one that meets your needs.
Can you edit drone videos on your iPhone?
Yes. You can edit drone videos on iPhone using iMovie or any other video editing application that supports DJI video format.
How can I edit a DJI video on my computer?
You need to import your video to a video editor that supports DJI format. Once the video is added to the timeline, you can add effects and filters to edit your videos on your computer.